The 133rd Canton Fair was held in Guangzhou, China from April 15th to 19th, 2023. This was the first time the fair fully reopened for offline exhibitions three years after the outbreak of the COVID-19 pandemic. The scale of this year's fair was unprecedented, attracting buyers and exhibitors from 226 countries and regions, with a total of 34,000 exhibiting companies.

Guangzhou NAO Electronic Technology Co., Limited successfully participated in this grand event with its most advanced LED car lights technology in 2023. Now, let's take a review of NAOEVO's wonderful moment in the exhibition.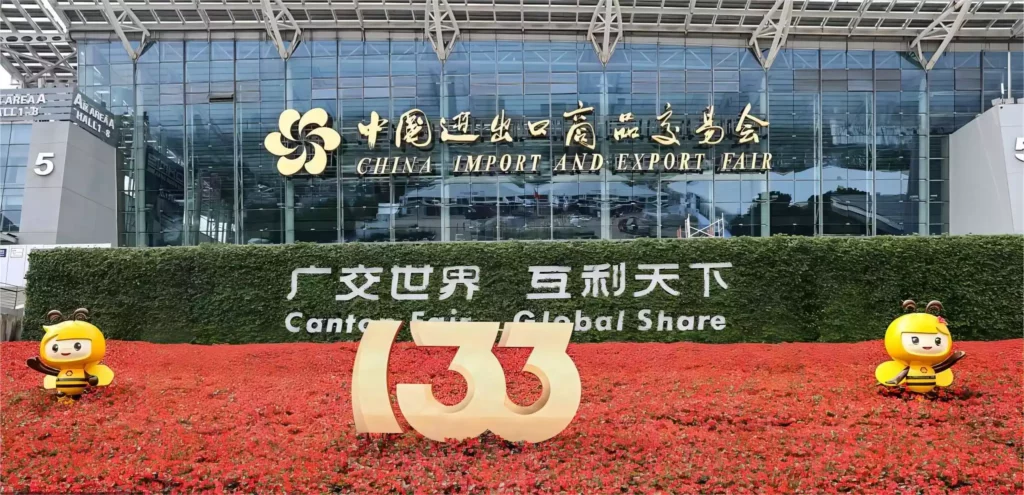 About NAOEVO

NAOEVO is a renowned automotive LED headlights manufacturer in China. With over 17 years of experience in automotive lighting, NAOEVO is dedicated to producing high-brightness and good-quality LED headlight bulbs. Based on years of research and development experience in LED headlight bulbs, we are proud to say that some of our products such as S4, GT6, Max3, ND, NG, NL have gained popularity around in the world especially in America, Europe, and Southeast Asia, etc.

Located in Baiyun District, Guangzhou City, the factory covers an area of more than 10,000 square meter with state-of-the-art equipment and over 20 experienced engineers and technicians who ensure that every product in the market has the latest technology and design. The strong factory productivity allows us to supply more than 2.5 million kits of LED headlight bulbs per year and maintain more than 10,000 kits of finished-products in stock for fast delivery.

Over the years, we have built a reputation for excellence and reliability, and have partnered with more than 40 distributors around the globe to ensure that our products are available to customers everywhere. We are proud to work with these distributors, and we are always looking for new distributors with businesses that share our values.

Exhibition Preparation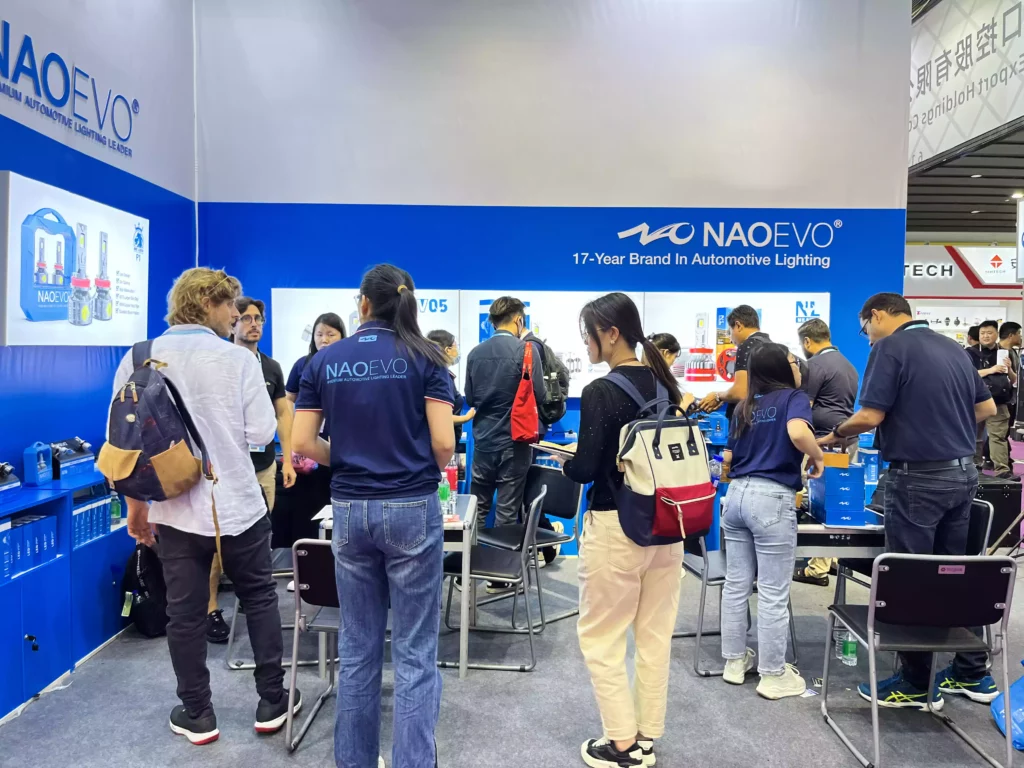 NAOEVO began preparing for the exhibition months in advance, selecting and designing eye-catching showing stand and creating testing equipment that can effectively demonstrate the power of our LED car lights to customers. Not only NAOEVO, but also our long-time partners from all over the world are looking forward to the meeting.

"A month ago, many customers asked us to help them with invitation letters, making it easier for them to apply for visas and attend the Canton Fair in China." The head of NAOEVO said.

Besides, NAOEVO also brought our top sales and marketing tram members to the event, ensuring that they were well-prepared to showcase our latest products in 2023 and engage with attendees.

The Highlight of The Exhibition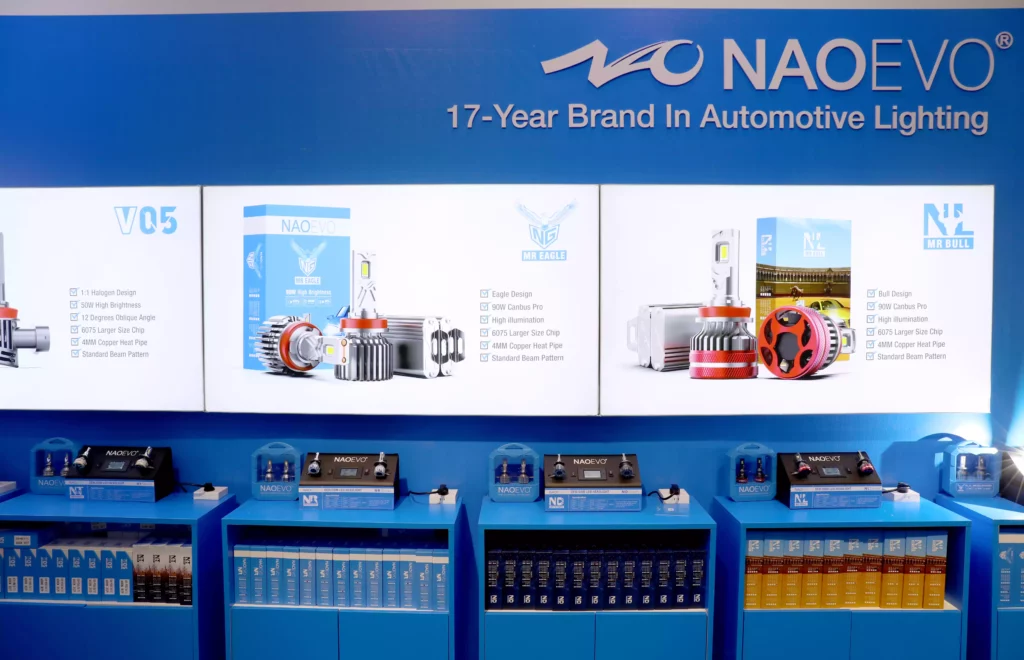 In the exhibition, NAOEVO showcased some of their most competitive new LED headlight bulbs in 2023 such as P1, NG, NT, NL, NR and V05 etc,. which are designed to deliver ultra-high brightness with excellent light beam pattern and unique design. Customers and visitors show much affection for these products, with NAOEVO's bulbs incorporating advanced materials that maximized efficiency, brightness, and longevity.
The Spectacular Showcase of LED Headlight Technology
1. Optics Technology: With NAOEVO's patented chip arrangement and independent R&D of LED chips, our LED headlight bulbs deliver a perfect light beam pattern ensures that drivers can enjoy wide and far-reaching visibility at night without causing any glare to others.
2. Heat Management: NAOEVO uses copper heat pipe, copper substrate, heat sinks, cooling fan, and other thermal management technologies are incorporated to dissipated heat more efficiently and the intelligent temperature controller to prevent the bulb from overheating.
3. Canbus System: Canbus technology enables seamless integration of LED headlight bulbs with the vehicle's electrical system. It helps prevent flickering, error messages, or other compatibility issues that may arise due to the difference in electrical characteristics.
4. Durability & Resistance: NAOEVO's LED headlight bulbs incorporate durable materials and sealing techniques to withstand various environmental conditions, including moisture, dust, and vibration.
The Most Popular Products In The Exhibition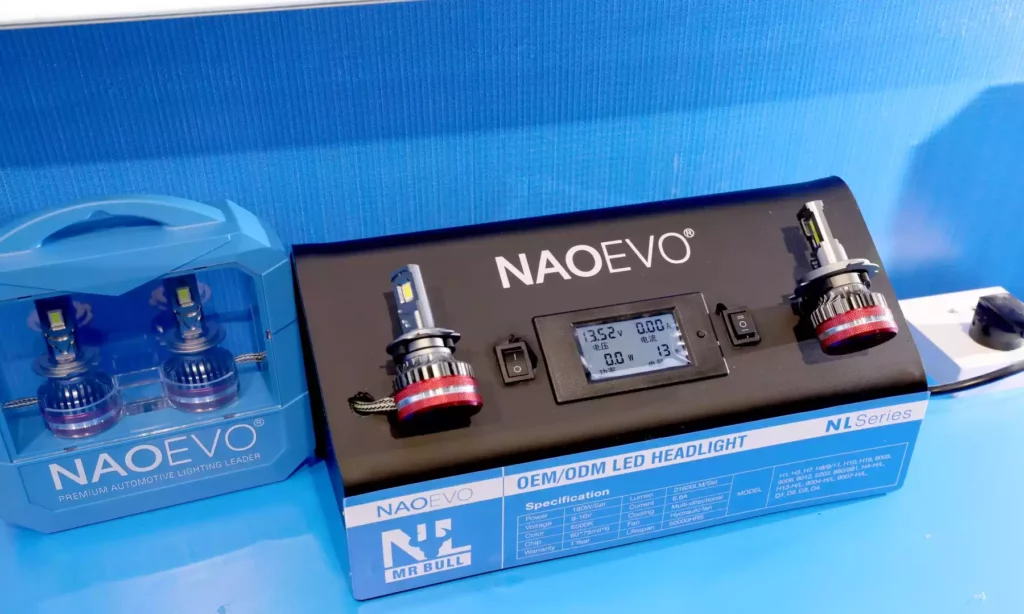 (NL Series- Mr. Bull LED Headlight Bulb 180W 21600LM)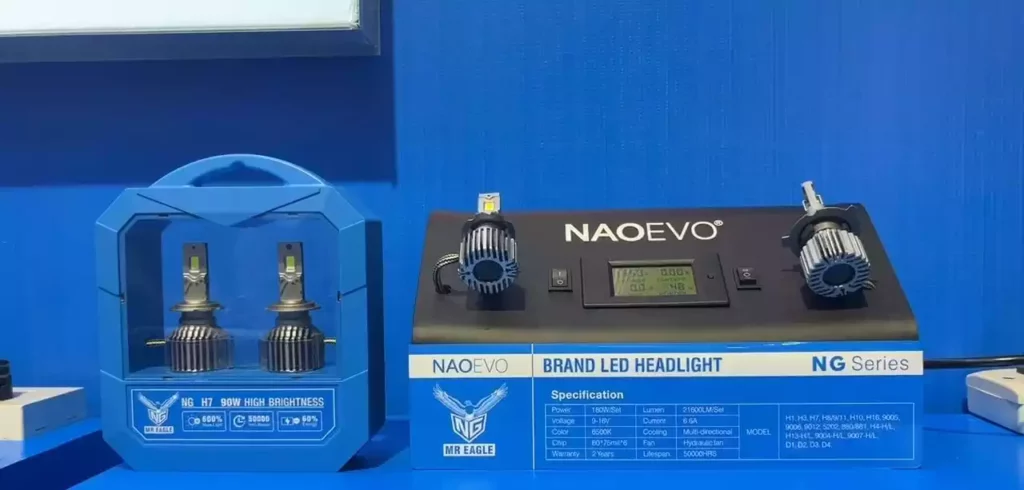 (NG Series- Mr. Eagle LED Headlight Bulb 180W 21600LM)
During this fair, we have received about 200 customers and bring back their name cards and requirements. Among these customers, most of them are dealers and wholesalers from India and Russia, who are particularly interested in our new products NL (Bull Design) and NG (Eagle Design) LED headlight bulbs.

The NL and NG LED headlight bulbs redefine what is really high brightness LED headlight bulbs. With 6pcs high-intensity flip chip, these bulbs are able to provide a high brightness of 180W 21600LM per set. Drivers will experience enhanced visibility at night with a powerful and focused beam pattern. The upgraded copper heat pipe technology of these bulbs greatly prolong their lifespan of over 50,000 hours.

"The NL BULL design LED headlight bulbs from NAOEVO are very unique and eye-catching. We think they will be a hit in India, as bull hold great cultural and religious significance in India." said by an Indian visitor.
"We've already worked with NAOEVO, but we finally got to see their products in person at Canton Fair. We were very impressed with the range of the LED headlight bulbs that NAOEVO offers." stated by a customer from Russia.
More Products on Displayed at NAOEVO
Alongside our highly acclaimed NL and NG LED headlight bulbs, NAOEVO made a striking presence at the exhibition by introducing a range of globally hot-selling LED headlight bulbs such as NT, NR, V05, S4, GT6, MAX3, and ND etc. These exceptional products have garnered significant attention and acclaim worldwide for their impressive performance and advanced features.
1. NT LED Headlight Bulbs 80W 9600LM – Rabbit Design
2. NR LED Headlight Bulbs 110W 13200LM – Rocket Design
3. ND LED Headlight Bulbs 170W 16800LM – Spider Design
4. V05 LED Headlight Bulb 100W 12000LM – 12 Degree Oblique Design
5. S4 Pro Mini LED Headlights 60W 7200LM Bright Three-Color
6. GT6 LED Headlight Bulb 90W 10,000LM 
7. Max3 LED Headlight Bulb 120W 13000LM 
First Day Triumph: Abundant Harvest at the Exhibition
During the exhibition, many customers were impressed with our products and were willing to take samples for further testing. Some of customers were so impressed that they decided to place an order on the spot.

It was great to see such positive responses to our products and we were thrilled to have the opportunity to showcase our products' quality and performance. Our team was on hand to answer any questions that customers had and to provide them with the information they needed to make informed purchasing decisions. Overall, it was a successful day at the exhibition, and we look forward to continuing to meet with customers and share our products with them.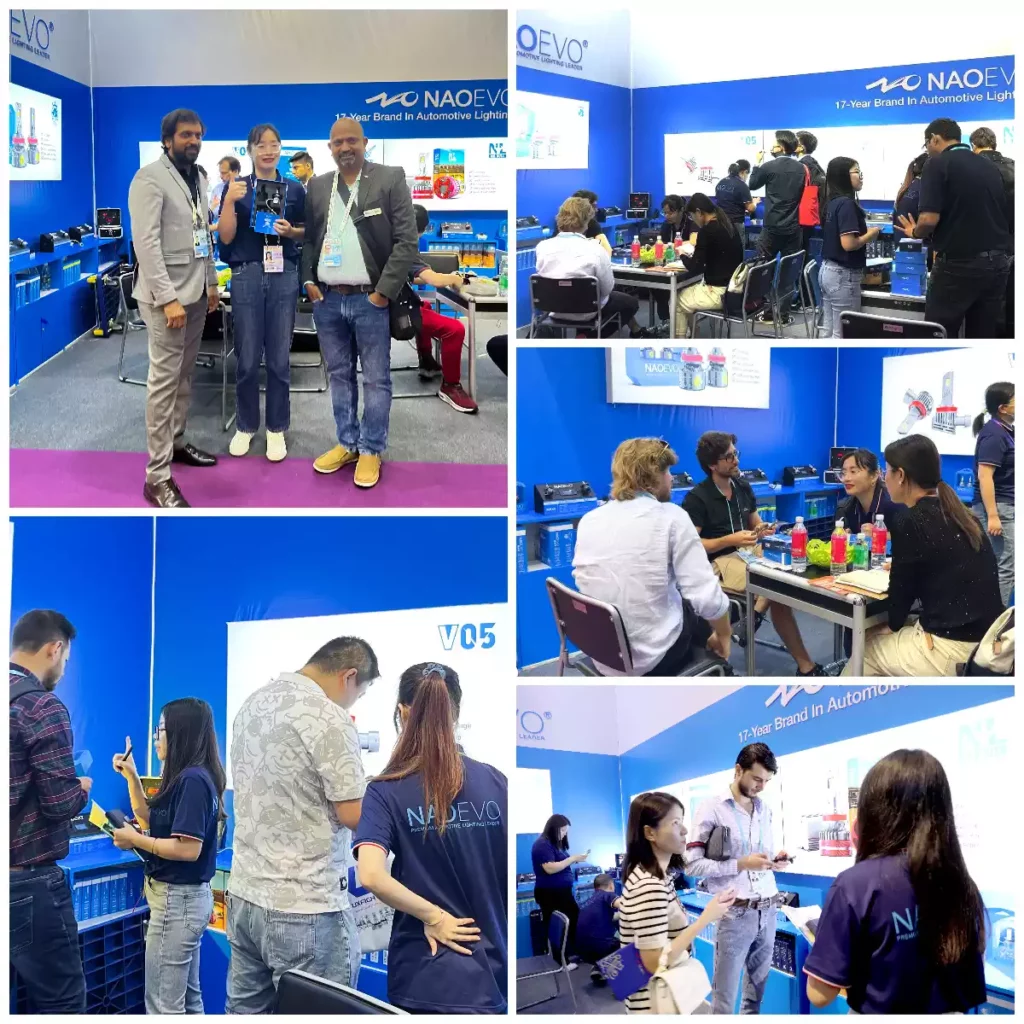 A Successful Conclusion
The 5-day exhibition is the key for us to enhance the relationship with our existing and new customers. It also holds immense importance as a platform for customers to learn about our latest innovations & technologies, exclusive supports and services.

As technology continues to advance at an unprecedented pace, in the future, NAOEVO will continue to be a leader in the automotive lighting industry, showcasing the latest advancements and shocking the next wave of LED headlight bulb innovation.

As a manufacturer, NAOEVO always focuses on LED headlight bulb research and development and innovation. So we participated in many automotive lights fair at home and abroad to collect various market demand information, in order to better optimize the product and maximize the satisfaction of customer needs in different countries and regions.
NAOEVO looks forward to meeting you at the next exhibition.