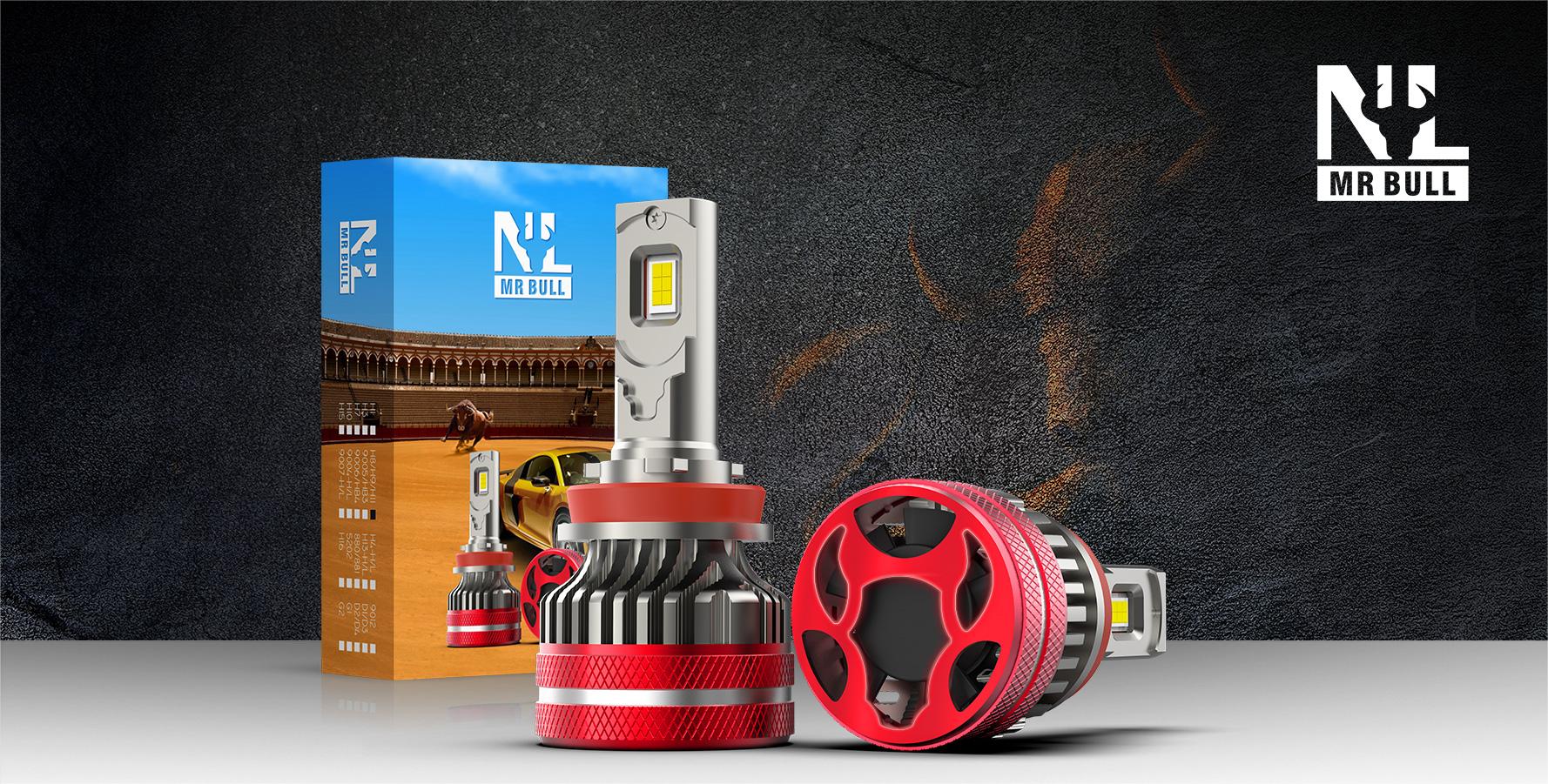 ---
2023 NEW LAUNCH –

MR. BULL

NL SERIES LED HEADLIGHT
Looking for powerful automotive led bulb with stylish design for your cars?
Our NL LED bulb will be your perfect choice. Feature unique bull design, they come out with 10800LM at wholesale.
Upgrade Your Style With Bull Design
Inspired by the bull, this bulb embodies strength and resilience. Just like NL LED lights, they exude the power of a bull, emitting an incredibly bright light to illuminate your path. Its eye-catching bullfighting-themed packaging will surely catch the attention of your customers on the dazzling shelves
See and Be Seen, Brighter Than Ever
Featuring a remarkable 6pcs 70mil flip chip, these bulbs boast an impressive output of 21600LM and 180W. The 6500K white light closely mimics the natural daylight, ensuring a supremely comfortable driving experience.
The Perfect Beam For Perfect Drive
With NAOEVO's patented design array of LED chips, their bulbs deliver an impeccable light beam, boasting a clear cutoff line and eliminating any glare. This ensures a safe and secure driving experience on the road.
Better Cooling, Longer Lifespan
The newest NL LED headlight bulbs feature dual copper heat pipes, including an upgraded 51mm*4mm size, ensuring efficient cooling. With a 6063 aluminum body and a high-speed mute fan, these bulbs have a lifespan exceeding 30,000 hours.
Canbus Error Free
The intelligent Canbus driver inside the bulb uses capacitance to smooth out the power and helps the vehicle's computer system adjust to the new bulb.
---

---
SPECIFICATION
| | |
| --- | --- |
| POWER | 90W 10800LM / BULB |
| COLOR | 6500K WHITE |
| VOLTAGE | DV9-16V |
| OPERATING VOLTAGE | 13.5V |
| CHIP | 6*70 MIL FLIP CHIP |
| WARRANTY | 1 YEAR |
| SIZE | 1.43*3.03 INCH |
---
17 Years of Experience in Auto Lighting – NAOEVO
As a reliable manufacturer for WHOLESALE automotive lighting in China. Here are the benefits you will get from us:
Low MOQ & Fast Delivery
Innovative Products
Best Wholesale Price
OEM/ODM service
Get a quote and see the value we offer! 👇👇