Trade shows is the best place to see amazing growth of the automotive lighting industry! You can quite literally see just about the latest development and technologies that's related to today's car lighting market under one roof. Numerous lighting exhibitions take place every year in different parts of the world. In order to show our cutting-edge LED headlight technology to customers around the world visually, NAOEVO has attended some of the famous exhibitions around the world.

Now, let's look back at NAOEVO's performance in previous shows. And in the future, what exhibitions will NAOEVO attend to demonstrate their breakthroughs in automotive lighting.

Breaking New Ground: NAOEVO's Exhibition in Review

Automechanika Dubai 2015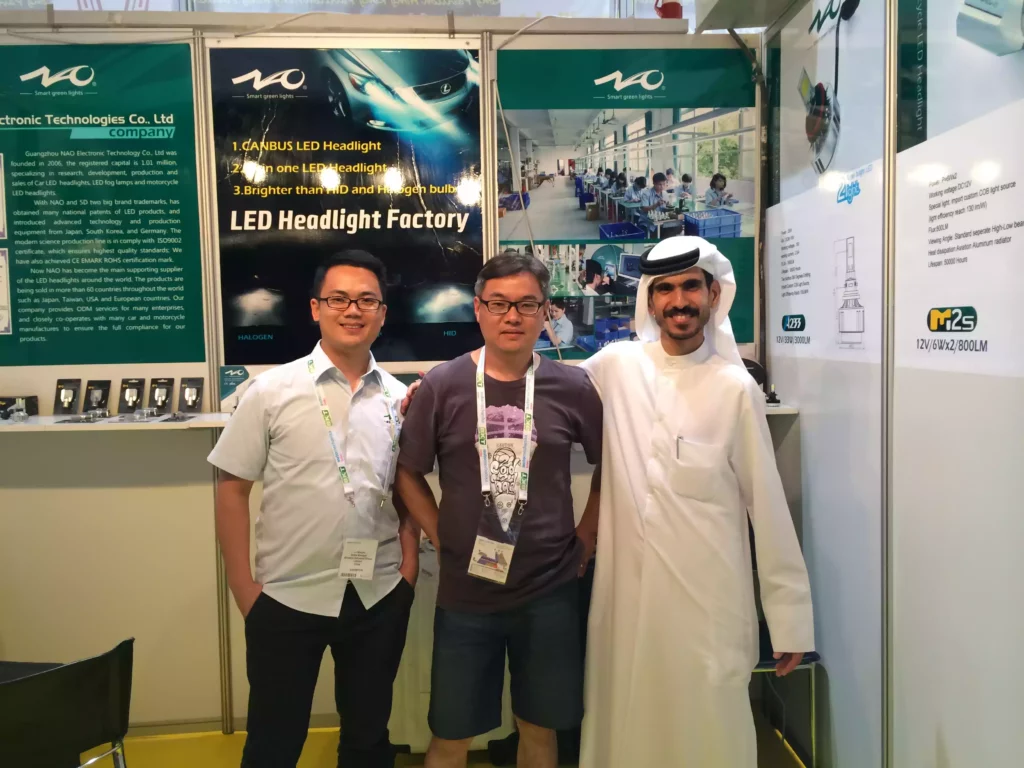 Automechanika Dubai is the largest international trade exhibition for automotive lighting industry in the wider Middle East region. The fair provides a platform for the latest innovations, technologies and services related to the automotive industry which including auto parts and systems, electronic modification and accessories and customizing.

As a leading automotive headlight bulb manufacturer, NAOEVO attended the Dubai Fair in June 2015. In the fair, NAOEVO demonstrated the latest and newest LED headlight bulbs . What sets NAOEVO's product apart from others is that they deliver power light, perfect light beam pattern and long lifespan.

Our company was able to successfully showcase our LED car light bulb and services, and we received positive feedback from many attendees. We also had the opportunity to meet with potential customers and partners in Dubai and discuss potential business opportunity.

International Auto Aftermarket Expo 2016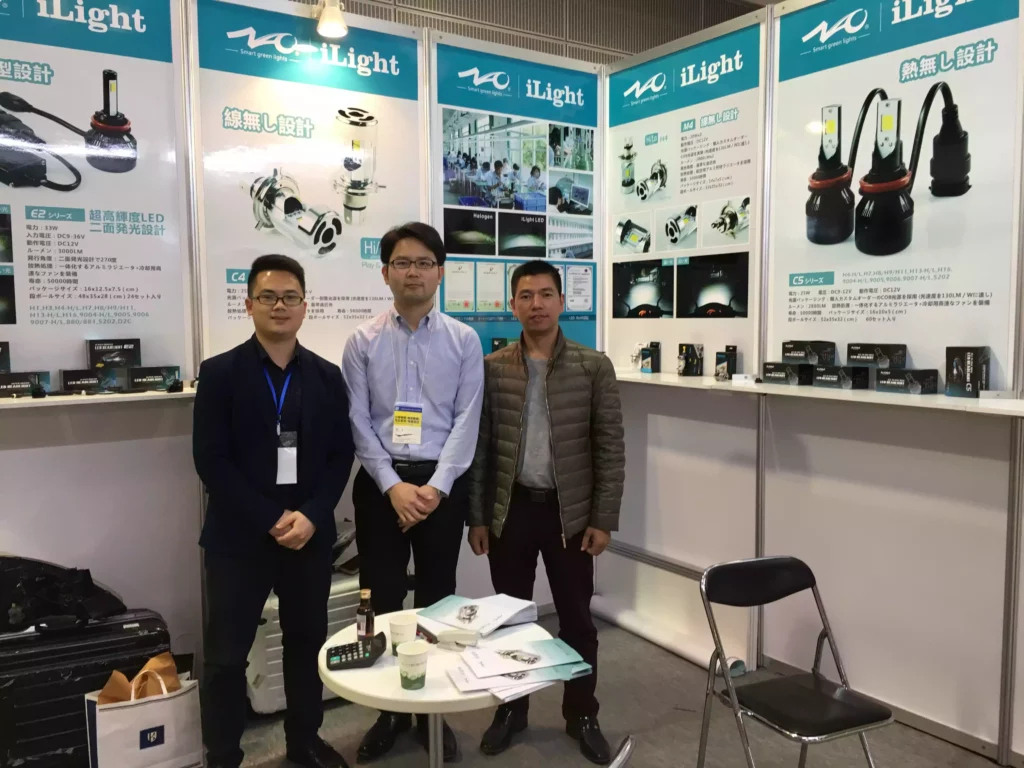 Japan International Auto Aftermarket Expo (IAAE) is the only professional auto parts and aftermarket exhibition in Japan, as well as the largest exhibition in East Asia.
Japan is home to several major automotive manufacturers, including Toyota, Honda, and Nissan.

In recent years, the demand for more energy-efficient and safer lighting systems has increased in Japan. This has led to the development of new technologies such as LED and HID headlight bulbs.

NAOEVO is also honored to participate in Japan Expo in 2016. We show our main products in the exhibition including LED headlight bulb, car LED tail light, motorcycle LED bulbs, motorcycle fog light, and other car accessories. After the products were displayed, they immediately attracted many customers to come to consult.

After the exhibition, we not only got a lot of orders, but also understand the demand of the Japanese car headlight bulb market, thus helping us grow customer base in Japan.

The 2 Wheels Fair in Colombia (Feria de las 2 Ruedas)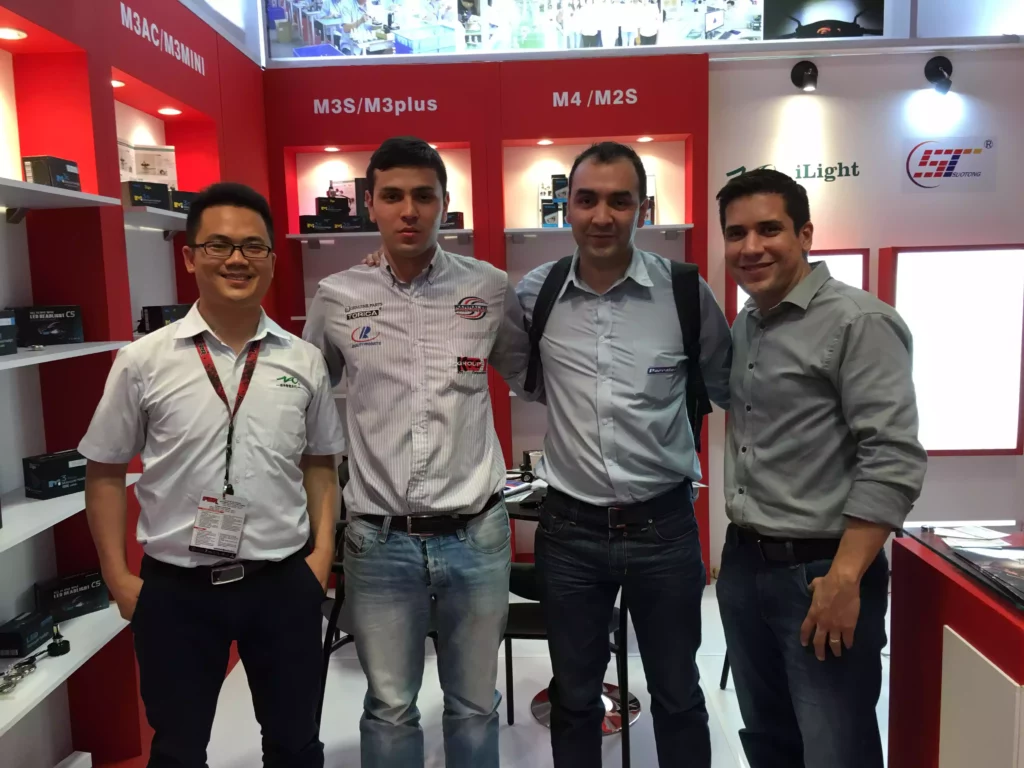 The Feria de las 2 Ruedas is one of the most professional, largest and targeted events of the Latin America motorcycle industry. The exhibition showcases the latest products, designs, equipment, services and trends in the motorcycle and bicycle industry. On average, about 550,000 motorcycles are sold annually in Colombia putting it the second place for motorcycle sales in Latin America, contributing 25% of the total market.

The Feria de las 2 Ruedas provides a business platform for Chinese manufacturers to enter Colombian market. For this reason, NAOEVO seized this opportunity and participated in this exhibition in May, 2016.

As a quality auto light manufacturer and supplier in China, we are dedicated to bringing the best-class products to customers around the world. In the exhibition, we showcased our latest motorcycle LED bulbs such as M4. M3S, and M3MINI. They attracted many customers due to their efficient brightness, mini design, 360 degree beam angle, and durability.

As a innovative manufacturer for car LED bulbs and motorcycle LED bulbs, NAOEVO stays up-to-date with the latest motorcycle lighting trends in South America and produces the best motorcycle LED bulbs to meet South American market needs. Because of that, NAOEVO now become a well-known brand in South America.

Latin Auto Parts Expo Panama 2016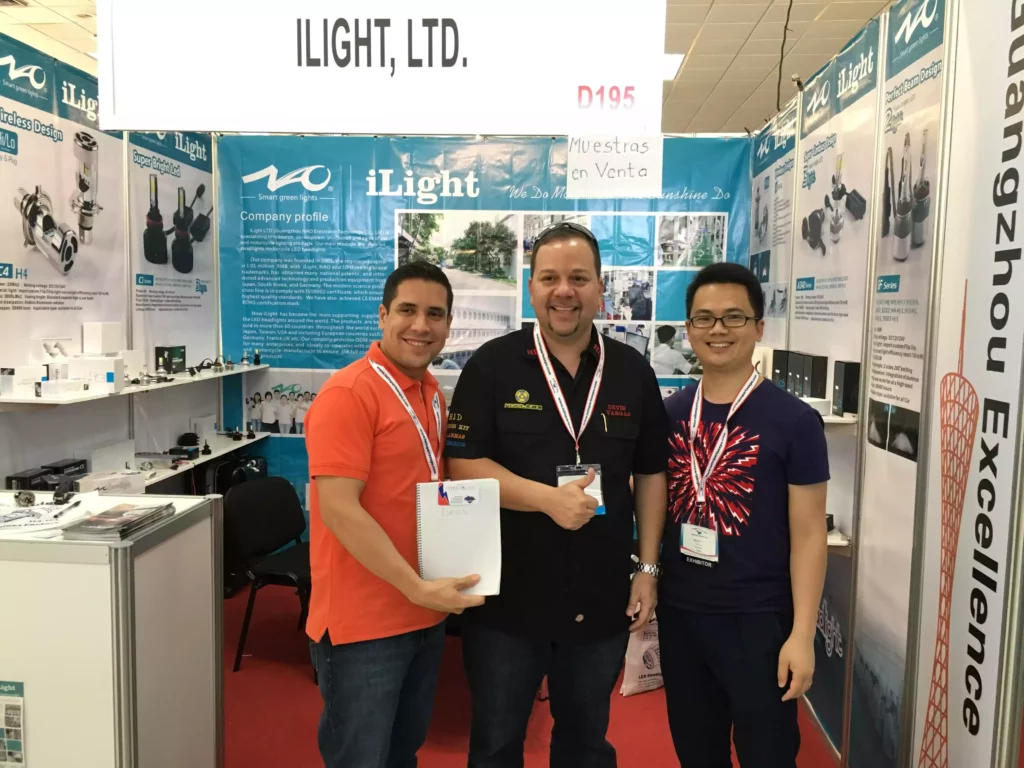 The Latin Auto Parts is the most important auto part shows in Latin America. Every year, it attracts 500+ exhibiting manufacturers from around the world. In 2016, this exhibition was held in Panama City, a cross road of North America and Latin America. Exhibitors at this show would have the opportunity to connect directly to auto part dealers in Mexico, Central and South America and the Caribbean to expand the market.

"NAOEVO's presence at Latin Auto Parts Expo shows our confidence in the South American automotive lights market" said Happy Lv , a manager of foreign trade department, NAOEVO. "We have been engaged in the development and production of auto LED lights for over a decade. Now it is a good for us to show our achievement around the world."

In the exhibition, NAOEVO demonstrate the latest motorcycle LED bulb, 2-side LED car headlight bulbs, 3-side LED headlight bulbs and some super easy installation LED bulbs which has received a good feedback from customers.

InterAuto Russia 2016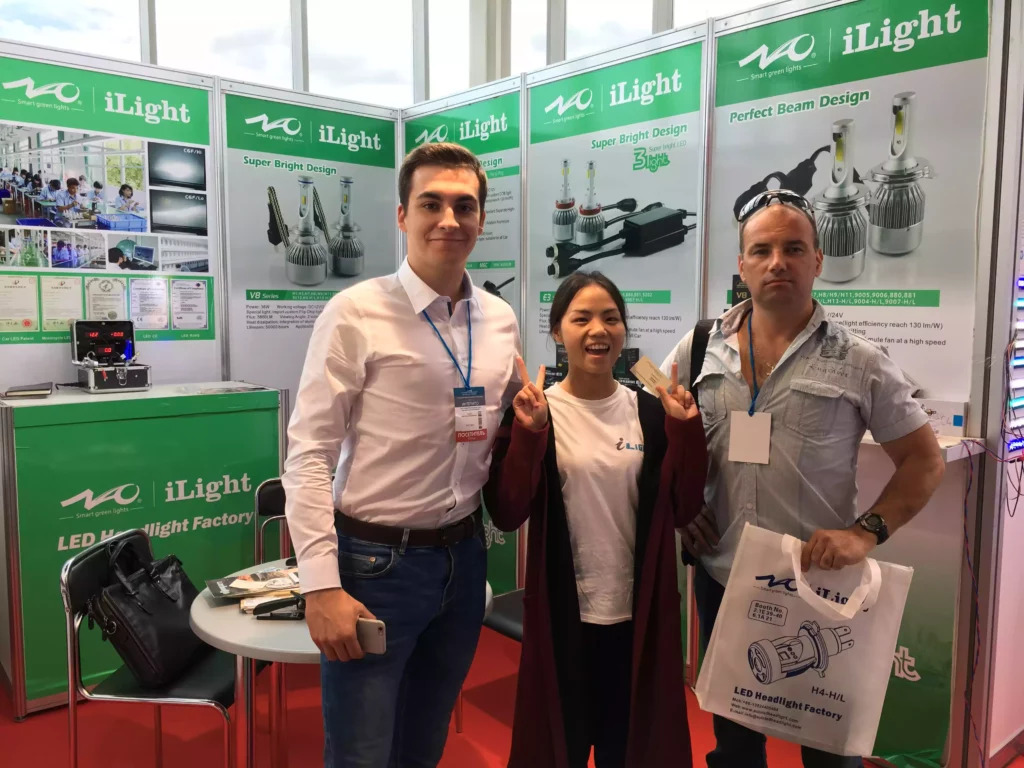 It has become one of the largest and the most influential automotive industry show in Russia. The 11th International exhibition of automotive industry InterAuto was opened August 26, 2016 in Crocus Expo IEC. Everything necessary for the professionals of the branch: automotive components, spare parts, equipment for cars after sale maintenance, car care chemistry, automotive electronics, accessories and consumables, were displayed on the same platform.

Russia is one of the fastest growing regions of the world automobile industry, and the automobile industry is an important part of the Russian economic system. Chinese auto parts have a good competitive price in Russia, and the fast-growing market is mainly a price-sensitive region, where good value for money products are attractive to the Russian market.

In the exhibition, we displayed our top-notch LED headlight bulbs which were characterized as high-power, safe beam pattern, easy install and cheap wholesale price. "I was impressed by the range of LED headlight bulbs especially their brightness and beam pattern." said Matvei Lopatin, a purchasing manager of an auto lighting company. "We have been extremely impressed with the quality and price of NAOEVO's products, it is the key factor in our decision to cooperate with NAOEVO."

In this fair, NAOEVO attracted a large number of potential customers and clients. As moving forward, we remain committed to providing our customers with the best products and services in the automotive lighting industry. We look forward to continued growth and success in the future.

2016 Germany Automechanika Frankfurt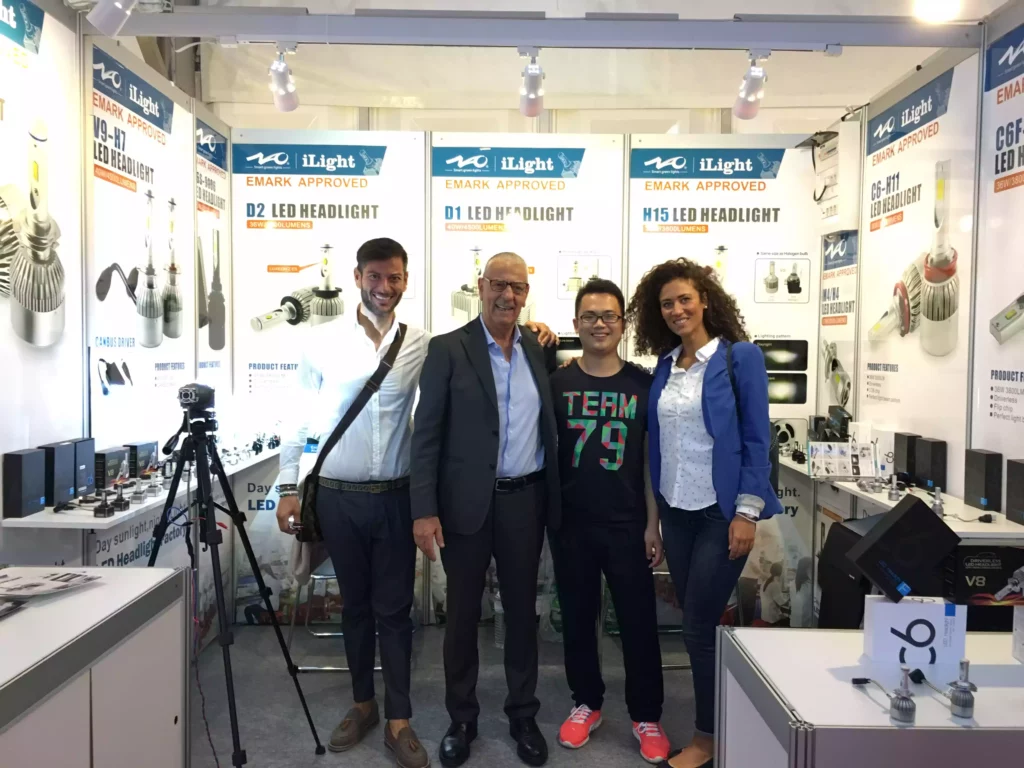 Germany is the first place in the world to hold an international auto show. The Automechanika Frankfurt Exhibition, held every two years, is one of the five most prestigious international auto shows in the world and one of the top three auto parts shows in the world. The exhibitors mainly come from Europe, the United States and Japan. As the world's leading auto parts exhibition, it covers the automotive parts, components and systems, automotive electronics, maintenance and after-sales services.

Germany is famous for its automotive industry due to its long-standing tradition of excellence in engineering and innovation. The rapid development of German automobile industry has spawned a series of auto parts industries, and it is expected to continue to grow in the coming years, driven by increased demand for advanced modification and the continued development of new technologies.

More than 10 years of proven performance and automotive lighting manufacturer was on display, showing visitors the best-in-class auto lighting solution. Our main attractions include C6 (which has become the best-selling LED bulbs on the market), D1, D2, M4, V9 and V8 LED headlight bulbs.

Some European cars like BMW, Chevrolet, Ford, Mercedes come with OEM HID headlight kit. To enable these cars to be upgraded to LED bulbs, NAOEVO presented the upgrade D series LED headlight bulb that can perfectly replace HID bulbs with easy installation.

For us, Europe is our potential market, we will continue to provide high-end LED headlights to meet the European market demand, and will share the fruits of this success with our partners.

SEMA Show In Las Vegas 2016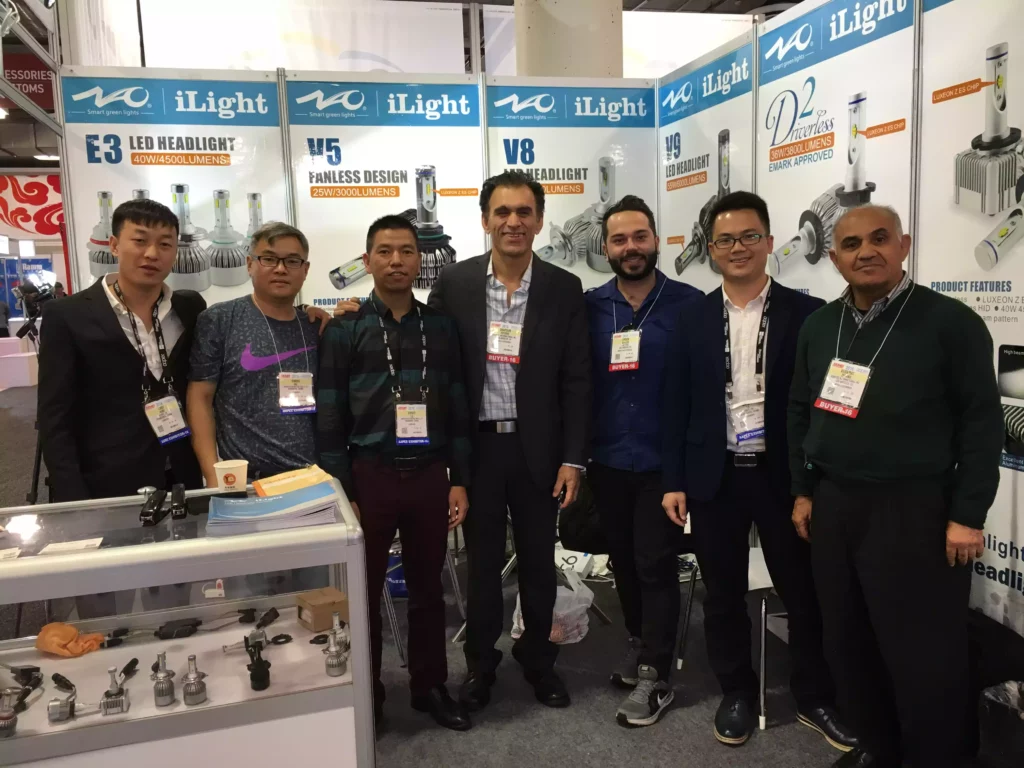 The SEMA Show took place November 1 – 4 November, 2016 at the Las Vegas Convention Center. The SEMA Show is the premier automotive specialty products trade event in the world. It draws the industry's brightest minds and hottest products to one place. By participating in SEMA Show, enterprises can obtain first-hand market information, get the whole picture of the North American market, and obtain orders and gradually enter the North American market.

The history of American modified cars is probably as long as the history of the American automobile industry. According to relevant statistics, there are more than 10,000 custom car parts manufacturers and aftermarket auto parts service in the United States. The annual turnover of car tuning alone is more than 40 billion dollars.

As a leading automotive lighting manufacturer in China, NAOEVO is dedicated to displaying the newest LED headlight bulbs for better car modification, such as E3, V5, v8, V9, and D2 LED headlight bulbs. To meet different needs, we designed the LED headlight bulbs with different features such as 360-degree illumination, fanless, high lumen, and plug-n-play, etc.

We have a strong confidence in the American market. NAOEVO's presence at SEMA Show was a testament to our dedication to expanding our reach and increasing our global impact. The opportunity to network with top industry professionals and establish new partnerships was invaluable. We are grateful for the warm reception we received and are eager to continue building upon the momentum generated at the exhibition.

Canton Fair 2018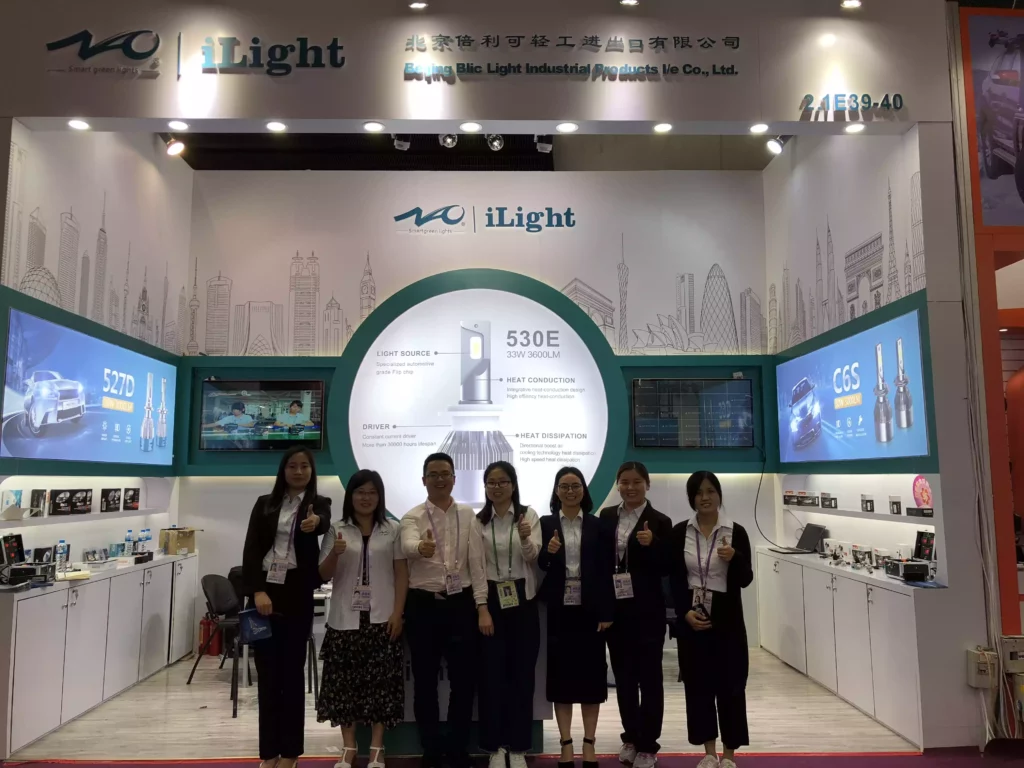 The "Canton Fair", which enjoys the reputation of "China's No.1 Exhibition", is the pinnacle of international trade events, boasting an impressive history and staggering scale. Held every spring and autumn in Guangzhou, it attracts more than 200,000 buyers from more than 100 countries and regions every year and has generated immense business dealings in China.

China has become a major global manufacturer of automotive parts due to its large and efficient manufacturing capabilities, low costs, and government supports for the automotive industry. Additionally, Chinese auto parts manufacturers have been improving the quality of their products in recent years, making them increasingly competitive in the global marketplace.

Attending the Canton Fair provides a good chance for NAOEVO to display the latest technology for car lighting to the world and build a professional network, offer a chance to connect with other buyers, and industry experts. In the fair, attendees will have the chance to get hands-on our newest innovations, including our 530E, C6S, 527D and 5D LED headlight bulbs. In the fair, our 530E LED headlight bulbs received lots of good feedback due to their high brightness, short size, better cooling, and easy installation.

"By bringing technology to automotive LED light and passion to innovation, we are creating an industry benchmark that drive our products forward and improve our quality" stated Happy Lv, a Manager of Foreign Trade Department at NAOEVO, "To truly capture the diversity of our products, we will demonstrate several patented design in LED headlight bulbs at this year's Canton Fair, which are leading to breakthrough applications in the automotive lighting industry."

Exploring New Opportunity: A Preview of NAOEVO's Upcoming Exhibition Events

The 133rd Canton Fair 2023
Spring Fair: From April 15-19
Autumn Fair: From October 15-19
Location: At Guangzhou-Canton Fair Complex, China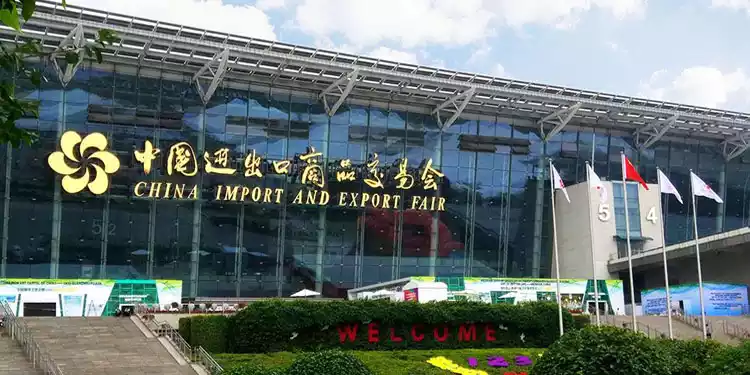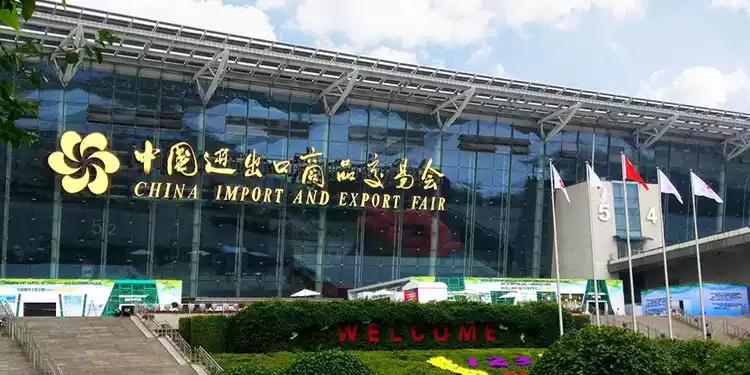 Canton Fair, also known as the China Import and Export Fair, is the largest trade fair in China and one of the largest in the world. Held twice a year in the city of Guangzhou, it attracts thousands of exhibitors and buyers from all over the globe. It is an excellent platform for businesses to showcase their products and network with potential partners. The fair also serves as a barometer for China's export market, providing valuable insights into the country's economy and global trade trends.

NAOEVO is excited to announce our upcoming exhibition, which will showcase our latest products and services. The exhibition will take place at the Guangzhou City, China from April 15 to 19, and October 15 until 19.

2023 SEMA/AAPEX Show Las Vegas
SEMA Exhibits:
October 31 – November 3, 2023
SEMA Show Location:
Las Vegas Convention Center
AAPEX Exhibits:
October 31- November 3, 2023
AAPEX Show Location:
Venetian Expo & Convention Center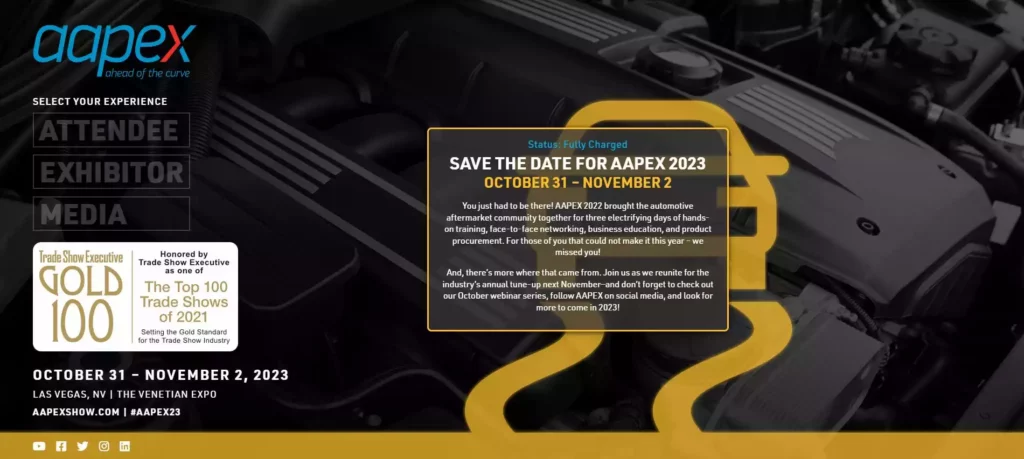 Organized by the Specialty Equipment Market Association (SEMA), this trade-only event is draws more than 70,000 quality domestic and international buyers each year. Sometimes referred to as the SEMA Car Show 2023, the SEMA Show at the Las Vegas Convention Center is the world's number-one automotive trade event, bringing together manufacturers and buyers in every segment of the automotive industry, from the traditional performance vehicles to street racers, trucks and off-road vehicles, hot rods and classic show cars, to mobile electronics and collision repair.

Automechanika Shanghai 2023
Date: From November 29 to December 2, 2024
Location: Shanghai, China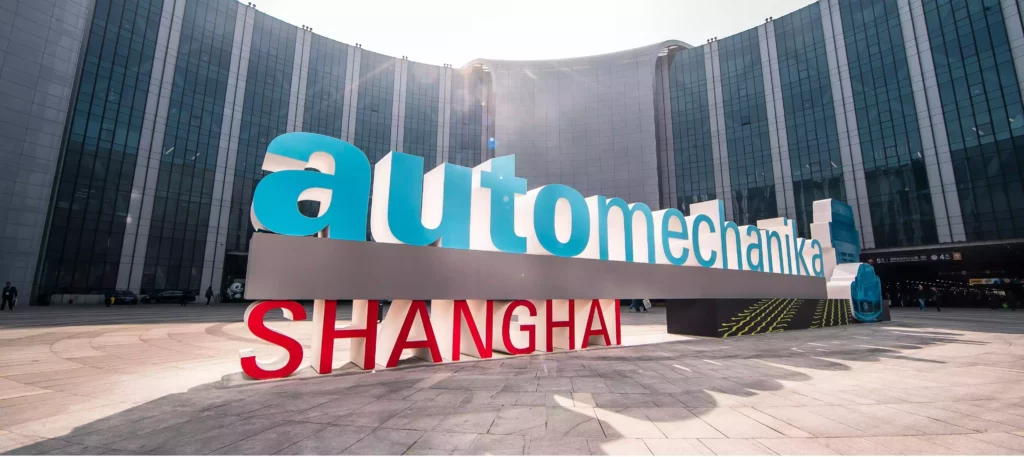 The leading event for the automotive industry in Asia – Automechanika Shanghai, will return to 2023 after the cancellation of its dates last year due to complications of Covid-19. The arrangement for Automechanika Shanghai will be held from 29 November to 2 December, 2023.

The trade show encompasses the complete supply chain and provides a robust array of products, services, and technologies that fulfill both present and future market demands. The event is a great platform for manufacturers, suppliers, and buyers to meet and discuss business opportunities. The fair is a must-attend event for anyone involved in the automotive industry.

NAOEVO is thrilled to be showcasing our 2023 newest line of LED headlight bulbs at the upcoming Automechanika Shanghai exhibition, Join us on December 2, 2023 to learn more about what we have to offer.