With the advancement of LED technology, LED headlight bulbs have become increasingly popular among drivers due to their energy efficiency, superior brightness and long lifespan. As the high demand for these LED car light bulbs continues to rise worldwide, there are countless manufacturers of automotive LED headlights starting to fight for the top position with their latest technologies.

Currently, there are several leading manufacturers & suppliers in the world who are known for producing high-quality LED car bulbs. If you are a wholesaler/dealer who looking for a reliable LED headlight bulb manufacturer. Luckily, you will be narrow down your choice by reading this article. Here, we will take a closer look at these top 5 auto LED headlight manufacturers in the world, highlighting their key features and benefits that make them stand out in the market.
Top 5 Automotive LED Headlight Manufacturers

1. OSRAM
Location: Munich, Germany
Company Type: manufacturer
Year founded: 1919
Main products: Led headlight lamps, Xenon lamps, Halogen lamps, Auto accessories

Source: https://www.osram.com/am/
Founded in 1919, with a century of development, Osram Automotive has become the valued and reputable global manufacturer and supplier of automotive LED lighting who positions itself as a high-tech photonics company.

As a global supplier to the OEM aftermarket, they follow strict LED car bulbs manufacturing process so that they can support the customers' needs wherever they are. Until now, Osram has over 23,500 employees worldwide, with operations in more than 120 countries and 17 plants globally. It claims that half of the vehicles in the world are equipped with Osram automotive LED lights each year.

Besides, Osram also offers a range of support services to help wholesalers succeed, including marketing and training materials, technical support, and product demonstrations. With their extensive experience and industry-leading technology, Osram is a reliable and trusted partner for wholesalers in the automotive lighting industry.
Hot-Selling Products of OSRAM
OSRAM NIGHT BREAKER LED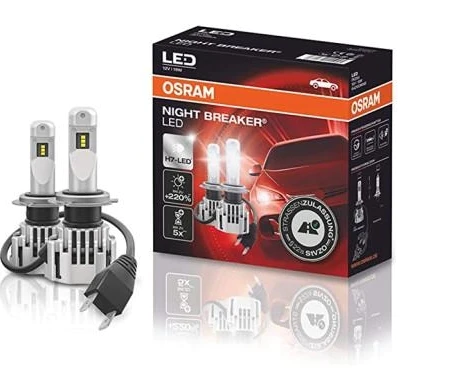 Specs:
Power: 19W 2500LM (Per Bulb)
Color: 6000K Cool White
Voltage: 12V
Lifespan: Up to 25,000 Hours
Warranty: 4 Years
Compared to regular halogen bulbs, the NIGHT BREKER LED provides the drivers with safer night driving as well as 50% less glare and a 5x longer lifespan than halogen bulbs. These brand-new LEDs are designed as compact as possible, they have been tested on the vehicle and confirmed by official test centers. Using upgraded LED technology, These bulbs are manufactured in a certified Osram plant in Italy.

Here is Osram's first street-legal LED low beam lamp. Benefit from better visibility, the NIGHT BREAKER LED offers stable 19W, 2500LM brightness, and cool white color temperature of 6000K with up to 220% light brighter than halogen bulbs.

2. PHILIPS
Location: Amsterdam, the Netherlands
Company Type: Manufacturer
Year founded: 1891
Main products: Led headlight bulbs, Led interior and exterior lighting, Auto accessories
Founded in 1891, Philips is a major international LED car headlight manufacturer of choice for more than 100 automakers. For nearly a century, Philips Automotive has been trusted by thousands of customers and partners for its innovative technology, forefront R&D, and manufacturing power. The company's cutting-edge Airflow and SafeBeam technologies guarantee their LED bulbs a super long lifespan with a perfectly positioned beam placement. What sets Philips apart from other manufacturer is that every year, Philips applies for 50 new patents.
Partnering with Philips as a distributor means that you can offer your customers the high-end automotive lighting products that are backed by a trusted brand name. With a focus on innovation, durability and sustainability, Philips is an ideal and reputable partner for any distributor looking to meet the growing demand for quality automotive LED headlight bulb solutions.
Hot-Selling Products of Philips
X-tremeUltinon LED Bulb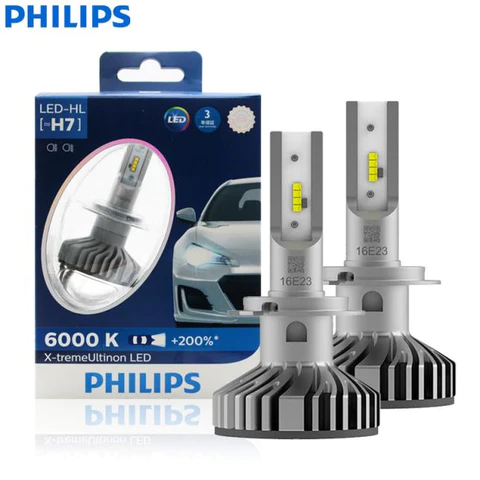 Specs:
Power: 22W 1350LM (Per Bulb)
Color: 5800K
Lifespan: Up to 12 Years
Warranty: 5 Years (2 years standard + 3 years extended)
You can't go wrong with Philips X-tremeUltinon LED headlight bulb which is one of the most popular LED headlight kits on the market. X-tremeUltinon LED is the pinnacle of technological innovation which uses a variety of Philips' new patent designs in order to achieve a headlight that can surpass every expectation in every field.

By using the LUXEON LED technology, these LED bulbs offer 22W 1350LM brightness, 5800K color temperature, and provide light which is 200% brighter than halogen. The SafeBeam technology ensures X-tremeUltinon LED to provide an outstanding light closed to the daylight, the upgraded strong light enables you to see further on the road, without any glare on other drivers.

The amazing AirFlux and AirCool technology enable the bulbs to transfer the heat more effectively, thus increasing their lifespan to 12 years.

3. NAOEVO
Location: Guangzhou, China
Company Type: Manufacturer & Supplier
Year Founded: 2006
Major Products: LED headlight bulb, LED working light, LED light bar

Source: https://www.naoevo.com/
Founded in 2006 and with 17 years of experience, NAOEVO is a well-known auto LED Headlight Bulb Manufacturer in China, dedicated to offering quality, high power LED headlight bulbs at wholesale prices.

Located in Baiyun District, Guangzhou City, NAOEVO has its in-house factory which covers about 10,000 m² with over 200 skilled workers and 20 professional engineers. The factory has advanced facilities such as SMT Machine, Automatic Soldering Machine, and Glue Dispensing Machine, enabling the company to deliver innovative products and meet the needs of mass production of customers. For 17 years, it is the principle of "Quality Orientation" that makes NAOEVO one of the trusted brands of automotive lighting around the world.

What makes NAOEVO stand out from other manufacturers is that they maintain a new launch of LED bulb every quarter, which helps their distributors keep up with the trends and stay ahead of the competition. In addition, NAOEVO adheres to the principle of win-win cooperation, providing agents with a series of benefits and support to help them succeed in business. Until now, NAOEVO has over 40 agents around the world and is looking for distributors around the globe.
Hot-Selling Products of NAOEVO
NAOEVO NG LED Headlight Bulbs – Mr. Eagle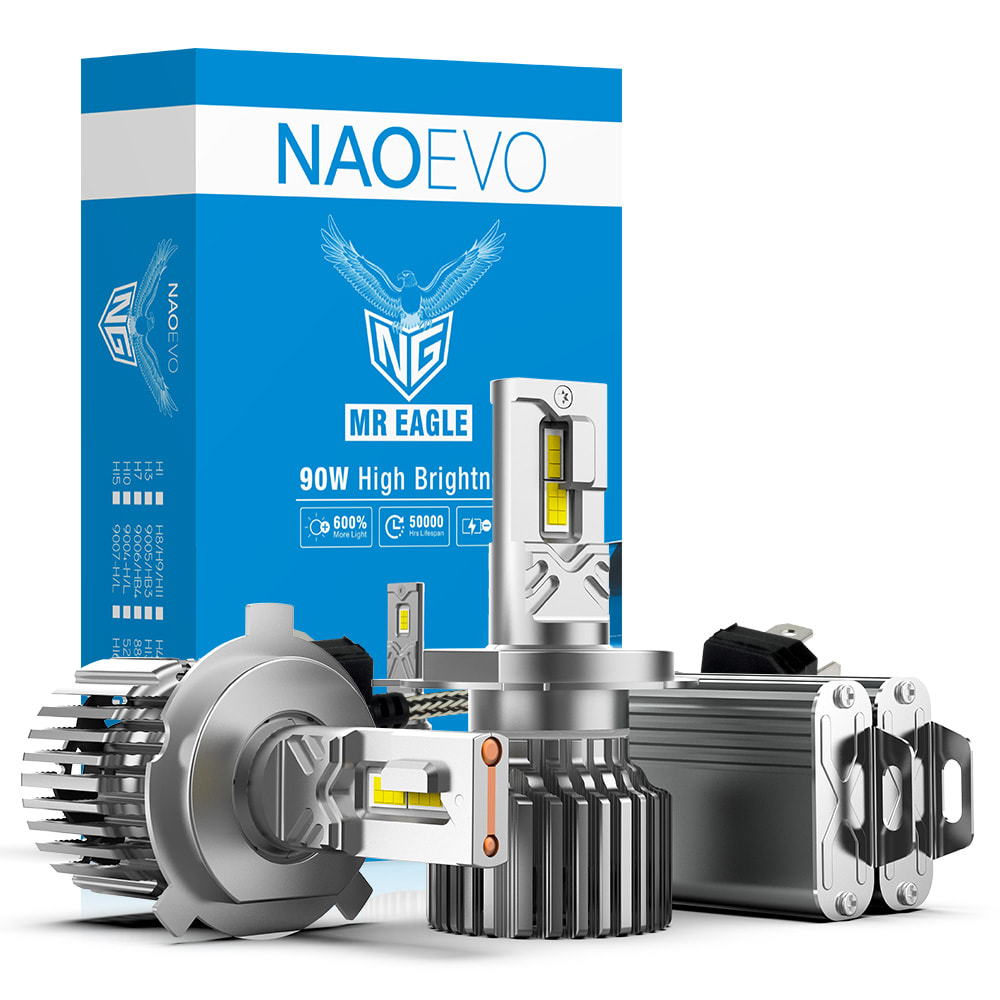 Specs:
Power: 90W 10800LM (Per Bulb)
Color: 6500K
Lifespan: 50,000 hrs
Warranty: 2 Years
The NG series LED headlight bulbs are the latest product launched by NAOEVO in 2023. One of the biggest features of NG LED bulb is its eagle design, so you can also call it Mr. Eagle LED bulb. Eagle is a symbol of power, speed and keen eyesight, which means that this NG LED headlight bulbs are designed to produce powerful brightness that can light up the road instantly. The NG LED bulb will give you power like an eagle and make you drive at night confidently.

Equipped with quality 75 MIL flip chip to deliver a high output of 180W 10800LM per set, the NG LED headlight bulbs are regarded as one of the brightest car light bulbs on the market. Many people will worry about the glare light produced from high lumen LED bulbs. However, the NG LED bulbs are equipped with the advanced optical tech to ensure they produce clear cutoff line on low beam and focus and wide light on high beam. Without any glare or dark, they ensure no glare on others.

NG LED headlights have upgraded one of its copper heat pipe to a lager size of 51mm*4mm, resulting 30W of heat transfer each time. Combined with 6063 aluminum, heat sink and high-speed fan for heat dissipation, NG LED headlights can last for 50,000 hrs.

4. HELLA Automotive Lighting
Location: Lippstadt, Germany
Company Type: Manufacturer
Year Founded: 1899
Major Products: LED headlamps, Taillights, Electronic Components, Aftermarket Parts
HELLA is a leading manufacturer of automotive lighting, specializing in the production of innovative LED headlight bulbs. Founded in Germany in 1899, the company has grown to become a global player in the automotive industry, with operations in over 100 locations around the world.
With a workforce of more than 38,000 employees, HELLA is committed to delivering the highest-quality products to its customers. The company operates 35 production plants and generated a revenue of over 6.6 billion euros in the last fiscal year. HELLA has invested heavily in research and development, with over 7% of its revenue being reinvested in innovation. As a manufacturer of automotive lighting products, HELLA has a production capacity of over 30 million units per year.

With its global reach, extensive manufacturing capabilities, and commitment to innovation, HELLA is a trusted partner for wholesalers who are looking to expand their offerings in the automotive lighting sector.
Hot-Selling Products of HELLA
HELLA LED Retrofit Bulbs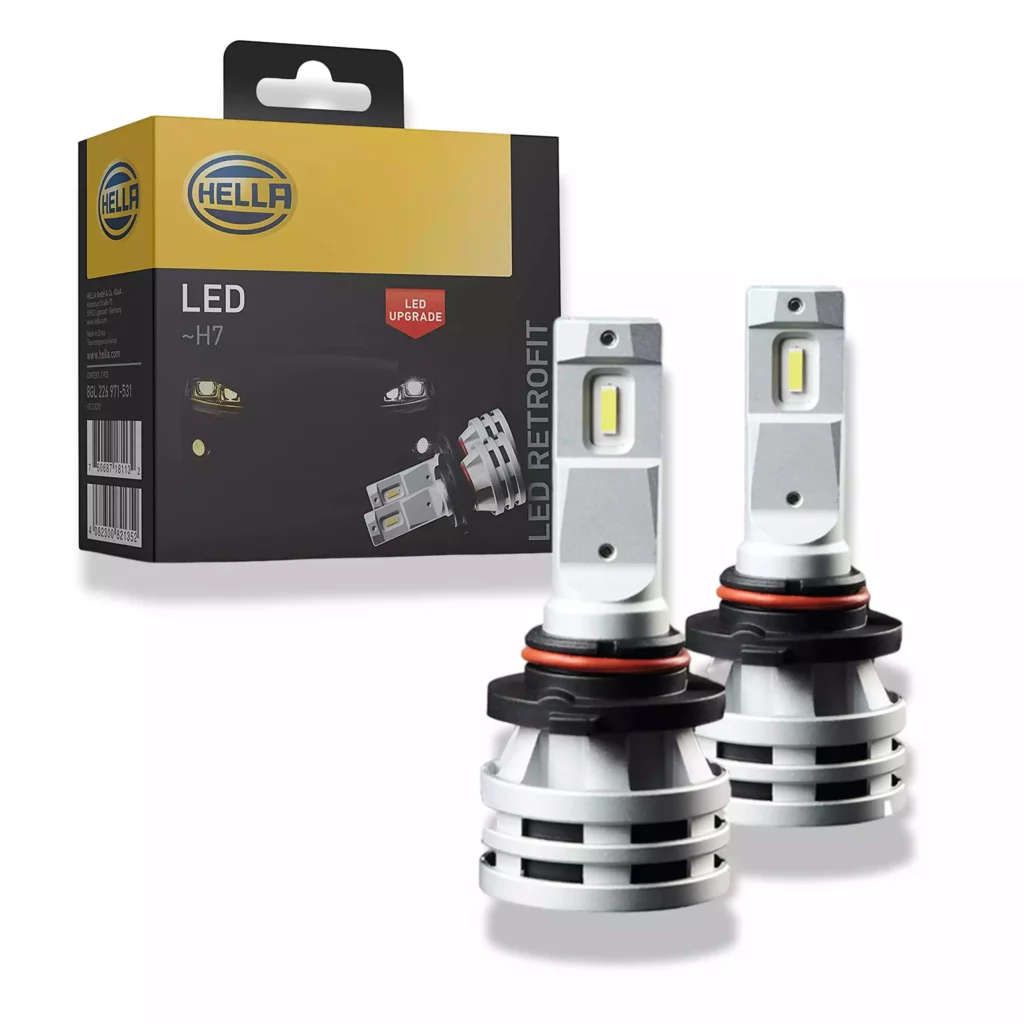 Specs:
Power: 19W~24W
Color: 6500K
Voltage: 12V/24V
Lifespan: 50,000 hrs
Warranty: 1 Year
The new HELLA LED retrofits are the upgrade to the latest LED technology for original halogen bulbs. The LED bulb replacements offer more light on the road where you need it. They feature up to 6500 K to ensure high visibility, so driver can see better and driver safer at night.

Equipped with a built-in motor fan and a high-quality aluminium heat sink with anodized coating, the HELLA Retrofit bulbs offer a large radiation area. This allows for effective heat dissipation, minimizing the risk of overheating and ensuring optimal brightness during operation. They work for both 12V and 24V application.

The all-in-one bulb design is a breakthrough innovation that comes with an integrated driver box, delivering a host of benefits. Among them is the constant current driver, which ensures the bulb doesn't overheat by automatically dimming at high temperatures. In addition, the compact driver box frees up more room for the bulb body, while the centre ring makes installation a breeze.

5.PIAA Lights
Location: Pennsylvania, USA
Company Type: Manufacturer
Year Founded: 1963
Major Products: LED headlight bulbs, Fog lights, Halogen bulbs, Silicone wipers

Source: https://www.piaa.com/
PIAA Lights is a leading manufacturer of premium quality automotive lighting products, including LED headlight bulbs. With over 50 years of experience in the industry, PIAA has established a reputation for producing innovative and high-performance lighting solutions for cars, trucks, motorcycles, and off-road vehicles.

The company employs a highly skilled team of engineers and designers who work tirelessly to develop cutting-edge LED lighting technologies that meet the evolving needs of drivers. PIAA has a global presence with a strong presence in North America, Europe, and Asia, and has a team of over 300 employees worldwide.

The company has multiple plants dedicated to the production of LED headlight bulbs, ensuring that their products are readily available to wholesalers, retailers, and dealers around the world.

The PIAA's automotive LED headlight bulbs are some of the most advanced on the market, featuring state-of-the-art technology that provides superior illumination and performance. If you want to buy LED headlight bulb in large volume from a well-known brand, you can count on PIAA to provide you with high-quality LED headlight bulbs that are reliable, durable and easy to install. With PIAA, you can rest assured that you are offering your customers the best in automotive lighting technology.
Hot-Selling Product of PIAA
PIAA Platinum LED Headlight Bulb (Pack of 2)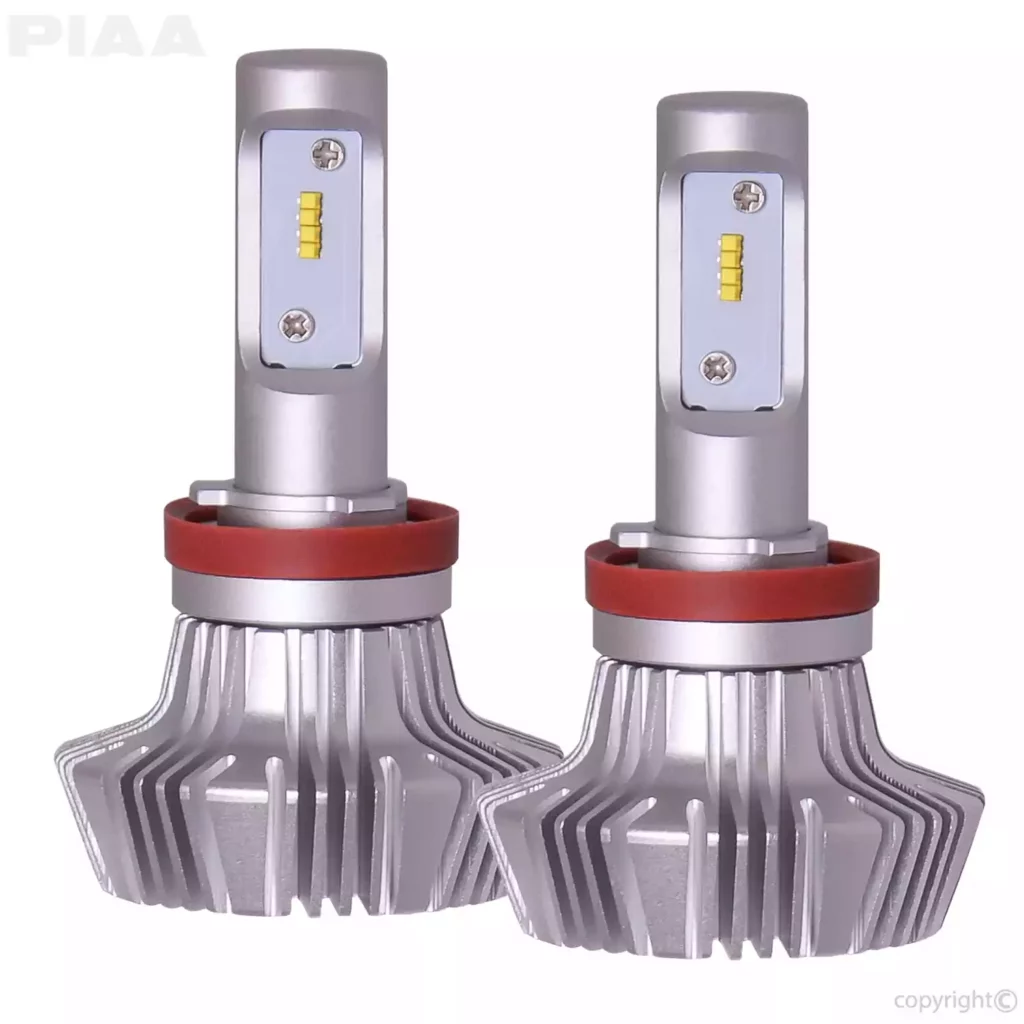 Specs:
Power: 25W 4000LM Per
Color: 6000K
Voltage: 12V/24V
Lifespan: 30,000 hrs
Warranty: 2 Years
This PIAA Platinum LED bulb upgrade has a brilliant cut-line and anti-glare technology that directs light to where it's needed most on the road. The high power Z ES LEDs provide extreme luminance in a micro footprint package for precise beam angle control. With these LED bulbs in your headlight, you will get a distinct and standard light beam pattern that won't cause any glare to other drivers.

Equipped with 6063 aluminum and large area of heat sink fins. The PIAA LED headlight bulbs have excellent heat dissipation capacity that allows for consistent operating temperature and longer life.
Mini design as your original headlight bulbs, the installation process is simple and quick, with no painful rewiring or soldering needed.

Final Words
Find the best wholesale shops and suppliers of LED headlight bulbs in the world to help you make a wise buying guide and decision. All of these top 5 manufacturers & suppliers in LED headlight bulb have all made a great achievement in the automotive LED lighting industry. Deciding which is better – Philips, Osram, NAOEVO, HELLA, PIAA depends on your own needs.

If you want the LED headlight bulb with a stable brightness and a long warranty guarantee, Philips and Osram automotive lighting are idealistic for you. For some customers who want to get the best balance of high brightness and high quality LED headlight bulbs with a complete distributor supports, then NAOEVO is the better option for you!