Some times the branded LED headlight bulbs may already reached saturation in a particular market, unless you become the exclusive agent for a specific product, you may want something unique that will stand out on store shelves. If you have your own LED headlight bulb brand and have established a solid market foundation in your region, it is essential to look for a reliable custom LED headlight bulb company to help you create eye-catching and distinctive LED headlight bulbs that will tailored to your specific needs and preferences.

Thus, it's crucial to choose the right manufacturer for personalized LED headlight bulbs to convey your ideas and brand's identity. Here in this article, we will explore some of the key factors you should consider when looking for a custom LED headlight bulb manufacturer for your business. We will also show you the best custom car headlight bulb manufacturer that can help your business grow.
Why You Should Consider To Customize LED Headlight Bulbs For Your Business?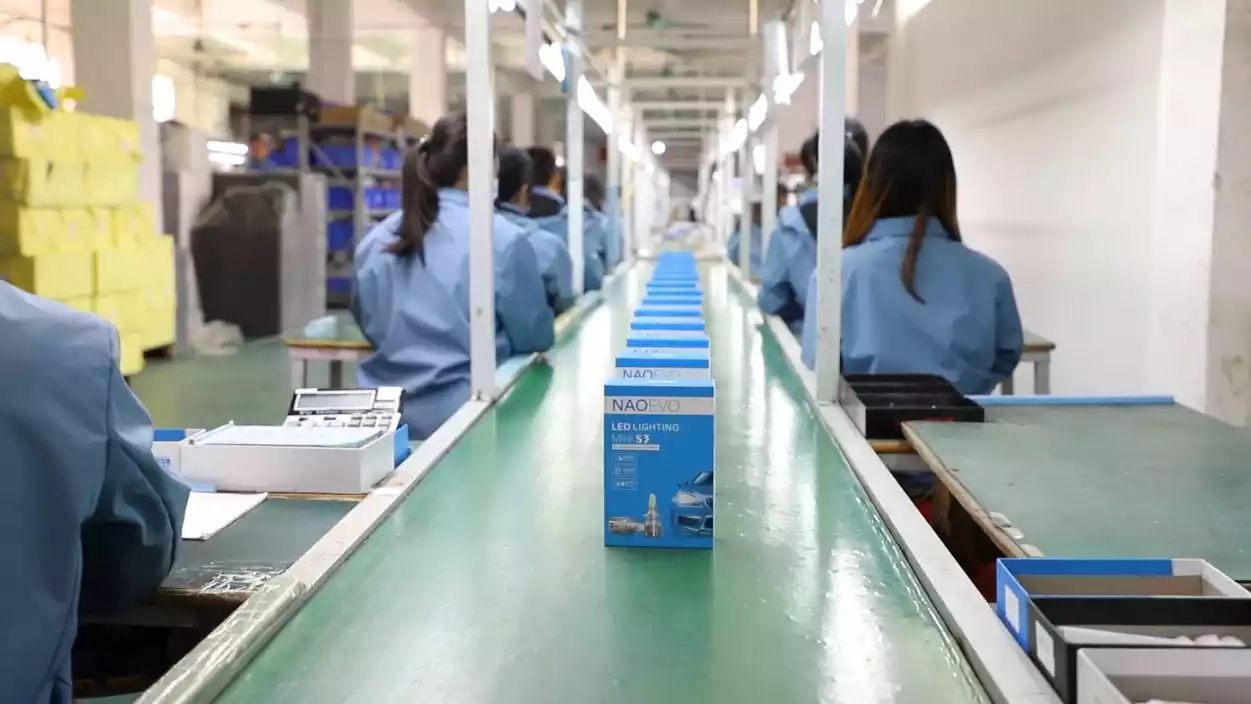 Developing a custom LED headlight bulb means creating a unique LED car bulb that will look like no other yet is recognizable and identifies for your brand. Each brand owns its unique story, value and specific market position, customizing a personalized LED car lights is a great tool to present your brand's personality.
1. Uniqueness:
Custom auto LED headlight bulbs are unique and not commonly found in the market, which means you can offer your customers something new and exclusive. This can help you stand out from your competitors and attract more customers to your business.
2. Anti-counterfeiting:
Manufacturing custom LED headlight bulbs is a powerful way to protect your special product design, effectively increasing anti-counterfeiting. Unlike branded LED headlight bulbs, the higher cost of custom car light bulb development, the more difficult in replication.
3. Meet the needs of the market:
Customized LED headlight bulb allows the opportunity to create LED headlight bulbs in different lumen output, size, design, heat dissipation methods by combining different market needs.
4. Increase Profit Margins:
Since custom LED headlight bulbs are not commonly found in stores, you may be able to charge a premium price for them. This can help you increase your profit margins and improve the overall profitability of your business.

Why You Should Find Chinese Manufacturer For LED Headlight Bulb Customization?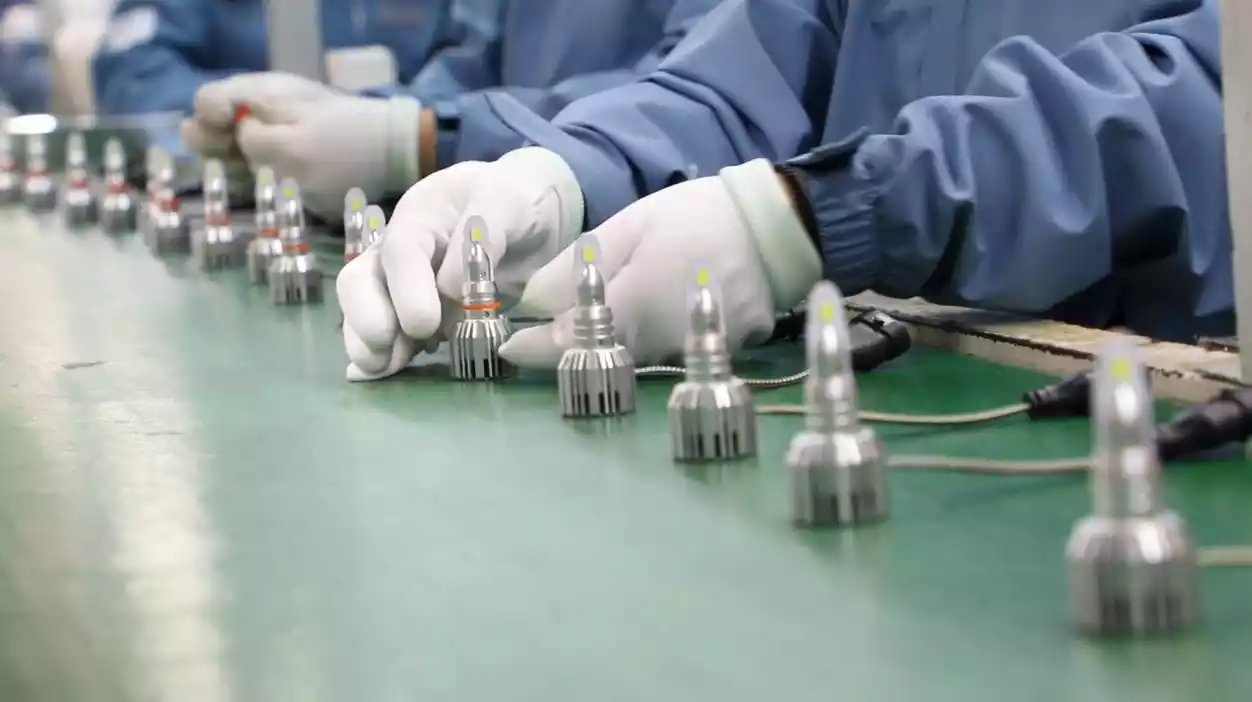 If you are looking to customize your LED headlight brand, finding a Chinese manufacturer can be a great option. China has long been a hub for automotive lighting manufacturing and has a vast network of suppliers and manufacturers that can offer competitive pricing and high-quality products.

One of the biggest advantages of working with a Chinese manufacturer is the cost savings. The cost of labor in China is significantly lower than in many other parts of the world, which means that the cost of production can be lower as well. This can result in significant savings for you as a customer.

In addition, Chinese automotive headlight manufacturers often have a high level of expertise in LED technology, which means that they can offer advanced customization options. This can include options such as different color temperatures, beam patterns, brightness levels and product outlook. By working with a Chinese manufacturer, you can create LED headlight bulbs that are tailored to your specific needs.

Finally, many Chinese LED car headlight bulb manufacturers have experience working with international clients and can meet global industry standards and regulations. This experience enables them to produce custom LED headlight bulbs that meet specific certification standards such as DOT, CE, and RoHs.

What To Look For When Choosing A Custom Auto LED Headlight Bulb Company?
Quality Guarantee
Look for a manufacturer that uses high-quality materials and has strict quality control processes in place to ensure that the LED headlight bulbs meet the required quality standards.
Experience
Check how long the manufacturer has been in automotive LED headlight bulb manufacturing, and their experience in customize LED headlight bulbs. An experienced manufacturer is likely to have ability to customize innovative LED headlight bulbs according to the requirements of customers.
Customization
Make sure the manufacturer you choose has an in-house factory coming with experienced design and engineer team to customize LED headlight bulb to your specific requirement, such as color temperature, beam pattern, light output, and heat dissipation.
Confidentiality
This is the most thing as far as custom design LED headlight bulbs are concerned. The manufacturer has to provide absolute assurances that your product will not be duplicated for somebody else.

Best Custom LED Headlight Bulb Manufacturer For OEM/ODM Retailers, Brands And Distributors

Are you looking for custom LED car headlight bulbs? NAOEVO can help with our wide product selection, or if you have a niche product that can't find in the market, we can help you design your own custom LED headlight bulbs.
NAOEVO has over 17 years of experience specializing in the designing, engineering, and manufacturing LED headlight bulbs. NAOEVO now is a leading manufacturer in China dedicated to producing top-rated LED headlight bulbs as well as the best custom service for LED car light bulbs.

As a reliable custom LED headlight bulb manufacturer, NAOEVO understands the importance of having the right LED headlight bulbs to meet customer's requirement, which is why we have devoted our efforts to stimulating the creativity of our team, improving our LED headlight bulb technology, and introducing the latest equipment to provide a wide range of customization that cater to different needs of customers in different markets.

Why Choose NAOEVO?
Professional Engineer & Design Team
NAOEVO has about 20 professional engineer team who specialized the technologies of electronic, optical, thermal, and mechanical structure. They have the ability to customize LED headlight bulbs with advance technology which is not replicable. Our innovative design team can also help the clients stay up to date with the latest design. This allows our customers to stay ahead of the competition and deliver cutting-edge custom LED headlight bulbs.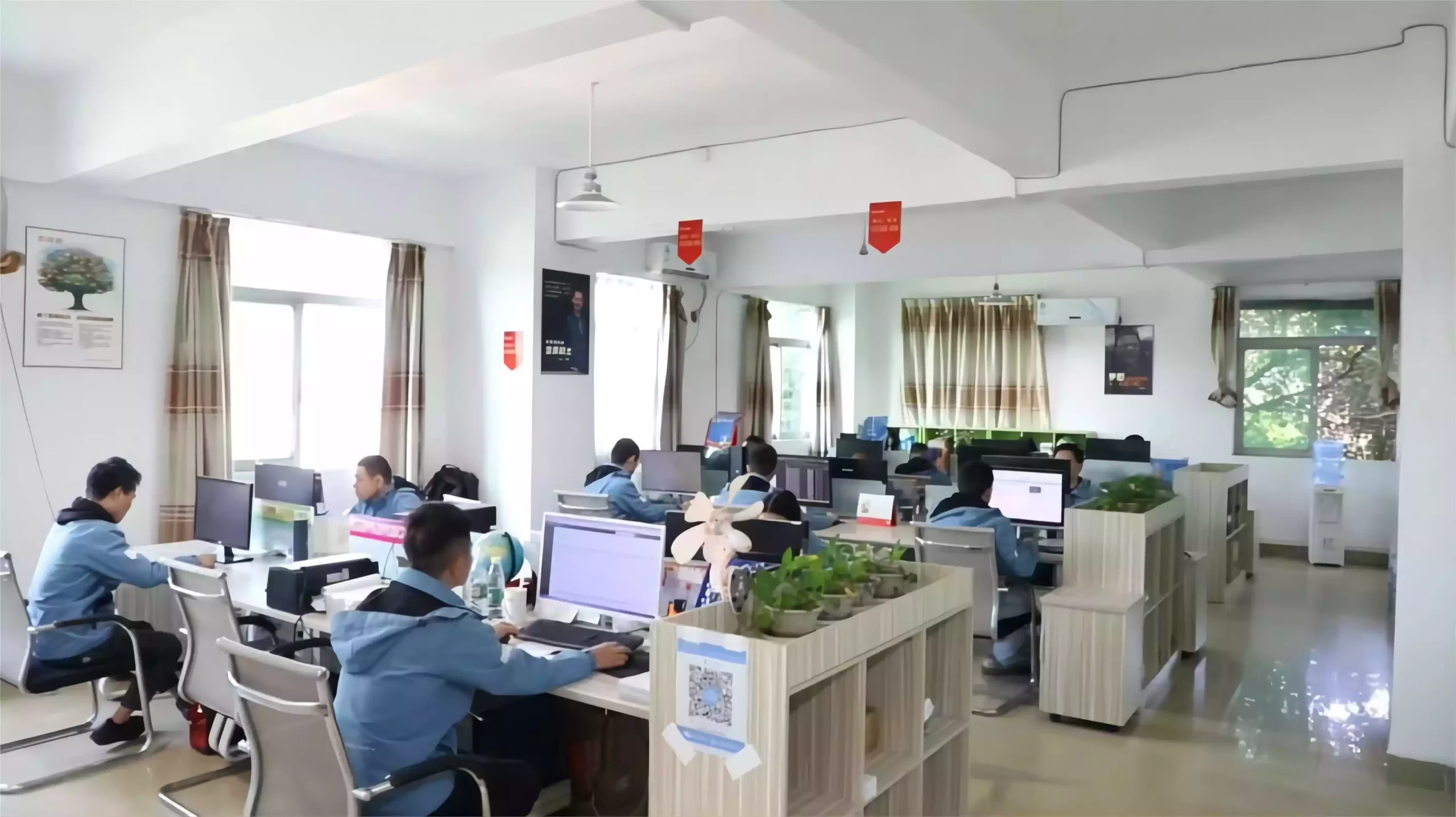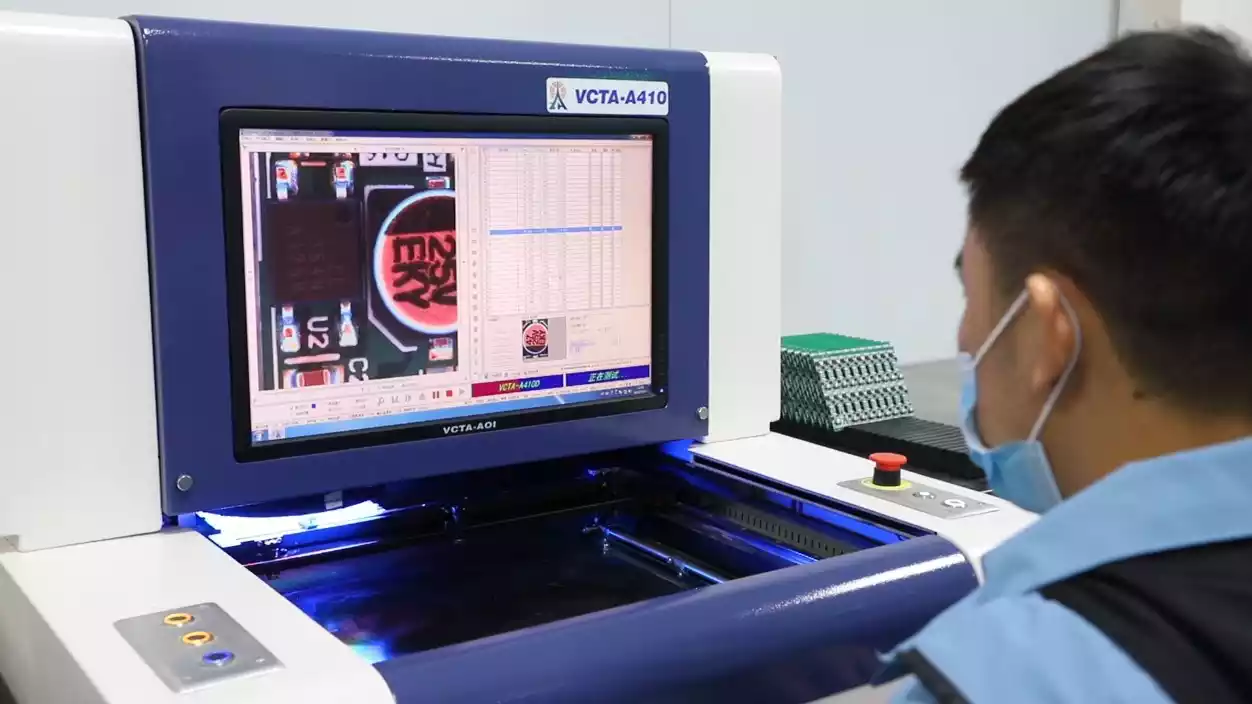 Automated Factory Support
NAOEVO has over 10,000 square meter in-house factory with a series of automated equipment and complete production lines. From raw materials to the finished products. All the LED headlight bulbs will be under a strict quality inspection. Our skilled QC team and engineers test each product rigorously to ensure that they meet the highest standards.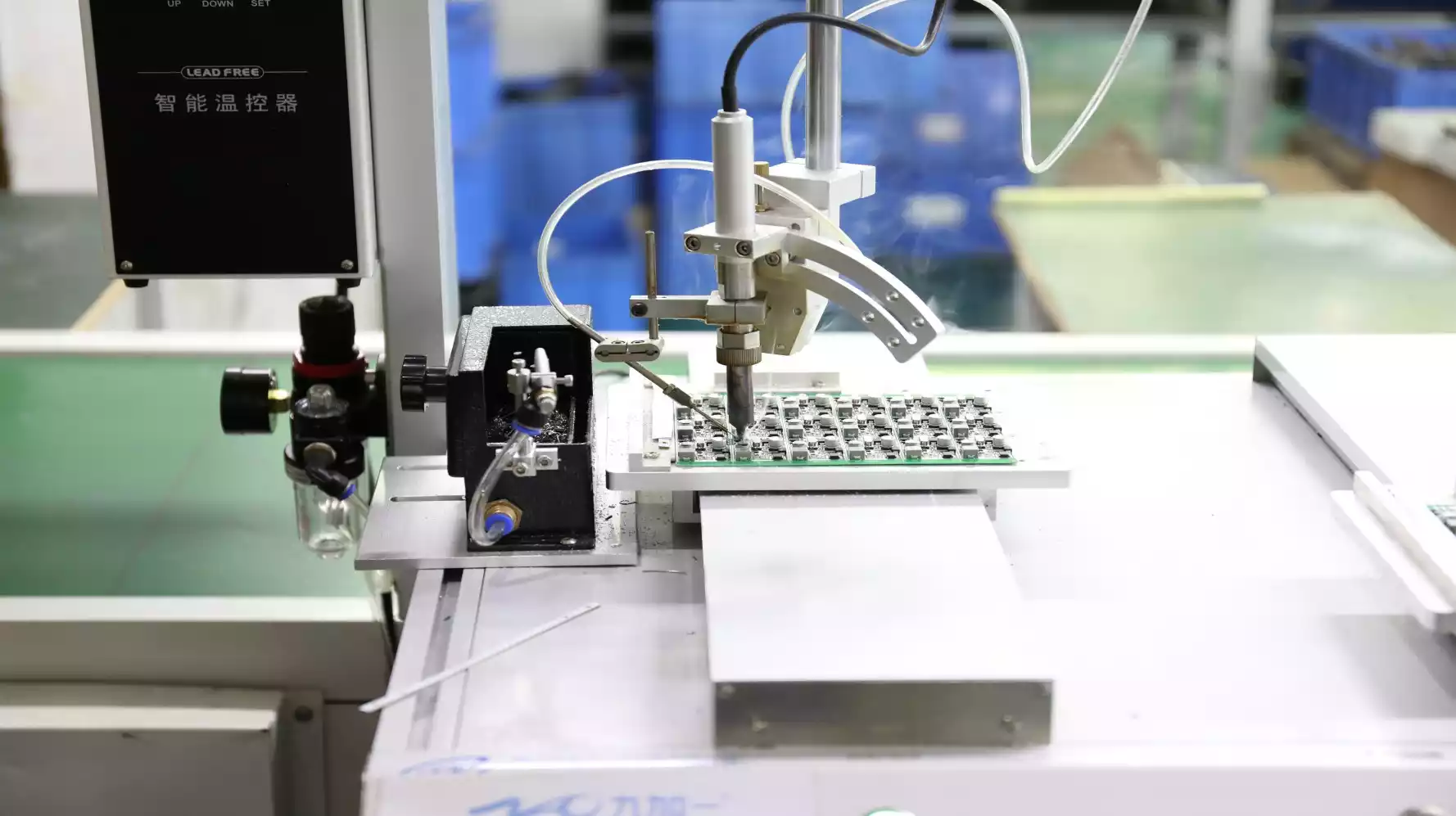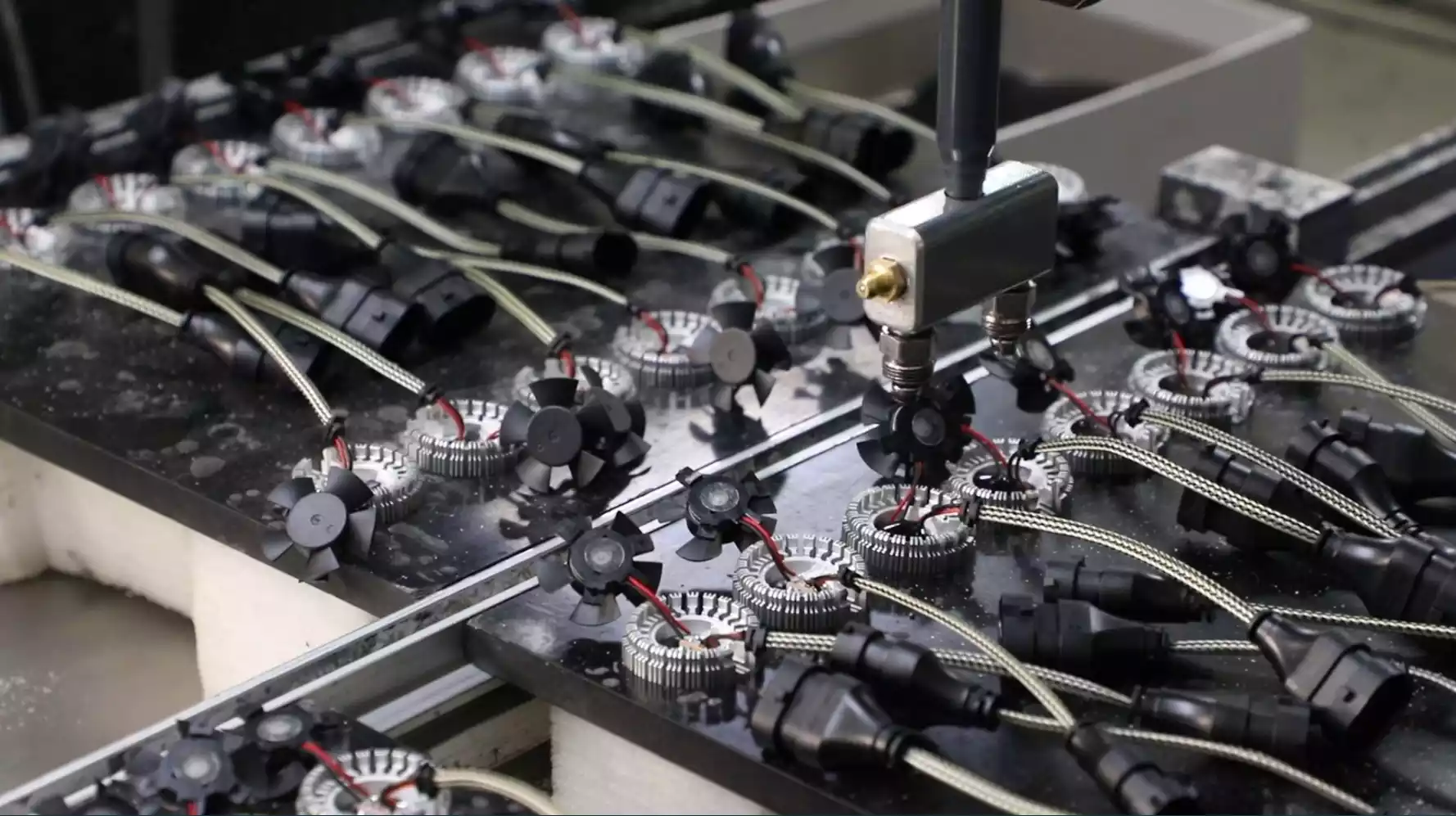 Distributor Support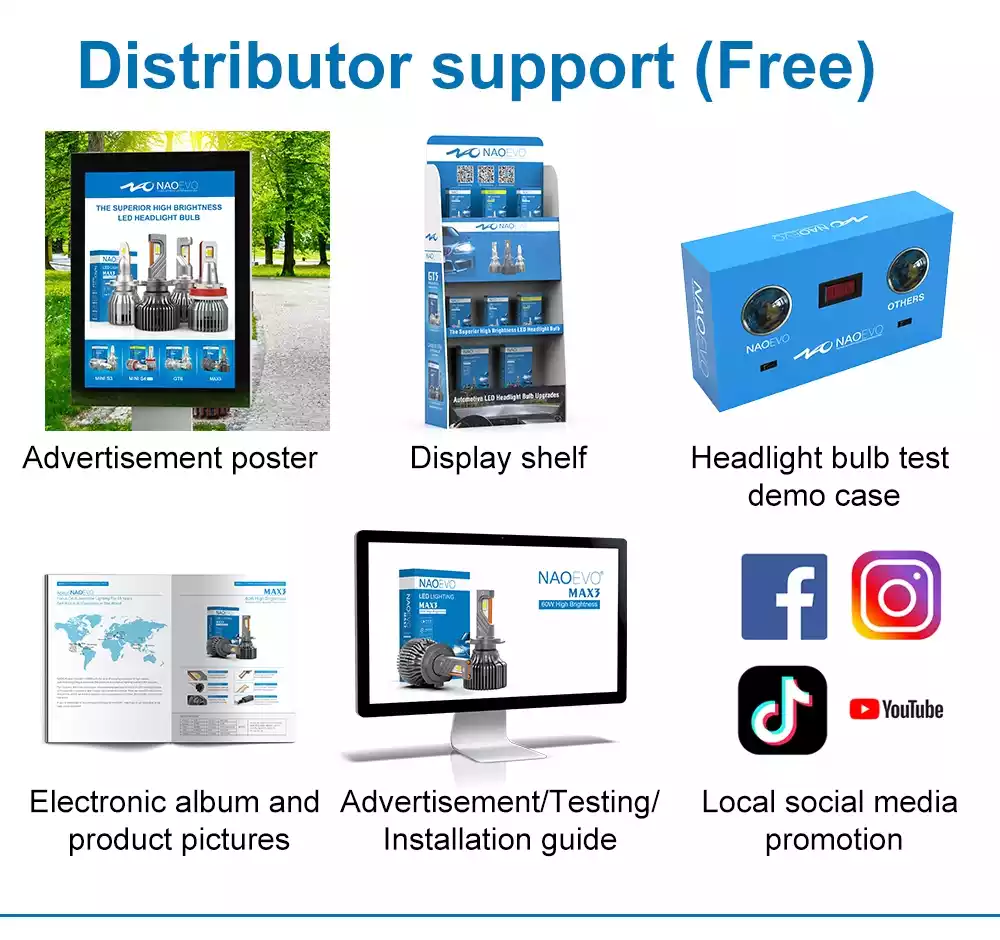 ---
NAOEVO is committed to providing high-quality products and exceptional customer service to its customers. We insist win-win solution, which is why they offer exclusive distributor support to anyone who becomes a distributor. This support includes advertisement poster, video, catalogue, display shelf, LED bulb test demo box, and social media promotion, etc.
People who become a branded distributor will enjoy an exclusive market support which means you will be the exclusive distributor in your market, which protects your market to a certain extent and maximizes your benefits.

Exclusive Custom Design LED Headlight Bulb For Wholesale
1. Custom Package Design
A custom package can be designed to reflect the branding of the business and help you standard out from the crowd. NAOEVO's design team can provide you with professional packaging design in best budget.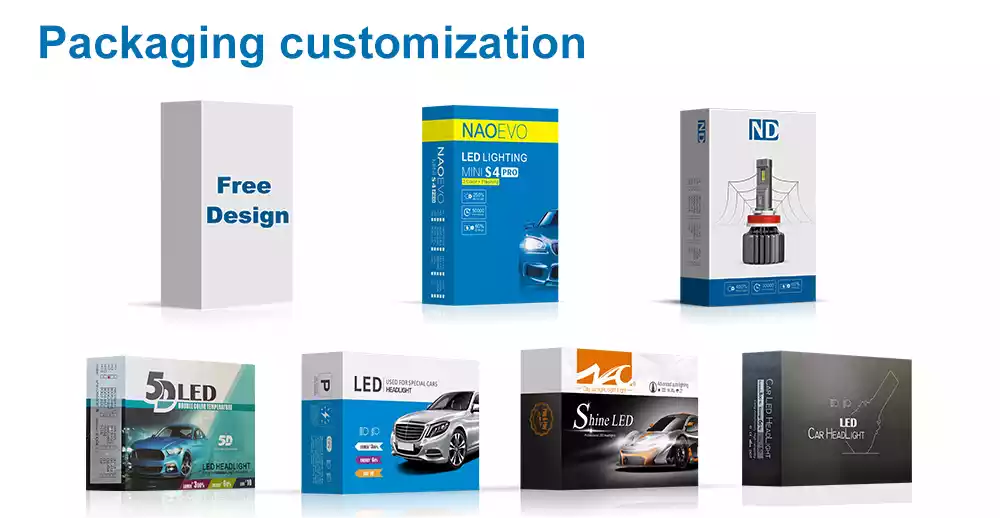 2. Custom Product Logo Design
NAOEVO has the latest laser printer to offer custom logo services, allowing you to personalize your products with your brand's logo. We understand the importance of branding and offer a range of customization options to meet your unique needs. Contact us to learn more about our logo services and how we can help elevate your brand.

3. Custom Color of Lighting
We also provide customized color options for a personalized lighting of LED headlight bulbs such as white and yellow.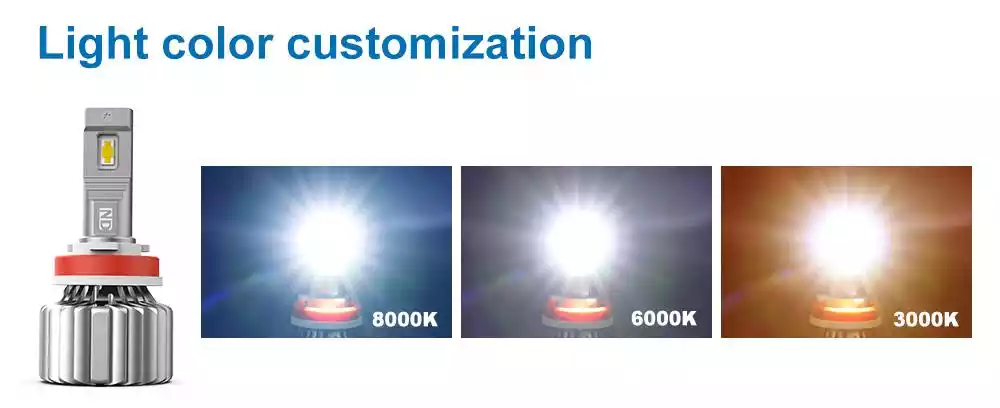 4. Custom LED headlamp As Your Requirement
NAOEVO also provide LED headlight bulb customization, if you have any idea about the appearance of LED headlight bulbs, our design team will make it come true. Buy big and save big, customizing your LED headlight bulbs in a large volume, NAOEVO is sure to provide you with the best factory wholesale prices.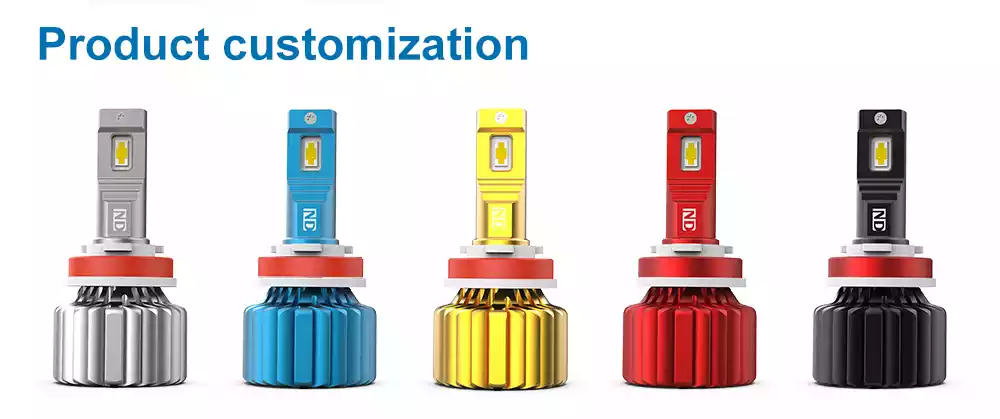 Final Words
If you're looking for a custom LED headlight bulb manufacturer that you can trust, look no further than NAOEVO. With their rich experience in production, commitment to quality, and dedication to customer satisfaction, they are the ideal choice for any brand. Contact US today to get the best price on high-quality LED headlight bulbs that are sure to exceed your expectations.