The market for automotive lighting has evolved significantly over the past few years, with the rise of LED headlights being one of the most notable changes. Many car owners are now looking to upgrade their headlights to LED bulbs as they provide better visibility, longer lifespan, and lower energy consumption. However, with so many options available in the market, it can be challenging to choose the best LED headlight bulbs for your vehicle.

In this context, NAOEVO, a renowned manufacturer of automotive lighting solutions, has conducted an endurance test of the 6 best LED headlight bulbs in 2023. The test evaluates the the bulb's ability to perform in the most challenging and extreme conditions.

The test results are expected to be of great value to car enthusiasts who are looking for the best LED headlight bulbs to upgrade their vehicle's lighting. The quality test conducted by NAOEVO is expected to provide valuable insights into the performance of the top-rated LED headlight bulbs and help car owners make a more informed decision.
Tools For LED Headlight Bulbs Testing
LED headlight bulbs should be of great quality to make sure they perform well under harsh driving condition. As driving conditions can be unpredictable, and LED headlight bulbs should be subjected to shocks, vibrations, and extreme temperatures. The durability of LED bulbs ensures that they can withstand these harsh conditions and provide long-lasting performance, improving visibility, and increasing safety on the road.

As a reliable and reputable automotive lighting manufacturer in China, NAOEVO is willing to showcase endurance test results in order to demonstrate the quality and reliability of our products. In this endurance test, we used a hammer, axe, knife, percussion drill, and cutting machine, etc.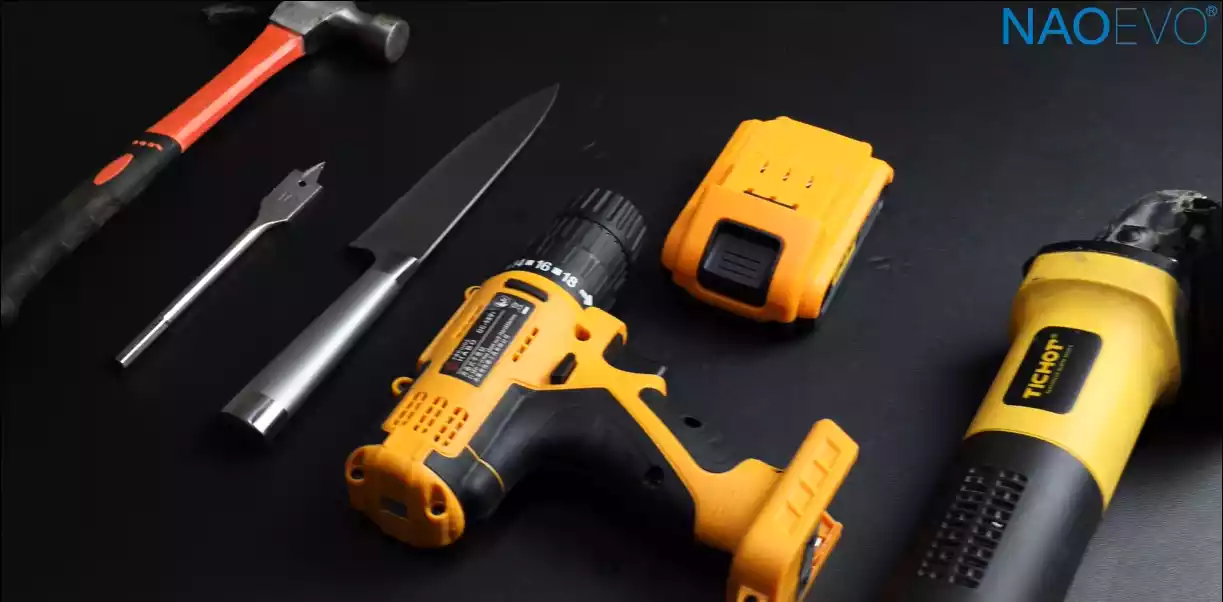 Endurance Test of 5 Best LED Headlight Bulbs
#1. NAOEVO Max3 LED 13000LM Super Bright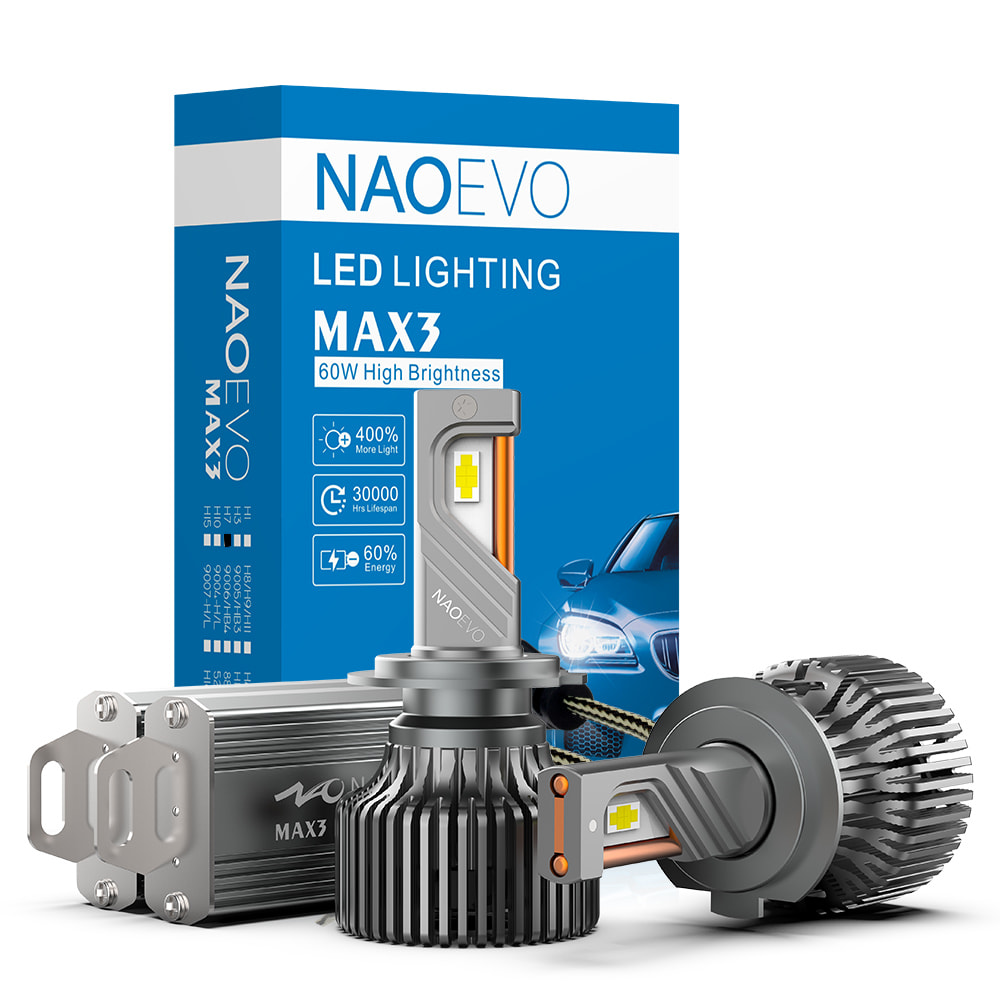 The Max3 LED headlight bulbs have gained immense popularity for their distinct design, remarkable luminosity, and flawless light beam pattern, making them one of the best-selling products of NAOEVO.

The Max3 LED car light bulbs incorporate six high-intensity flip chips, allowing them to produce an impressive power of 120W and 13,000LM. With its exceptional brightness, the Max3 enhances drivers' visibility, enabling them to see more extensively and farther during nighttime travels.

Max3 LED headlight bulbs stand out from the rest due to their exceptional light beam pattern. The engineering team at NAOEVO employed the latest optical technology to create Max3 LED bulb that produces a precise cutoff line and a broad, focused beam of light, all while preventing any glare to oncoming drivers.

The Max3 LED headlight bulbs are able to cool 2-3 times faster than other LED bulbs due to the implementation of a double copper heat pipe for heat dissipation. Thanks to to advanced heat dissipation, the Max3 LED headlight bulbs have a long lifespan of over 30,000 hours.

The Max3 LED headlight bulbs have an established market, meaning that they have a proven track record of performance, reliability, and customer satisfaction. Besides, the Max3 LED bulb has developed a mature production process, meaning that if you buy a large volume, you will get a most competitive wholesale prices.
Quality Test of Max3 LED Headlight Bulb
At NAOEVO, quality is not only in the products, but also in the entire process of producing LED lights until they are delivered to the customer. To showcase the extraordinary durability of our Max3 LED light, we put it to the ultimate test. We took a sharp knife and punctured the chip of the light several times, yet it continued to shine as brightly as it did before.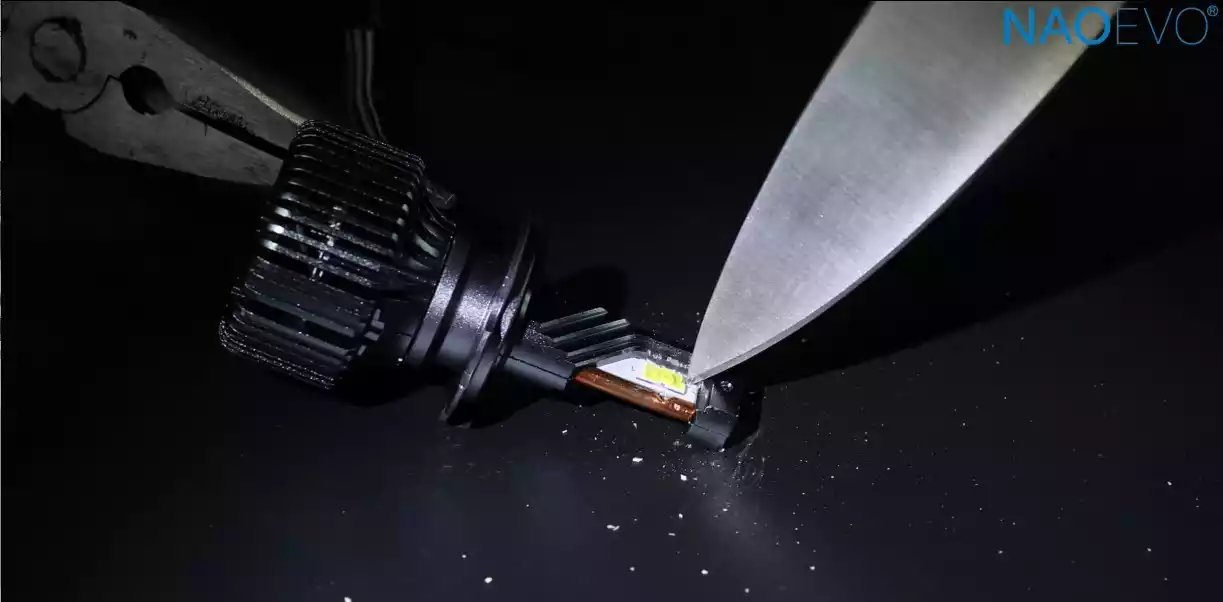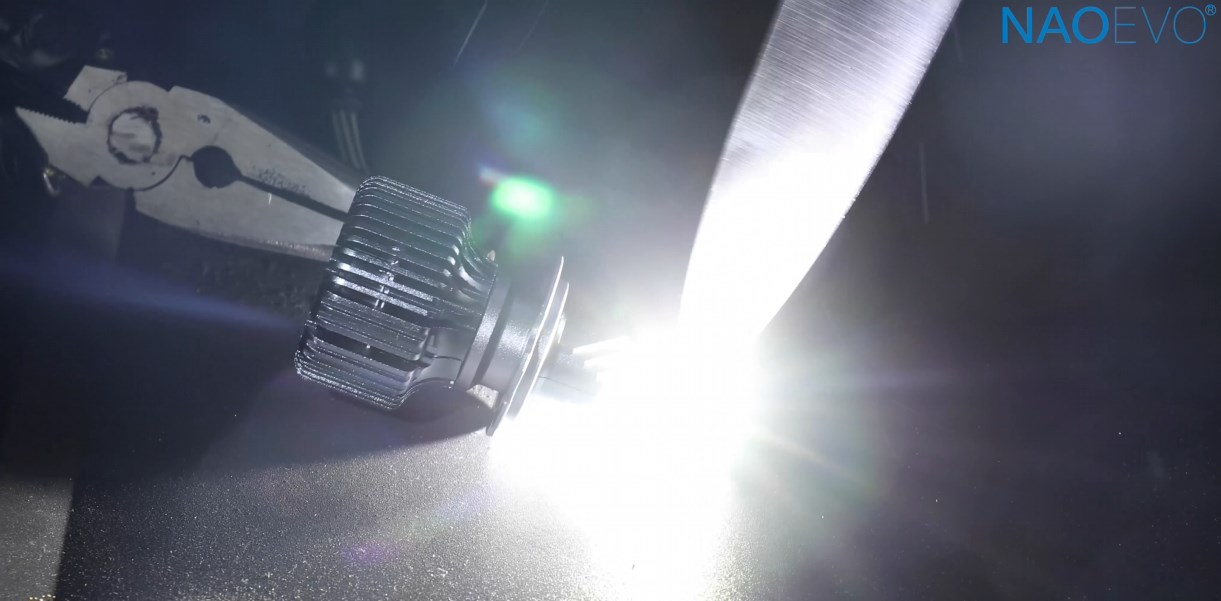 ---
#2. V05 LED Headlight Bulb – Oblique Design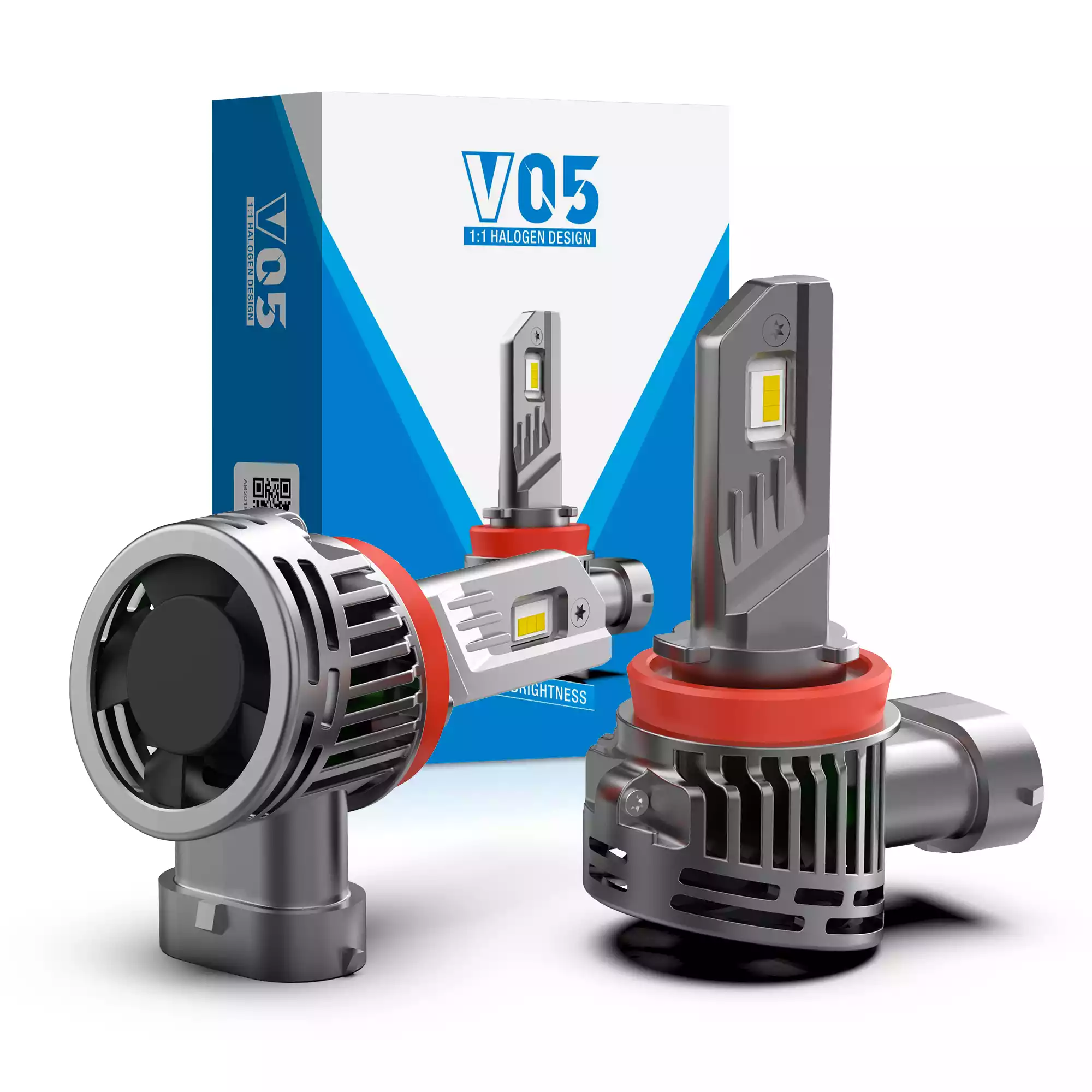 One of the biggest feature of V05 LED headlight bulbs is that they are designed with 12 degrees oblique angle, making them easily to be installed in most car headlight housings. Additionally, their direct plug-n-play design alleviates concerns about the large drivers of LED headlight bulbs being left without space to place.

Featuring high brightness, the V05 LED headlight bulbs are engineered with 3 pcs 75mil large size flip chip, making them to deliver an upgraded brightness of 100W 12,000LM. The patented design of chip arrangement is contributed to a wide and focus light beam without any dark spot.

The V05 LED headlight bulbs almost 1:1 mini design same as halogen, precisely mimics the position of original halogen filament to ensure a perfect beam pattern. The 12 degrees oblique angle perfectly fit into your housing and factory sockets without any modification.

NAOEVO V05 LED headlight bulbs come with large copper heat pipe and 8500 RPM high-speed fan, which ensures that the bulbs get an efficient cooling system and remain a safe temperature even driving in high-temperature weather conditions. It will also ensure that the bulbs won't burn out because of the intelligent temperature controller.
Quality Test of V05 LED Headlight Bulb
The NAOEVO LED headlight bulbs are renowned for their top-quality materials and exceptional lighting performance. These bulbs are crafted from premium-grade components that ensure they can withstand the extreme conditions and provide long-lasting reliability.

From the endurance test, we can see that the halogen headlight bulb shattered instantaneously upon impact of the hammer, whereas the NAOEVO V05 LED lamp remained lighting despite enduring repeated forceful blows from the hammer.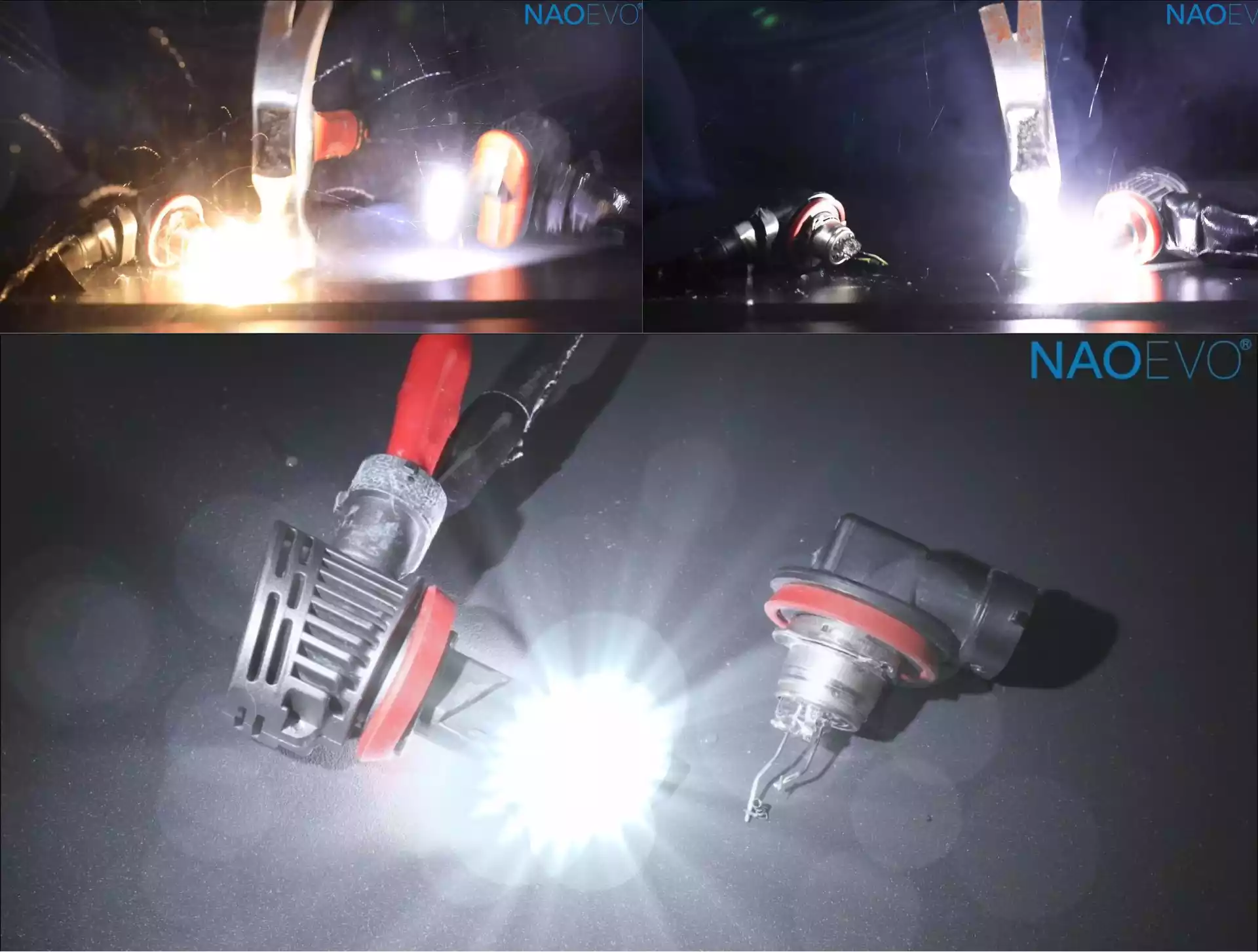 ---
#3. NAOEVO NR LED Headlight Bulb 13200LM – Rocket Design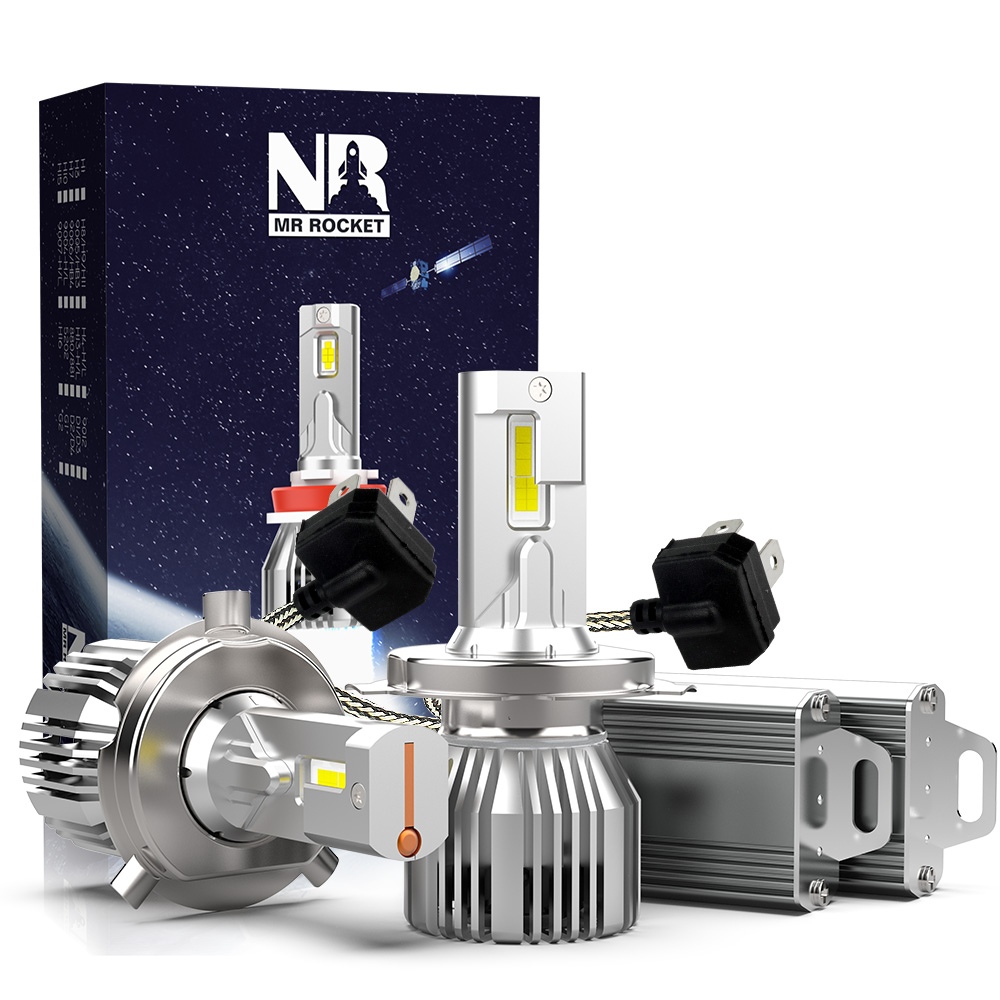 The NAOEVO NR LED headlight bulbs are considered as the mini bulb to produce maximal brightness with stylish rocket. Are you looking for high-brightness LED headlight bulbs to upgrade your stock halogen bulbs? Are you looking for mini design LED headlight bulb for easy installation? The NAOEVO NR LED headlight bulbs will meet all your needs.

With a luminous flux of up to 13200LM 110W, 6500K color temperature, the NAOEVO NR LED bulbs are 3005 brighter than halogen bulbs, providing a stylish look as well as superior brightness. Allow you to see farther and react sooner.

The NR LED headlight bulbs stand out from others in the market due to their 1:1 mini design, which closely resembles halogen bulbs. This design feature provides a smooth and straightforward installation process, ensuring a perfect fit. With these advanced NR LED headlight bulbs, enjoy brighter and more efficient lighting without requiring any modification to your vehicle.

With regard to heat dissipation, the NR LED headlight bulbs utilize a singular copper heat pipe to facilitate the conduction of 20W of heat per cycle. Subsequently, the implementation of 6063 aluminum and a high-speed fan enables the NR LED bulbs to attain a lifespan exceeding 30,000 hours.
Furthermore, the stylish rocket design of the NR LED lights adds to their appeal. This design is often associated with rapid growth and progress. Thus, purchasing these NR LED bulbs with the rocket design in bulk can serve as a good choice for expanding your business at an accelerated pace.
Quality Test of NR LED Headlight Bulb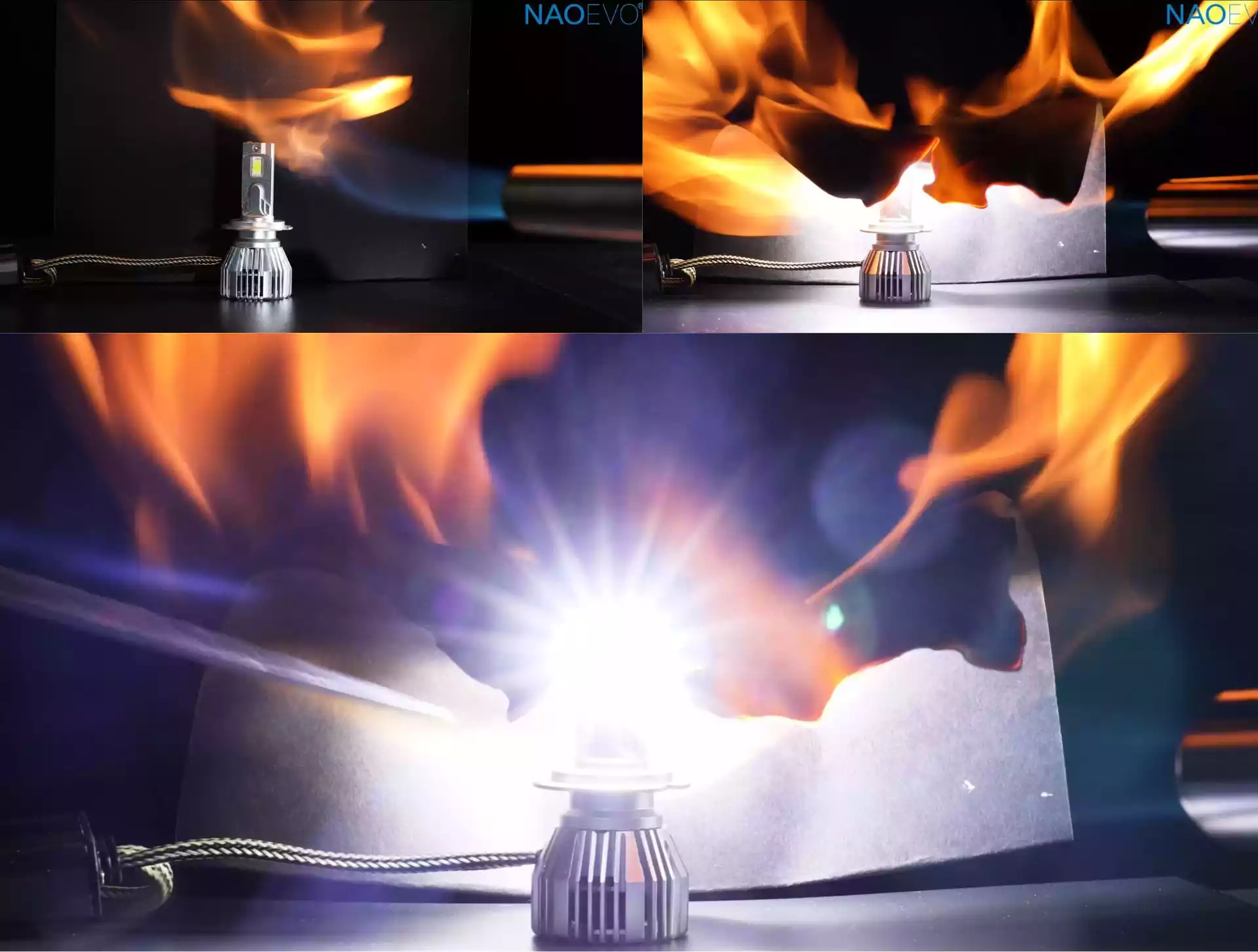 ---
#4. NAOEVO NL LED Bulb 21600LM – Bull Design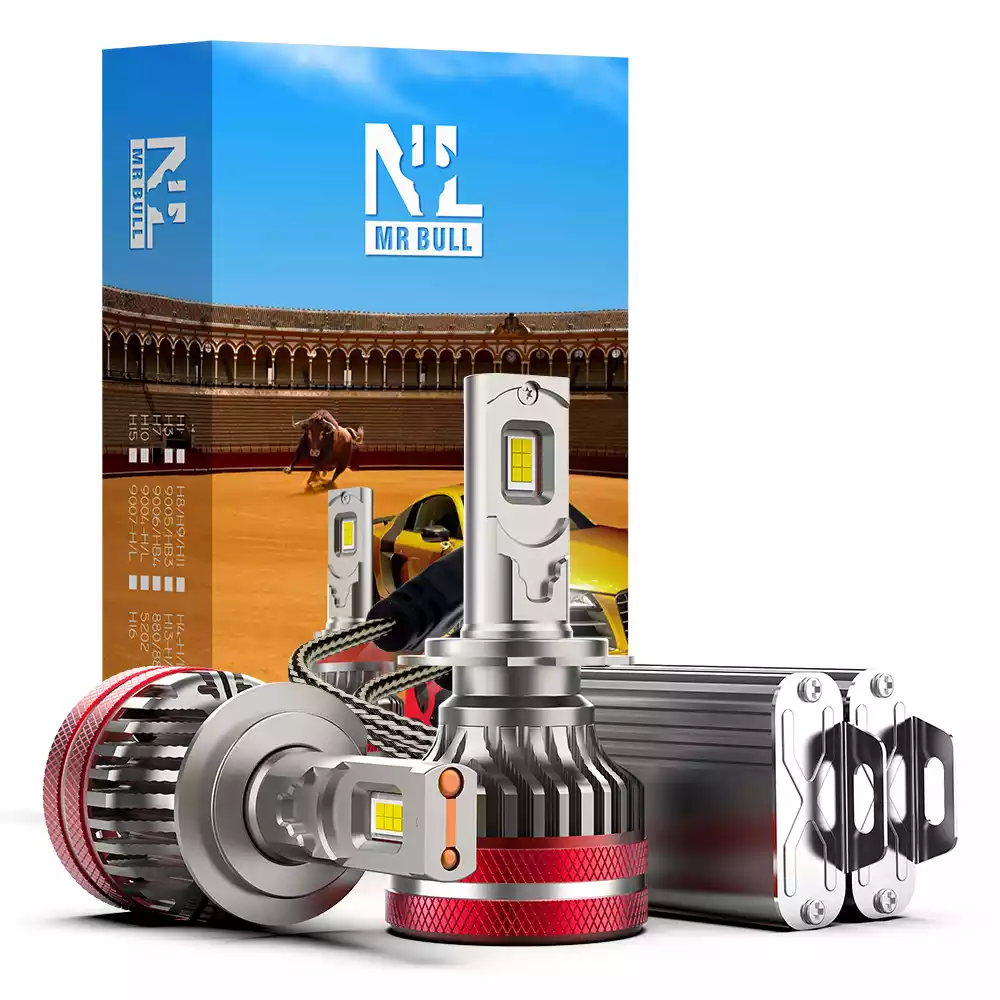 Next is the latest products of NAOEVO in 2023 – Bull-Design NL LED Headlight Bulb. Purchasing new products poses various uncertainties for wholesalers, including but not limited to stable power supply, competitive pricing, and marketability. Among these factors, product quality holds utmost significance as it directly impacts sales and the sustained growth of the brand. These NL LED bulbs offer not only exceptional brightness, but also lasting durability and reliability.

With 6pcs high-intensity flip chip, the NL LED headlight bulbs are designed to provide unparalleled output of 180W 21600LM. With their advanced optics technology, they are capable of producing a brighter, wider, further, and safer light beam pattern, making them ideal for night-time driving without glaring others.

The newly NL LED headlight bulbs demonstrate a remarkable improvement in their ability in heat dissipation. This advancement can be attributed to the integration of an upgraded dual copper heat pipe, which facilitates the transfer of up to 30W of heat at a time. Consequently, these bulbs achieve cooling efficiency that is three times more effective than other LED bulbs.

The stylish and unique bull design of NL LED headlight bulbs might catch your attention. Representing strength and power, the bull symbolizes the powerful and instant brightness that these bulbs provide, illuminating the road with exceptional visibility. With their sleek design and bright illumination, these NL LED bulbs provide both practical and aesthetic benefits, giving your car a modern and stylish appearance while ensuring your safety while driving at night.
Quality Test of NL LED Headlight Bulb
We used a cutting machine to cut the heat sink of NL LED bulbs, and even after the base and fan were completely destroyed, the LED light still shines normally.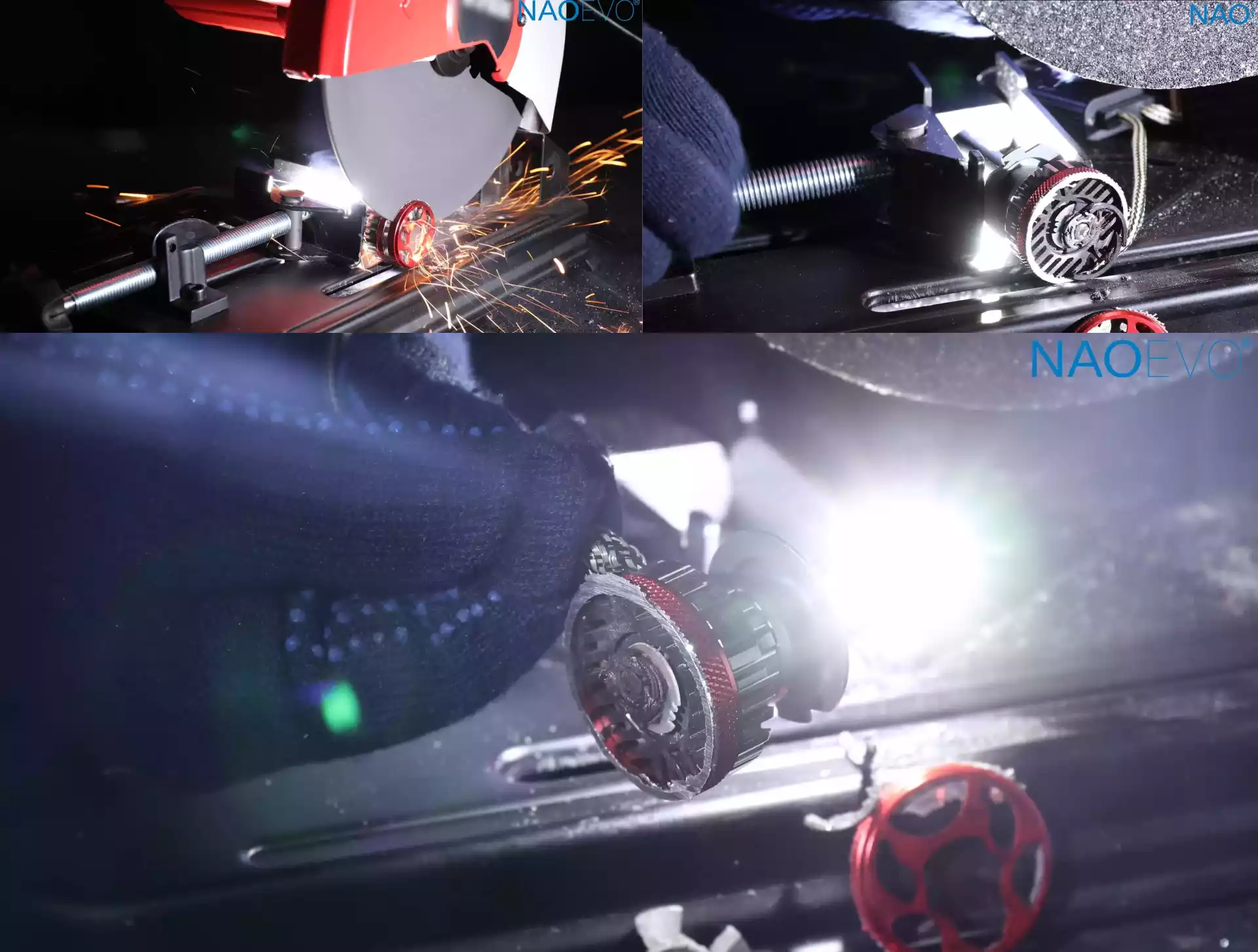 ---
#5. NAOEVO ND LED Headlight Bulb 16800LM – Spider Design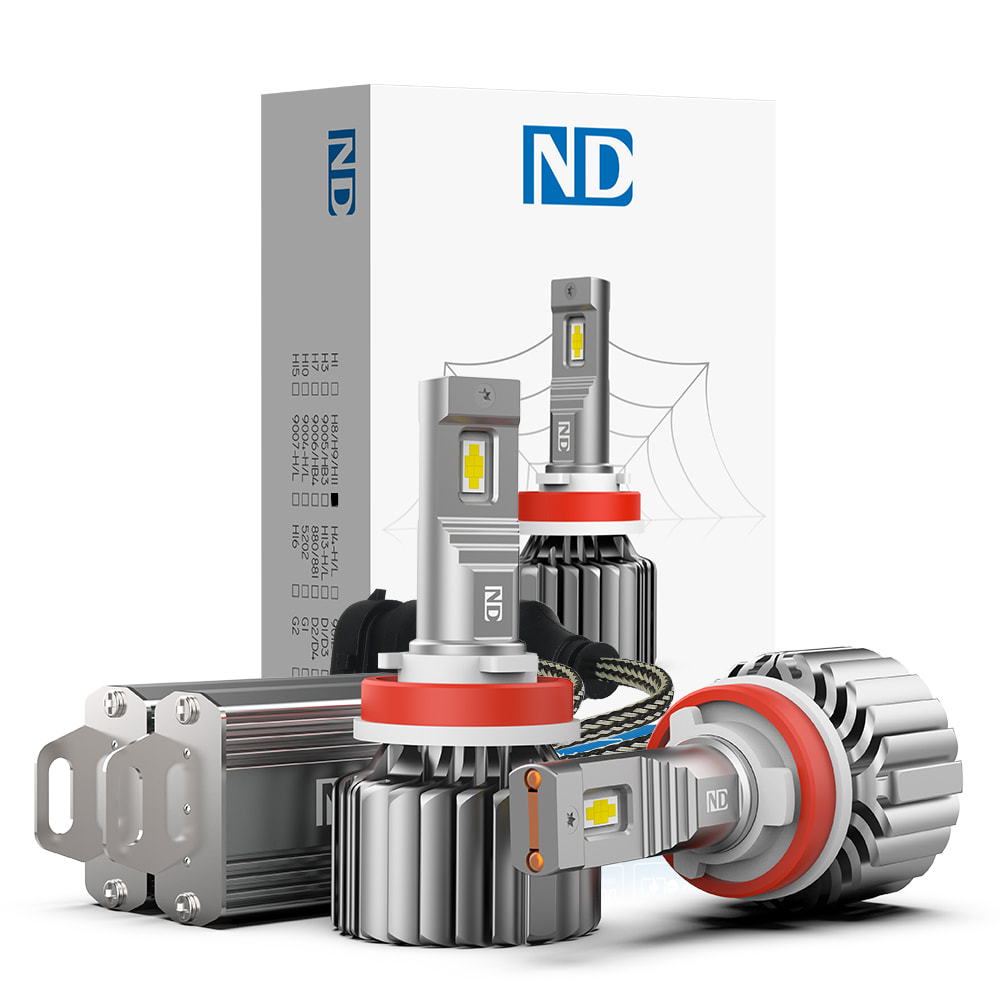 The ND LED headlight bulbs are the perfect solution for drivers who want quality LED bulbs to enhance their visibility on the road. These bulbs are designed with the latest LED technology and unique spider design. Thanks to their high brightness, perfect light beam, unique spider design and quality material, the ND LED bulbs have been long with customers around the world.

One of the main features of ND LED bulbs is their ultra-high brightness, which can provide up to 350% brighter light than standard halogen bulbs. The output of 140W 16800LM and 6500K cool white light makes a significant difference when driving at night, in fog, or in other low-light situations.

In addition to their brightness, ND LED headlights also offer a perfect light beam pattern. The bulbs ensure a uniform and accurate beam pattern. This means that the light is distributed evenly and doesn't blind oncoming drivers, which is especially important when driving in urban areas.

Another advantage of ND LED headlight bulbs is their durability. With dual copper heat pipe and high speed fan, the bulbs transfer the heat faster. The 6063 aluminum body are designed to resist the shocks and vibrations, making them ideal for use on rough terrain or in extreme weather conditions.

The ND LED headlight bulbs are also available for wholesale purchase. With in-house factory support, buying ND LED bulbs in bulk will enjoy a competitive wholesale prices at NAOEVO. So, why wait? Contact us today to buy ND LED headlight bulbs with lowest prices and offer your customers the best automotive lighting solution available on the market!
Quality Test of ND LED Headlight Bulb
During the endurance test, the heat sink of ND LED bulb was vigorously struck with an axe, while the ND heat sink exhibited deformation along with visible scratches and dents; nevertheless, the light functioned normally without any interruptions.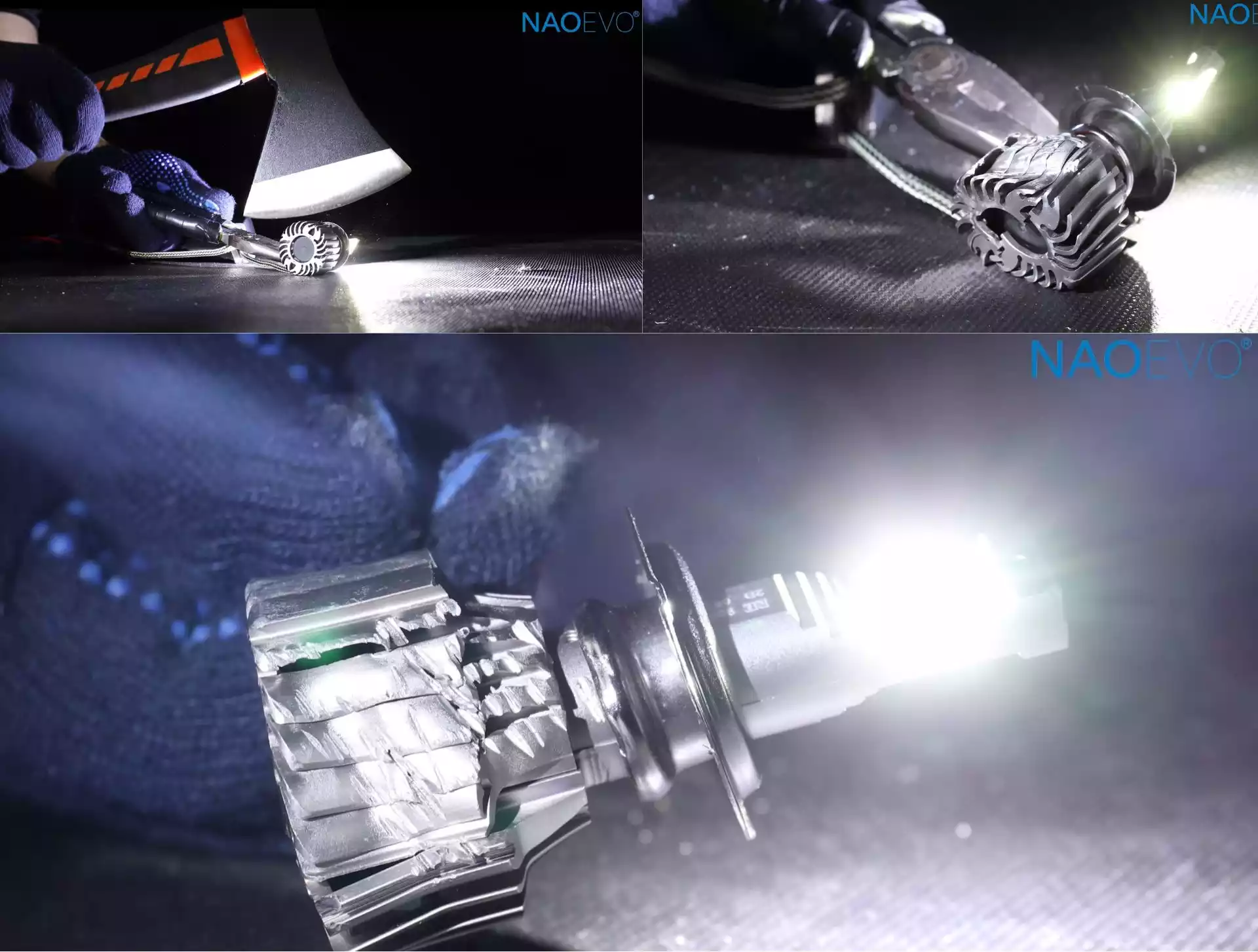 ---
#6. NAOEVO Mini S4 Pro LED Headlight Bulb – 3 Color
The S4 Pro 3 color changing LED headlight bulb is a revolutionary new product in the world of automotive lighting. Designed to provide maximum visibility and safety on the road, this innovative bulb can be switched between three different color modes – 6500K white, 4300K warm white, 3000K yellow – to match different driving conditions.

The S4 pro LED bulbs are able to deliver a high brightness of 60W 7200LM with 3 color changing. The 6500K white light is ideal for urban and suburban driving, providing a bright and clear beam of light that illuminates the road ahead. The 4300K warm light is deal for driving in rural areas, and provides more natural-looking light that is easier on eyes. The 3000K yellow is ideal for driving in adverse weather, such as during fog, mist, or heavy rain.

In addition to its smart color changing, the S4 Pro LED bulb delivers a good light beam pattern that you can see further and wider without causing any glare to others. With ultra-slim copper substrate and high-speed mute fan, S4 pro LED bulb has a longer lifespan, lasting up to over 30,000 hours.

The NAOEVO S4 LED headlight bulbs have gained immense popularity around the globe, particularly in regions such as India, Southeast Asia, South America, and Africa. If your target market is within these areas and you are looking to expand your business, NAOEVO offers a range of wholesale prices, comprehensive market strategies, and top-notch services to help you achieve success in your field.
Quality Test of S4 Pro LED Headlight Bulb
The waterproof and frozen tests are two essential quality control tests for LED headlight bulbs, ensuring that they can withstand exposure to both water and extreme cold temperatures without compromising their performance or safety.

In the endurance test, the S4 pro LED bulbs are placed in a frozen ice and water for a predetermined amount of time. After the test, the S4 LED bulb remained bright, and its performance was just as good as before, which is attributed to the its IP67 waterproof and high-quality component design.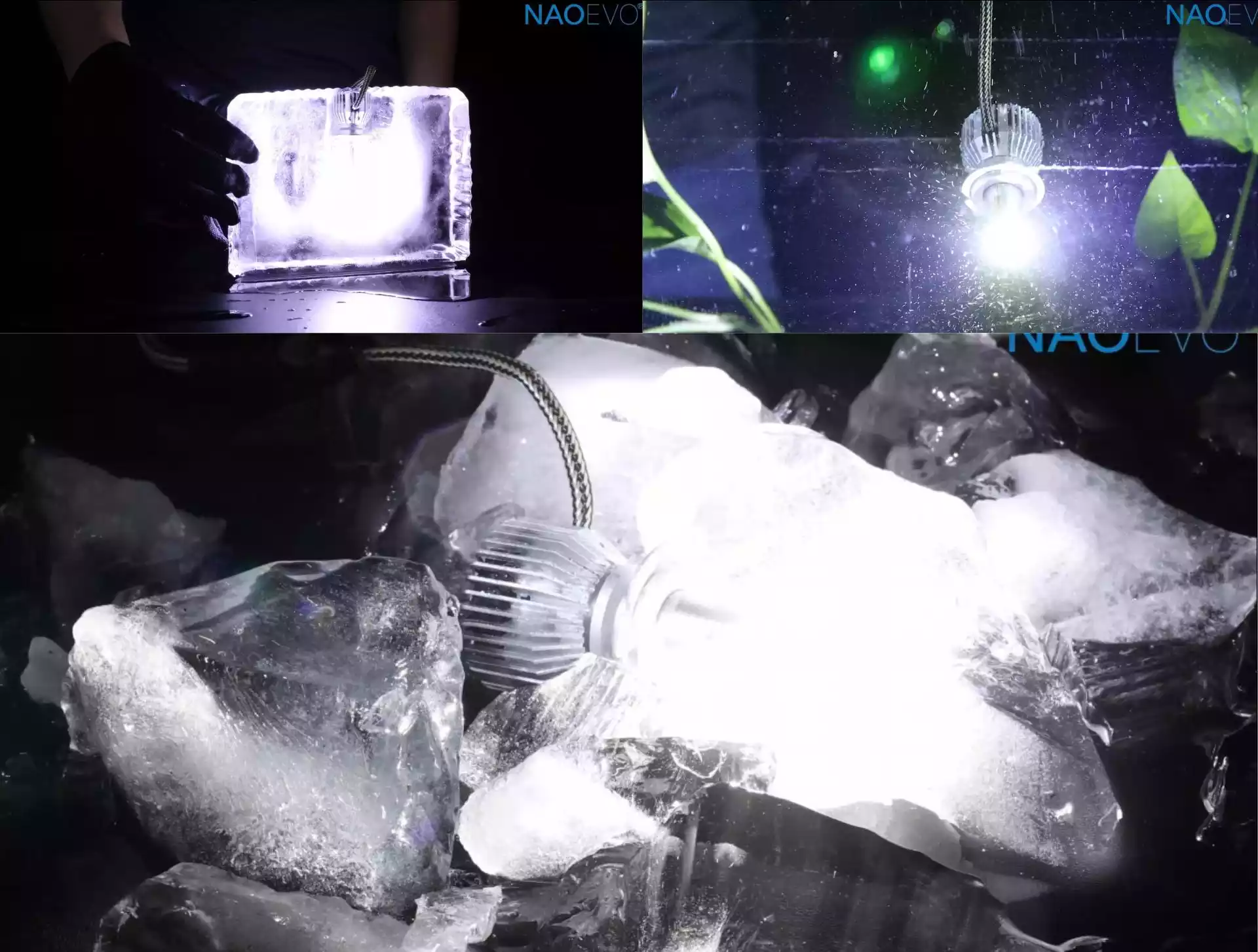 ---
#7. NAOEVO NG LED Headlight Bulb 21600LM Eagle Design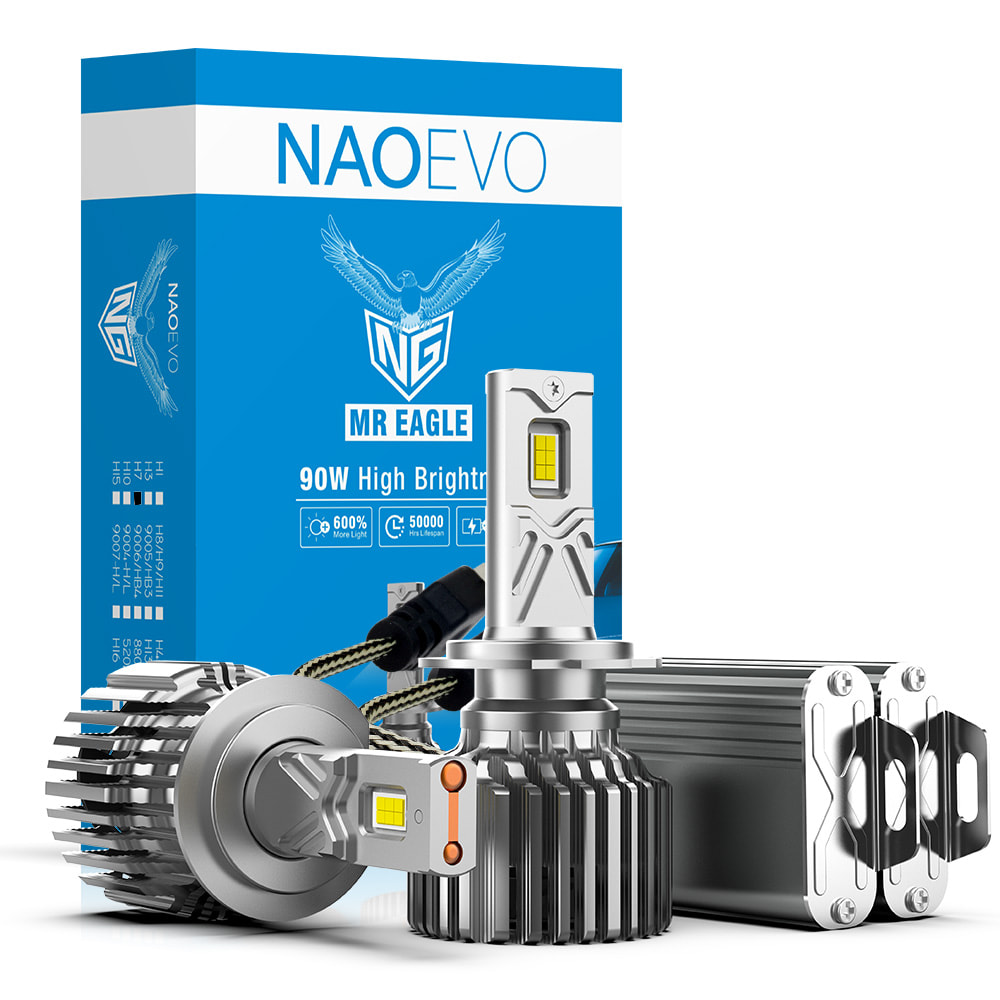 The NG LED Headlight Bulb is the latest products of NAOEVO in 2023. These innovative bulbs are designed to impress, featuring a stylish eagle design that sets you apart from the crowd. But it's not just about looks – these bulbs deliver exceptional performance. With their top-notch quality chip, they can produce an impressive output of 180W and 21600LM, providing unparalleled brightness on the road.

One of the standout features of the NG LED headlight bulbs is their advanced cooling technology. Equipped with dual copper heat pipes, 6063 aluminum, and a hallow-casting heat sink, they effectively dissipate heat, ensuring optimal performance and longevity.

If you're looking to become a distributor of NG LED headlight bulbs in your region, seize the opportunity today. Join forces with us and be part of a successful venture. We offer competitive pricing, superior product quality, and excellent support. Contact us now and unlock the potential for growth and success in the LED lighting industry. Don't miss out on this chance to shine with NG LED headlight bulbs!
Quality Test of NG LED Headlight Bulb
In our rigorous quality test for NG LED headlight bulbs, we subjected the drive to a simulated violent impact using a hammer. Despite the forceful blows, the drive showed signs of slight denting and scratching. However, our remarkable NG LED lights remained as bright and reliable as ever. This test showcases the exceptional durability and resilience of our bulbs, ensuring they can withstand harsh conditions while consistently delivering superior illumination.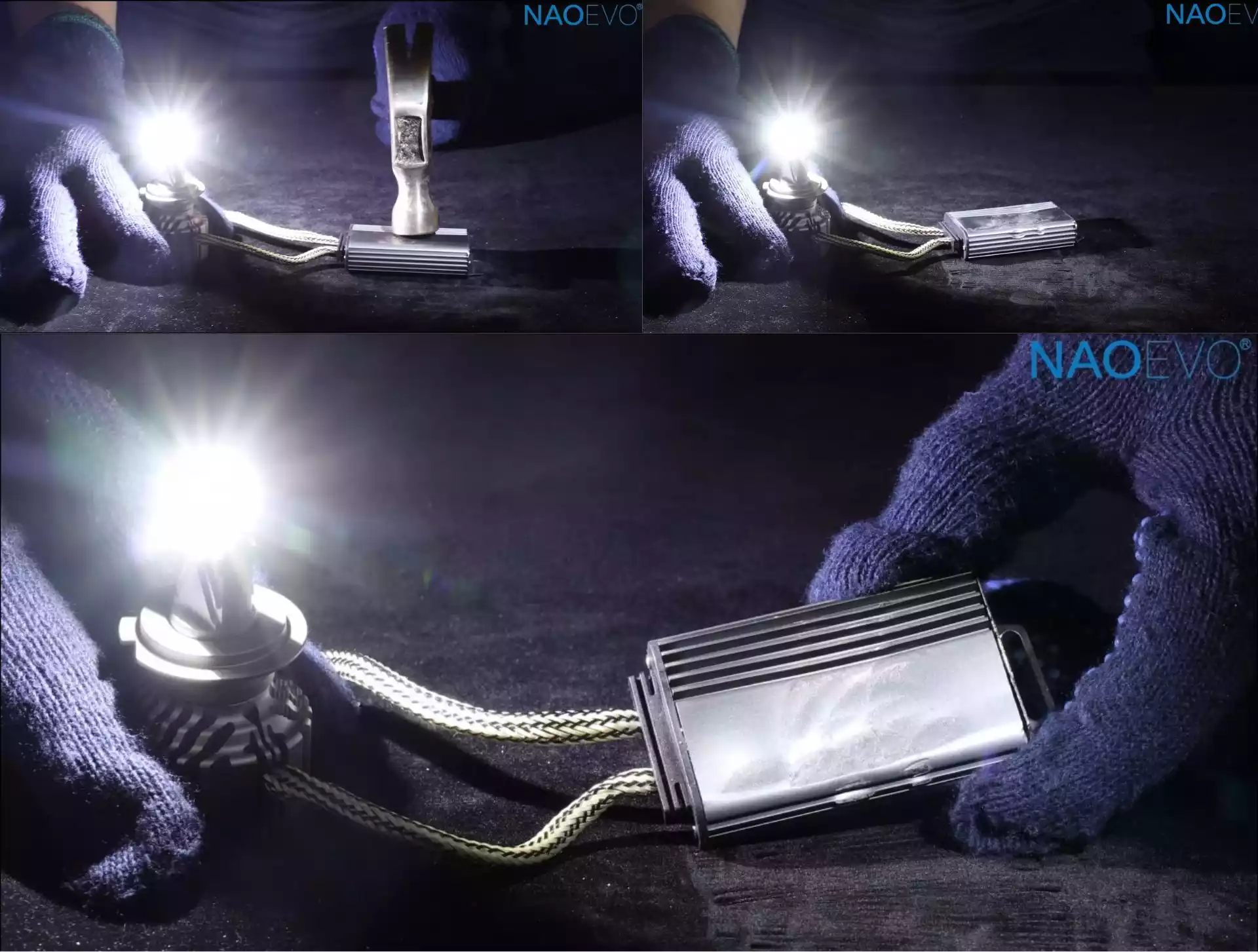 ---
NAOEVO – Your Trusted Supplier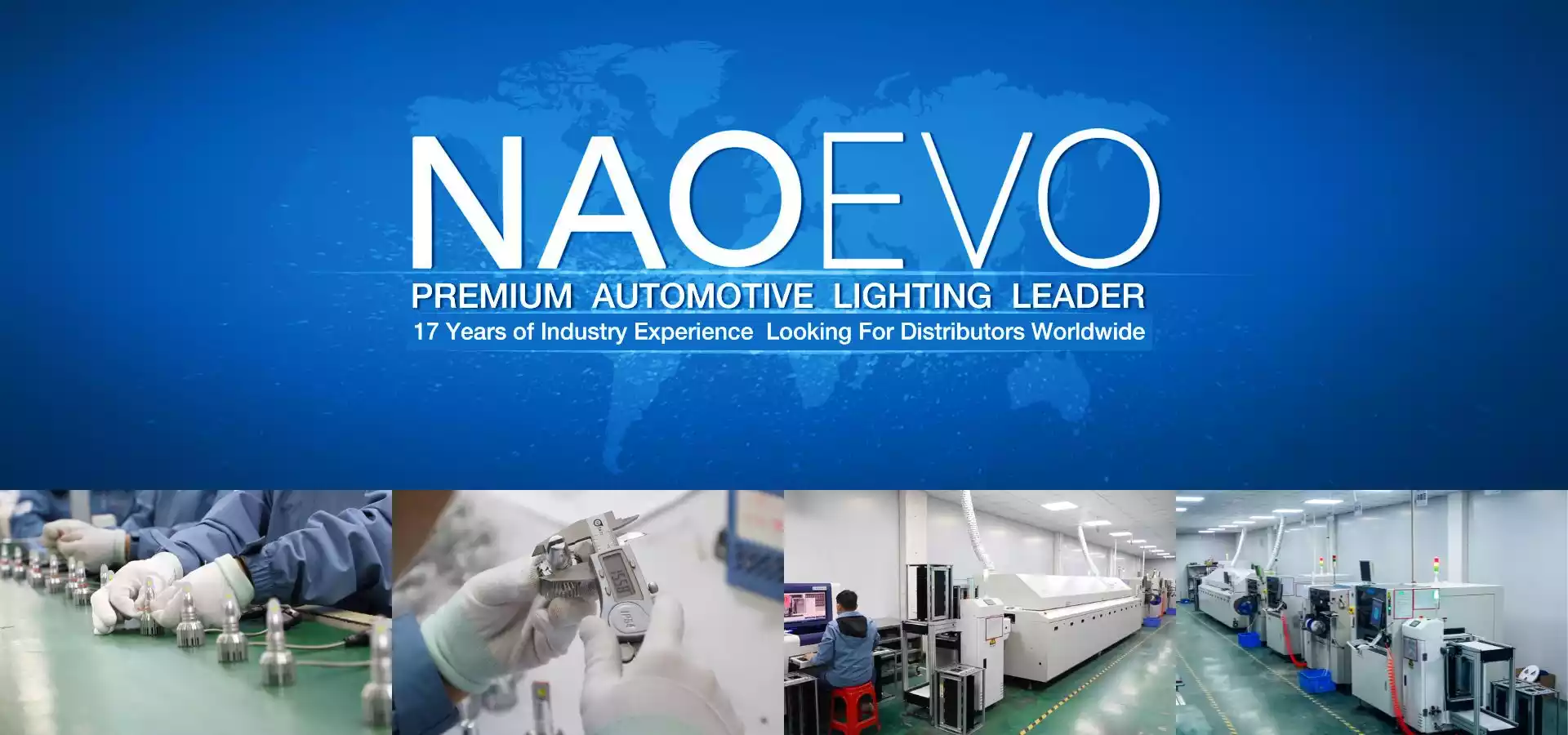 Quality testing of LED headlight bulbs is critical to ensuring that they meet the required standards of performance, durability, and safety. As a reliable automotive lights manufacturer in China, NAOEVO focuses on every step of LED headlight bulb production. We are not only concerned about the endurance test of LED headlight bulbs but also the performance test such as brightness, beam pattern, color temperature and thermal management.
---
Other Instruments For LED Headlight Bulbs Test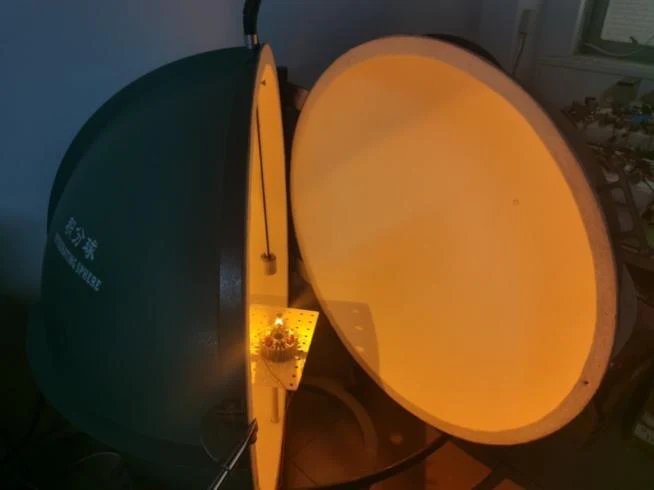 High Precision Integrating Sphere System
Integrating Sphere is a tool used to measure the light output and color of the LED headlight bulbs. When the bulb is developed, it will be placed inside the sphere, which then measures the amount of light emitted in all directions.
This allows for accurate measurements of the bulb's brightness (lumen, watts, lux), color temperature, and other important factors.
Light Beam Pattern Test System
A light beam pattern test system is used to measure the beam pattern and direction of LED headlight bulbs. At the front of the testing system lies a dark room with a 180-degree measurable space.
By switching on the headlight, we can precisely capture the light spread and measure the lux on the wall and ground. This allows us to enhance the lumens and lux output of the LED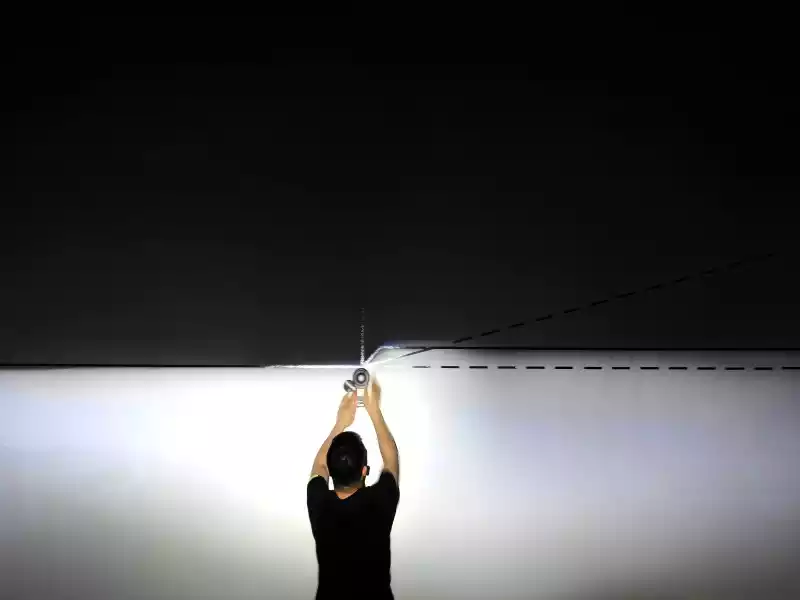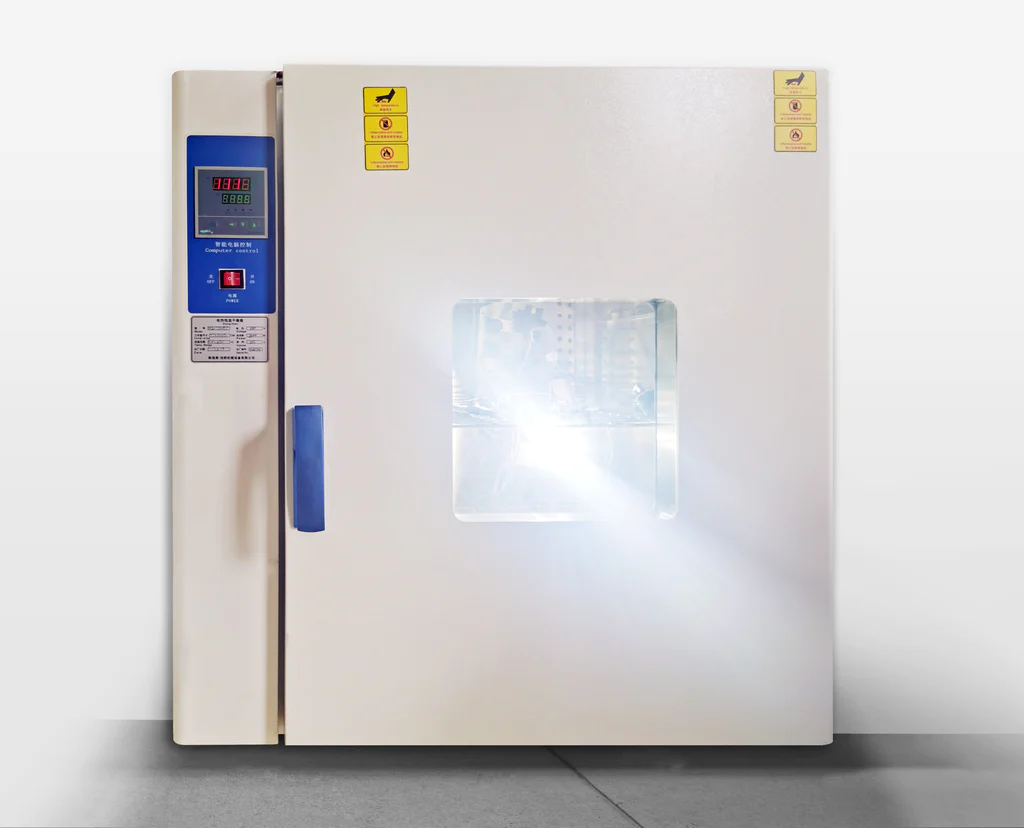 Temperature Humidity Chamber
A Temperature Humidity Chamber is used to test the durability and performance of LED headlight bulbs in extreme weather conditions. This chamber can stimulate adverse conditions from -20℃ to 120℃ and humidity levels from 0-99%.
This allows for the measurement of the bulb's ability to withstand extreme temperatures and moisture levels, ensuring that it can perform reliably under any weather conditions. The results of Temperature Humidity Chamber testing help to ensure the safety and quality of LED headlight bulbs.
Water Spray Test Chamber
A Water Spray Test Chamber is used to test the water resistance and durability of LED headlight bulbs. The bulb is placed inside the chamber and exposed to high-pressure water jets, simulating exposure to heavy rain or water spray from other vehicles. This allows for the measurement of the bulb's ability to withstand water pressure and ensure reliable performance in wet conditions.
The results of Water Spray Test Chamber testing help to ensure that LED headlight bulbs can withstand harsh weather conditions and provide reliable lighting solutions for drivers.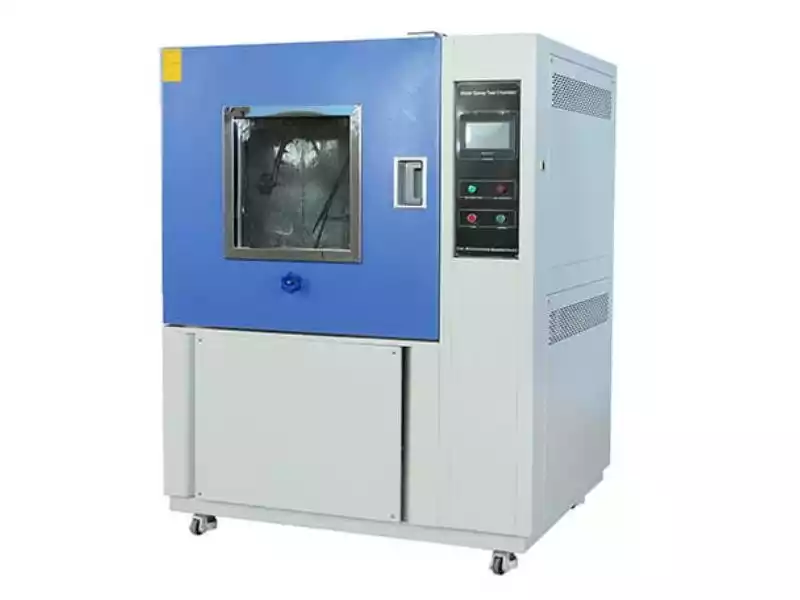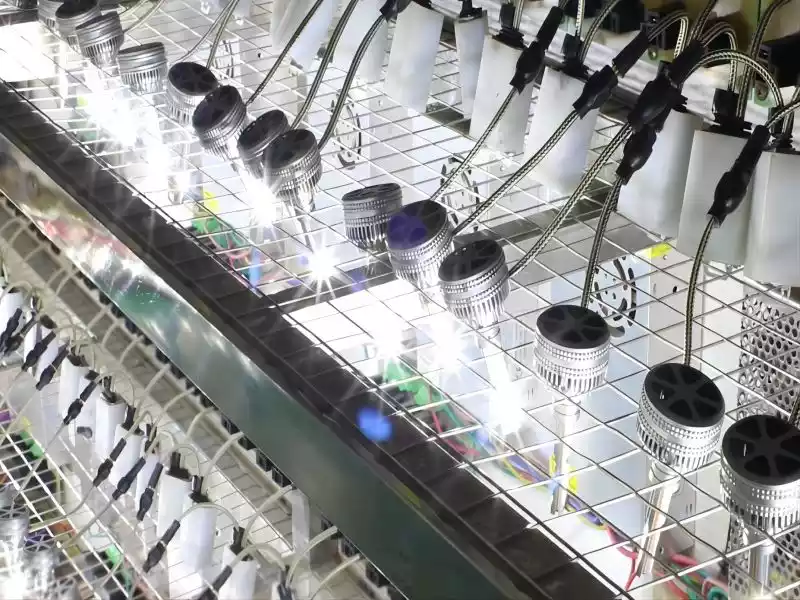 Aging Testing
Reliable and accurate aging test is the important element contributing to excellent quality and reducing failure rate of LED headlight bulbs. All of goods conduct through more than 24 hours of multiple voltage aging test, to identify any product which may cause early life failure, prior to shipping.
This test helps manufacturers ensure that their LED headlight bulbs meet quality standards and can withstand the rigors of daily use.

Conclusion
In conclusion, the quality tests of the 5 best LED headlight bulbs in 2023 demonstrate the importance of selecting a reliable and reputable manufacturer. NAOEVO stands out as China's leading manufacturer of high-quality LED headlight bulbs, offering superior performance and durability that drivers can rely on.

By implementing rigorous testing standards and using only the best materials, NAOEVO ensures that their products meet and exceed industry standards. When it comes to upgrading your vehicle's lighting system, choosing NAOEVO means choosing a trusted partner in the automotive industry.