Automotive LED headlight bulbs manufacturing is a huge industry in China, with hundreds of factories producing billions of automotive lighting each year.

But which suppliers and manufacturers are the best? If you're looking for high-quality LED car light manufacturers in China, you can't go wrong with any of the following companies.

We've compiled a list of the top 5 LED headlight bulb suppliers in China, based on their reputation, quality control, and production capabilities.

So whether you're looking for mass production or custom LED car lights, these factories can handle your order quickly and efficiently. Let's take a look at the best of the best!
List of The 5 Best Auto LED Headlight Suppliers In China
1. Guangzhou NAO Electronic Technology Co., Limited
Headquarter: Guangzhou, China
Established Year: 2006
Main Products: LED Headlight Bulb; Motorcycle LED Bulb; LED Light Bar; LED Signal Light
Website: www.naoevo.com
NAOEVO has been a leading LED car lights manufacturer China since its foundation in 2006.

They provides a wide selection of automotive lighting products, including LED headlight bulbs, motorcycle LED bulbs, LED light bars, and LED turn signals, and most of them are exported to Europe; southeast Asia, and South America.

The brand NAOEVO is a combination of two words, "NAO" and "EVO", which stands for "Nine And One" and "Evolution." Just like the name, NAOEVO has always been committed to product quality and innovation, striving to elevate a 9-out-of-10 product to a perfect 10.

Their factory spans vast 10,000 square meters, with more than 200 skilled employees, 100 advanced equipment, and 5 production lines, so that they can conduct strict quality control by their own and ensure that every product delivered to the customer is of highest quality.

Besides, NAOEVO insist "One Area One Distributor," aiming to maximize the profit of customers. They release new patent design product every month.

So far, NAOEVO's products have sold in over 50 countries and they have established partnerships with more than 40 distributors worldwide.
The benefits you will get from NAOEVO:

High-power LED bulb
Lowest wholesale price
Exclusive distributor support
OEM/ODM service
Monthly Product Innovation
Fast delivery
2. Nanjing Jiuguang Lighting Technology Co., Ltd.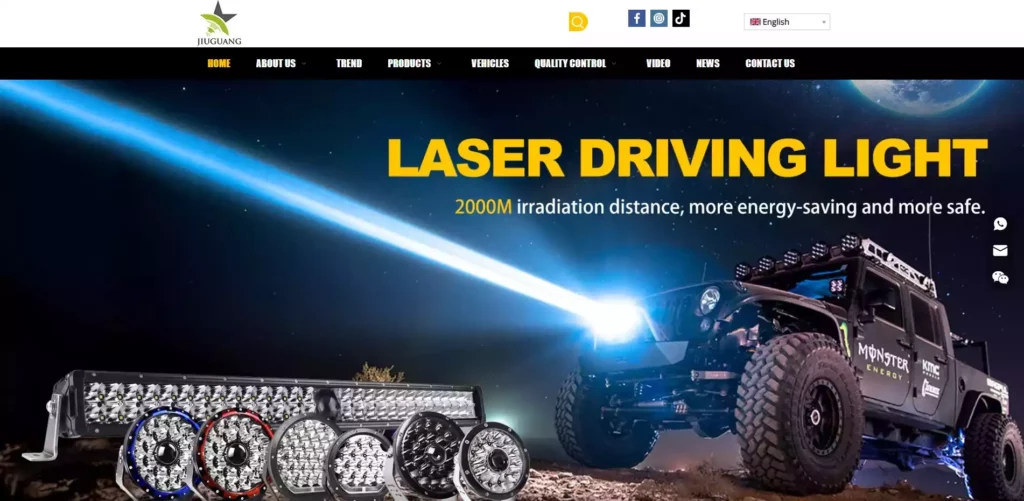 Headquarter: Nanjing, China
Established Year: 2008
Main Products: LED Light Bar; LED Headlight; LED Work Light; LED Driving Light

Founded 2008, Jiuguang has expanded its product range over the years, from universal off-road lights to various specialized products such as LED work light, LED light bar, LED headlight bulb and laser LED lights. Jiuguang is a name synonymous with innovation and quality.

With a sprawling 20,000 square meter dust-free workshop, Jiuguang ensures the production of high-quality products that meet and exceed your expectations. Our dedicated team comprises 20 professional R&D experts and over 300 skilled workers, united in their commitment to perfection. Our products, including LED light bars, LED work lights, LED driving lights, and LED headlight bulbs, have earned the prestigious CE, RoHS, and FCC certifications.

Spanning across North America, Middle East, South America, and Southeast Asia, Jiuguang has made its mark as a global leader in LED lighting. Boasting a remarkable total annual output of 340,000 units and exported to more than 20 countries and regions.

Moreover, their unwavering dedication to innovation is evident as they continuously develop new lights, releasing 5 to 12 new products each season.
Main Benefits of JiuGuang:

Rapid Adaptability
Diversified production
Wide selection of products
2 year warranty
Strict quality control
Wholesale price
3. Guangzhou Yeyan Technology Co., Ltd.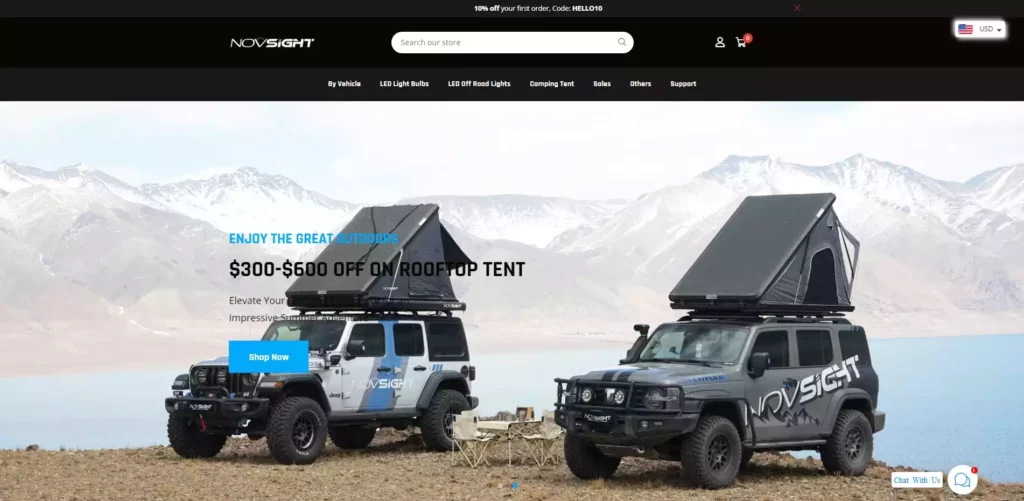 Headquarter: Guangzhou, China
Established Year: 2015
Main Products: LED Headlight Bulb, Motorcycle LED Headlight Bulb, LED Working Light, LED Bulb, Car Cover

The Novsight is a iconic brand of Guangzhou Yeyan Technology Co., Ltd. You may have see this brand in most online commerce platforms before.

Established in 2015, with a mere 8 years in the automotive lighting industry, they've become as a global LED headlight bulb supplier, fostering a robust distributor network across North America, Southeast Asia, and Eastern Asia.

They provide a wide range products of car lighting, motorcycle lighting, household lighting, and accessories. With continuous technology exploration. Their products are a fusion of remarkable brightness and captivating design, capturing hearts worldwide.

Driven by the core values of "honesty, quality, service," the company embodies craftsmanship in automotive lighting, matched only by their impeccable customer service.

Supported by a robust factory, novsight extends a seamless one-stop service, seamlessly weaving together product and package design, and nimble logistics.
Main Benefits of Novsight:

Multiple price options
Personal-to-personal after sales service
New product update every quarter
CE and ROSH approved
Professional R&D team
4. Guangzhou Raych Electronic Technology Co., Ltd.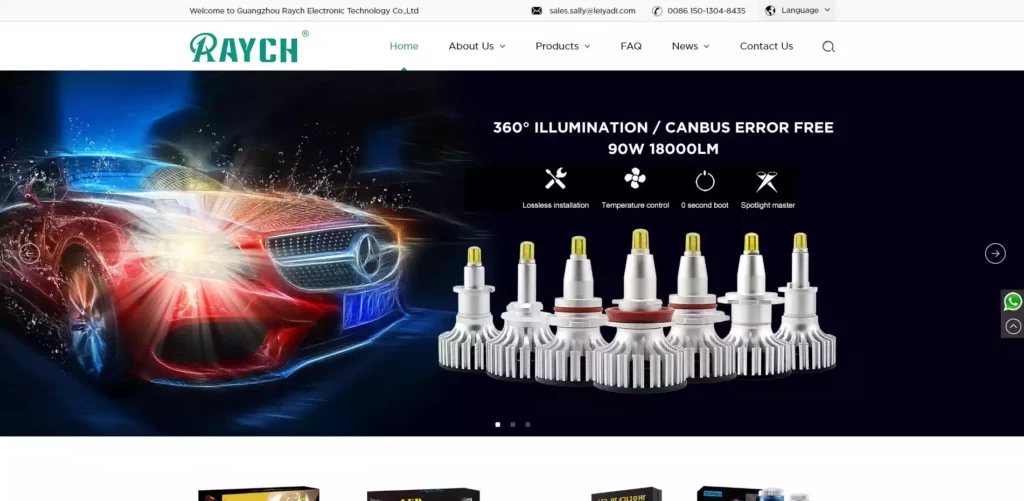 Headquarter: Guangzhou, China
Established Year: 2014
Main Products: LED Headlight, LED Work Light, LED Light Bar, Motorcycle LED, LED Signal Bulb

Founded in 2013, Raychi has been in the automotive lighting industry for 10 years. Their main products are LED Headlight Bulbs; HID Headlight Bulbs; LED Interior Bulb; LED Exterior Bulbs;
Just like their name, they believe that "Choose Raych , Become Rich." This is our culture." and is dedicated to providing the most competitive LED light bulb for their wholesalers and retailers and help them to become rich.

Renowned as China's premier automotive LED headlight suppliers, Raych caters to emerging enterprises seeking customization, offering a minimal order quantity of 100 sets along with custom logo options.

They have high production efficiency, it is said that the factory has three advanced SMT machines, which is equivalent to the work efficiency of 360 workers, so they can achieve large-scale production needs.
Their heavy investment in research and development leads them to file more than 20 product patents each year.
Main Benefits of RAYCH:

20+ Product patents
10+ Years Manufacturer
Wide selection of products
Minor customization
Fast delivery
5. Dongguan G-View Lighting Technology Co., Limited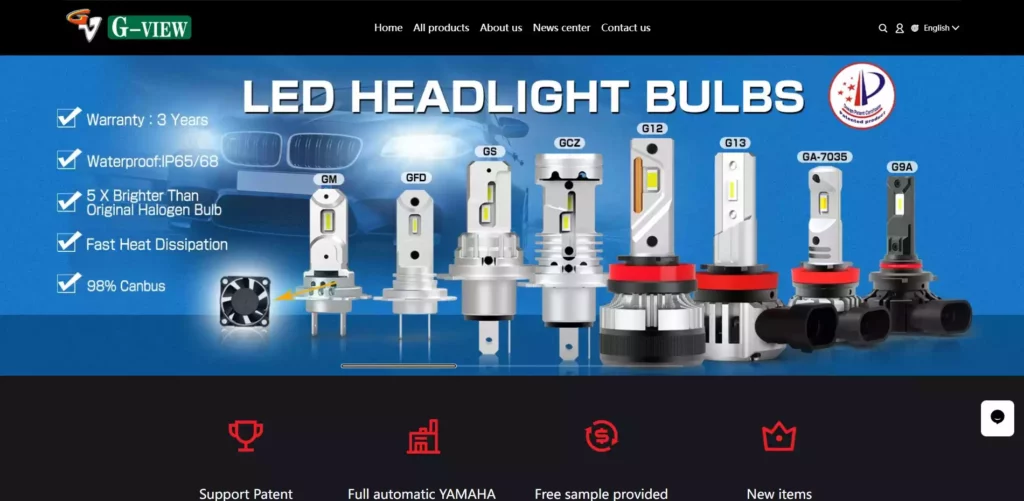 Headquarter: Guangzhou, China
Established Year: 2014
Main Products: Automotive LED Lights; FOG Light; LED Reverse Light

Since its establishment in 2012, G-view has emerged as a dependable LED car bulbs manufacturer in China, committed to catering wholesale automotive lighting solutions worldwide.

With 15 years development, they have boost a 5000 square meter factory with around 20 engineers, 5 production lines, 2 automatic SMT machine, they reach a value of exports of US $8,970,300 mainly in North America Eastern Asia, and Western Europe.

G-view offers a comprehensive one-stop service including product design, package design, as well as product images and videos.

With monthly new product launches, we empower customers to conquer the market effortlessly. Furthermore, our commitment to quality shines through with a rigorous 100% aging test and thorough inspection of all products before shipment.

Thanks to our impeccable service, top-notch products, and competitive pricing, They've captured the attention of customers worldwide. G-View eagerly anticipates the chance to forge a long-lasting, mutually rewarding business partnership with you.
Main Benefits of G-VIEW:

15 years experiences in manufacturing
Rich experience
Support patent
Free sample provided
3 Years warranty
24 Hours services
Why You Should Buy Wholesale Auto LED Headlights From China?
The AUTOMOTIVE lighting industry clusters in China mainly gather around the Yangtze Delta and Pearl River Delta. If you want to import auto LED lights from China, I recommend you to cooperate with suppliers located at the industrial clusters.
Why? There are mainly three advantages to wholesale LED car bulbs from Chinese factories located in industrial clusters.

1. Lower Purchasing Costs
China has abundant and cheap labor. Thus, auto LED headlight factories in China can offer you a better price for the products. The whole cost is lower to cooperate with Chinese LED car lights manufacturers even if you add the shipping fees and customs tax.
Moreover, you can have more price choices and select a more competitive one as there are many similar manufacturers in the same district.

2. More Advanced Equipment
When you think of China, you probably think of lower costs. But many people may overlook that it is the development of their technology that can reduce costs.
China's well-established manufacturing infrastructure and supply chain capabilities have enabled it to quickly scale up production of advanced technologies, making them more accessible and affordable.
In this case, the machinery and equipment of suppliers in the LED headlight bulb manufacturing are definitely at the forefront of the industry. Therefore, they can meet your requirement of the products and techniques better.

3. Diverse Product Range And Customization
Chinese manufacturers offer a wide range of auto LED headlights to suit various vehicle models and preferences. Whether you're looking for specific bulb sizes, color temperatures, or beam patterns, you're likely to find a product that matches your requirements.
Additionally, many Chinese suppliers offer customization options, allowing you to tailor the LED headlights to your specifications, enhancing the uniqueness of your product offerings.

4. Efficient Supply Chain and Logistics
China's central location in Asia provides a strategic advantage for international trade. Its proximity to various global markets enables efficient shipping and distribution to destinations worldwide.
Whether you're located in North America, Europe, or other regions, China's geographical position minimizes transit times and reduces shipping complexities.
Can I Customize LED Headlight Bulbs?
If you meet the supplier's minimum order quantity requirement, you can then send your requirements to the supplier.
Customization services include logo customization, customized product appearance, customized color temperature, and customized packaging.
Factors to Consider Before Choosing Manufacturer of LED car bulb in China
If you are begin your search for a LED headlight bulb manufacturer in China, several factors must be considered.

1. Experience:
A manufacturer with years of experience has honed their expertise, ensuring that they understand the intricacies of LED headlight bulb production. Their knowledge translates into consistent quality, reliability, and the ability to troubleshoot effectively.

2. Production Capacity:
Adequate production capacity is essential to meet your demands promptly. A manufacturer with sufficient capacity can maintain consistent supply, avoiding delays and ensuring your business continuity.

3. Customization Capability:
Opting for a manufacturer with strong customization capabilities empowers you to tailor LED headlight bulbs to your exact specifications. This flexibility ensures your product aligns perfectly with your brand and market needs.

4. Minimum Order Quantity (MOQ):
Understanding the manufacturer's MOQ is crucial for budget planning and managing inventory. A reasonable MOQ aligns with your business scale and minimizes excess stock.

5. Production Lead Time:
The production lead time directly impacts your ability to bring products to market. Choosing a manufacturer with an efficient production lead time ensures timely product availability, helping you stay competitive and responsive to market demands.
Final Words
Now, we have made a list of top 5 reliable automotive LED headlight bulb manufacturers in China that you can buy in wholesale.
So before buying wholesale LED car light bulb from China, identify what are all your requirements and the available price of that product at other market places.
Then compare the quality and price of your requirements. And also ensure that the shipping time and additional tax.