India's automotive lighting industry is quickly changing, switching from traditional halogen products to LED car bulbs.

Numerous auto LED light brands in India are gaining popularity. It is because LED headlight bulbs overtake OEM halogen in terms of light efficiency, lifespan, and durability.

Among many headlight bulb modes, the H11 is one of the most common bulb modes for India's cars. With a high demand, there are so many options available in India, it can be overwhelming to choose the quality H11 LED bulb for your car.

That's why we've complied a list of the top H11 LED bulbs in India that provide superior brightness with competitive price.
From high-power to low-power, and difference prices and appearance, these top H11 LED bulbs will help you achieve upgraded visibility and enhanced aesthetics look for you car.
LIST OF TOP 8 H11 LED BULB YOU CAN BUY IN INDIA
Amid so many options, you might get confused about the right H11 LED bulb for your car. That's why here we are presenting our list of the 10 best LED H11 lights in India for you. We have done intense research and found these suggestions for H11 with high performance. Let's have a look!
Illuminate Your Pathway with 10,800 Lumens Bright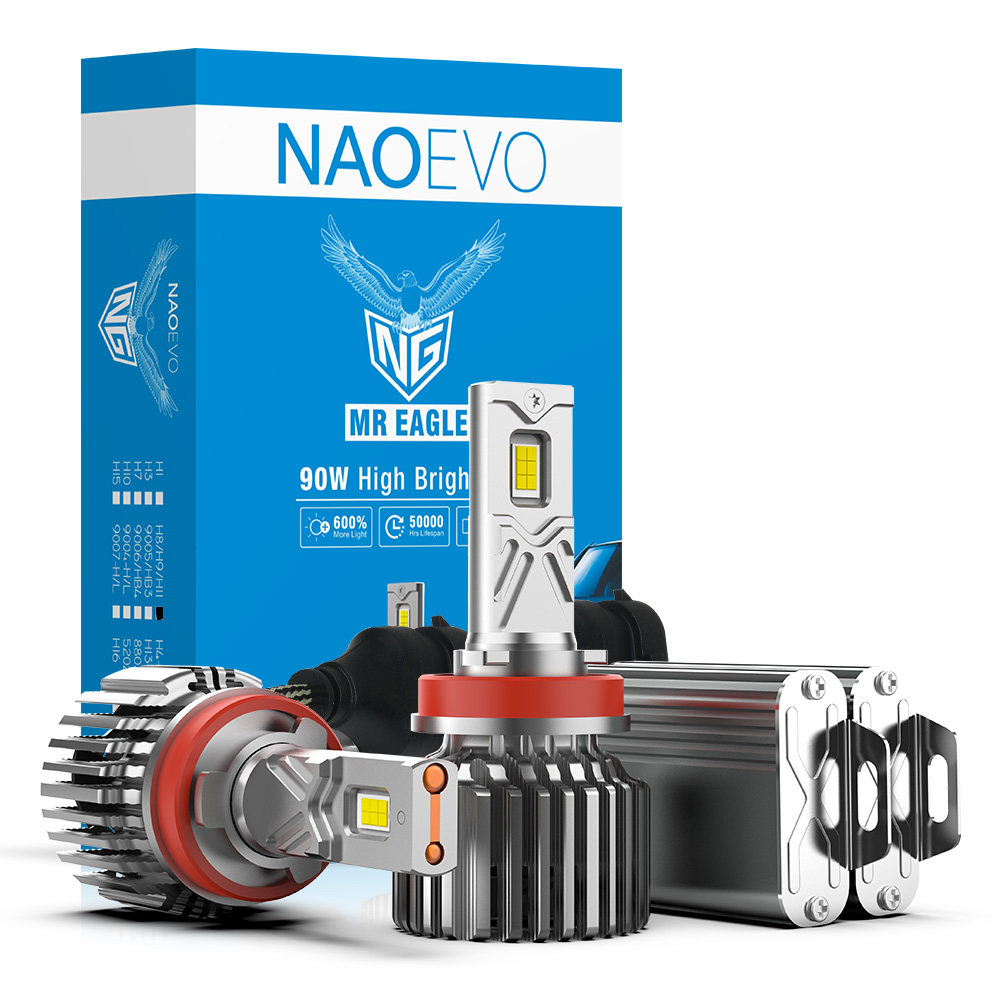 The NAOEVO NG series H11 LED bulb shines as NAOEVO's newest product of 2023. Renowned for their remarkable brightness, they stand out as one of India's brightest H11 LED bulb options for halogen upgrade.

The carefully developed flip chip by NAOEVO enables the NG H11 LED light to have high power of 180W and 21,600LM per set, making 500% brighter than halogen.

The manufacturing process of NG H11 LED bulbs ensures a prefect beam pattern. With state-of- art optics technology, the NG H11 LED bulbs deliver a defined cutoff line with uniform and wide beam so there is no glare or dark spots reduces your driving stress.

It is constructed from high-quality 6063 aluminum and features a high-speed fan. Notably, the inclusion of dual copper heat pipes facilitates 30W of heat transfer, significantly extending their lifespan to 50,000 hours. You can rely on these bulbs for long-term use without the need for frequent replacements.

What's more? "Its eagle design is unparalleled. The eagle design on the lamp body and heat sink sets it apart from the multitude of H11 LED lights. If you're looking for a distinctive H11 LED light to enhance the appearance of your headlights, then NAOEVO NG will be your top choice.
Specification
Power: 90W / Bulb
Lumen: 10800LM / Bulb
Chip: 4575 70 MIL Flip Chip
Voltage: DC 9-16V
Cooling: Copper Heat Pipe + Fan + Aluminum
Warranty: 2 Years
Notable Features
NAOEVO has a complete distribution network in India, which ensures their products are available across the country.
The flip chip is highly energy efficient.
Stylish eagle design
Advanced cooling technology
Sturdy-built, good quality
Reliable H11 LED Bulb With Astonished 5-Year Warranty!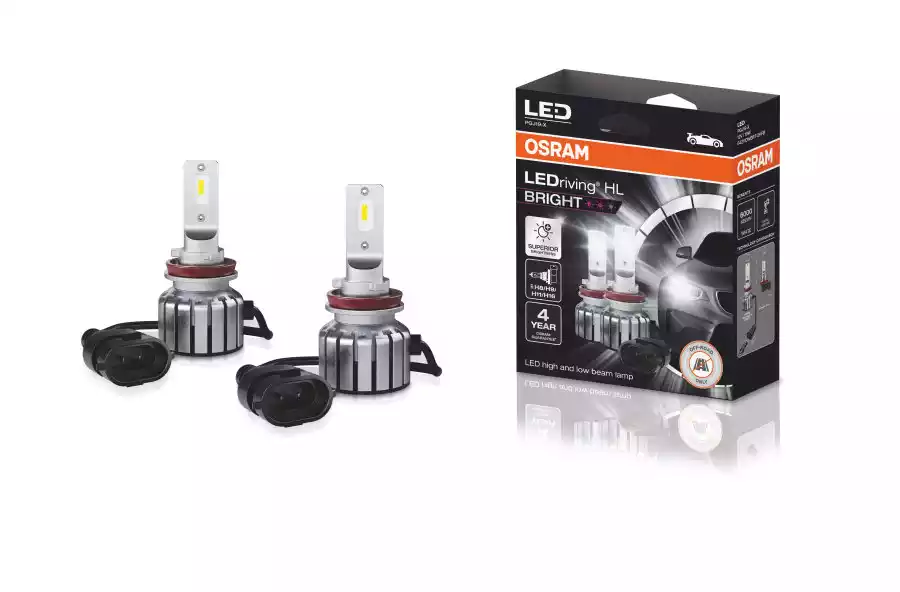 If you seek a top-tier H11 LED headlight bulb backed by world-class technology, consider Osram. Osram is one of the oldest and most trusted brands of India for automotive lighting options.

Guided by OSRAM's world-class engineering team, the manufacturing process of LEDriving H11 LED ensures a flawless design. Not only does its 6000K cool white light increase your style on the road, but vivid appearance allows other driver to be alerted to your position.

Thanks to the advanced German technology and OSRAM's sleek yet rugged design, offering resistance to extreme temperatures and shock impact, the LEDriving H11 boasts an exceptional lifespan of up to 8 years.
What's even more remarkable is that OSRAM provides an exceptionally generous five-year warranty, assuring you of a dependable and outstanding bulb.
Specification
Power: 14W / Bulb
Lumen: 1900LM / Bulb
Color: Up to 6000K
Voltage: 12V/24V
Cooling: Fan + Aluminum
Warranty: 5 Years
Notable Features
Striking cool white light
Latest German technology
Compact design for simple installation
Suitable for 12V and 24V vehicles
From a reliable brand – Osram
5 years extreme long warranty
Experience Cutting-Edge Tech For Exceptional Lighting Experience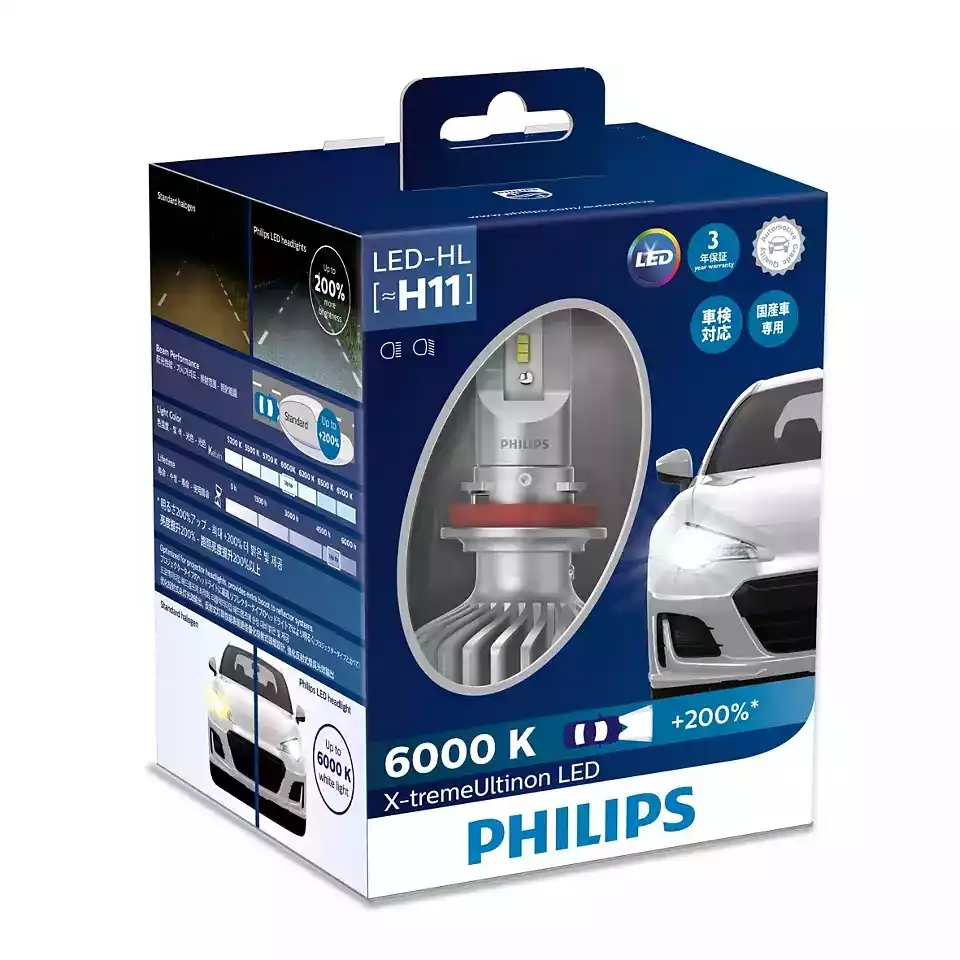 The PHILIPS X-Treme Ultinon H11 LED headlight bulb is another popular choice in India. For upgrading your stock halogen, these H11 LED bulbs improve your visibility by up to 200%.

Once you experience this 6000K daylight-like effect, you'll You will find that these bulbs, although expensive, is worth it.

The best H11 LED bulbs aren't just about producing the brightest light; it's about controlled light. Philips X-treme Ultinon H11 LEDs come with SafeBeam tech to focus light where needed, ensuring a uniform, regulated beam for safer and improved night-time driving.

You desire bright and stylish headlights without the hassle of frequent replacements. Conventional headlights weaken faster with higher brightness. Philips X-tremeUltinon LEDs, with features like AirFlux and AirCool, last up to 12 years, often exceeding a car's lifespan, ensuring lasting style and performance.

Designed for easy installation in compatible vehicles, it's advisable to have specialist mechanics install your new Philips LED headlights to ensure proper setup, although experienced drivers can also do it. Note that not all car types are supported.
Specification
Power: 22W / Bulb
Lumen: 1350LM / Bulb
Color: 6000K Cool White
Voltage: 12V
Cooling: Fan + Aluminum
Warranty: 3 Years
Notable Features
Highest quality level from Philips
Innovative heat management
Easy installation and compatible with most cars
Powerful bright light, safe illumination
Design for projector and reflector
Uniquely Designed LED With Increased Energy Efficiency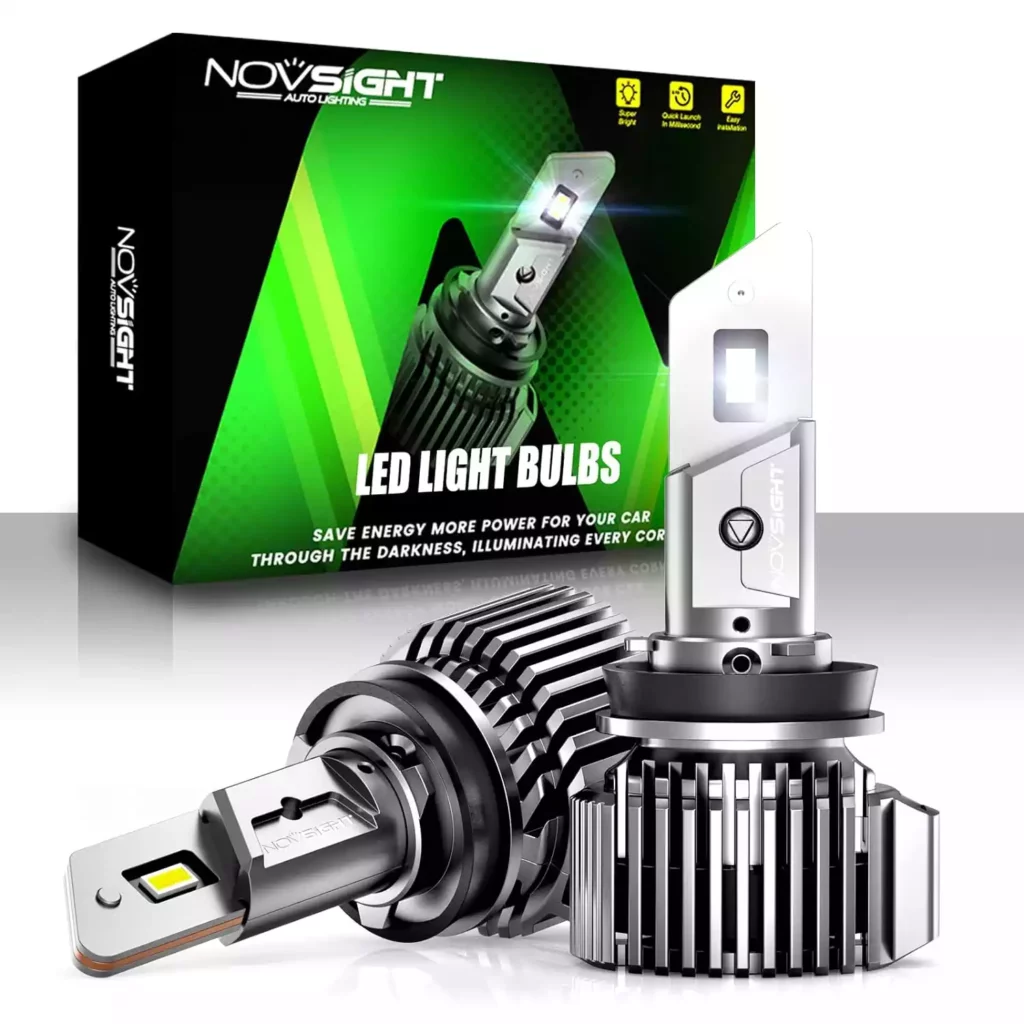 To ensure optimal lighting for you, Novsight has upgraded to the latest H11 LED headlight bulbs.

These bulbs are equipped with state-of-the-art CSP chips, emitting a cool white 6500K light at 10000 lumens and 100 watts per bulb, delivering 400% more brightness than halogen bulbs. As a result, this enhancement will greatly improve both your visibility and your car's lighting range.

Fitted with perfect beam pattern technology, these H11 LED bulbs concentrate beam that shine further down the road and will not blinding oncoming vehicles, which makes sure you can foresee the danger on the road.

Delicate design with NOVSIGHT unique technology, these H11 LED bulbs come with extremely easy installation. Only take 10 minutes to install without any modification.

More over, NOVSIGHT AI temperature control system and 12000 RPM turbo fan will effectively pull the heat away from the LED chips, ensuring more than 30,000 hours continuous lighting.
Specification
Power: 100W / Bulb
Lumen: 10000LM / Bulb
Color: 6500K Cool White
Chip: CSP Chip
Voltage: 12V
Cooling: Fan + Aluminum
Warranty: 2 Years
Notable Features
Perfect beam, no glare or dark spot
Excellent cooling system
Plug and play in 10 minutes
Compatible with 98% of vehicle
Delicate design
Canbus ready and error free
Instant Illumination In A Sleek Design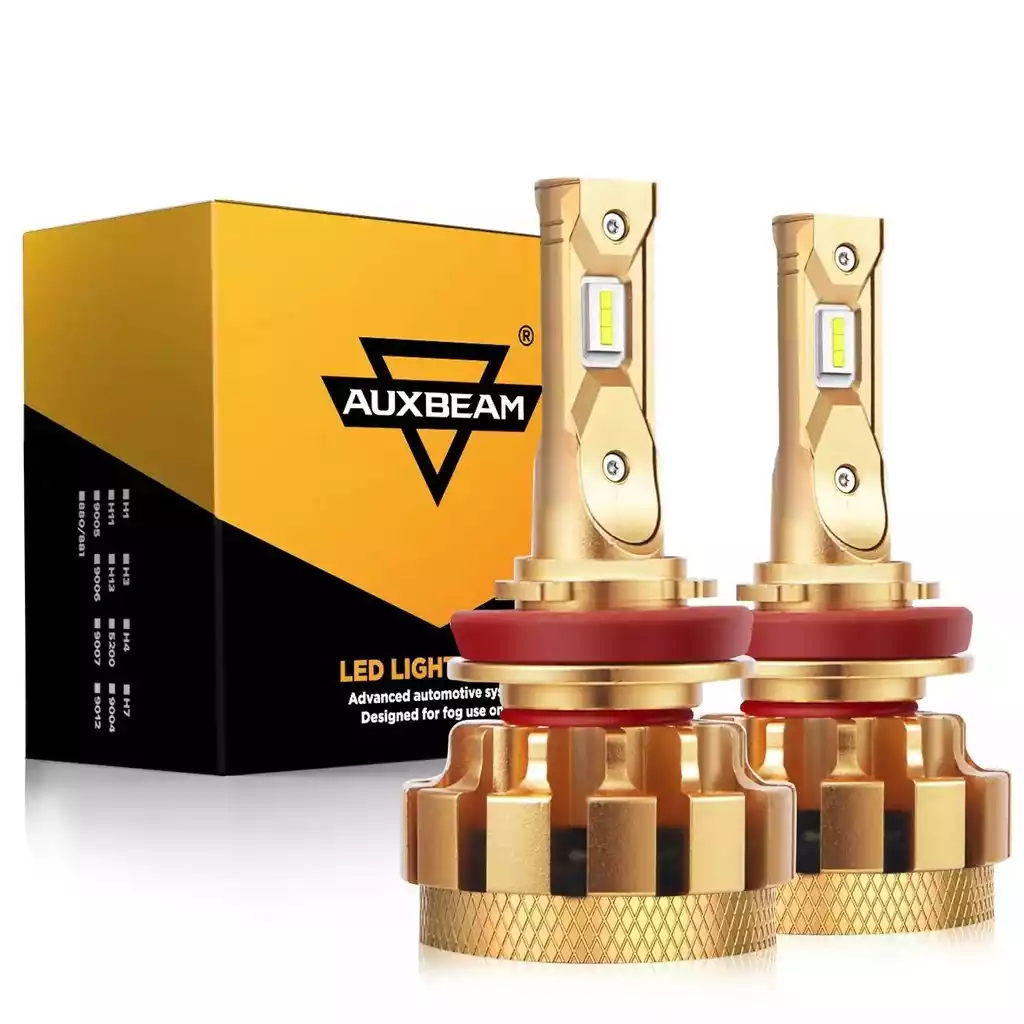 It is among the most renowned brands in India. You are sure to be drawn to its stylish golden lamp body, which significantly enhances the modern appearance of your car.

The AUXBEAM F-16 H11 LED bulbs utilize the top-of-the-line CSP 3570 LED chip, delivering an impressive brightness of 70W and 14000LM per set. Thanks to their super-focused beam pattern design, these bulbs offer a broader and more extended lighting range, shining six times brighter than your standard stock halogen bulbs.

The AUXBEAM H11 LED bulbs are built in whole aviation aluminum lamp body, with powerful 12,000 RPM ultra-low noise turbo fan, keeps the bulb in an appropriate working temperature, so that can extend the lifespan up to 50,000 hrs.

The driver incorporates an EMC system and employs shielded power cables to minimize the chances of radio interference. Additionally, its IP68 waterproof rating guarantees that the AUXBEAM H11 bulb will perform reliably even in the most extreme weather conditions.
Specification
Power: .35 W / Bulb
Lumen: 7000 LM / Bulb
Color: 6500K Cool White
Chip: CSP 3570 Automotive Grade
Voltage: 9-12V
Cooling: Fan + Aluminum
Warranty: 2 Years
Notable Features
Canbus error free, no error code
All round waterproof
Notable appearance
Two-way heat dissipation
1:1 beam pattern design as your halogen
Efficient Cooling H11 Bright White Light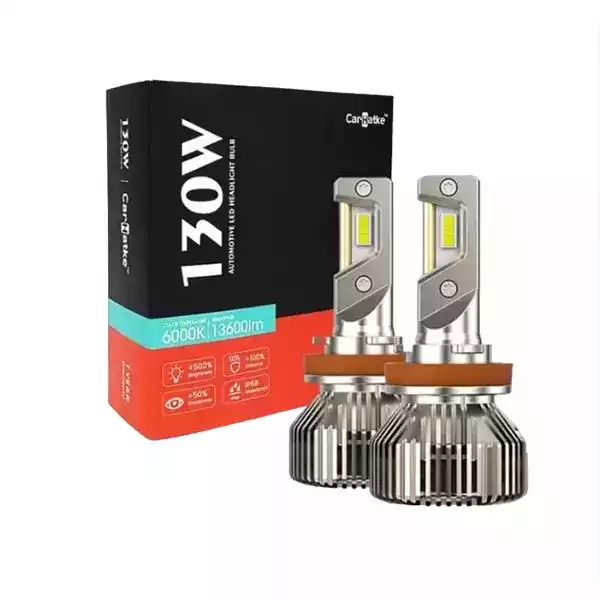 If you expect a quality H11 LED bulb for car that is combined with high-quality, super brightness of 130W and efficient heat dissipation. Then, the Carhatke LED bulb should be your right choice.

Feature a high power of 130W 13600LM per set and 6500K cool white light, the Carhatke H11 LED bulbs are excellent choice for H11 halogen upgrade and ensure safe nighttime driving. It surpasses both halogen and HID lamps, delivering up to 50% more road illumination.

It boasts an all-in-one, plug-and-play design with a smart heat radiator for instant start. With over 10,000 hours of continuous brilliance, it features an IP68 rainproof driver housing and a fan that operates reliably even in extreme conditions.

The cooling system comprises aircraft-grade aluminum, a high-speed fan, and dual copper heat pipes, ensuring a 50% faster cooling rate compared to other systems. It asserts that these bulbs reach a maximum temperature of 87.6 ℃; if this claim holds true, it suggests that these bulbs will enjoy an extended lifespan and maintain consistent lighting performance.
Specification
Power: .65 W / Bulb
Lumen: 6800 LM / Bulb
Color: 6000K Cool White
Chip: Imported COB
Voltage: DC12-24V
Cooling: Fan + Aluminum + Copper
Warranty: 15 Months
Notable Features
Compatible for car and bikes
360-degree light emission
Equipped with a fan, heat sink, liquid cooling tube
Built-in decoding chip, no flickering
45 degree cutoff line for low beam
Super Easy Installation For Every Cars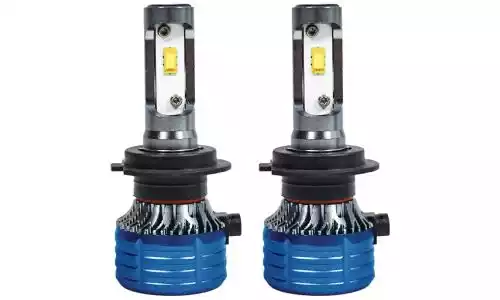 With a color temperature of 6,000K and a very compact design, Blaupunkt 9XPro H11 LED Lighting provide an easy solution to upgrade car headlights with Cool White LED light with far superior brightness levels.

The latest LED technology and compact design make for easy installation for a wide range of projector and reflector headlight models.

Besides, BLAUNPUNKT 9X PRO H11 provides an intense bright beam with uniform light distribution to improve overall visibility. With an output 80W 3200LM per lamp, these H11 LED bulbs are able to deliver a well-distributed beam without any dazzling light.

With excellent dustproof performance and quality 6063 aluminum, it can work normally in bad weather with rain, snow and fog to ensure your driving safety. The whole aviation aluminum body, and unique hollow carved blue heat sink design, they ensure a long lifespan.
Specification
Power: .80 W / Bulb
Lumen: 3200 LM / Bulb
Color: 6000K Cool White
Voltage: DC12-24V
Cooling: Fan + Aluminum
Warranty: 1 year
Notable Features
High end LED chip, high efficient brightness
IP68 water resistant
Fit 99% vehicles without Canbus adapter
Complete distribution network in India
Best H11 LED Bulb In Budget Price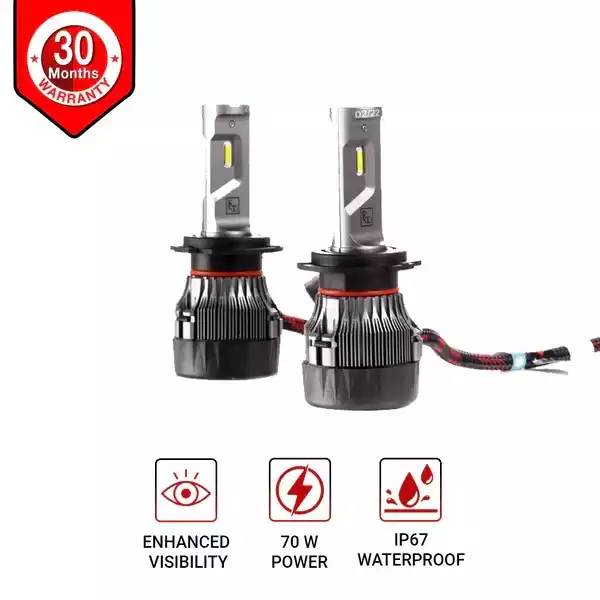 The last recommended H11 LED bulbs is RD X500. These H11 is a game-changer for road safety, significantly boosting visibility to prevent accidents. With its specially engineered arc mechanism, it emits double the visible light of standard halogen and high-intensity bulbs.

Equipped with a 70W power ballast and heat sink, it produces superior performance with a 6000 Kelvin Pure White color, not only improving vision but also adding a stylish flair to your car.

The 1:1 Perfect Beam Pattern features a vertical-aligned LED component design that faithfully replicates the original pattern. This results in a broader, extended beam of light on the road without causing glare for oncoming traffic.

The RD X500 H11 LED Car utilizes premium-grade materials engineered to surpass minimum heat-transfer standards, ensuring both durability and outstanding performance. This reduces the need for frequent replacements, making it an ideal choice for drivers seeking rugged reliability.

Compatible with 99% of vehicles, these LEDs come with built-in drivers and CANbus-ready design, guaranteeing error-free operation.
Specification
Power: .70 W / Bulb
Lumen: N/A
Color: 6000K Cool White
Voltage: DC12-24V
Cooling: Fan + Aluminum
Warranty: 1 year
Notable Features
Five times longer lifetime than halogen
30 Months Manufacturer Replacement Warranty
Slim design is suitable for projector head lamps
6000 Kelvin Pure White enhance stylish look of car
Our Top Pick – NAOEVO NG H11 LED
When finding H11 LED bulbs in the Indian market, the eight options listed above are renowned for their reliability and popularity. Tailor your choice to your preferences, but for overall excellent performance, we strongly endorse the NAOEVO NG series H11 LED headlights.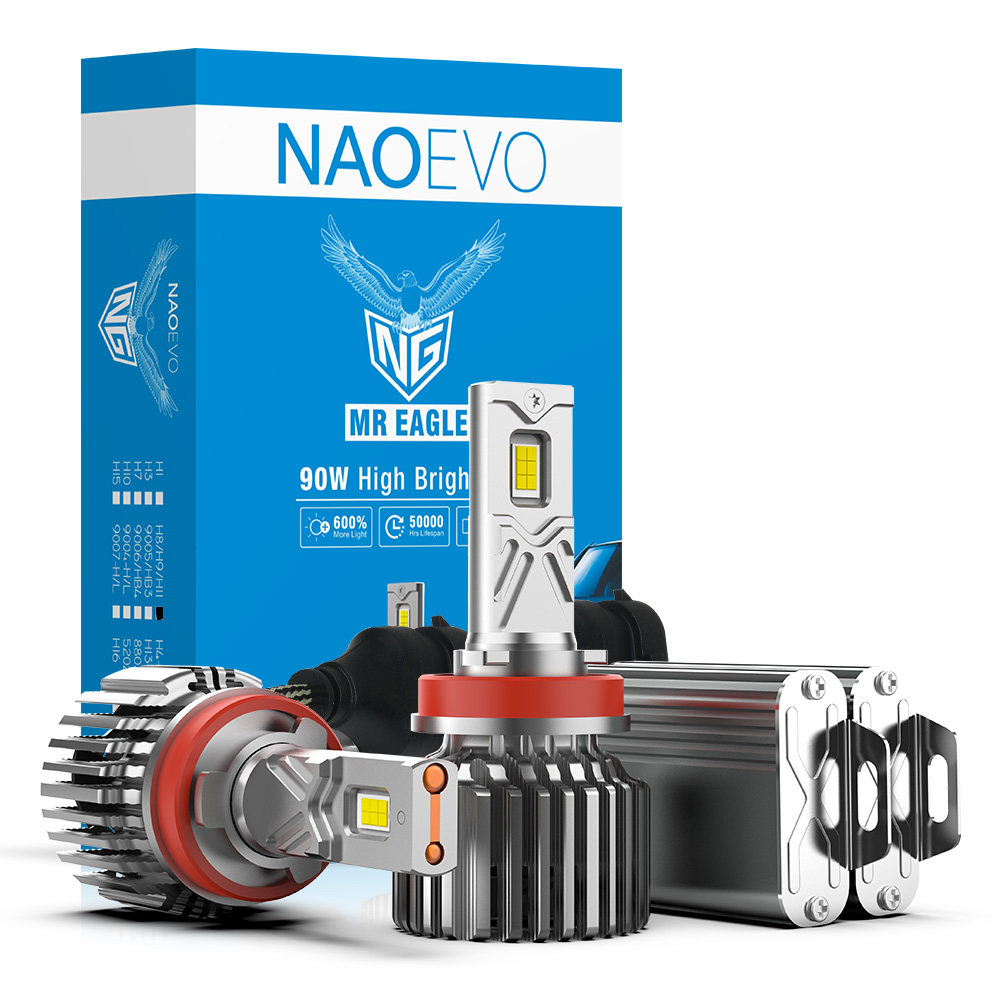 We select these bulbs primarily for their exceptional beam pattern, a crucial element in ensuring safe driving. NAOEVO boasts 17 years of expertise in automotive lighting R&D, with NG LED bulbs incorporating state-of-the-art optics technology to consistently provide a well-defined beam in all headlight housing.

Another reason is their distinctive Eagle design. NAOEVO prioritizes both core product technology and stylish aesthetics to elevate customers' headlight style.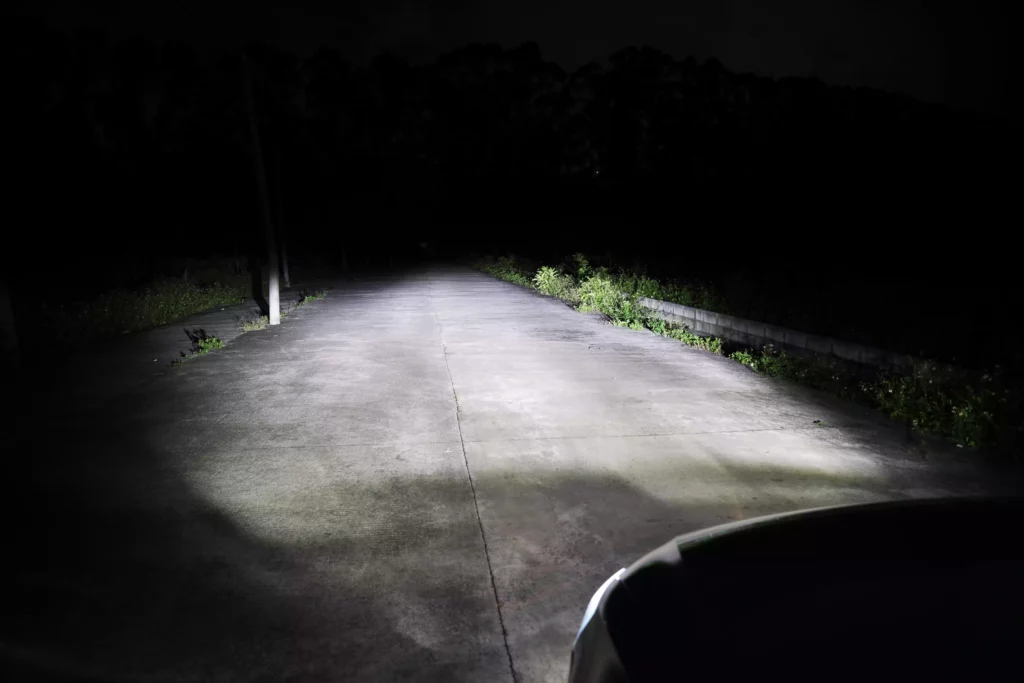 Lastly, NAOEVO is a reputable brand suitable for businesses of all sizes. They offer a range of support programs for potential distributors. If you're interested, click here to discover more.
FAQ
What is H11 Bulb Size?
The H11-size bulb is the most popular type used on modern vehicles and can be found in the 2012-2015 Toyota Tacoma, the 2019+ Ford Ranger, and the 2012-2016 Honda Civic Si, among many others.
Is H11 Fog Light The Same As H11 Headlight Bulb?
H11 fog light and H11 headlight bulbs share the same base type. H11 is one of the most common bulb sizes and is used for high beam, low beam, and fog lights by nearly car manufacturer.
Is H8 H9 H11 LED Replacement Bulb Interchangeable?
The H11, H8, and H9 sockets and connectors closely resemble each other, allowing for easy interchangeability. When upgrading to LEDs, most H11 bulbs are universally compatible, designed to directly replace H8, H9, and H11 bulbs in aftermarket applications.
Final Word
In 2023, these top 9 H11 LED bulbs are your go-to choice for brighter, safer, and more efficient car lighting in India. Illuminate your journey with the best, and drive confidently into the future with these remarkable upgrades for your vehicle.