LED headlight bulbs are the newest technology in 21 century, and have become one of the popular choices for replacing halogen thanks to their efficient brightness, safe beam pattern, long lifespan and flexible design.

However, some customers might associate new technology with a higher price, even though there are huge LED bulb for cars in the market price ranging from high to low, it is difficult to choose a good one. But you do not need to be worried because you are in the right place.

Here in this blog, you will get the proper recommendation for quality LED headlight bulbs in low price that are worth buying in India.
List of LED Car Lights At Affordable Price in India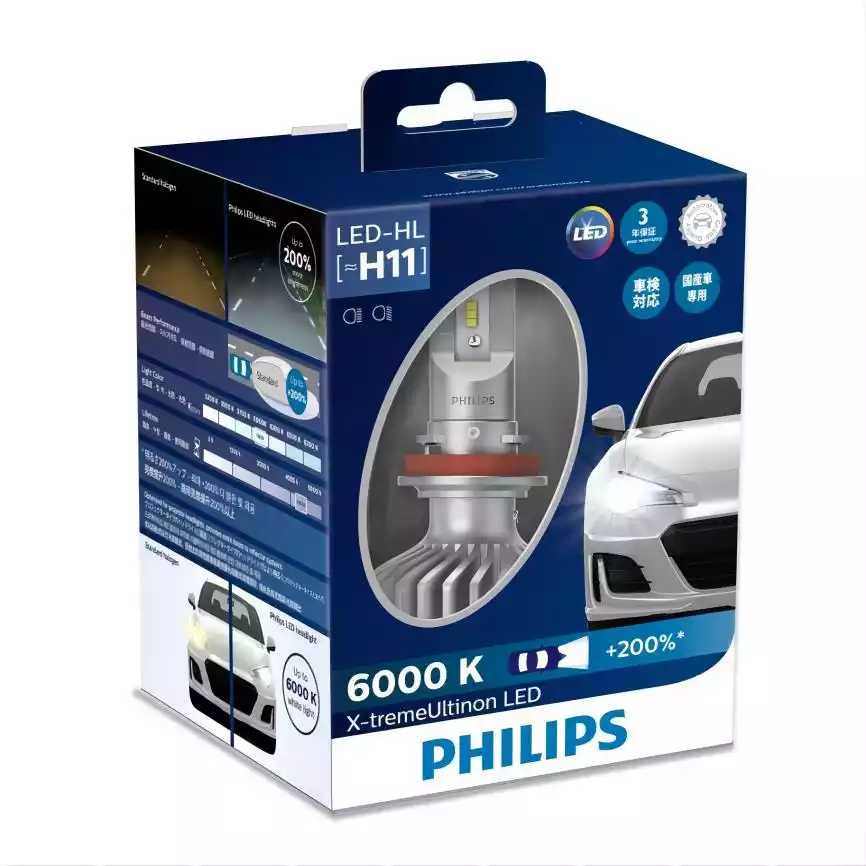 Recommend: 4.5 stars
Price Range: Moderate
Key Feature: Premium Quality, Long Warranty, Upgraded Brightness
Drawbacks: Less Brightness Compared to Others

While moderately priced, Philips X-tremeUltinon LED headlights offer a remarkable brightness that makes them truly deserving.

The Philips X-tremeUltinon LED headlight, using automotive-grade LUXEON technology, emits a bright white beam with a color temperature of up to 6000 Kelvin, akin to daylight. This clarity enhances visibility, aiding obstacle detection and optimizing your driving experience, ensuring a more comfortable and exhilarating night drive without straining to see the road ahead.

Equipped with SafeBeam technology, Philips LED headlights focus light precisely where required. They adhere to road safety standards, ensuring a uniform and accurate beam pattern akin to halogen headlights. This precise light control offers enhanced visibility, elevating your night-time driving skills for safety and confidence.

The major weakness of conventional bulbs is their short lifespan. However, Philips X-tremeUltinon LED bulb shows superior durability due to AirFlux and AirCool heat management systems. It claims that they can last up to 12 years without frequent replacement.
Besides, these bulbs are compatible with 12V and 24V vehicles. Philips' three-year warranty ensures that the LED lights consumers purchase are worth their money.
SPECIFICATION
WATTAGE: 44W/Set (22W/Each)
LUMEN: 2700LM (1350LM/Each)
COLOR: Up to 5800K
VOLTAGE: DC12V
WARRANTY: 3 Years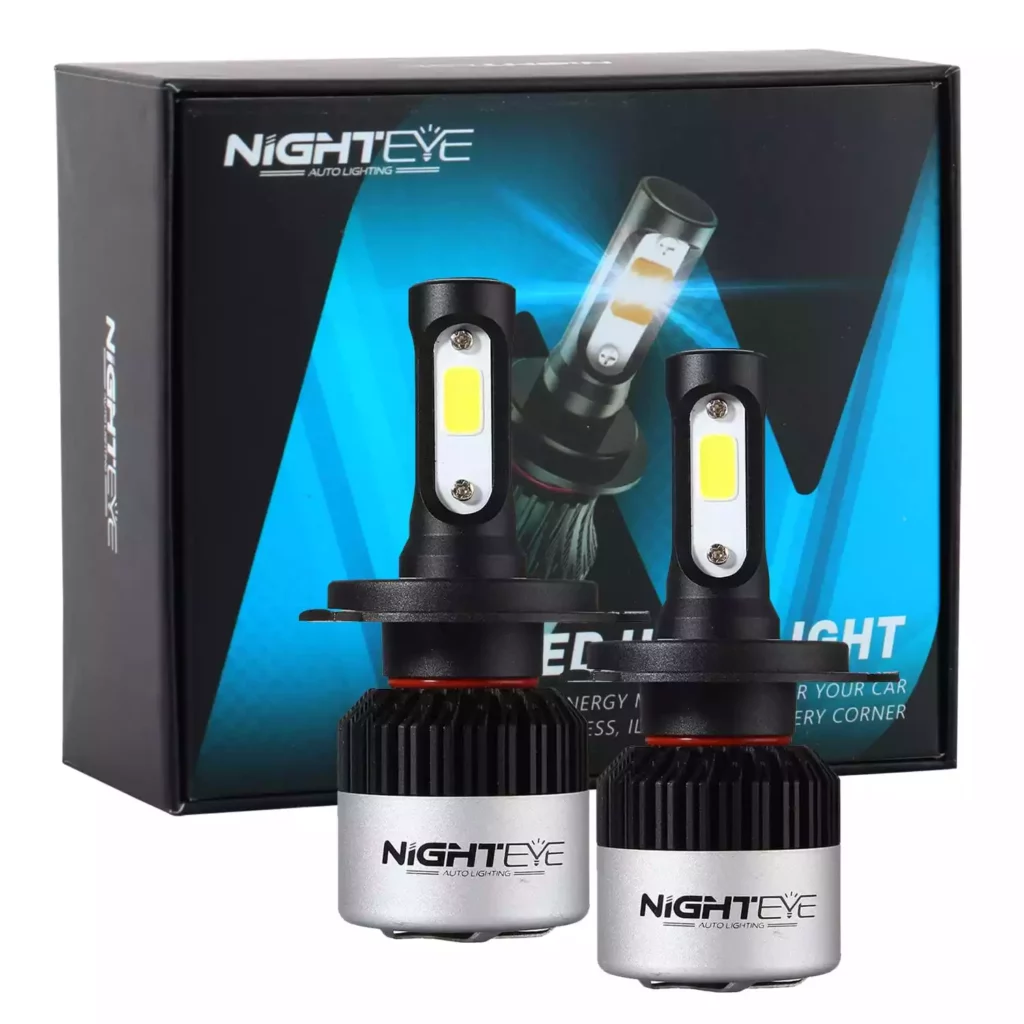 Recommend: 4 stars
Price Range: Budget-friendly
Key Feature: Easy Installation, 360 Degree Angle Lighting
Drawback: The Beam Pattern is Not as Good as Standard

The NIGHEYE NE-0011 H4 LED Bulbs provide 6500K cool white temperature. These bulbs are considered as one of the best budget H4 LED bulb for car in India with an efficient output of 72W 9000LM per set. The Bridgelux COB helps to save 40% of energy than halogen and HID.

With 12,000 RPM most efficient double roller cooling fan and unique integrated aluminum design, these bulbs can control optimum temperature.

What's more? Owing to their plug n' play design, they can be installed hardly within 15 to 20 minutes as these lights only require replacement with the existing lights. No relay, No Capacitors. No Extra Wiring. Plug and Play
SPECIFICATION
WATTAGE: 72W/Set (36W/Each)
LUMEN: 9000LM (4500LM/Each)
VOLTAGE: DC9V-32V
VIEW ANGLE: 360 Degree
CERTIFICATES: CE, ROHS
WARRANTY: 3 Years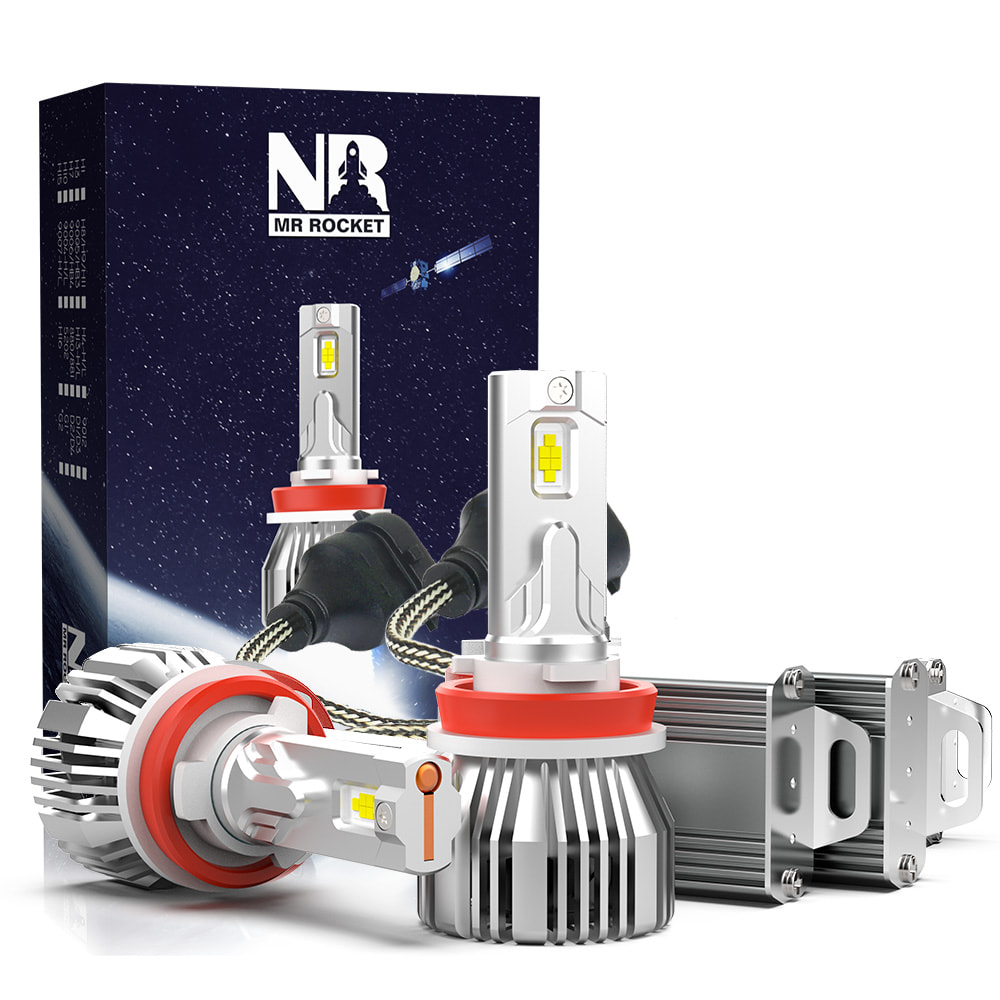 Recommend: 5 stars
Price Range: Budget-friendly
Key Feature: Rocket Design, Stable Brightness, Good Quality, Mini Size
Drawback: Short Warranty

The NAOEVO NR LED bulbs stand out as one of the best LED headlights that are available in lowest wholesale price. Manufactured by NAOEVO, India's most reputable automotive lighting manufacturer, the NR LED lights have undergone rigorous quality control processes and extensive testing to consistently meet the highest industry standards.

Unlike others using COB or CSP chips, NR LED bulbs are equipped with large size flip chip.This innovative approach optimizes energy utilization, resulting in unparalleled brightness. With an impressive output of 110W and 13200LM per set, these bulbs are poised to illuminate the road with a precisely defined cutoff beam, striking a harmonious balance between brightness and safety.

Within, a larger copper tube efficiently dissipates 20W of heat each time, complemented by a high-speed fan for continuous cooling. This robust cooling system ensures the longevity of your headlight, offering an impressive lifespan of nearly 50,000 hours.

They have 1:1 mini design as halogen, this contribute to easy installation as standard and ensure same lighting position, making them a perfect solution for headlight bulb replacement. If you are a wholesale buyers, the rocket design of NR will be the most attractive products in your shelf. NAOEVO ensure less than 0.1% defective rate, providing an assured after sales services.
SPECIFICATION
WATTAGE: 110W/Set (55W/Each)
LUMEN: 6600LM (13200LM/Each)
VOLTAGE: DC9V-16V
CHIP: 3570 55MIL*6 FLIP CHIP
COOLING: Fan + Aluminum + Copper Tube
WARRANTY: 1 Year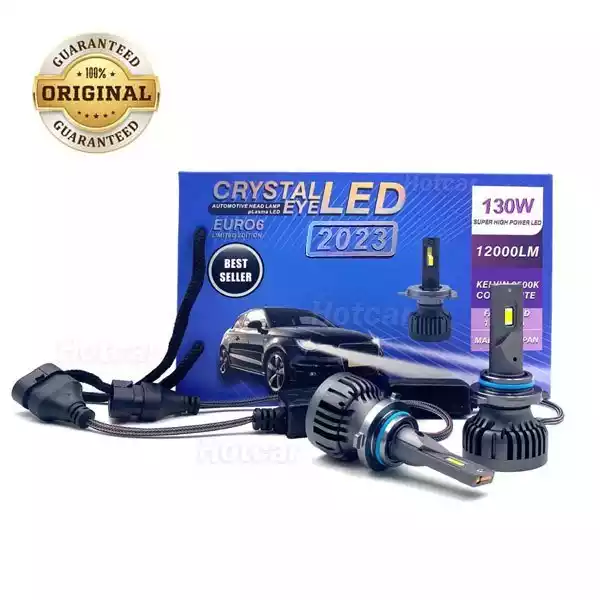 Recommend: 3 stars
Price Range: Budget-friendly
Key Feature: Plug-n-Play, 6500K Cool White
Drawback: Cause Excessive Heat

The popularity of Crystal Eye is growing day by day in India thanks to its affordable price and premium quality. Use COB LED chip, they illuminate the road with maximum light efficiency of 130W 12000LM. Better penetration and stronger condenser means driver will have improved visibility by spending less money.

Heat dissipation is as important as the brightness, in this case, the Crystal Eye LED headlight bulbs come with Aircraft Aluminium body and built-in fan, intelligent driver to prevent the bulb from high temperature.

What's more? Their compact design ensures easy installation, the 360 rotatable holder is design the same as your halogen bulbs, so they can be easily plugged into your headlight without any modification.
SPECIFICATION
WATTAGE: 130W/Set (65W/Each)
LUMEN: 12000LM (6000LM/Each)
COLOR: 6500K
VOLTAGE: DC12V
CHIP: COB Chip
COOLING: Fan + Aluminum + Copper Tube
WARRANTY: 15 Months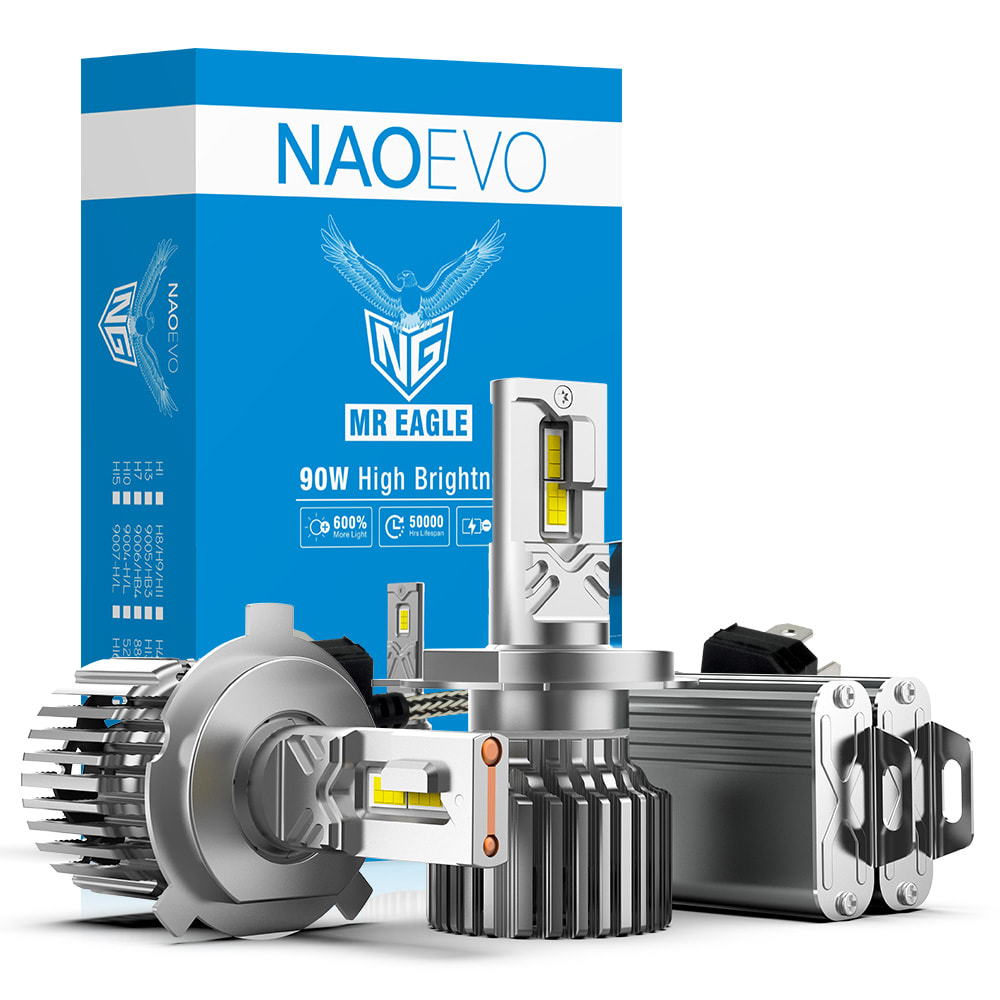 Recommend: 5 stars
Price Range: Moderate
Key Feature: Eagle Design; Intelligent Canbus; Excellent Light Beam
Drawback: Large heat sink

While it's true that many high-power LED lights come with a premium price tag, but NAOEVO NG LED lights are an exception. NAOEVO NG LED lights use the latest technology to enable consumers to spend less and get more brightness.

Equipped with high-tech flip chip, NG LED bulbs are capable of providing a super high power of 90W 10800LM one bulb, which is 6 times brighter original halogen headlight bulbs.

The upgraded NG LED headlight precisely mimic the position of the original halogen filament with 1.5mm ultra-thin chip spacing. This design enables a same beam pattern as stock to focus down the road with no dark spot.

The NG LED bulbs conduct higher cooling efficiency than others. Equipped with bigger dual copper tubes to transfer 30W of heat each time, and high speed cooling fan. The advanced cooling technology helps to remain the bulb within a safe temperature, thus prolong the lifespan to over 30000 hrs.

You must be interested in their stylish eagle design. Eagle stands for power and swift, just like NG LED bulbs, they convert most of the energy into brightness, providing confident driving experience for drivers.
SPECIFICATION
WATTAGE: 180W/Set (90W/Each)
LUMEN: 10800LM (21600LM/Each)
COLOR: 6500K
VOLTAGE: DC9V-16V
CHIP: 4575 70MIL*6 Flip Chip
COOLING: Fan + Aluminum + Copper Tube
WARRANTY: 2 Years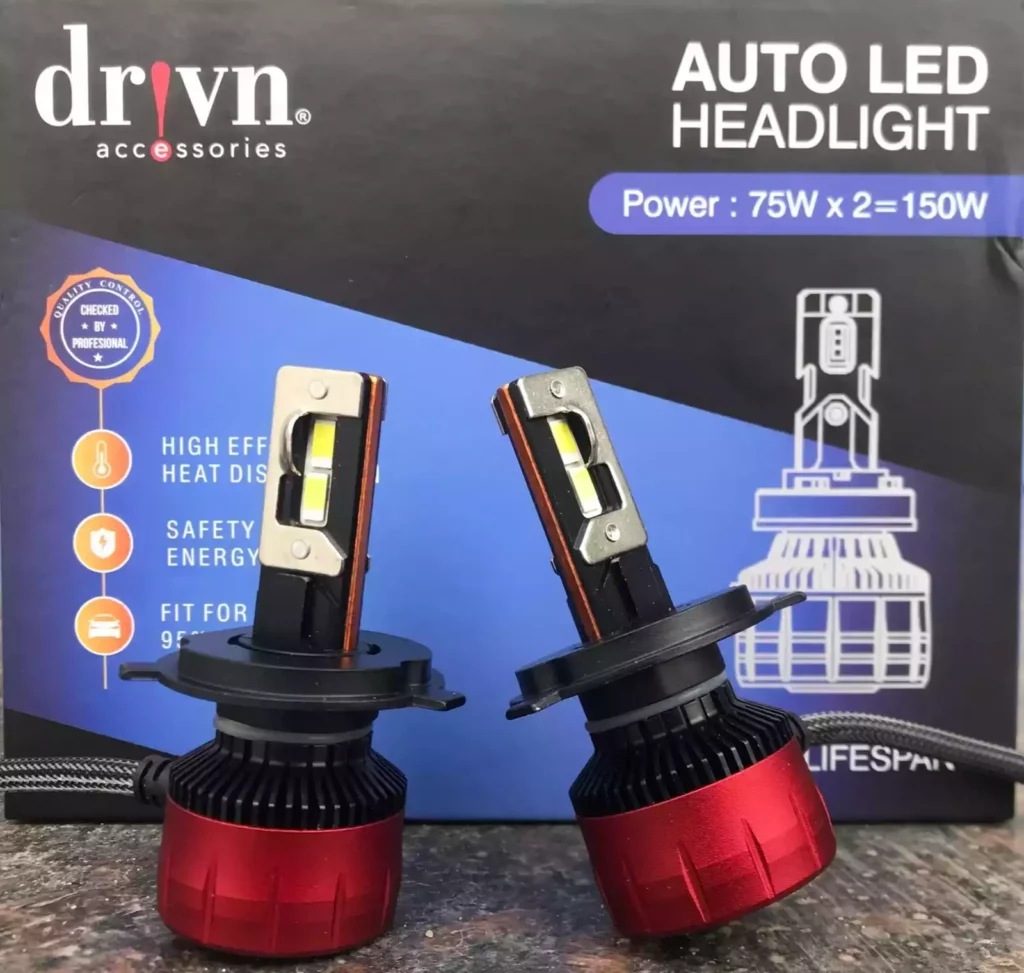 Recommend: 4 stars
Price Range: Moderate
Key Feature: Efficient Heat Dissipation, Stylish Red Heat Sink, High Compatibility
Drawback: The fitting is not the best

Drivn LED Headlight Bulbs offer the perfect blend of quality and affordability for drivers in India

The Drivn Auto LED headlight bulb utilizes high-quality automotive-grade LED chips, delivering an impressive 12000LM, 150W per pair, and a cool white 6500K color temperature. Its exceptionally focused and stable light output enhances night-time visibility, allowing for early detection of obstacles and maximizing driver reaction time.

Drivn LED car bulbs utilize a 1:1 beam pattern similar to halogen bulbs, ensuring they generate an optimal beam pattern without causing glare for oncoming vehicles. With the inclusion of an ultra-thin 1.5mm copper plate, these bulbs deliver 360-degree illumination, eliminating dark spots and making them ideal for both high and low beam applications.

The Drivn LED bulb boasts a construction of aviation-grade aluminum, complemented by a high-performance cooling fan spinning at 12,000 RPM. Its double heat dissipation system, comprising a copper base board and copper tubes, efficiently draws heat away from the LED chips, ensuring over 50,000 hours of continuous illumination and dependable operation.

Thanks to the built-in intelligent IC driver and wattage closely aligned with stock bulbs, Drivn LED light bulbs offer excellent compatibility with nearly 99% of vehicle systems. They are Canbus-ready, ensuring a seamless experience with no errors, flickering, or radio interference.
SPECIFICATION
WATTAGE: 150W/Set (75W/Each)
LUMEN: 12000LM (6000LM/Each)
COLOR: 6500K
VOLTAGE: DC9V-16V
COOLING: Fan + Aluminum + Copper Tube
WARRANTY: 2 Years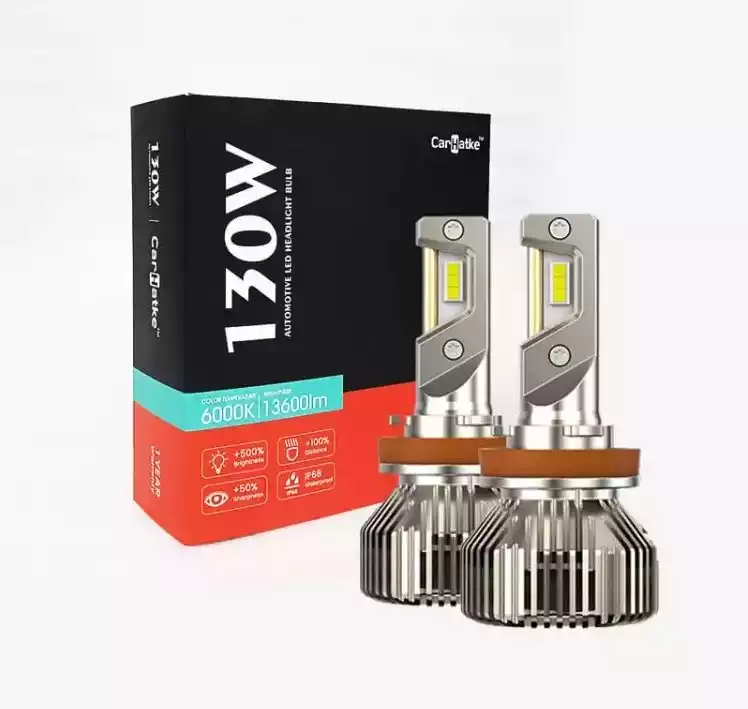 Recommend: 4.5 stars
Price Range: Budget-friendly
Key Feature: 13600LM High Brightness, Silent Fan, Compatible for Cars and Bikes
Drawback: Not suitable for all cars

Selecting the Carhatke 130W LED headlight bulb is a wise decision for customers in India, offering not only increased brightness for both cars and bikes but also significant cost savings. Its exceptional compatibility ensures that you get the most value for your money.

With the inclusion of the car-grade G-XP chip, these bulbs provide an impressive brightness of 130W and 13600LM per set. Their 360-degree light emission ensures a comfortable driving experience, free from dark spots or blind areas.

Unlike many LED lights available in the market that rely solely on fans for heat dissipation, Carhatke's LED bulb employs a comprehensive approach to heat management. This includes a combination of a fan, heat sink, and liquid cooling tube. This multi-pronged strategy ensures an extended lifespan of over 50,000 hours for these bulbs.

Featuring an enhanced intelligent Canbus driver, this Carhatke LED bulb boasts compatibility with nearly 99% of vehicles. It guarantees a hassle-free experience with no radio interference, flickering, or error codes, while also providing protection against over-voltage and over-current issues.
SPECIFICATION
WATTAGE: 130W/Set (65W/Each)
LUMEN: 13600LM (6800LM/Each)
COLOR: 6000K Cool White
VOLTAGE: DC12V-24V
CHIP: Imported COB
COOLING: Fan + Aluminum + Copper Tube
WARRANTY: 15 Months

What Is Our Final Choice?
The LED car bulbs mentioned earlier are recognized for their quality and affordability in India. If you're uncertain about your choice, let us introduce our top pick: the NAOEVO NG LED Headlight bulbs. Here's why they stand out.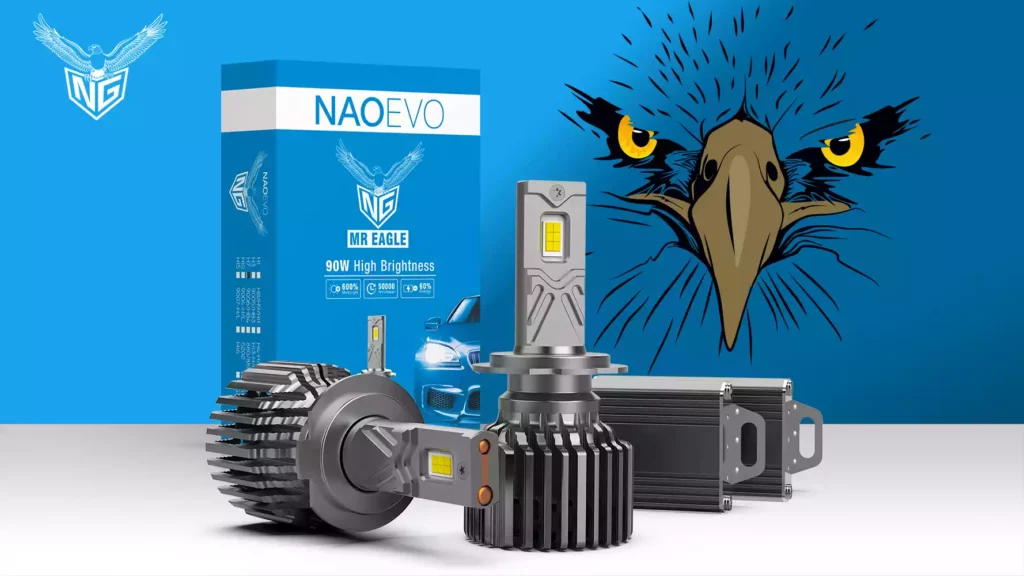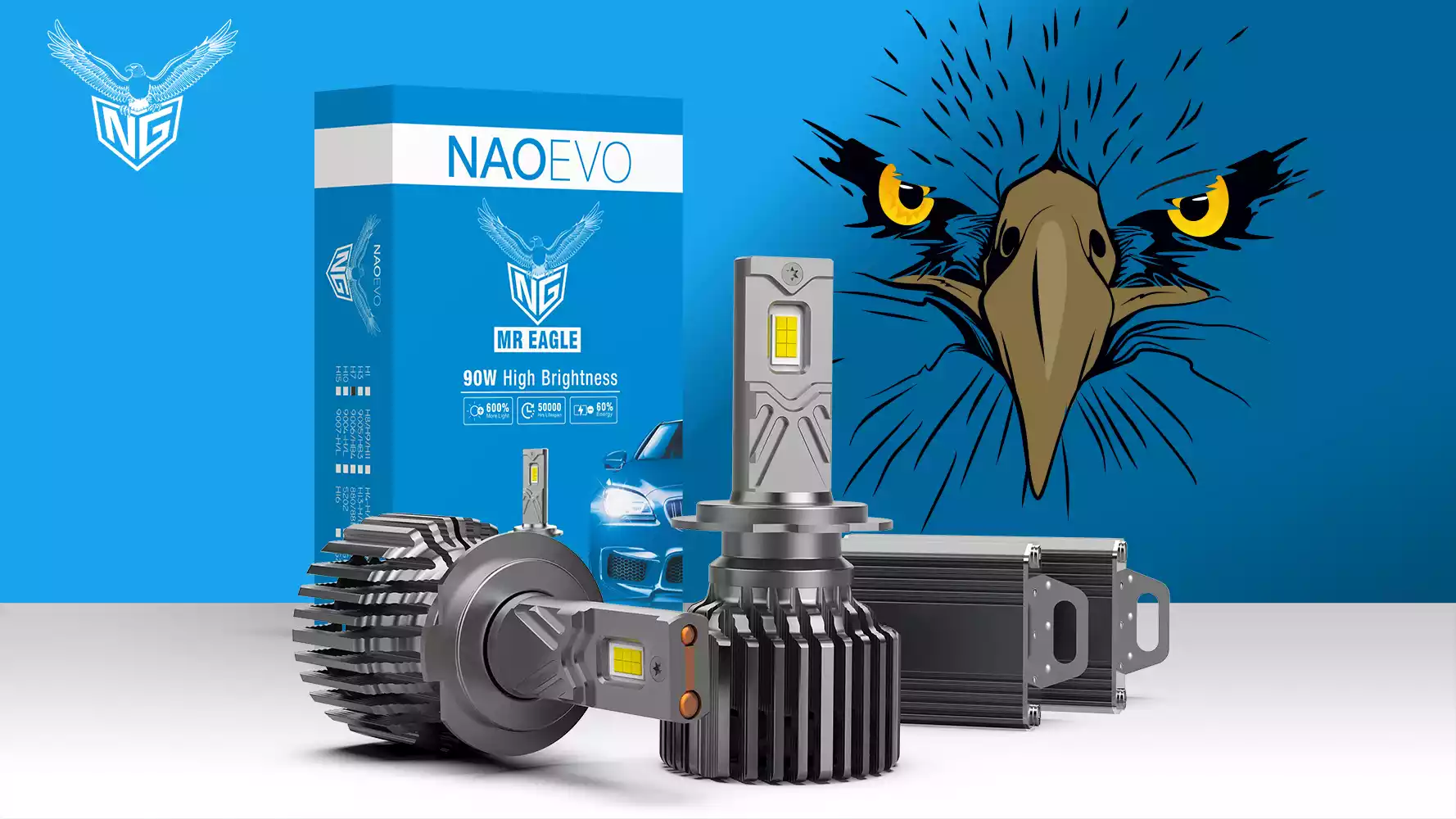 Excellent Light Beam
People often have concerns about the light quality of inexpensive LED bulbs. However, when you choose NAOEVO NG LED lights, you'll discover that such worries are unfounded. NAOEVO has made substantial investment in researching and developing a safe beam pattern.
From the low beam, there is a sharp, horizontal cutoff line and uniform light that illuminates the road ahead without blinding drivers in the opposite direction.
The high beam features a strong and focused beam of light that extends a considerable distance ahead, allowing the driver to see far down the road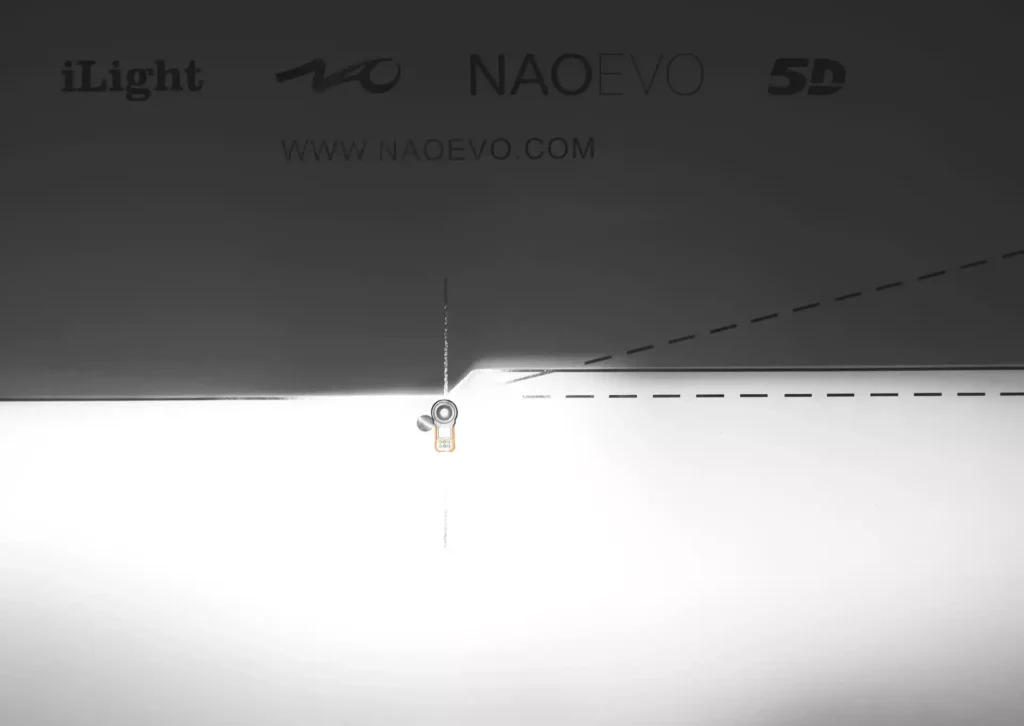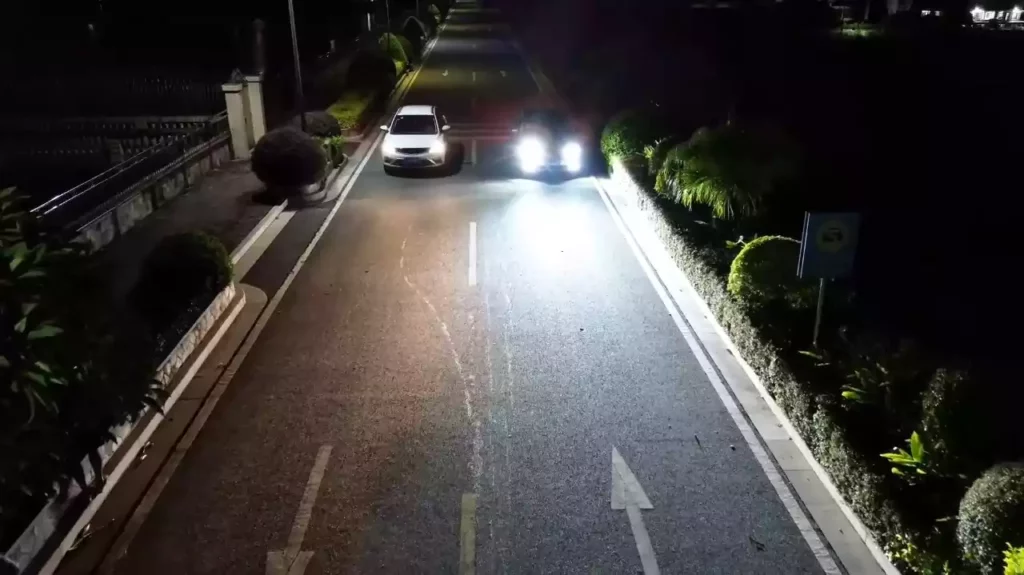 (Halogen vs. NG LED Bulb)
High Quality & Low Price
NAOEVO LED headlight bulbs excel in maintaining high quality and low prices due to their position as one of the largest automotive lighting manufacturers.
With an independent factory and advanced technology on each production line, they effectively manage production costs. NAOEVO's popularity in India results from their unwavering commitment to quality.
Their QC team and imported equipment rigorously test products, ensuring they meet the highest standards, offering the best value without compromising excellence.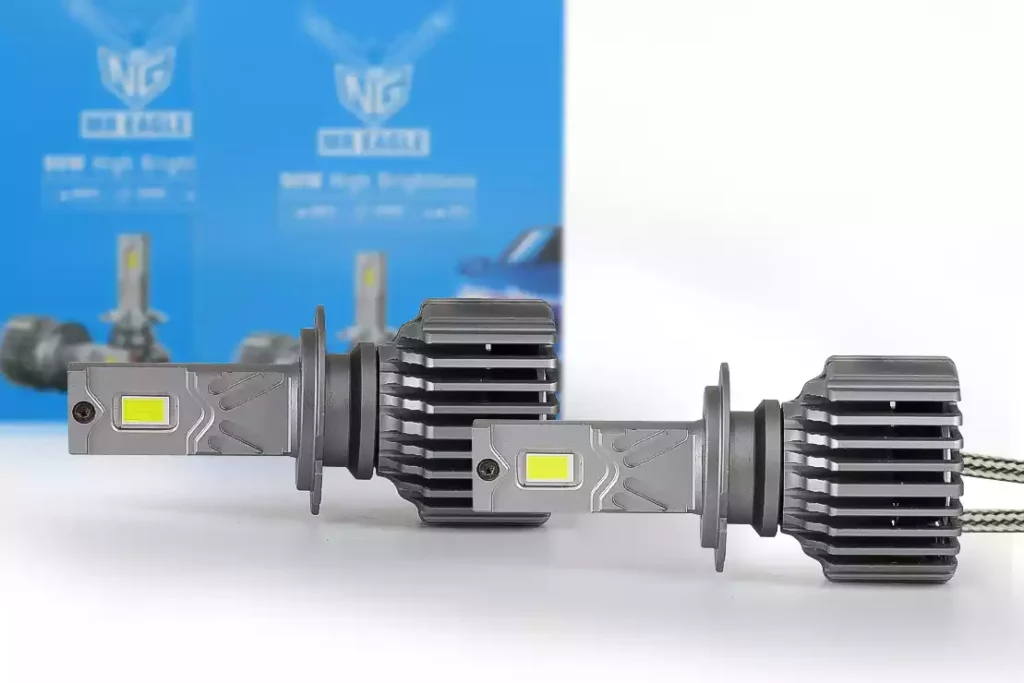 Reliable After-Sales Service
This benefit extends to both end consumers and wholesalers. NAOEVO prioritizes customer support, with 24-hour assistance for prompt issue resolution. Furthermore, their commitment to quality reflects in a defective rate of under 1%.
Wholesalers/distributors will be beneficial from improved product reliability, reduced inventory risk, and warranty claims.
Final Word
In conclusion, the world of automotive lighting in India is now brighter and more affordable than ever. Our comprehensive list of the best budget LED car lights showcases products that combine quality, performance, and affordability. From increased brightness to enhanced safety, these lights offer a compelling upgrade for Indian drivers. Illuminate your journey and make safer choices with these budget-friendly options for all your automotive lighting needs.