LED car light bulbs always ensures that drivers will have an enhanced visibility when driving on dark road. It is necessary to buy the best LED headlight bulb that provide efficient lighting and high durability.

In a market flooded with an array of options, finding the quality 120W LED bulb for your car in India can be a daunting task. The pursuit of superior illumination prompts a crucial question: Which one truly stands out? To illuminate your decision-making process, we present a comprehensive guide.

In this blog, we curate a definitive list of the top 5 best 120W LED headlight bulbs available in India. Our aim is to provide clarity among the confusion, helping you make an informed choice that aligns with your preferences and safety requirements.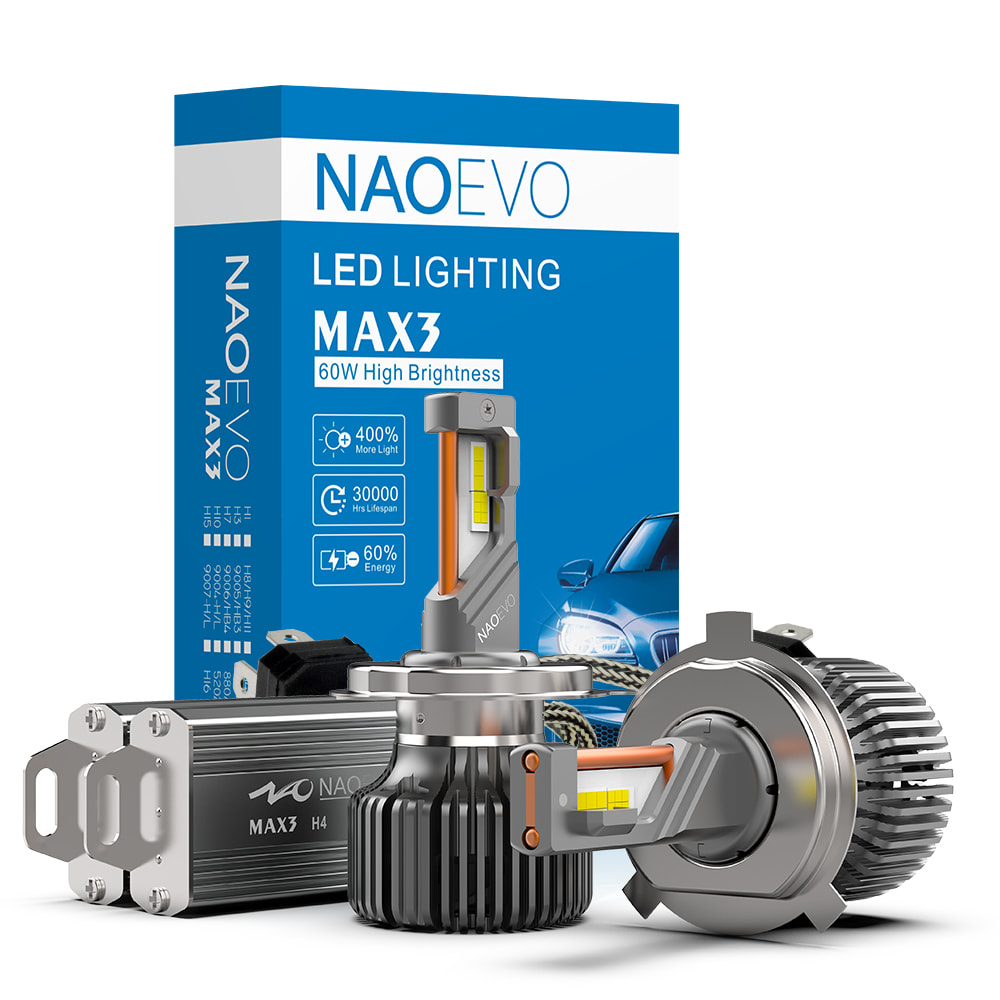 NAOEVO has been a premium automotive lighting manufacturer since its foundation in 2006. With 17 years of research and development in LED car lights. Their products are hot-selling especially in India.

If you are looking for best 120 Watts LED bulb for car, their Max3 LED bulb should be in your list. With NAOEVO's 55MIL*6 patent flip chip, Max3 delivers a high power of 120W 13000LM per set., which is 400% brighter than stock.

You'll be amazed at the light beam pattern they deliver. The well-arranged chip, enable the bulbs to deliver a clear cutoff line, offering a wide and full beam. Drivers will see better while avoiding glare lights to other.

The utilization of dual copper heat pipes, combined with 6063 aluminum and a high-speed fan, facilitates 3 times faster effi
cient heat dissipation, granting these bulbs an impressive lifespan of over 50,000 hours. This ensures that the Max3 series is not only a beacon of brightness but also a reliable and enduring choice.

What's more? They are available in large wholesale purchase, contact supplier today to get the best price.
Specification
Power: 120W 13000LM /Set
Voltage: DC9-16V
Current: 4.44A
Chip: 55MIL*6 Flip Chip
Cooling: Dual Copper Pipes + Aluminum + Fan
Warranty: 2 Years
Pros and Cons
| | |
| --- | --- |
| 🙂What We Like | 🙁What We Don't Like |
| Perfect Light Beam Pattern Without Dark Spot | The heat sink base is a little big |
| Consistent Brightness, No Decrease. | |
| 3 Times Faster Cooling Than Other | |
| Canbus Error Free, Easy Installation | |
| Reliable Brand, 2 Years Warranty | |
Customer Reviews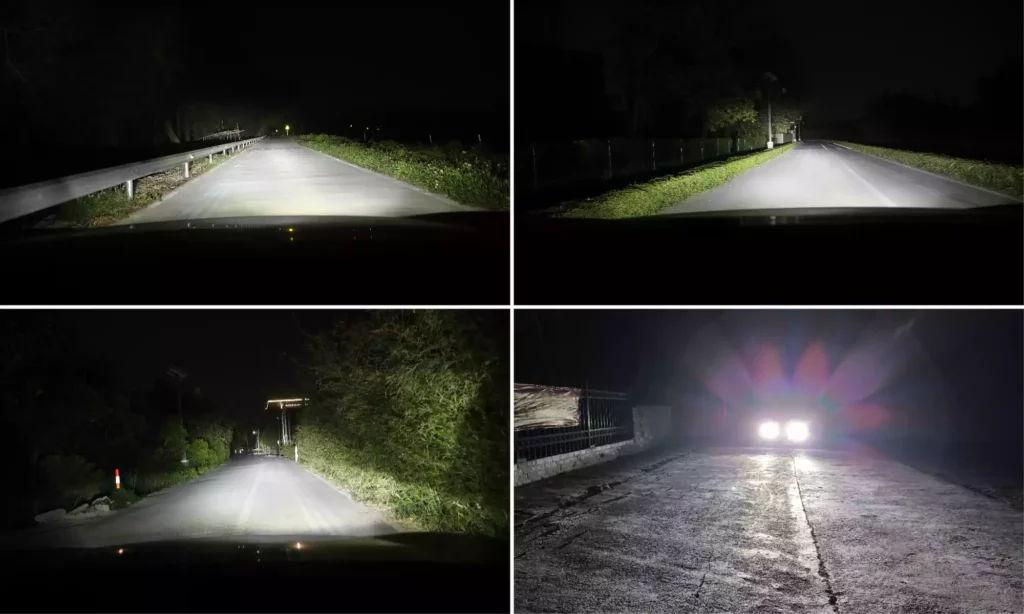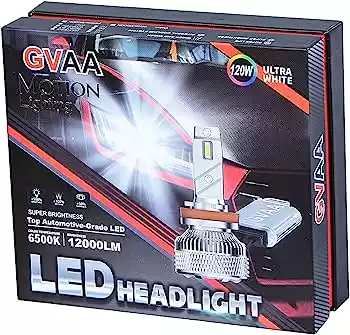 GVAA presents their exceptional H4 LED headlight bulbs, considered the best 120W LED headlight bulbs in India.
Utilizing customized 7535 CSP chips, these bulbs emit an impressive 120w 20,000 lumens per pair, three times brighter than conventional halogen lamps.

GVAA LED chip's illumination center point aligns seamlessly with the halogen lamp, eliminating astigmatism and delivering a broader, extended illumination range, enhancing your driving experience significantly.

Effortlessly plug and play, the GVAA LED headlights can be self-installed within 15 minutes. Designed to seamlessly integrate with a majority of vehicle computer systems, they offer error-free performance. Their energy-saving design ensures higher efficiency compared to standard lights, providing a consistent and reliable illumination solution.

Designed with IP68 waterproof rating and easy installation, these bulbs provide consistent and extensive illumination, ensuring an unparalleled driving experience.

What's more, they are available for either 6500K or 4300K color temperature options. With unique features like a 360-degree rotatable socket and pure red copper heat conduction pipe, GVAA's 120W LED bulbs guarantee superior brightness and performance on Indian roads.
Specification
Power: 120W 20,000 LM /Set
Voltage: DC12V
Chip: 7535 CSP Chips
Cooling: Aluminum + Fan
Warranty: 1 Year
Pros and Cons
| | |
| --- | --- |
| 🙂What We Like | 🙁What We Don't Like |
| 3 Times Brighter Halogen | Not Compatible With All Cars |
| Copper Core For Maximum Cooling | Glare Light In The High Beam |
| IP68 Waterproof | |
| Available to Choose 6500K or 4300K | |
Customer Reviews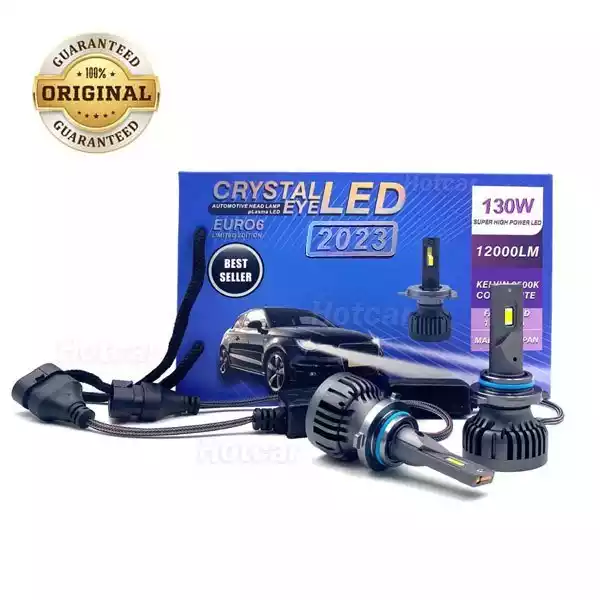 Crystal Eye is a benchmark for quality 120W LED bulbs for cars in India. Features imported COB chip, these LED bulbs are able to deliver a high brightness of 12000 LM per set, which is 3005 brighter than original halogen bulbs. The 6500K white light brings you a comfortable vision while driving at night.

Equipped with 13000RPM high speed fan and newly 6063 aluminum, they can achieve effective heat dissipation, so as to maintain a long lifespan.

Proudly crafted in Japan, this original product guarantees both waterproof and shockproof performance, ensuring reliability even in challenging conditions.

The Crystal Eye LED bulbs are equipped with 360 degree adjustable mounting collar, which make it more easy to make a simple angle adjustment. Ensuring the vehicle can obtain the expected perfect beam pattern.

Backed by a 15-month warranty, Crystal Eye's 120W LED headlight bulb promises durability and top-tier performance, setting a new standard for automotive lighting excellence in India.
Specification
Power: 120W 13,000 LM /Set
Voltage: DC12V
Cooling: Single Heat Pipe + Aluminum + Fan
Warranty: 12-15 Months
Pros and Cons
| | |
| --- | --- |
| 🙂What We Like | 🙁What We Don't Like |
| 12000LM High Brightness | Poor Craftsmanship, Lacks Quality |
| 6500K Cool White | Possibility Of Excessive Temperature |
| Plug-N-Play, Easy Installation | |
| Budget Price | |
Customer Reviews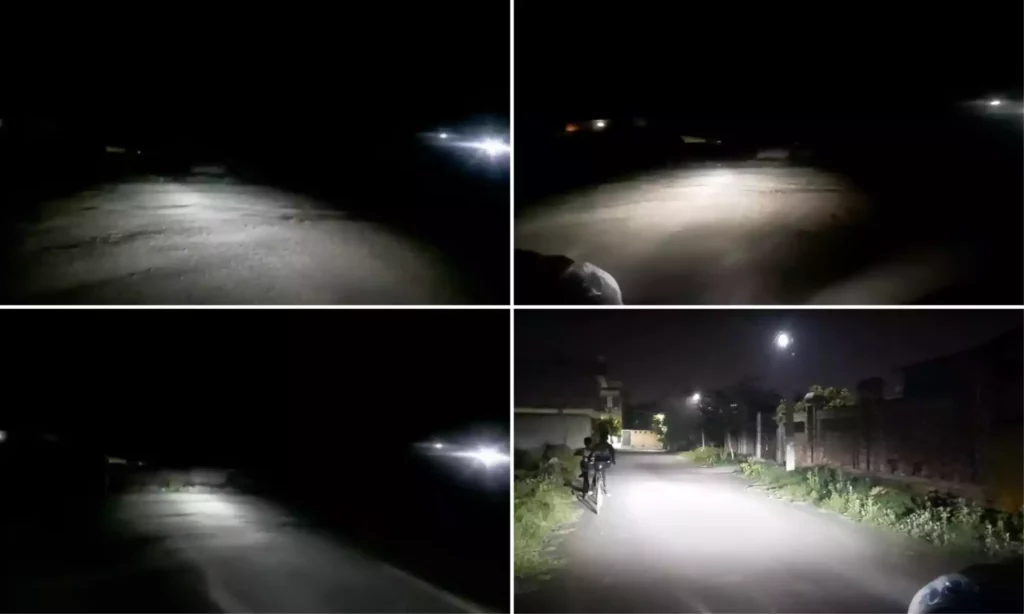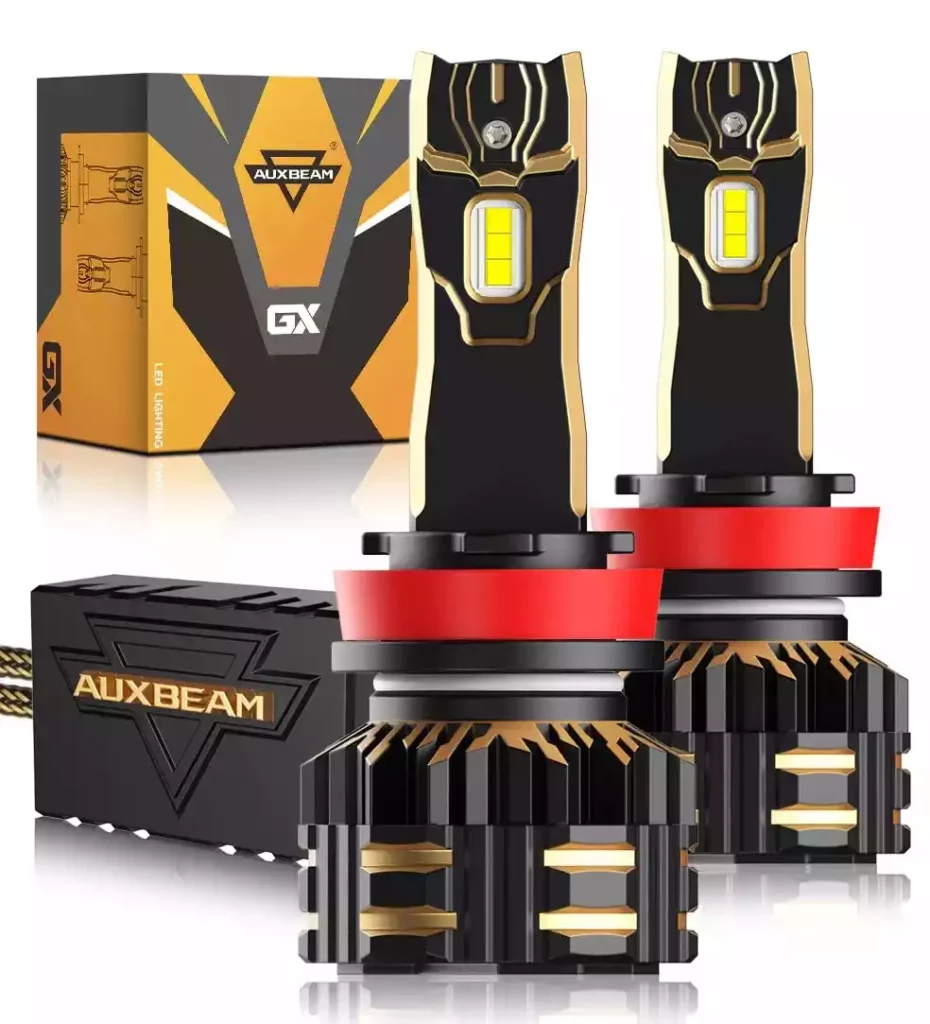 Auxbeam GX-P series LED headlight bulb is another choice for superior 120W LED bulb designed for cars in India.

With  75mil larger size chip, they deliver an ultra-high brightness of 120W 25000 Lumens per set, which is astonishing 650% brighter than halogen.

With an ultra-thin surface interval, it projects a 1:1 same light beam pattern as standard. This design enables a super-focused beam for a wider, safer, and glare-free illumination.

The advanced driver system ensures compatibility with 98% of vehicle computer systems.

Its easy 10-minute installation, impressive 50000-hour lifespan, and efficient heat dissipation through an Aviation Aluminum heat sink and turbofan make it a reliable choice for Indian roads.
Specification
Power: 120W 25000 LM /Set
Voltage: DC13V
Current: 4.5A
Cooling: Fan + Aluminum
Waterproof: IP68
Warranty: 2 Years
Pros and Cons
| | |
| --- | --- |
| 🙂What We Like | 🙁What We Don't Like |
| Attractive Design, Aesthetics Look | The Brightness Might Not As Bright As You Expect |
| Easy Installation For Most Cars | These LED lights do not work with certain car models |
| High Speed Mute Fan For Better Cooling | |
Customer Reviews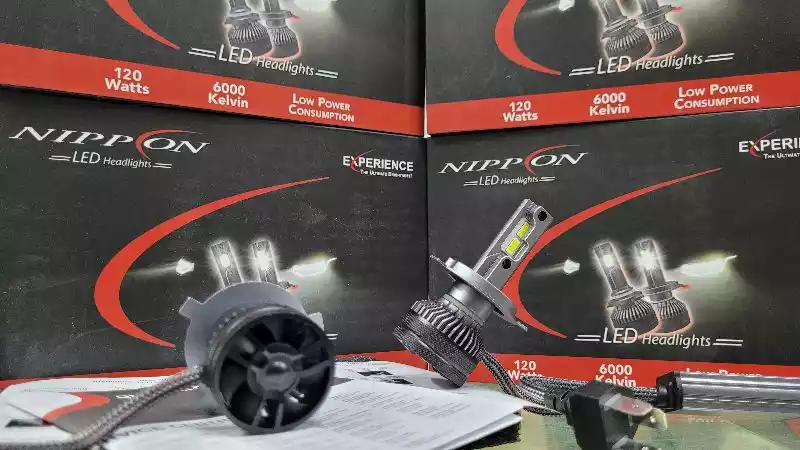 NIPPON 120W LED headlight bulb is the epitome of excellence in automotive lighting. With 3570 LED chips, they emit an impressive 120W 12000LM per set, ensuring unparalleled brightness.

Emitting a brilliant 6000K white light similar to daylight, these bulbs offer a soothing experience for oncoming traffic.

Designed to replicate the halogen light center, they guarantee a flawless beam pattern. No additional modifications are required, and their efficient operation puts minimal strain on your car battery.

With a wide working temperature range of -40 to 105 degrees Celsius, NIPPON 120W LED bulbs are your perfect choice for safe and enduring illumination on Indian roads.
Specification
Power: 120W 12000LM Per Set
Cooling: Fan + Aluminum
Waterproof: IP67
Warranty: 2 Years
Pros and Cons
| | |
| --- | --- |
| 🙂What We Like | 🙁What We Don't Like |
| 6000K Cool White Color temperature | These Might Not Fit In All Cars |
| Instant Start | Unstable Wattage |
| Plug And Play | |
Customer Reviews


How To Choose Quality 120W Led Headlight Bulb In India
Choosing a quality 120W LED headlight bulb in India involves considering several important factors to ensure optimal performance, safety, and value for your investment. Here's a step-by-step guide to help you make an informed decision:

✅1. Brightness and Lumens: Look for LED bulbs with high lumens output, as this determines brightness. A quality 120W LED bulb should offer around 12000-13000 lumens per set for superior visibility.

✅2. Beam Pattern: Opt for bulbs that provide a well-defined and evenly distributed beam pattern to avoid blinding oncoming traffic. Check if the bulb mimics the halogen light center for a perfect beam pattern.

✅3. Heat Dissipation: Effective heat dissipation is crucial for LED longevity. Choose bulbs with advanced cooling systems, such as aviation aluminum heat sinks and powerful turbofans, to maintain optimal operating temperatures.

✅4. Compatibility: Ensure the LED bulb is compatible with your specific car model. Look for plug-and-play designs that work seamlessly with your vehicle's computer system to avoid errors or warnings.

✅5. Warranty and Lifespan: A reputable LED bulb should come with a substantial warranty period, typically at least a year. Additionally, consider bulbs with a longer lifespan, ideally exceeding 30000 hours.

✅6. Customer Reviews: Read reviews from other customers who have purchased the same LED bulb model. Their experiences can provide valuable insights into real-world performance, installation, and durability.

✅7. Brand Reputation: Opt for well-established brands known for their quality and reliability in the automotive lighting industry. Reputable brands are more likely to deliver consistent performance.

✅8. Color Temperature: Choose a color temperature that suits your preference and driving conditions. Options like 6500K provide a cool white light resembling daylight, enhancing visibility.

✅9. Energy Efficiency: Look for energy-saving LED bulbs that offer more efficiency than traditional halogen bulbs. This not only reduces strain on your car's electrical system but also helps save fuel.

✅10. Additional Features: Some LED bulbs may offer extra features like Canbus compatibility to prevent error messages, adjustable beam angles for customization, and waterproof or shockproof design for durability.

By carefully evaluating these factors, you can confidently select a quality 120W LED headlight bulb that meets your specific requirements and enhances your driving experience on Indian roads.
Conclusion
In the realm of superior 120W LED headlight bulbs, the options are abundant. Yet, when in doubt, let NAOEVO illuminate your path. With unparalleled brightness, NAOEVO ensures clearer, safer journeys. It's more than a bulb; it's a beacon of reliability for Indian roads. Elevate your driving experience with NAOEVO's brilliance.