LED headlight bulb for projectors are crucial and an inevitable trend for customers. However, you may confuse about the follwing question: Are LED headlight bulb works well in projector headlights? Do LED headlight bulbs remain a quality light beam pattern in projector headlight? How to find the best LED headlight bulbs for projector headlights?

In fact, you have nothing to worry about. In contrast, it is necessary for you to explore why most people prefer using LED bulbs in their projector headlights.

In this blog, let's dig into the question of why LED headlights bulbs are favorable for projector headlights.
What are projector headlights?
The projector headlight consists of light set inside a metal bowl, mirrored reflectors, a shutter, and a lens. The main difference between projector and reflector headlights is the design of using a lens and a shutter, and reflectors don't have those.

The shutter is used to cut off haphazard beams so that the light is only direct at the road. While the lens is round so that it can reinforce the beam of light, this focused light helps to further down the road to increase the distance you can see.

That means projector headlights are specialized for focusing light into a tightly controlled beam that provides well-organized light distribution.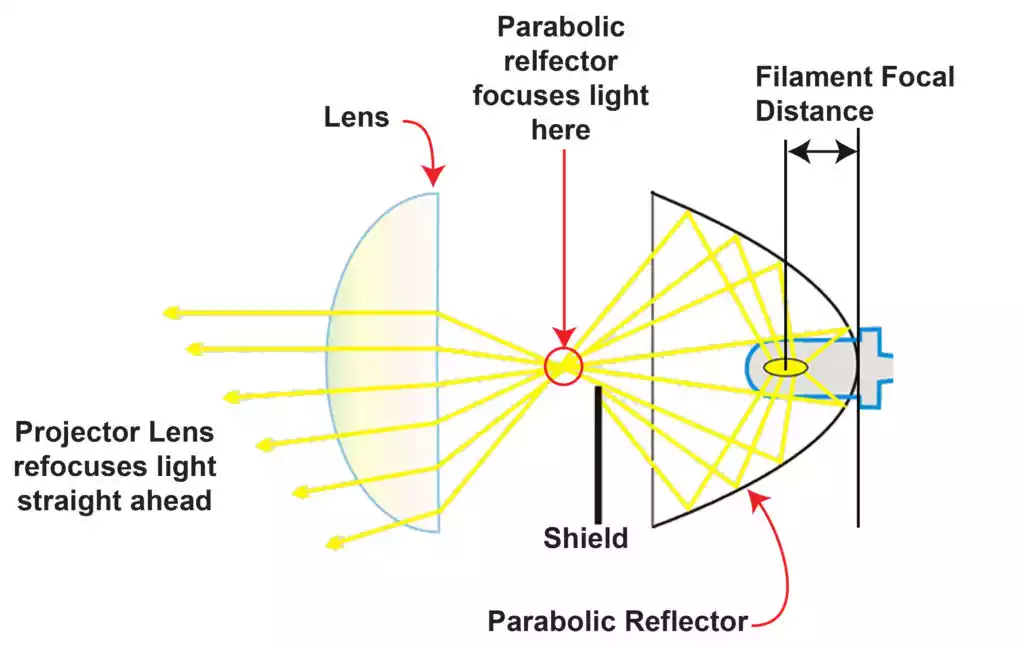 (Projector headlight working principle)
Can I use LED bulbs in my project headlights?
The answer is always "YES." Installing LED headlight bulbs in projector housing will provide you with excellent performance for nighttime driving. Why? To sum up, LED bulbs are preferred in projector headlights for the following reasons:

#1 LED light bulbs are high energy-saving consumption bulbs. They consume less power to produce super bright light. Then with the help of the shutter and lens in the headlight housing, LED bulbs finally deliver a focus and standard cutoff light for better visibility.

#2 LED light bulbs are made up of several small LED beads, so that they can be arrayed in any shape. Therefore, the light beam pattern of the LED headlight bulb can be designed perfectly. Although LED headlight bulbs are no match for HID in terms of brightness, they provide a more distinct light rather than diffuse light when installed in the projector housing.

#3 LED bulbs are preferred to be used in projector headlights for their long lifespan. Most LED headlight bulbs are waterproof and are manufactured with high-quality materials like aluminum and high-speed. They are high durability and require few maintenance costs. Fixing LED bulbs in your projector headlights is an advisable way to save your money.

LED VS Halogen: Which is better for projector headlights?
LED headlight bulbs have over the years gained technological advancement. They have made great improvements in energy efficiency whereby most of the power is given out as brightness.
Moreover, LED headlight bulbs are over 20 times more energy-efficient than any conventional light bulbs like halogen, incandescent, and HID light bulbs. More recently, halogen headlights were gradually replaced by LED projector headlights. But which is better?

The halogen headlight consists of a slim tungsten filament surrounded by a halogen gas in a glass capsule. It lights up by sending electricity through the tungsten filament inside the glass capsule. Halogen light bulbs are also favored because they're cost-effective, easy to replace, and won't blind other motorists. However, the downside of halogen headlights is that they do not provide enough bright light, and they don't last long.

LED headlight bulbs are preferred in projector headlights because of the significant features built into them. LED bulbs are 300% brighter than halogens. When installed LED in the projector headlights, they are the most effective light distribution light bulb.

Halogen lights have a reasonable lifespan of 450 to 1,000 hours, while LED bulbs can last as long as 30,000 hours. Replacing LED bulbs in your projector headlights helps you to save money from maintenance and repair.

LED headlight bulbs are designed with a shutter that control the direction of the light. Also, the light bulbs come with lenses that will maximize the intensity of the light brightness. With the improved LED bulb design, most LED bulbs are designed with an easy fixture method. Thus, you don't need the help of a professional mechanic when you fix LED headlight bulbs in projector headlights.

Several types of the headlight housing
1. Projector-Reflector integrated headlights
Some vehicles have headlights which are a projector-reflector hybrid. It applies a projector for the low beam, and the reflector is for the high beam; this only comes to vehicles with independent high and low beams. (Single-beam headlight system) For this hybrid headlight assembly, matching LED in your projector headlight is perfectly great and will give you the best overall results compared to halogen for your beams.
2. Dual-beam projector headlights
This headlight assembly requires one bulb for both high beam and low beam functions. From the below picture, you can see that there's only a project lens. It switches high beam between low beam functions by raising and lowering the shutter in the lens. Installing LED headlight bulbs in dual beam projector headlights, will also get a perfect beam pattern without blind other drivers.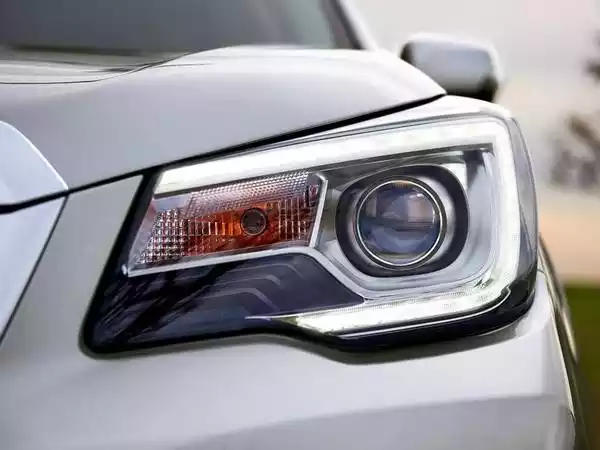 3. Reflector headlights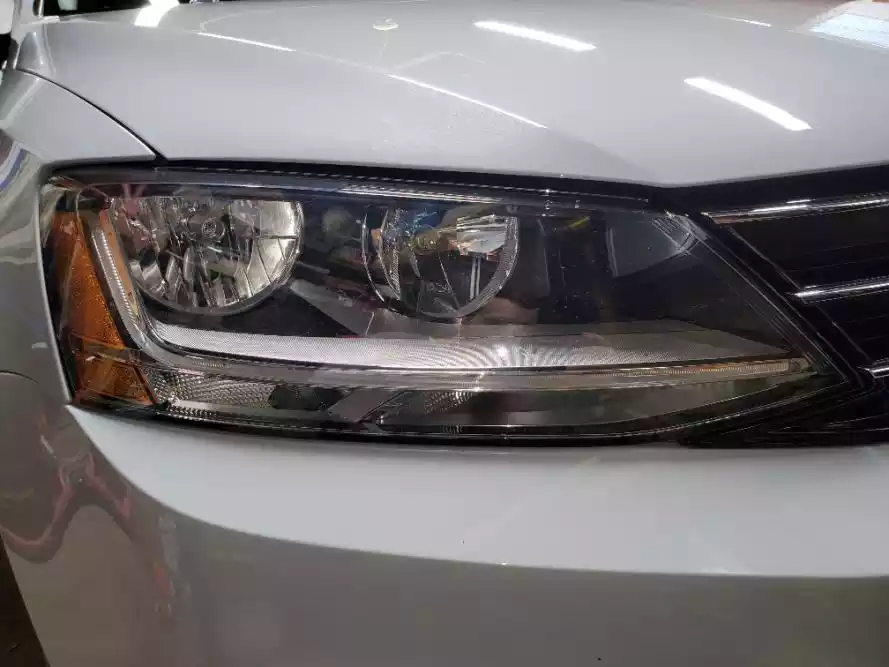 For this headlight, the high beam and low beam carry without any projector; This headlight is called a reflector headlight system. Reflector headlights are the most commonly used type of headlight unit for your vehicles. The bowl-like compartment is made of a glass mirror that reflects the light generated onto the road.
However, the low beam and high beam are equipped with different reflector bowls. For the low beam, the reflector bowl is big and round, whereas the reflector of high beam is small and sharp. Different designs of the reflector bowls determined different light beam patterns.
Suggestions for upgrading your headlight to LED bulbs
When you decide to convert your headlight bulbs to LED, you may wonder should I install an additional optical lens into my projector housing? Here you will find the best solution.

A. Projector-Reflector integrated headlights
If your vehicle's headlights contain a projector for low beam and a reflector for high beam. It is unnecessary to add a lens to your headlights. Choosing quality LED headlights can produce a perfect light beam pattern through the projector headlight housing. You have better choose LED bulbs with these features:
▪ Thin gap between two light beads
▪ Same lighting position as halogen headlights
▪ Come with a 360 degree adjustable holder

B. Dual-beam projector headlights
In this headlight housing, you will see the high beam and low beam share the same projector headlight housing. If your vehicle has a projector headlight, it is highly recommended that you upgrade to LED bulbs, and you also no need to buy an optical lens. But you may ask: Can LED bulbs be entirely installed in projector headlight housing? LED headlight brand like NAOEVO, they design the LED bulbs as compact as halogens, so as to be installed into projector headlight housing easily. Easy installation LED bulbs come with these features:
▪ All-in-one design
▪ Same collar holder as halogen
▪ LED bulbs with reasonable driver size

C. Reflector headlights
The above mention headlight systems all obtain a projector housing. However, for this type of headlight unit, neither the high beam nor the low beam has projector lenses, called reflector headlights. If there's no lens inside the housing, will the light emitted be diffused? You don't need to worry about this problem.

Some Volkswagen vehicles are manufactured with two reflector bowls for high and low beams. Why the light emitted from the reflector bowl still have a clear cutoff line?
When producing car headlights, designers have made the reflector bowl large and round to achieve a distinct cutoff line through the careful arrangement of the reflector plates.

Even so, LED headlight bulbs vary from halogen lights. You should pay attention to the following considerations when choosing LED bulbs for your projector headlight.
▪ Same lighting position as halogen bulbs
▪ Slim lighting space
▪ With cutoff light for low beam and concentrated light for high beam

What Brightness Is Best For Projector Headlights?
Projector headlight with LED bulb provides you with an outstanding light beam pattern for night driving, but not too much light that you blind other drivers. A report from RAC found that 65% of motorists have been dazzled by LED lights, even when they are using dipped beam.

The brightness can be measured in lumens. In general, halogen headlights produce around 1,300 lumens, which regards as adequate. The HID headlight bulbs with an output of about 30,00 lumens were a welcomed brightness, and drivers praised the improved visibility they provided.

With the growing popularization of LED headlight bulbs comes another lumen increase. On average, 4000-5000 Lumens (per bulb) is a common range for LED headlights.

Headlights allow you to see clearly at a distance of 50 to about 100 meters ahead, but too much light will become dangerous.
| | | | |
| --- | --- | --- | --- |
| | Halogen | HID | LED |
| Best Lumens | 1300 | 3000 | 4000-5000 |
| Color temperature | 3200K | 4500K | 6000-6500K |
What Color Temperature Is Best For Projector?
The best color temperature for an LED headlight bulb in a projector headlight can vary depending on personal preference and driving conditions. However, in general, a color temperature of around 5000K to 6500K is recommended for projector headlights.

At this color temperature range, the light output appears to be bright and white, without being too blue or too yellow. It also provides good visibility, color rendering, and contrast, which can improve your ability to see the road ahead and any obstacles.
Best LED bulb for projector headlights!
Do you want to install LED bulbs in your projector headlights with the highest lighting performance? We highly recommend NAOEVO Max3 LED headlight bulbs for your projector headlight housing. To get the best bulb, let's see the outstanding features of Max3 LED bulbs on brightness, longevity, and installation.
NAOEVO Max3 H11 LED bulb 13000 LM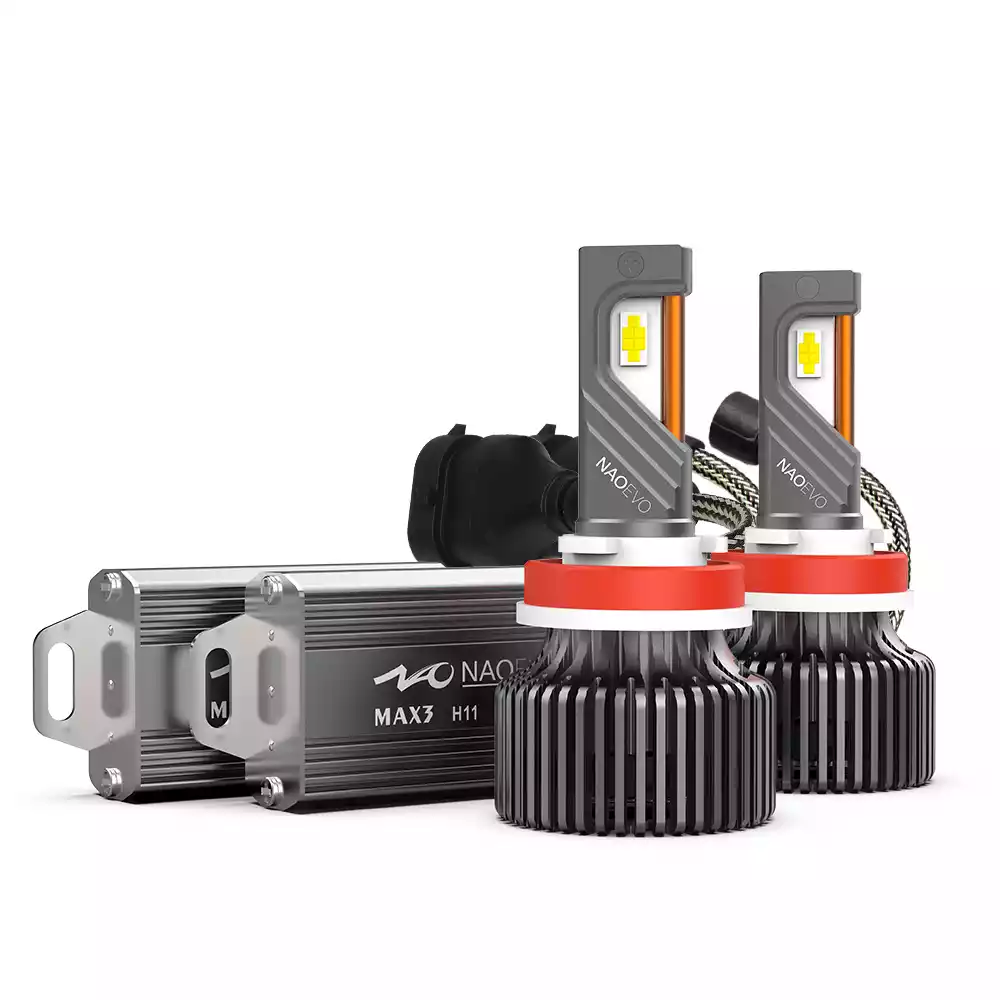 Beyond all questions, NAOEVO Max3 H11 LED is one of the best bulbs for projector headlights you will come across in the market. Equipped with an innovative double-sided customized flip-chip, it delivers an excellent light output of 6500K cool white.

Whether you want to use the bulb in projector or reflector headlight setting, it will also offer a breathtaking lighting performance with a mammoth power of 6500LM for a bright and clear vision in almost any light condition. Despite producing high lumen output, it only consumes 60-watt, which is a high energy-efficiency LED bulb.

Installing Max3 LED bulb in your projector headlight, you will enjoy a superior long lifespan of over 50,000 hours, which indicates that it can last for a minimum of 10 years even after daily usage. Most significantly, the Max3 LED headlight contains an intelligent temperature controller. You won't ever face overheating issues while enjoying nighttime camping or on a long journey. You get the credit that goes to the low headlamp heat, which is pretty lower energy-wast than halogen bulbs.

Durability is a huge concern for every car owner. Projector headlight housing with Max3 LED headlight bulb will surprise you with its 50,000 hours of sustaining light supply, which you would hardly find in such quality. Its effective heat dissipation is based on the aluminum heat sink that enhances durability. Say goodbye to inferior LED bulbs as the double copper heat pipes and high-speed mute fan of Max3 will keep the bulb fresh and keep overheating problem at bay.

Outstanding Features:
◾Perfect light beam pattern (distinct cutoff light and centralized light)
◾Extraordinarily bright and white light
◾Easy installation
◾Excellent heat dissipation
◾2-year warranty
Max3 LED Headlight Bulb Testing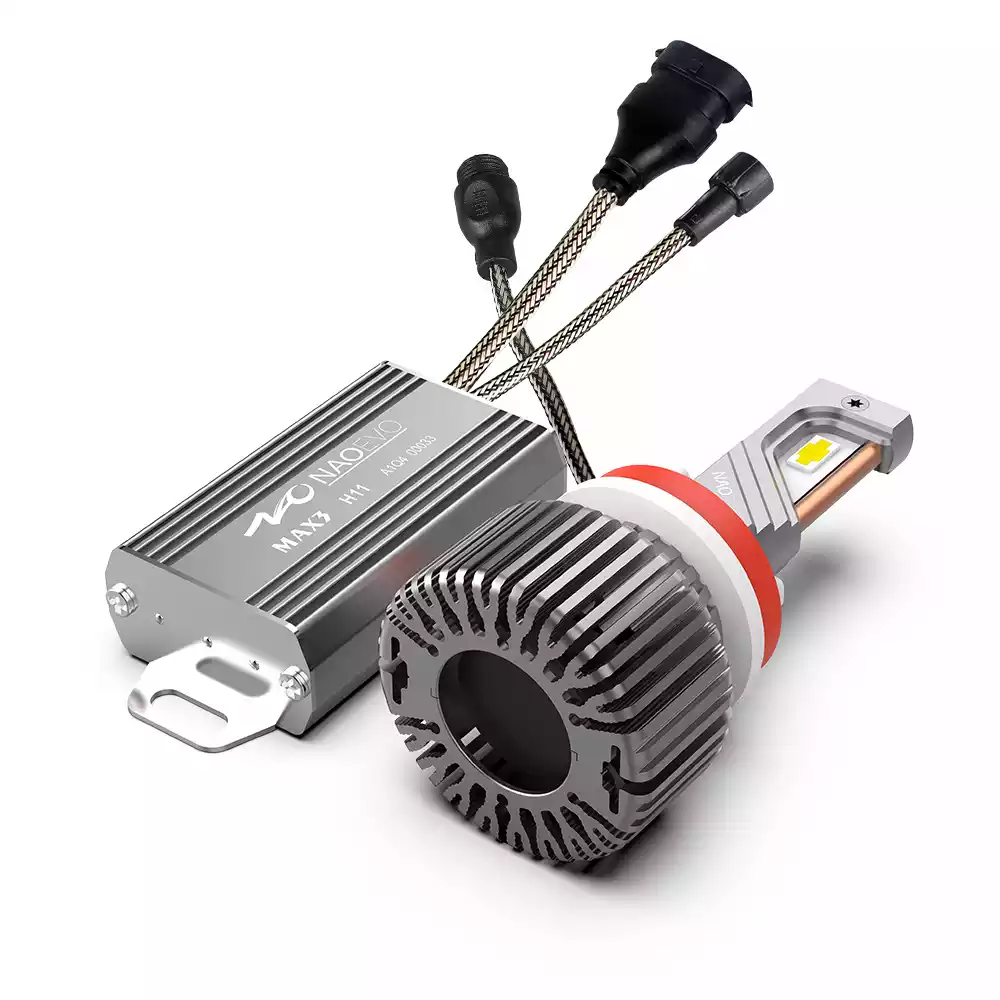 ◾Light beam pattern testing

The array of Max3 LED chips contributes to produce a broader and even brightness. For the low beam, you can see there's a sharp and clear cutoff line without any glare on the wall. Putting Max3 in projector headlight will deliver excellent brightness down towards the road, which won't blind oncoming drivers. Setup Max3 LED bulbs in your projector headlight will have a better result than HID and halogen.
For the high beam, the Max3 LED bulb delivers super concentrated light through the reflector headlight bowl to see further distance.

◾Light Effect Tested In Projector Headlight

Another splendid feature of Max3 LED bulb is the stable power operation. Some LED bulbs from other manufactures are likely to come with a striking lumens rating at 10,000 t0 20,000. However, as temperature goes up, the lumen output of LED will decrease. A LED headlight claimed 60 wattage could be had 50 wattage.

NAOEVO have made the power of Max3 as stable as possible. Here is the lighting effect of Max3 H11 LED headlight bulbs, after being used for a long time, these bulbs still remain 85% increased brightness. Installing these Max3 LED bulb in projector, you will enjoy a wide and focus light beam pattern without glaring others.
Things to consider before buying LED bulbs for projector headlights
◾Brightness: Brightness is the first consideration before putting LED bulb in the projector headlight. LED bulbs for projector headlights should not be too bright or too dim. You can see the brightness level by looking at the lumen rating.
◾Enough space: Buying LED bulbs for your projector headlights, the space of your headlight housing is a prior consideration. LED bulbs might require broad space under the hood for the air circulation. If your projector housing has a small hole, installing LED bulbs that carry with the driver could be difficult.
◾Heat dissipation: LED headlight bulbs become hot when they run for several hours. So the quality of the cooling fan is a big factor to consider when purchasing LED bulbs for your projector headlight. Make sure the fan is not loud because it will cause some noise in your drive.
◾Road Legal: While thinking of upgrading LED bulbs into your projector headlight. Due to intense light, the bulbs might blind opposite drivers. It would be better to look for LED bulbs that certificated with DOT approval.
◾Maintenance: Nobody is willing to replace the car bulbs time after time. Maintenance of the bulb is a big hassle for every car owner, it is better to have a headlamp that requires almost zero maintenance.

FAQ
#1. What kind of headlamp provides the most effective brightness for the headlight projector?
LED bulbs will be the most suitable choice for projector headlights to provide the best brightness for nighttime driving. Unlike halogen and HID bulbs, LED headlights do not require complicated collection light. The main purpose of LED is only to shine brighter and wider. Thus, it is worth upgrading your conventional headlight bulbs to high illumination LED bulbs.

#2. Are LED bulbs bright enough to be used in projector headlights?
LED headlight bulbs consume less energy to produce maximum power. They are more energy-efficiency than HID and halogen headlights. LED headlights are up to 300% brighter than halogen headlights and around the same level as HID bulb. Therefore, the LED headlight bulb is absolutely bright enough to be seen on the headlights of the projector.

#3. How does the projector headlight work?
Projector headlights are designed to enhance valuable brightness rather than consuming excessive power. Unlike reflector headlights, projector headlights are equipped with round lenses that can magnify the intensity of the light beam. Moreover, projector headlights are also coming with a cut-off shield; this allows the light beam to be directed down towards the road. The shield is responsible for the sharper cutoff light.

Keywords: Can you put(install)(Use) LED headlight bulb in projector headlight/ LED bulbs in projector headlights/ LED bulb in projector housing/ projector headlight with LED bulbs/ Installing LED bulbs in the projector/ do LED bulbs work in projector headlights/ installing LED bulb in projector headlights/ LED bulbs projector headlight.