As we all know, two-wheelers constitute a considerable part of the Indian motor vehicle ecosystem and are an integral mode of transportation in some regions. The Indian two-wheeler industry has been expanding at a healthy rate of around 20% year over year. As the two-wheeler industry continues to evolve, manufacturers are focusing on incorporating innovative technologies and design elements to cater to the growing demands of Indian riders.

LED headlight bulbs, with their energy efficiency and superior performance, are likely to play a pivotal role in the future of the two-wheelers industry in India. Therefore, in this blog, we present the top 6 most powerful LED lights for bikes in India of 2023.

These lights are designed to meet the evolving needs of Indian riders, who seek reliable and high-performance lighting solutions. With their exceptional brightness, durability, and advanced features, these LED lights are set to redefine the biking experience in India.
---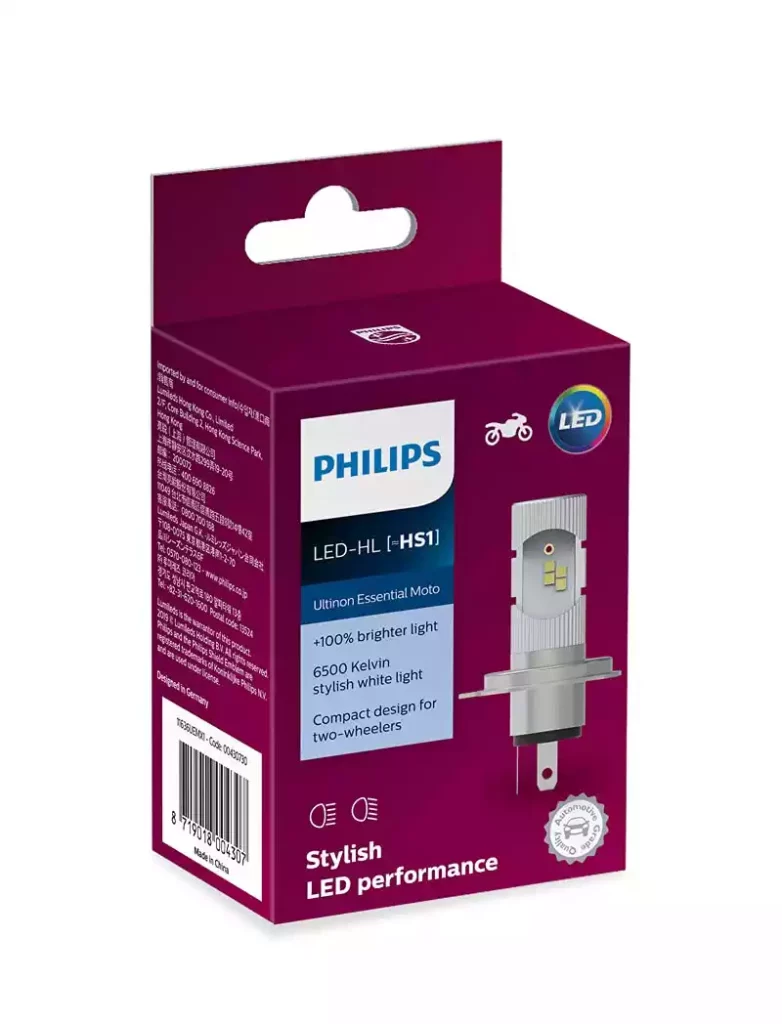 SPECIFICATION
| | |
| --- | --- |
| Application | Motorcycle/Bike |
| Brightness | 3000LM |
| Operating Wattage | 6W |
| Voltage | 12V |
| Color | 6500K |
| Warranty | 5 years |
Upgrade your style and safety on the roads of India with the Philips Ultinon Essential LED HS1 Bulb for Bike. Compatible with most two-wheelers, this bulb is designed to effortlessly enhance your riding experience.

With its built-in aluminum heat sink and anodized coating, this Philips LED bulb ensures efficient heat dissipation, allowing for optimal performance even in challenging conditions.

For enhanced safety and impeccable style, choose the high-performing Philips Ultinon Essential Moto LED bulb with its +100% brighter light, providing better visibility ahead of you. The uniform and accurate beam pattern allows you to see the road clearly while ensuring you are visible to others, prioritizing your safety on the go.

With a color temperature of 6500 Kelvin, these lights project a trendy, white light that sets you apart from the crowd. Stand out and make a statement with the stylish beam of light emitted by these LEDs.

Experience the difference with Philips Ultinon Essential LED HS1 Bulb For Bike and enjoy the perfect combination of style, safety, and reliable performance for your two-wheeler adventures in India.
Customer Review:
"Performs well slightly more powerful than the stock one."

"Easy to install and is way brighter than you halogen bulb with pure white light, also it is not your usual local led type where they just add one extra led for your high beam, it has proper leds for upper beam and lower beam so the outcoming traffic doesn't get blind. And surely is bright and coming from a reputed brand! :)"
Pros & Cons:
| | |
| --- | --- |
| Positive | Negatives |
| +100% brighter light for better visibility | It is not suitable for all H4 bike |
| Provided by reliable brand – Philips | Higher price compare to others |
| Accurate beam pattern without glare | |
| 6500K stylish white light | |
| 5-year warranty | |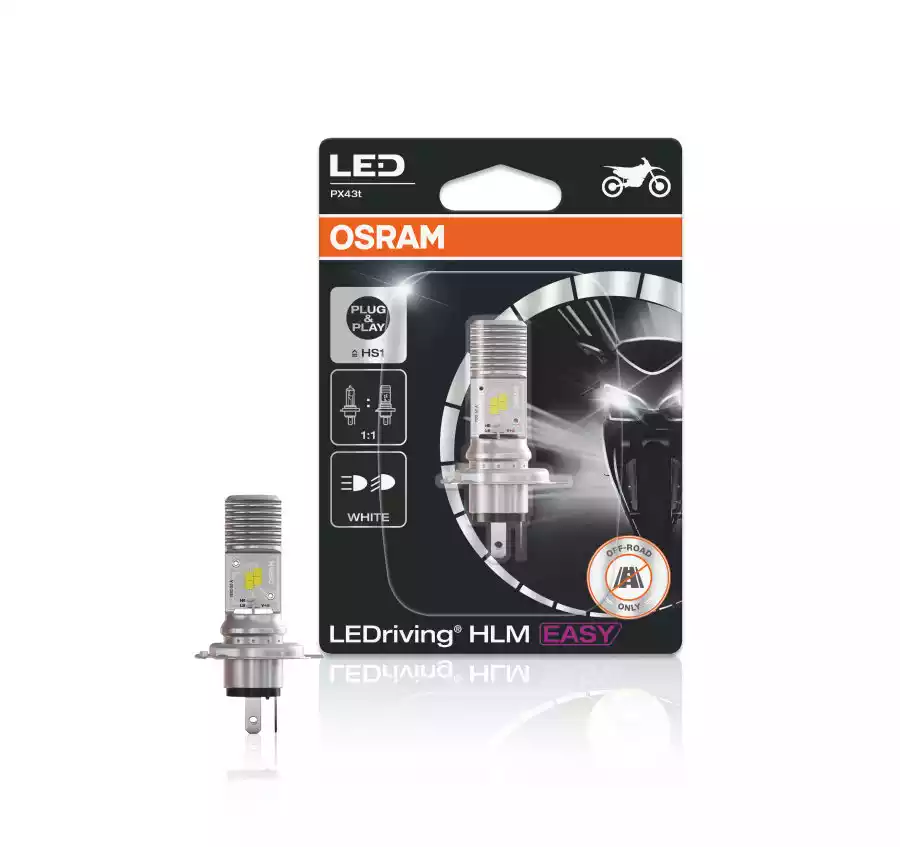 SPECIFICATION
| | |
| --- | --- |
| Application | Motorcycle Headlight |
| Brightness | 650/500 LM |
| Operating Wattage | 35W |
| Voltage | 12V |
| Color | 6000K |
| Warranty | 5 years |
The Osram LEDriving HS1 LED headlight bulb for motorcycles is the ideal solution for upgrading traditional motorcycle headlights with a sleek and modern touch.

With a cool white LED light boasting a color temperature of 6,000 K, these bulbs not only provide superior brightness but also lend your motorcycle a stylish and contemporary appearance.
Featuring the latest LED technology and a compact design, the Osram LEDriving Moto LED Bulb ensures high compatibility and a hassle-free installation across a wide range of motorcycle models. These lamps are 12V and AC/DC compatible, offering an extended service life.

The optimal light distribution reduces glaring, ensuring a comfortable and clear view for riders. Designed with the requirements of motorcycle enthusiasts in mind, these LED bulbs are tailored to meet the demands of the Indian market. From performance to aesthetics, the LEDriving HLM EASY bulbs are specifically crafted to enhance the riding experience and style of motorcycles in India.

Moreover, Osram stands behind the quality and durability of their product by offering a long warranty period of 5 years. Enjoy peace of mind knowing that your motorcycle is equipped with reliable and long-lasting LED headlight bulbs.
Customer Review:
"With a doubt due to reviews stating it will work in DC only, i purchased and received one with AC/DC source for my 125CC bike. I tested it and here i have attached result. As it is 5/5.5 watts, without flicker also we can get flicker free lighting. Overall, great headlight in comparison with my previous filament variants."

"Excellent product. Very good lighting. Easy to fix."

"I can see few reviews about brightness. It is all about visibility and not lumens. That way this led bulb will give you 2x visibility and definitely worth replacing stock halogen bulb. Don't hesitate. Just go ahead for it…"
Pros & Cons:
| | |
| --- | --- |
| Positive | Negatives |
| Integrated design, easy to install | The brightness is not sufficient in some bikes |
| Cool white color temperature of 6000k | |
| Stable light output | |
| Made from duralumin | |
| 5 year warranty | |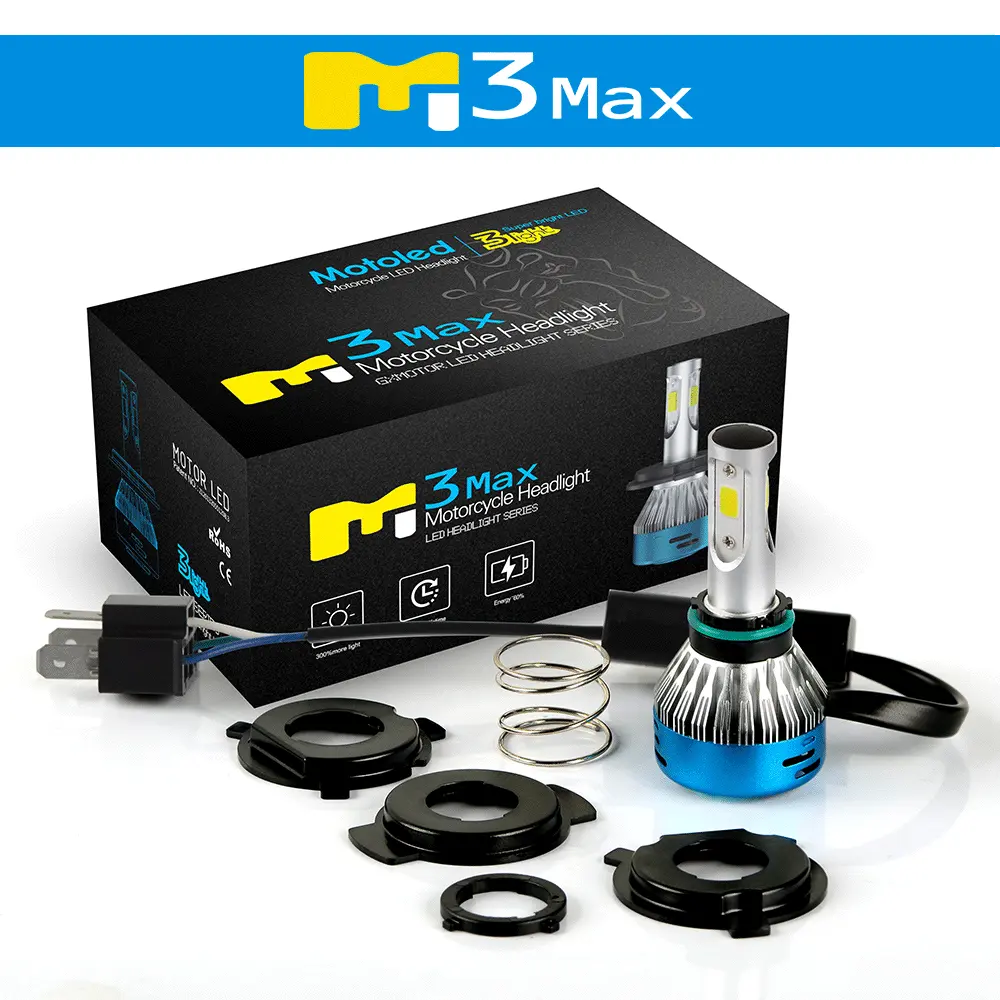 SPECIFICATION
| | |
| --- | --- |
| Application | Motorcycle Headlight Bulb |
| Brightness | 4000LM |
| Operating Wattage | 40w |
| Input Voltage | DC9-80V |
| Operating Voltage | 13.5v |
| Color | 6500K |
| Warranty | 1 year |
NAOEVO, a trusted brand in India, is renowned for providing high-quality LED bulbs for cars & bikes. If you are looking for high power LED bulb for your motorcycle at best price, then NAOEVO M3Max LED bulb should be your top choice!

Featuring top-of-the-line COB chips, the NAOEVO M3max LED bulbs boast an impressive brightness of 40W and 4000LM, ensuring optimal visibility on the road. With its 360-degree lighting angle, these bulbs provide a wider and extended light beam, illuminating your path during nighttime rides.

Designed for easy fitment on most motorcycles in India, the M3max moto LED bulbs are compatible with both DC and AC power systems, supporting a wide range of DC 9V-80V.

Equipped with 6063 aluminum and a high-speed fan operating at 7500RPM, the NAOEVO M3max LED bulbs excel in efficient heat dissipation, ensuring their longevity. These bulbs can last for over 30,000 hours, guaranteeing a reliable lighting solution for countless rides ahead.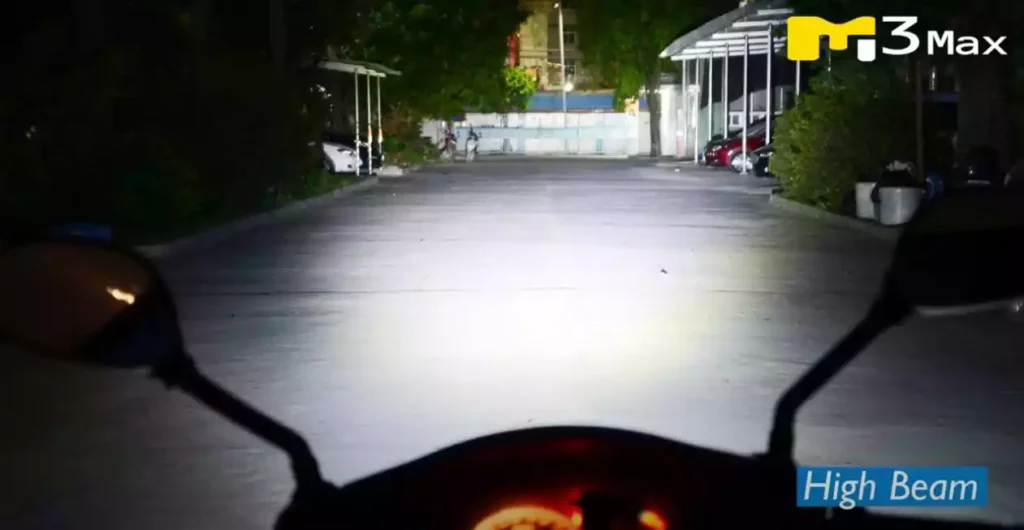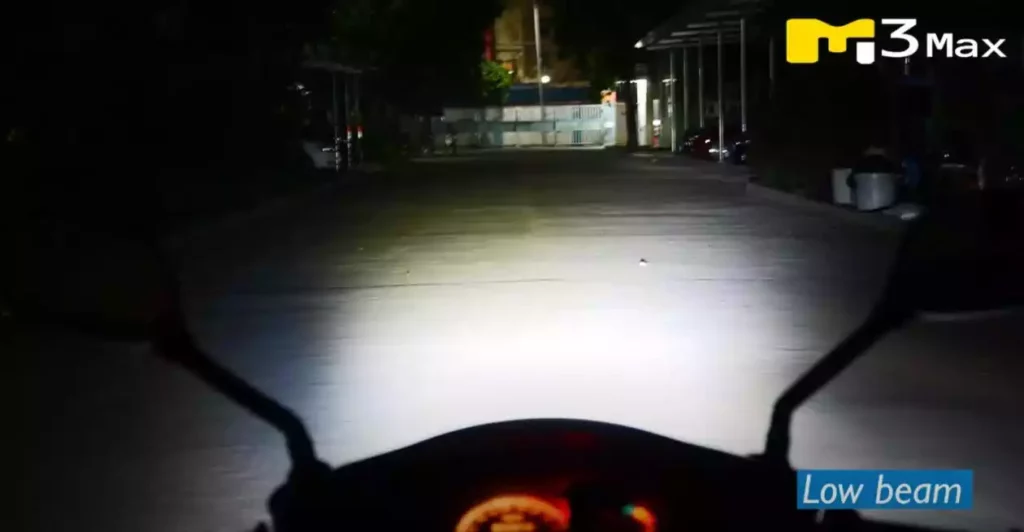 ---
Customer Review:
"The NAOEVO M3max LED bulb for my bike is incredibly bright, with a perfect beam pattern. Installation was a breeze!"

"I'm amazed by the brightness and precise light beam of the NAOEVO M3max LED bulb for my bike. It was super easy to install too!"
Pros & Cons:
| | |
| --- | --- |
| Positive | Negatives |
| Ultra-high brightness with safe light beam | Large bulb size |
| Plug-n-play, 15 mins installation | |
| Efficient cooling method | |
| Provide 1 bulbs with 3 different holder | |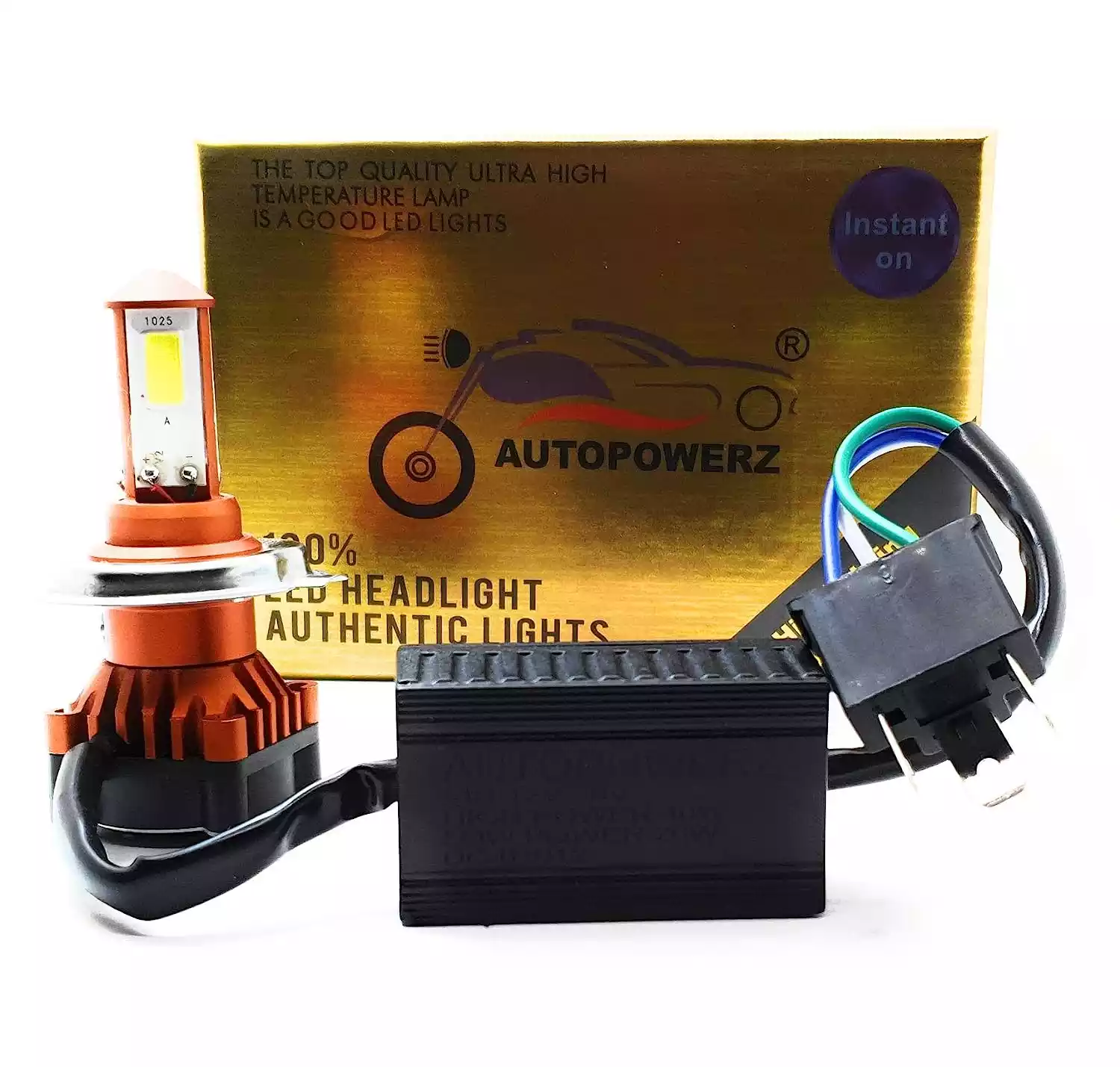 SPECIFICATION
| | |
| --- | --- |
| Application | Motorcycle |
| Brightness | 3600LM |
| Operating Wattage | Hi 40W/ Lo 20W |
| Voltage | 12V |
| Color | 6000K |
| Warranty | 1 year |
The Autopowerz Motorcycle LED Bulb is another best option for your rides on Indian roads. This exceptional bulb is packed with features that elevate your riding experience to new heights.

With its wide beam coverage, the Autopowerz motorcycle LED bulb ensures a broader field of vision, making it ideal for road driving. The innovative focus lighting design sets it apart from others, delivering an unparalleled level of brightness that outshines the competition. Boasting over 3600 lumens, this powerhouse is a remarkable 5X brighter than traditional 55W halogen bulbs.

Safety is paramount, and Autopowerz understands that. With its rapid 0.1-second light response, this bulb provides instant illumination, keeping you safe during crucial moments. The crisp, white LED light further enhances visibility in all conditions.

Crafted from robust aluminum alloy material, this bulb is built to withstand the challenges of the road. Its turbo super fan technology ensures efficient cooling, preventing overheating and extending its impressive lifespan to over 10,000 hours. Say goodbye to UV damage, as this bulb emits no harmful rays, keeping your headlamps in pristine condition.

Autopowerz Motorcycle LED Bulb is not just a lighting upgrade, but a game-changer for riders seeking top-notch performance and reliability. Get ready to experience the roads like never before with this exceptional bulb that sets a new benchmark in the motorcycle LED industry.
Customer Review:
"Awesome product one of the best light I ever seen, compatible product to my Gixxer 155 SP BIKE, easy to use plug and play fantastic products I am very happy."

"Easy To feet and brightness is awesome normal Focus is good and dipper focus is mind blowing fully satisfied with this product."
Pros & Cons:
| | |
| --- | --- |
| Positive | Negatives |
| Easy installation to fit most bike brands | Not compatible with all H4 sockets |
| Built-in cooling fan for efficient cooling | |
| 360 degree beam angle | |
| Best budget price | |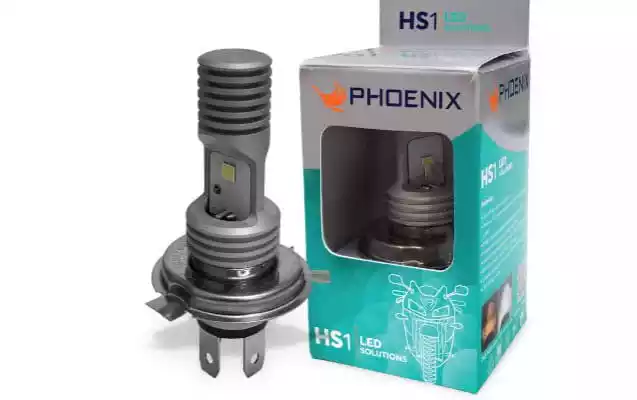 SPECIFICATION
| | |
| --- | --- |
| Application | Motorcycle Headlight Bulb |
| Brightness | 6000LM |
| Operating Wattage | 10w |
| Operating Voltage | 12V AC/DC |
| Color | 6000K |
| Warranty | 1 year |
Phoenix LED headlight bulb for bike, proudly made in India by Suprajit Engineering Ltd, an ISO 9001:2015 and IATF 16949:2016 certified company. Designed with integrated electronics, this bulb eliminates the need for an external driver. The high-quality aluminium heat sink ensures excellent heat dissipation, guaranteeing optimal performance.

With a cool white light of up to 6,000 Kelvin, the Phoenix LED bulb enhances visibility on the road, providing a clearer view. It boasts a long lifespan of up to 5,000 hours, offering extended durability compared to traditional bulbs.

Installation is a breeze with its simple plug & play design, and improved compatibility ensures it fits most motorcycle models seamlessly. Embracing LED technology, the Phoenix bulb delivers energy savings of up to 75% while maintaining powerful illumination.

Experience the reliability and efficiency of the Phoenix LED headlight bulb, specifically designed for motorcycles. Illuminate your journey with this powerful LED bulb, made in India, to enhance your riding experience and ensure a safer and brighter ride.
Customer Review:
"I have installed this led in my Aprilia SR125 BS6, product is easy to use just plug and play, Lower beam is good but upper beam is okay, decent quality as compared to price and best product in this price range."

"Buyed awesome product light is super white, loving in specially night."
Pros & Cons:
| | |
| --- | --- |
| Positive | Negatives |
| Integrated electronics, no external driver needed. | Short lifespan, not much durable |
| Cool white up to 6,000 Kelvin | |
| Simple plug & play installation and improved compatibility | |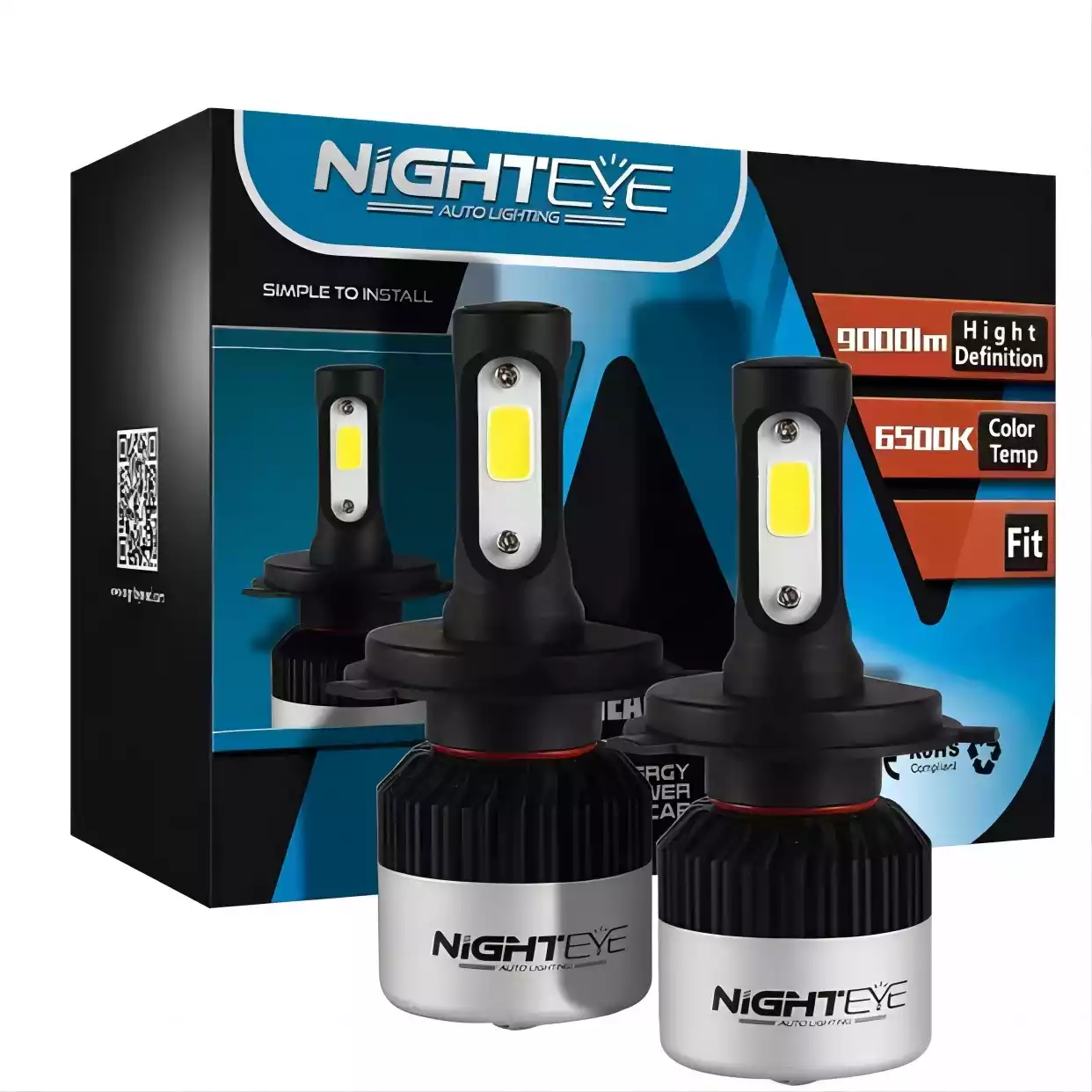 SPECIFICATION
| | |
| --- | --- |
| Application | Car/Motorcycle Headlight Bulb |
| Brightness | 4500LM/Bulb 9000LM/Set |
| Operating Wattage | 36W/Bulb 72W/Set |
| Operating Voltage | DC 9-32V |
| Color | 6500K |
| Warranty | 3 years |
The NightEye LED bulb for bike is a powerful lighting solution designed to elevate your riding experience. Engineered with cutting-edge features, this bulb ensures optimal performance and durability.

The NightEye LED bulb boasts an efficient cooling system with an aircraft aluminium profile and a high-quality aviation standard aluminium lamp body. It is resistant to oxygen and high temperatures, ensuring reliability in diverse riding conditions. The built-in fans and control driver provide optimal heat protection, resulting in a 50% faster cooling rate compared to other auto headlights.

Featuring an imported CSP LED chip, this bulb delivers exceptional light efficiency with its compact illuminated surface. It offers better penetration and a stronger condenser, enhancing visibility on the road. The bulb is also waterproof and dustproof, ensuring its durability in various weather conditions.

With its all-in-one design and plug-n-play functionality, installation is hassle-free. The smart heat radiator efficiently dissipates heat, contributing to the bulb's long lifespan of over 10,000 hours of continuous brilliant light.

Upgrade your bike's lighting system with the NightEye LED bulb and experience powerful illumination for enhanced safety and visibility on your rides. Made with quality craftsmanship, this bulb is a perfect choice for riders in India seeking a reliable and high-performance LED solution.
Customer Review:
"Easy to install. Just plug and play type model. H4 bulb looks cool white brightness is awesome. Low beam is brighter comparing to a halogen H4. Seamless driving experience while using low beam no light zone is road."

"I recently purchased two pairs of H4 LED headlights for my Bike, and I must say, I am impressed with the product. Here's why:

Firstly, the brightness of these headlights is better They are significantly brighter than the halogen bulbs I had previously installed in my Bike. The illumination they provide is bright, clear, making it much easier to navigate through the dark. This is a value for money upgrade to my bike."
Pros & Cons:
| | |
| --- | --- |
| Positives | Negatives |
| 20 times faster cooling than normal product | May produce intense glare light to other |
| All-in-one driver with small size | |
| IP68 waterproof | |
| 3 years long warranty | |
4 Reasons to Install LED Lights on Your Motorcycle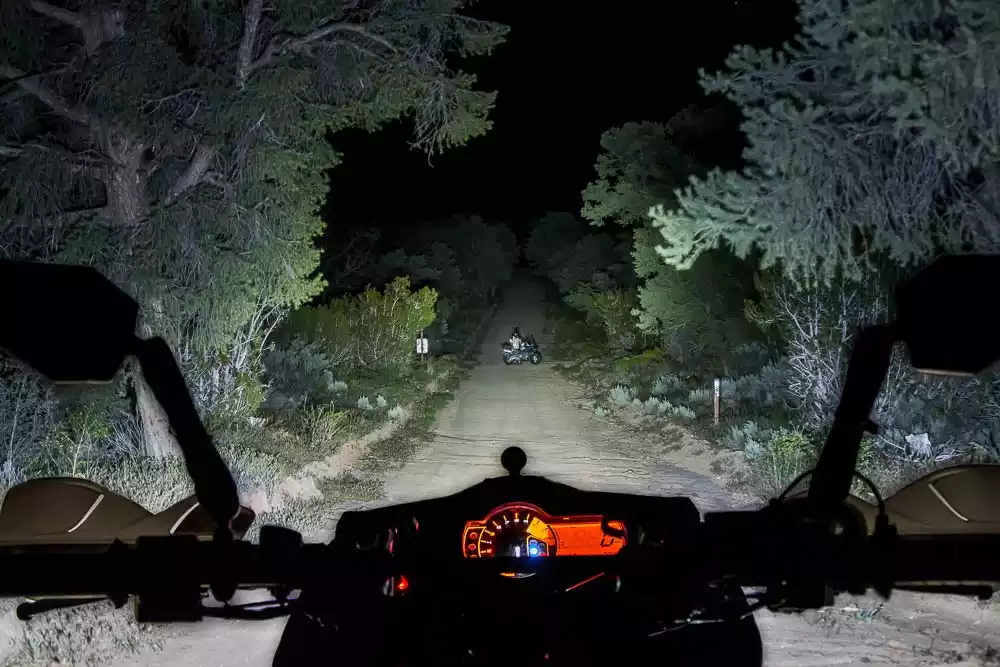 Installing LED lights on your motorcycle can bring a range of benefits, especially in a country like India. Here are four compelling reasons to consider:
Enhanced Visibility: LED lights provide superior brightness and clarity, making your motorcycle more visible to other road users, especially during adverse weather conditions or at night. This increased visibility helps improve overall road safety and reduces the risk of accidents.
Energy Efficiency: LED lights are highly energy-efficient compared to traditional halogen bulbs. They consume less power while delivering brighter illumination, allowing you to save on fuel and reduce your carbon footprint. In a country like India where energy conservation is crucial, LED lights are a sustainable lighting solution for motorcycles.
Longer Lifespan: LED lights have a significantly longer lifespan compared to halogen bulbs. They are more durable and resistant to shocks, vibrations, and temperature variations. With their extended lifespan, LED lights reduce the frequency of bulb replacements, saving you both time and money.
Stylish Appearance: LED lights offer a sleek and modern aesthetic to your motorcycle. They come in various colors and designs, allowing you to customize your bike's appearance according to your preferences. Whether you want a subtle upgrade or a bold statement, LED lights can transform the look of your motorcycle, adding a touch of style and individuality.

By installing LED lights on your motorcycle in India, you can enjoy improved visibility, energy efficiency, longevity, and a visually appealing ride. Upgrade your lighting system and experience the benefits of LED technology on the road.
How to Find Powerful LED Bulbs For Your Bike In India?
When searching for powerful LED bulbs for your bike in India, it's important to consider several factors to make the right choice. Here's a guide to help you find the powerful LED bulbs for your bike.
Brightness and Power: Look for LED bulbs with high lumens and wattage ratings. This indicates the brightness and power output of the bulb, ensuring a powerful and enhanced lighting experience for your bike.
Quality and Reliability: Choose a trusted brand like NAOEVO known for its superior quality and reliable performance. NAOEVO offers powerful LED bulbs designed specifically for motorcycles, providing optimal illumination and durability.
Easy Installation: Opt for LED bulbs that offer easy installation, allowing you to upgrade your bike's lighting system without any hassle. NAOEVO bulbs are designed for simple plug-and-play installation, saving you time and effort.
Customer Reviews: Read customer reviews and feedback to gauge the performance and satisfaction levels of other bike owners. NAOEVO has received positive reviews for its powerful LED bulbs, affirming their effectiveness and customer satisfaction.
Final Words
In conclusion, the top 6 most powerful LED lights for bikes in India in 2023 offer an impressive range of features and performance. These high-quality LED lights provide enhanced visibility, improved safety, and stylish design options.

Whether it's the Philips Ultinon Essential LED HS1 Bulb, Osram LEDriving LED headlight bulb, or NAOEVO M3max motorcycle LED headlight bulb, bikers can enjoy powerful illumination, easy installation, and long-lasting durability. Investing in these top-rated LED lights will undoubtedly elevate your biking experience, ensuring a brighter and safer journey on Indian roads.