In the quest for superior lighting solutions, 4300K LED bulbs have emerged as a popular choice among car enthusiasts in India. The balanced color temperature of 4300K, resembling natural daylight, offers enhanced visibility and improved safety on Indian roads. In this article, we present the five most popular LED bulbs with 4300K color temperature in India, ensuring a brighter and safer driving experience.
Top 5 Most Popular 4300K LED Car Lights In India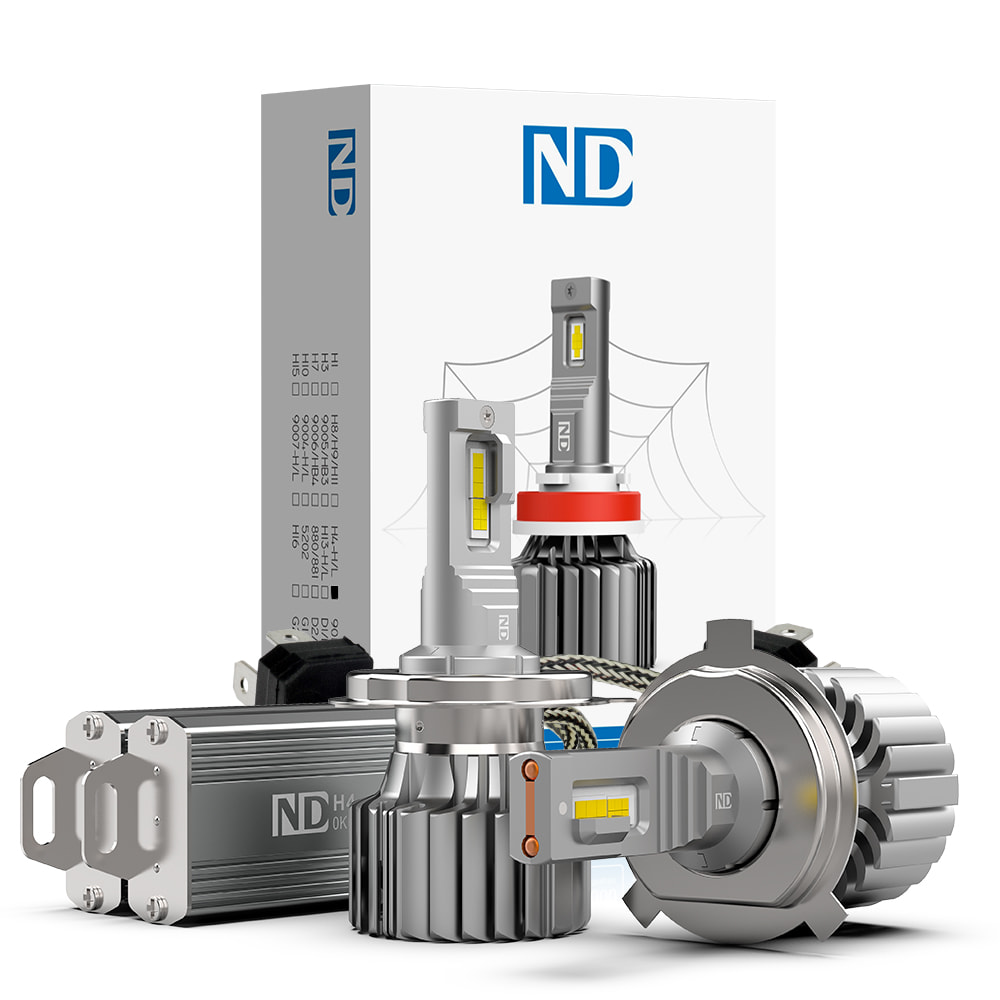 Features:
140W 16800LM Ultra-Bright
Available In 4300K And 6000K
Adcanced Cooling Technology
Unique Spider Design
Recognized in India for their 140W 16800LM superior brightness and stylish spider design, NAOEVO presents the NDY series LED headlight bulbs for car. The NDY LED bulbs are designed in 4300K color temperature, while the ND series LED bulb is designed in 6500K.

With NAOEVO's patent designed arrangement of LED chip, the NDY LED headlight bulb offers a perfect beam pattern – with clear cutoff line on low beam and focus light on high beam.

What set NDY apart from others is its heat dissipation, they equip with dual copper heat pipe and high speed fan for more efficient heat dissipation. The IP67 waterproof and dustproof ensure long-lasting durability and consistent performance even in challenging Indian driving conditions.

You may really like the spider aspiration of these NDY LED bulbs. The spider symbolizes the ability to weave and create. Spiders, relentless in their pursuit, strive to transform their impossible visions into tangible realities. Similar to the NDY LED headlamp crafted by NAOEVO, they have achieved the creation of a truly exceptional high-brightness product. From light output and heat dissipation to the exquisite design, it embodies a remarkable level of perfection.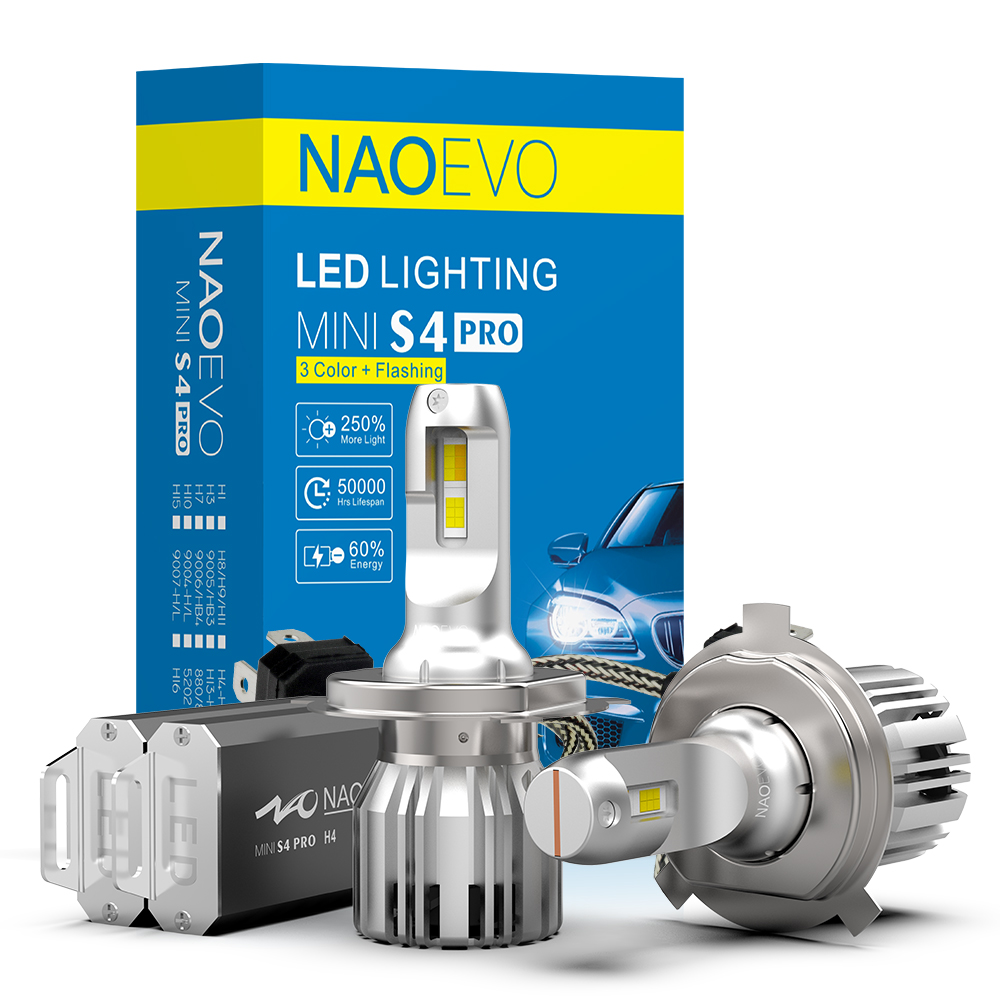 Features:
60W 7200LM Upgraded Brightness
3 Color: 6500K/4300K/3000K
1:1 Mini Design As Halogen
Canbus Error Free
NAOEVO S4 Pro LED headlight bulbs are regarded as one of the best-selling LED car bulbs in India due to their smart 3 color changing and flashing modes. With 3 color (6500K White, 4300K Warm White, 3000K Yellow), the S4 Pro LED bulb simultaneously meets the customer's requirement for strong yellow light penetration and aesthetically pleasing 6500K white light. No matter in what kind of situations, the S4 pro LED bulb provides you with the best lighting performance.

The S4 LED bulbs truly excel in energy efficiency, offering an impressive upgrade in brightness with the S4 Pro LED bulbs boasting an astonishing 60W 7200LM output, a remarkable 3X brighter than traditional halogen bulbs.

Maintaining a 1:1 design with halogen counterparts, these bulbs ensure identical lighting position and a compact size for a seamless light beam without any distracting glare. The compact design also facilitates hassle-free installation in a wide range of Indian car models.

The incorporation of a 1.0mm ultra-thin copper substrate efficiently transfers heat from the chip to the base, complemented by the 6063 heat sink and 7500 RPM fan, effectively dissipating heat outward. Notably, the intelligent temperature controller integrated within the S4 LED bulb provides reliable protection against overheating, ensuring long-lasting performance.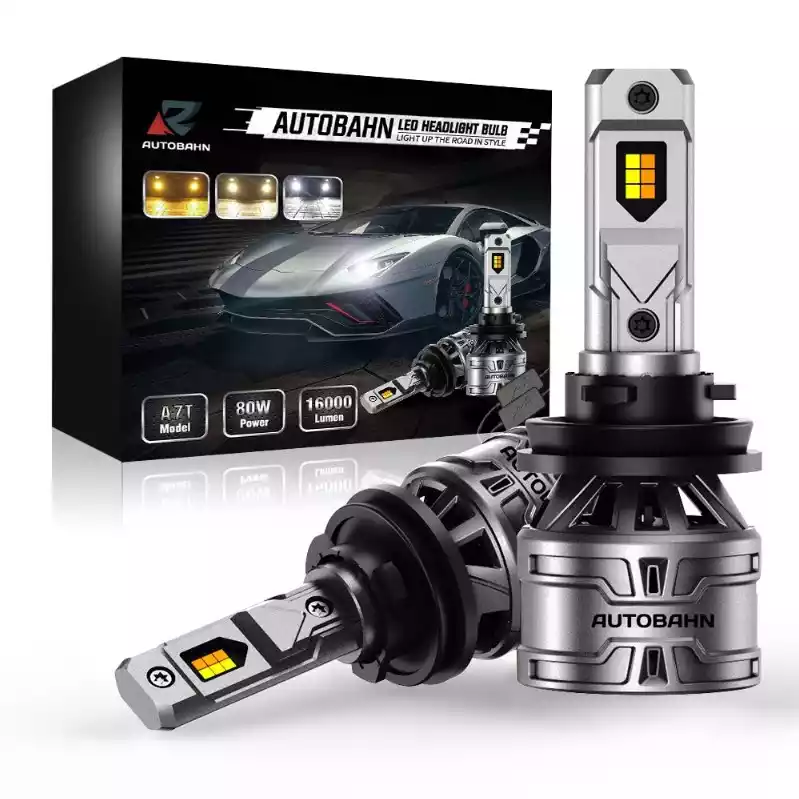 Features:
80W 16000LM High Brightness
3 Color: 6500K/4300K/3000K
Fascinating Design
Easy Installation
The Autobahn LED Car Light is another popular choice of powerful LED car bulbs with 3 color chaning including 4300K among Indian drivers. In addition, the NAOEVO LED bulbs feature a distinctive and innovative exterior design. The understated gunmetal color combined with the sleek die-cast construction sets them apart from the myriad of LED car lights available in the market. The 3 color changing option (3000K/4300K/6500K) allows drivers to switch between different color to suit various driving conditions and preferences.

Delivering a powerful 80W 16,000LM output, they ensure a substantial improvement in lighting performance. The thin copper plate design guarantees a safe light beam that avoids any glare, ensuring a comfortable driving experience at night.

The gold-plated copper substrate enables efficient heat conduction, while the silent turbo fan operates at an impressive 12000rpm, extending the lifespan to a remarkable 100,000 hours. Additionally, the IP65 waterproof rating allows these bulbs to perform flawlessly even in challenging weather conditions.

Experience the versatility and reliability of Autobahn 3 Color Changing LED Car Lights, transforming your driving experience with their exceptional performance and captivating design. Upgrade your car's lighting system today and enjoy the benefits of improved visibility and style on the roads of India.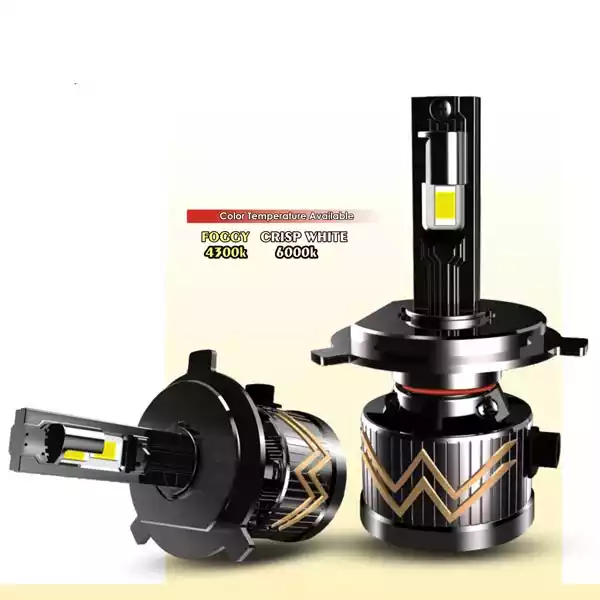 Features:
Trusted And Reliable Brand In India
4300K And 6000K Are Available
Excellent Light Beam Pattern
Leading 5G Cooling Technology
If you're searching for top-quality and high-power LED bulbs with a 4300K color temperature for your car in India, look no further than the Maxxlink R8 LED Headlight Bulb. Maxxlink has crafted these bulbs with utmost precision, offering customers the choice between 4300K and 6000K colors to cater to their specific preferences.

What truly sets the Maxxlink R8 LED bulbs apart is the incorporation of the USA BRIDGELUX CSP chip. With this cutting-edge technology, these bulbs deliver an impressive output of 130W 13,000LM, ensuring a lighting distance of 500 meters and an astounding 500% increase in brightness for unrivaled visibility.

To guarantee an extended lifespan, the 4300K Maxxlink R8 LED headlights boast industry-leading 5G cooling technology with a vapor chamber. This advanced cooling system is twice as efficient as traditional copper tubes, while the 12000RPM fan further aids in heat dissipation. These features ensure the bulbs' durability, allowing you to enjoy reliable performance for up to a decade without the need for replacements.

With a compatibility of 12V/24V of vehicles, installation is a breeze, and the LED bulbs come with a hassle-free 2-year warranty. Experience the transformative power of the Maxxlink R8 LED bulbs in your car, as they illuminate the road ahead with remarkable clarity, longevity, and ease of use. Upgrade your lighting system today and embrace a new level of driving excellence.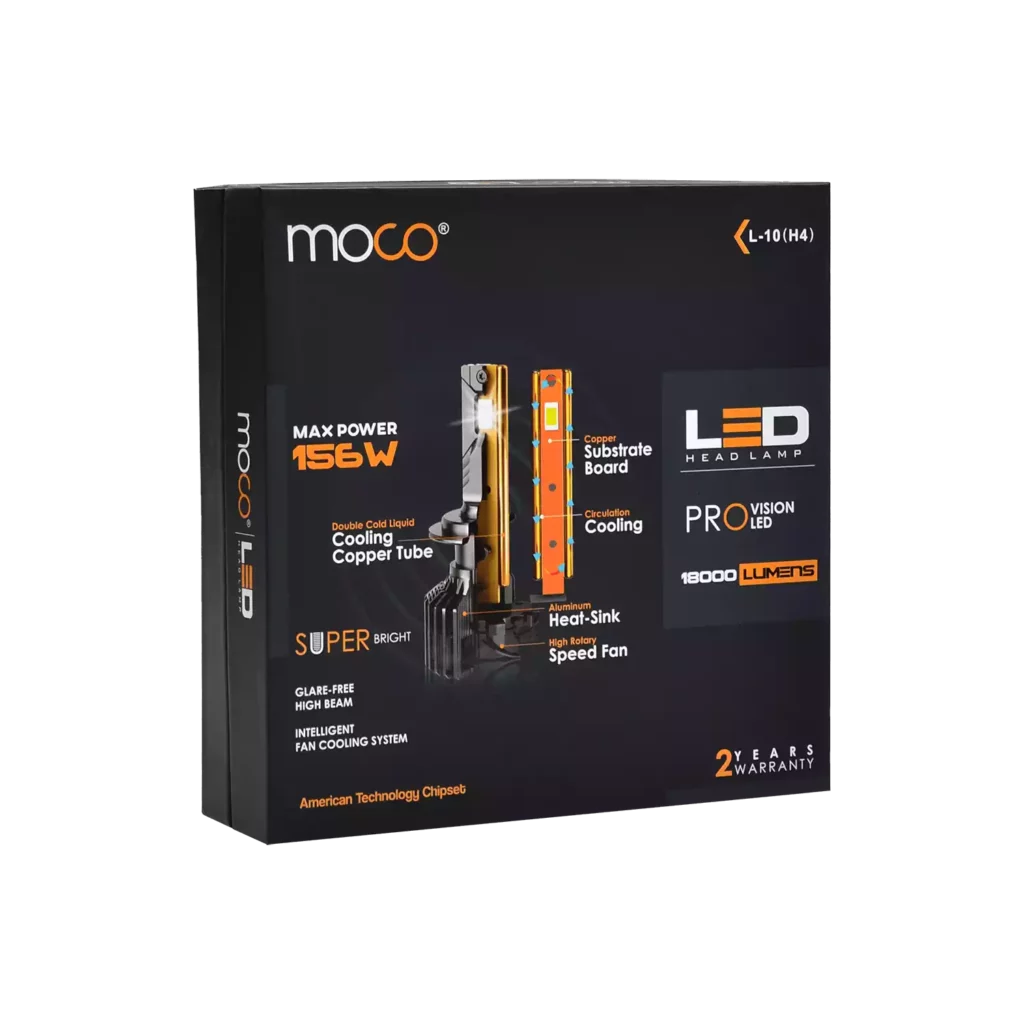 Features:
18000LM Efficient Brightness
4300K And 6000K Available
Double Copper Tube For Cooling
2-Year Warranty
Moco is a trusted brand in Indian providing high-end auto LED lights at best lighting performance and durability. The Moco Pro-Vision LED headlight bulb are acceptable for 4300K for drivers who need a crisp clear vision than halogen. Crafted with a top-notch KOREAN CHIPSET, these bulbs shine bright, boasting an impressive 156W 18000LM output. Whether housed in projectors or reflectors, the light beam pattern is flawlessly even, sporting a distinct cut-off and zero dark spots, ensuring a safe driving experience without blinding fellow motorists.

Noteworthy is Moco's commitment to longevity and reliability. With advanced cooling technology at its core, including Aviation Aluminium 6063, double cold liquid tube, and a high-speed fan, these bulbs maintain optimal brightness and endure for over 50,000 hours of operation. This extended lifespan translates to prolonged satisfaction on the road.

To further instill confidence, Moco stands behind their product with a generous 2-year warranty. This warranty underscores their dedication to quality, assuring customers that they can depend on the durability and performance of Moco LED headlight bulbs.

Whether driving through bustling Indian city streets or enduring challenging weather conditions, the Moco Pro-vision 4300K LED Headlight Bulb shines with unparalleled clarity and dependability, ensuring a safe and confident journey.
Why Choose 4300K LED Headlight Bulbs?
1. Optimal Visibility:
4300K color temperature produces a warm white light that closely resembles natural daylight. It provides excellent visibility on the road, enhancing safety during nighttime and adverse weather conditions.
2. Better Contrast:
The 4300K color temperature strikes a balance between warm and cool tones, offering a high contrast between objects and their surroundings. This improves depth perception and helps drivers spot potential hazards more easily.
3. Reduced Glare:
4300K LED bulbs emit a light that is less likely to cause glare for oncoming drivers. It minimizes the discomfort and distraction caused by bright lights, contributing to safer road conditions.
4. Legal Compliance:
In many countries, including India, there are regulations and standards in place regarding the color temperature of automotive headlights. The 4300K color temperature falls within the permissible range, ensuring compliance with these regulations.
4300K VS. 6000K LED Headlight Bulb: Which Is Better?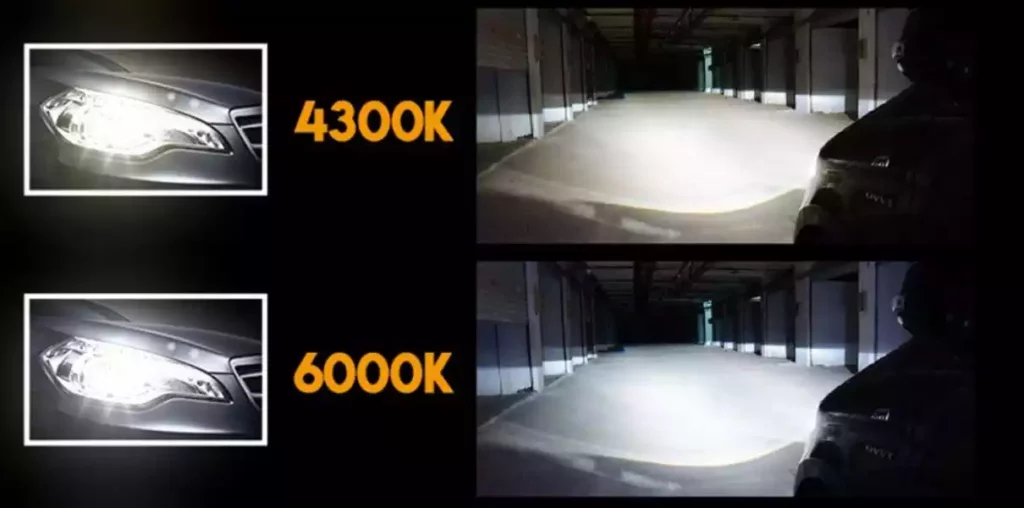 4300K LED bulbs emit a warm white light that minimize the stress caused by bright light. This color temperature provides good visibility on the road and accurate color rendering. It is a suitable choice for driving at rainy, foggy, hazy, and misty day, as 4300K has better penetration than 6000K.

6000K LED bulbs produce a cooler white light with a slight bluish tint. This color temperature offers a more modern and stylish appearance to the headlights. It provides a good visibility and illumination at nighttime especially in dark rural road.

Ultimately, the "better" choice depends on your preferences and driving conditions. If you prioritize natural and accurate color representation, along with good visibility, 4300K is a suitable option. If you prefer a cooler and more modern appearance and are willing to accept a slight trade-off in color accuracy, 6000K can be a viable choice.
Is 4300K LED Bulb Brighter Than 5000K Or 6500K?
No, this cannot be compared even if they have the same lumen wattage. The color temperature of an LED headlight bulb refers to the color appearance of the light emitted, not as its brightness.

When comparing two different color temperature of LED bulbs with the same lumen output, the brightness will be the same regardless of their color temperature. The difference lies in the color appearance and the perceived intensity of light. A 6500K LED bulb may appear slightly brighter than 4300K due to their higher perceived intensity, which can be more noticeable to the human eye.
Final Word
Discover the top 5 best 4300K LED bulbs for cars in India, offering superior brightness and enhanced visibility. These high-quality bulbs are designed to provide a perfect balance between functionality and style. Upgrade your car's lighting system with these top-rated options and enjoy a safer and more enjoyable driving experience. Choose from the best brands available in India and make a smart investment in your car's lighting performance.