LED headlight bulbs have become popular in recent years, due to their energy efficiency, long lifespan, and superior brightness compared to traditional halogen bulbs. Hence, there is no doubt the LED headlight bulbs hold a very promising future in South Africa. Among the many car light models, the H4 is the most popular and widely used bulb size in South Africa. If you want to upgrade your stock H4 halogen to LED bulb, in this article, we will explore some of the best-in-class auto H4 LED car light bulbs in South Africa.
Best Overall H4 LED Bulb
Philips automotive lighting is one of the most popular and well- known brands in South Africa. If you want to upgrade your headlight with high-quality H4 LED headlight bulbs. The Philips Ultinon Essential should be your first consideration. With a color temperature of up to 6500K, these H4 LED bulbs give off white light that makes the dark road as bright as day.

Thanks to the precise optical design of Philips Ultinon Essential H4 LED, the brightness can make it easier for drivers to see further down the road while avoiding glare light to others. The adjustable rings ensure perfect alignment for optimal light performance and enhanced road safety.

Another benefit of the Philips Ultinon Essential LED headlight bulb is its durability. These H4 LED bulbs are built to last, with a lifespan of up to 12 years, depending on usage. They are also designed to withstand harsh weather conditions, such as rain, snow, and extreme temperatures. This means that drivers can rely on their Ultinon Essential LED headlight bulbs to provide them with dependable lighting, even in the most challenging driving conditions.

In addition, the Ultinon Essential H4 LED bulbs perfect fit for a wide range of a vehicles and is compatible with 12V and 24V vehicles. The easy installation process allows drivers to enjoy the benefits of their new H4 LED bulbs right away.
Specification
▶Bulb type: H4
▶Wattage: 20W/bulb
▶ Lumens: 1700LM/bulb
▶Voltage: 12V and 24V
▶Color temperature: 6500K
▶Lifespan: Up to 1500 hrs
▶Warranty:2 – 5 years
| | |
| --- | --- |
| 🟢Pros | 🔴Cons |
| High quality | Expensive price |
| Long warranty | Short lifespan compare to others |
| Better visibility without glare | Not conducive to long-term performance |
Best High-End H4 LED Bulb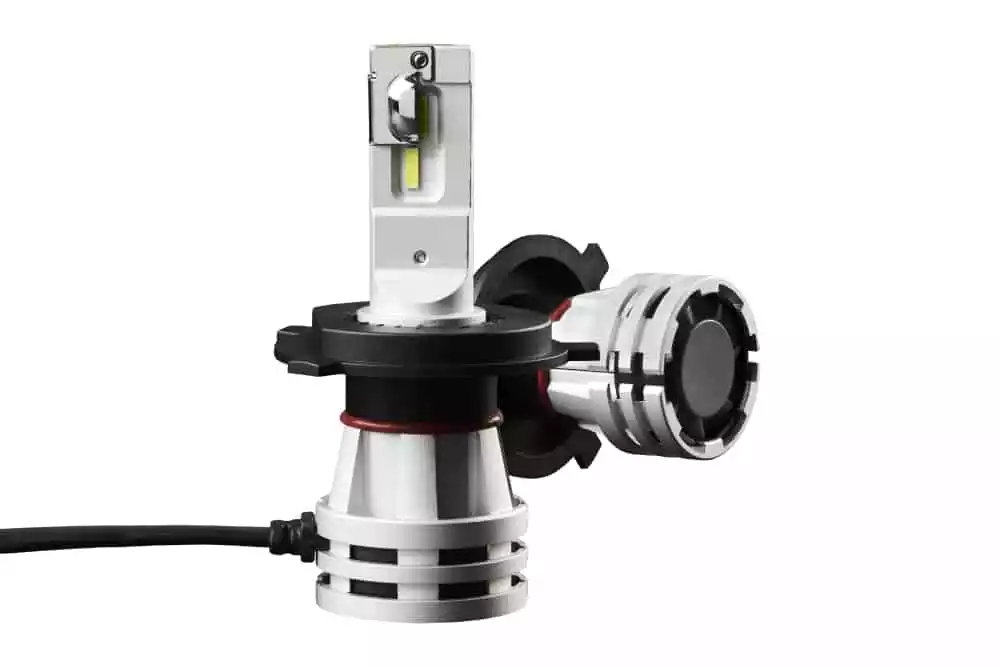 HELLA is another popular automotive LED headlight brands in South Africa. The new HELLA H4 LED Retrofit bulbs offer a brighter, stronger, and cooler lighting option for your vehicle. They enhance the visual acuity of your vehicle's "eyes" without the need for new headlights. By replacing the existing halogen bulbs with the LED Retrofit bulbs, you can upgrade your headlights to LED with a daylight effect quickly and easily. This upgrade improves the quality of the light without changing the headlights themselves.
With a built-in fan and high-quality aluminum heat sink with anodized coating, the HELLA H4 LED bulbs offer a large radiation area. Thus, the heat dissipation can be effectively, reducing the danger of overheating, and ensuring an optimal brightness at any time of operation.

Besides, these H4 LED bulbs work for both 12V and 24V applications, which means that they can be used in cars, trucks, buses, and other vehicles without the need to purchase different bulbs for different vehicles.

The HELLA H4 LED bulbs are all-in-one design includes an integrated driver box. The driver that maintains a steady flow of electricity reduces the risk of overheating by reducing the brightness when the temperature rises.

Apart from its easy installation and cooling design. The HELLA retrofit H4 LED bulb consumes less power and voltage which comes with an affordable cost per unit.
Specification
▶Bulb Type: H4
▶Power: 19W/Bulb
▶Voltage: 12V and 24V
▶Color Temperature: 6500K
▶Lifespan: 30,000 hours
▶Warranty: 1 Year
| | |
| --- | --- |
| 🟢Pros | 🔴Cons |
| Easy to install | Tends to flicker |
| Built-in CANBUS | Lumens could be improved |
| 12V and 24V compatible | |
Ultra-High Brightness H4 LED Bulb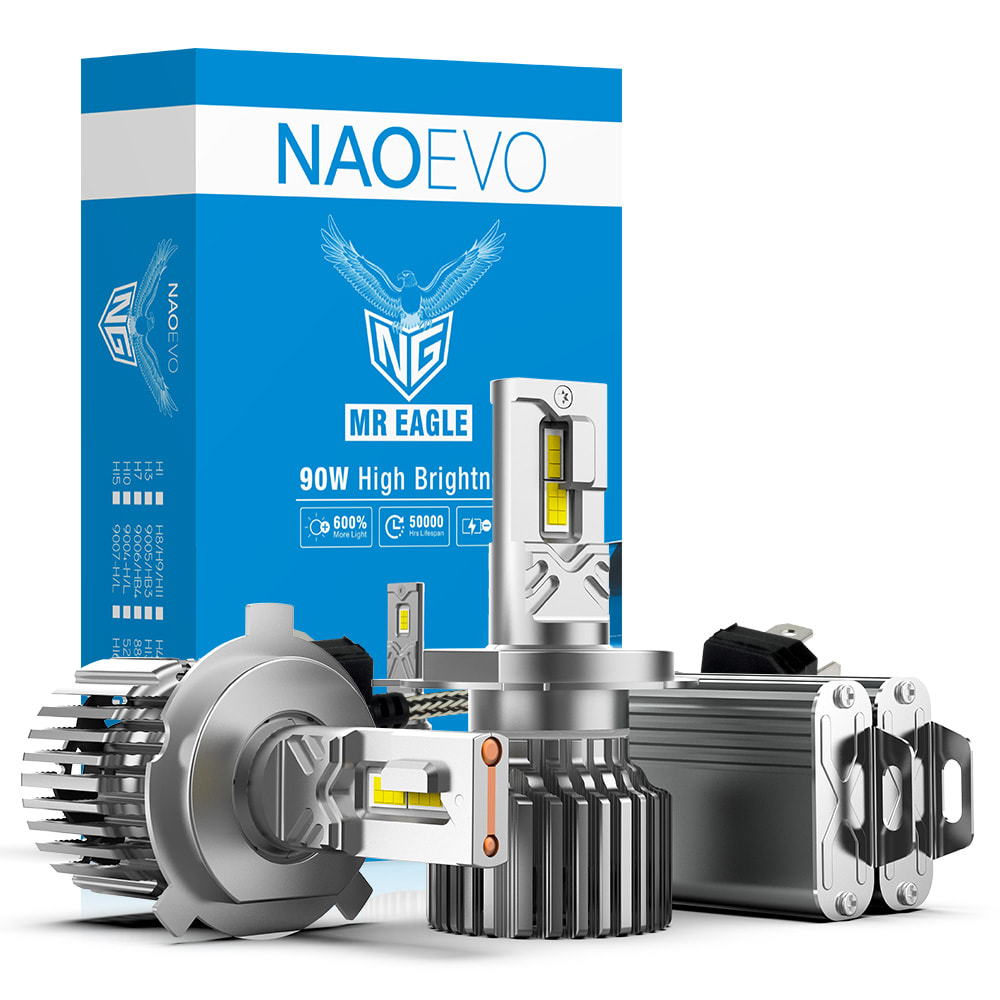 The NG H4 LED bulbs are a breakthrough in automotive lighting industry. If you want to buy high brightness, energy-efficient, long-lasting, and best budget H4 LED headlight bulbs in south Africa, the NG H4 LED headlight bulbs will be your ideal choice.

Keep cool in style with this Eagle Design LED headlight bulb. The eagle is a symbol of strength and resilience, and its fierce nature. This makes it a suitable emblem for the NG LED bulbs, which are designed to provide powerful, long-lasting illumination.

With dual copper heat pipe and high speed fan, the NG H4 LED headlight bulbs transfer heat away from the LED chip as fast as possible. Its advanced cooling technology help to maintain the LED headlight bulb's temperature within a safe range and prolong its lifespan, ensuring that it provides bright and reliable lighting on the road.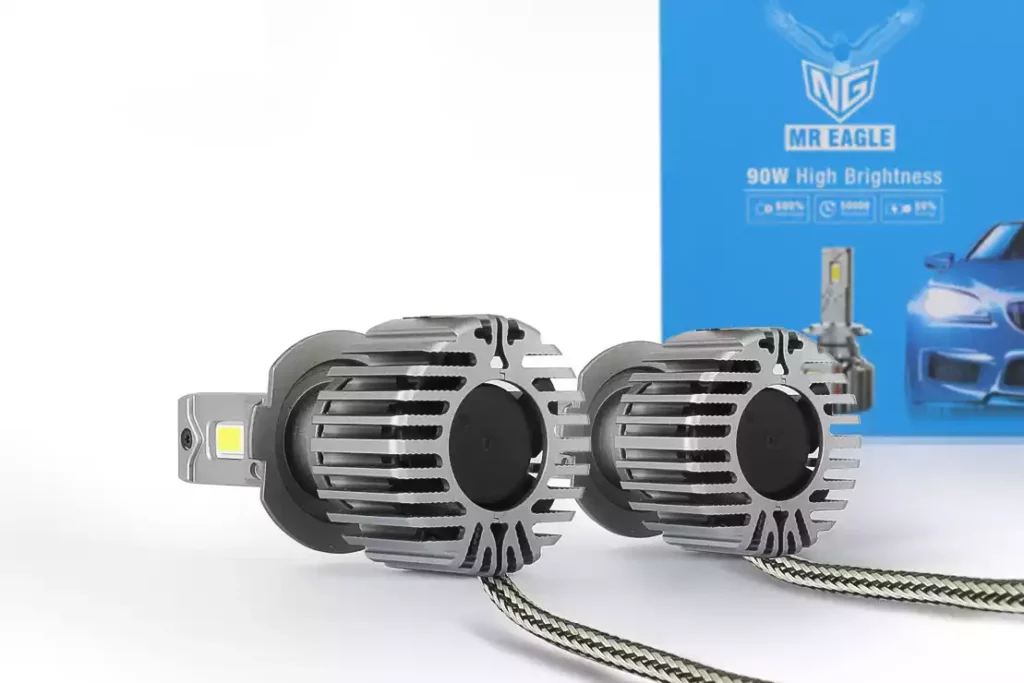 Equipped with high-efficient flip chip, the NG LED headlight bulbs are able to offer an exceptional output of 90W 10800LM per bulb. Along with 6500K color temperature, the NG H4 LED headlight bulbs produce a bright, white light that illuminates the road ahead, providing drivers with better visibility and making safe driving.

The arrangement of NG LED chip is based on NAOEVO's patent design, which enables the bulbs to produce a wider and longer beam that illuminates more of the road ahead. Thanks to the optical technology, the NG LED bulbs illuminate the road ahead with a well-defined cutoff line that prevents glare light to oncoming traffic.

Specification
▶Bulb Type: H4
▶Power: 90W/bulb
▶Lumens: 10800LM
▶Color temperature: 6500K
▶Voltage: DC9-16V
▶Chip: Flip chip
▶Lifespan: 30,000 hrs
▶Warranty: 2 Years
| | |
| --- | --- |
| 🟢Pros | 🔴Cons |
| Unique eagle design | Bulbs get a bit hot |
| 30,000 hours long lifespan | |
| Maximum brightness for nighttime driving | |
| Perfect light beam pattern without glare | |
Easy Install H4 LED Bulb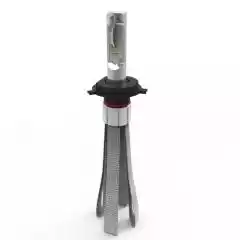 Some vehicles in South Africa have narrow headlight assemblies. In this case, you will expect an H4 LED headlight bulbs that are easy to install. With flexible copper belts, the Extreme lights 8C version H4 LED Headlight Bulbs are a simple plug-n-play upgrade that is as simple as changing over a factory bulbs.

To attract customer's attention, many manufacturers like to label their products with exaggerated high lumens and watts. Unlike other suppliers, Extreme Lights claims that these H4 LED bulbs have a true lumen rating of 35W 4,000 Lumens per bulb, which is 300% more brightness than halogen, and 100% more light on the road. All of their bulbs have been tested inside of a Photometric Sphere.

Because of its low power, these H4 LED bulbs adopted passive cooling. The separated copper fins of this bulb allow heat to transfer efficiently and quickly. The flexible belts and smaller driver footprint leave enough room for easy installation.
With a mini design, the Extreme lights 8C H4 LED bulbs have a same lighting position as halogen, this allows them to produce instant and better optical control with minimal scatter.

Specification
▶Bulb Type: H4
▶Wattage: 35W/bulb
▶Lumens: 4,000LM/bulb
▶Color temperature: Daylight White 6000K
▶Voltage: DC12V – 24V
▶Lifespan: 30,000 hours
▶Ingress protection: IP65
▶Operating temp: -40℃ to + 80℃
| | |
| --- | --- |
| 🟢Pros | 🔴Cons |
| Small size for easy installation | Poor heat dissipation performance |
| Great for excellent visibility | Fast decay and short life |
| Stable power wattage | |
| Cheap price | |
Trial-Color H4 LED Bulb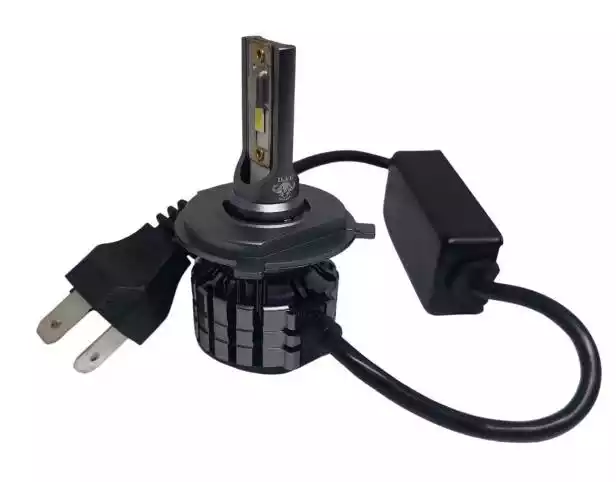 Most LED headlight bulbs in south Africa have only white light. They have a good lighting effect at night, but does not penetrate well on rainy and foggy days. In this case, D.A.G H4 LED headlight bulbs allow you to change the color of your headlight between 6000K/4300K/3000K, so you can have a better visibility through any weather condition.

One of the benefits of DAG LED headlight bulbs is that they produce a higher intensity of light compared to other types of LED headlight bulbs. With a output of 36W 8000Lumens, they are designed to be more efficient in their use of power, which means that they can provide brighter light while consuming less energy.

The D.A.G H4 LED headlight bulbs are also known for their durability. With 6063 aluminum body. They are built to withstand harsh weather conditions, including extreme temperatures and moisture. This makes them a great choice for drivers in south Africa. They have a longer lifespan of 50,000 hours, which means you'll need to replace them less frequently.

In terms of installation, the DAG H4 LED bulbs are designed to be easy to install. They carry with external Canbus driver which means that they can be installed in most vehicles without error.

Specification
▶Bulb Type: H4
▶Power: 36W/bulb
▶Lumens: 8000LM/bulb
▶Color temperature: 6000K/4300K/3000K
▶Warranty: 1 Year
| | |
| --- | --- |
| 🟢Pros | 🔴Cons |
| 3 color for different driving conditions | Poor quality in the bulb |
| High output of for the price | Takes too much space |
| Canbus error free | |
| Quick installation | |

Where Can I Buy Retail H4 Auto Led Headlight Bulb In South Africa?
In south Africa, the demand for LED headlight bulbs is increasing due to the rise in the number of cars on the roads and the need for better lighting solutions in poorly lit areas. If you want to buy the H4 LED headlight bulb online in south Africa, here are a few options:
1. Takealot – This is one of the largest online retailers in South Africa, and they have a wide selection of LED headlight bulbs.
2. Autolume – This online store specializes in automotive lighting products, including LED headlight bulbs.
3. Midas – Midas is a leading online retailer of auto parts and accessories in South Africa.They provide a vast collection of automotive halogen headlight bulbs from popular brands.
4. 4×4 direct – 4×4 direct is an online platform that specializes in automotive products, including LED headlight bulbs, LED light bars, LED signal light. They offer high-quality products from top brands and have a good reputation in the market.

Where Can I Buy Wholesale H4 LED Headlight Bulb at Best Price in South Africa

If you want to buy LED headlight bulbs at wholesale prices for bulk orders. NAOEVO will provide you with the quality LED headlight bulbs with minimum order quantity and best budget. With in-house factory support, NAOEVO can meet the needs of mass production, product customization, and fast delivery.
Though located in China, NAOEVO has built a strong reputation in South African LED headlight bulb market and is committed to producing products that meet the needs of South African customers. Some of our high-power LED lights such as ND, NG, NR etc have received good feedback in South Africa.
If you want to be a part of our success story, contact us today!

FAQ
Q1: Things to Consider When Choosing Best H4 LED Headlight Bulbs ?
1. Compatibility: Check the compatibility of the bulb with your car's make and model. Not all LED bulbs are compatible with all car models.
2. Lumens: Look for a bulb with a high lumen output. The higher the lumens, the brighter the light produced by the bulb.
3. Color temperature: Consider the color temperature of the bulb. The color temperature is measured in Kelvin (K) and determines the color of the light produced by the bulb. Most drivers prefer bulbs with a color temperature between 5000K to 6500K, which produce a bright, white light.
4. Cooling: LEDs can get hot, so make sure the bulb you choose has a cooling mechanism to prevent overheating.
5. Brand: Look for a reputable brand with good reviews and ratings. This ensures that you get a high-quality bulb that will last long and provide the best performance.
6. Warranty: Check the warranty offered by the manufacturer. A longer warranty indicates that the manufacturer has confidence in their product and is willing to stand behind it.

Q2: Which H4 LED headlight bulb has the best quality in South Africa ?
The NAOEVO NG series H4 is the best quality LED headlight bulb in South Africa as it comes with ultra-high brightness and effective cooling method. It shows the highest performance in all aspects.

Q3: Are LED headlight bulb legal in South Africa ?
Yes, but they must comply with certain requirements to be road-legal. The South African National Road Traffic Act specifies that headlights must meet certain standards, including brightness, beam pattern, and color temperature. LED headlights that meet these requirements are legal for use on South African roads.

The Bottom Line
With the innovation and enhancement of LED technology, the LED headlight bulbs is expected to grow exponentially. To keep up with the competition, manufacturers are constantly coming up with the new automotive LED headlight bulbs that provide great performance and features.
We're sure that the list of the best H4 LED headlight bulbs in South Africa will help you gain better insights and narrow your list of options per your requirements.