The global automotive LED lighting size is estimated to grow by USD 2005.77 million from 2022 to 2027. Among them, the auto LED headlight bulbs market is project to grow at a significant pace due to increasing demand from OEM and aftermarket segments. They are designed to replace the standard headlight bulbs in a vehicle and offer a series of advantages, such as lower power consumption, longer lifespan, and brighter, more focused light output.

It is said that the 21st century will be lit by LED headlamps due to their improved performance and efficiency.

With the prevalence of LED headlight bulbs, some top auto LED lighting companies have made significant technological improvements to improve the quality of their products. If you are looking for the best auto LED headlight bulb brands from reputed manufacturers in the market for wholesale, you've come to the right place.

In this blog, we'll take a look at 5 of the brands of LED car light bulbs that you can buy in best quality. We'll discuss their experience, product quality, customer service, and more. By the end of this article, you will know which manufacturer builds the best brand for LED headlight bulbs.
Top 5 Bestselling & Popular Brands That Offer Excellent Quality LED Headlight Bulbs For Wholesale

#5. Luxfighter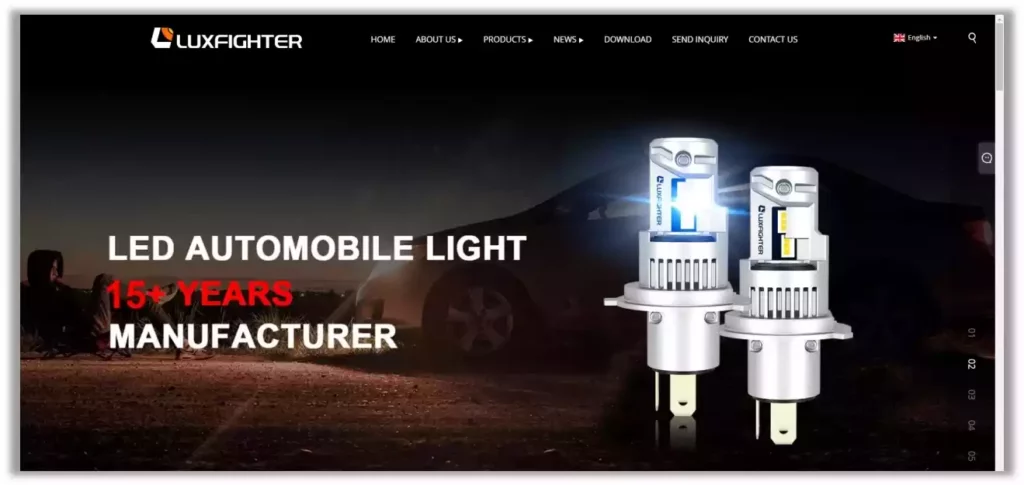 Source: https://www.luxfighter.com/
Founded: 2007
Business Type: Manufacturer
Main Products: LED car headlight bulbs; LED underwater boat lights
Luxfighter is a popular brand for LED headlight bulbs manufactured by Zhuhai Zhengyuan Optoelectronic Technology Co.,Ltd. Established in 2007, with more than 16 years of manufacturing, Luxfighter is becoming one of the top suppliers for powerful LED headlight bulbs. Currently, they have achieved more than 50 product patents, including 3 invention patents.

By offering innovative products and good prices, the Luxfighter LED car light bulbs are selling well in more than 50 countries around the world, including North and South America, Europe, and the Middle East, covering most of the European and American markets.

Located in the Seaside city, next to Macao and near Hong Kong, it has a great convenience for transportation. With 10,000 square meters factory and more than 100 employees, Luxfighter comes with a strong manufacturing capacity which is able to produce 5000-7000 sets of LED headlight bulbs a day.

Besides, Luxfighter has a branch company in Indonesia, which means that they have in-depth knowledge of the local market, allowing them to tailor their products and services to the need of their specific location. By providing high-performance LED headlight bulbs, Luxfighter receives a lot of orders and inquires from retailers and wholesalers worldwide.

#4. Novsight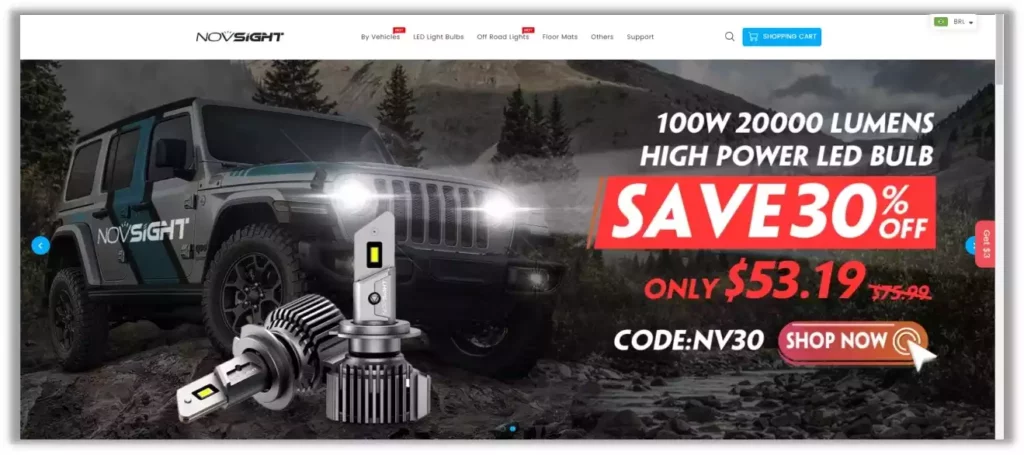 Source: https://www.novsights.com/
Founded: 2015
Business Type: Manufacturer & Trading Company
Main Products: LED headlight bulbs; LED fog lights; LED light bar; Motorcycle lights; Bicycle lights; LED signal light; Car accessories
Novsight is also one of the top LED headlight brands trusted by the biggest retailers and manufacturers in the market. They possess a wide range of ultra-bright and eye-catching LED headlight bulbs at affordable prices, which has made their products the bestselling in more than 80 countries, including the United States, Germany, Japan, Britain, Canada, Australia, India, Southeast Asia etc.

Over the years, the company has been partnering with the world's top suppliers, such as Osram, Philips, SAMSUNG, and Seoul Semiconductor to get the latest LED headlight technology as well as covering clients from all over the world.

The company covers a total area of 6,000 square meters with 15 production lines and 200 skilful workers, making them able to produce LED car light bulbs with more lighting efficiency and lower operational costs.

There is no better option than the brand Novsight. If you are looking for LED headlight bulbs in the most attractive design and pick the best LED technology for the upgrade to car lights.

#3. Philips Automotive LED Car Lights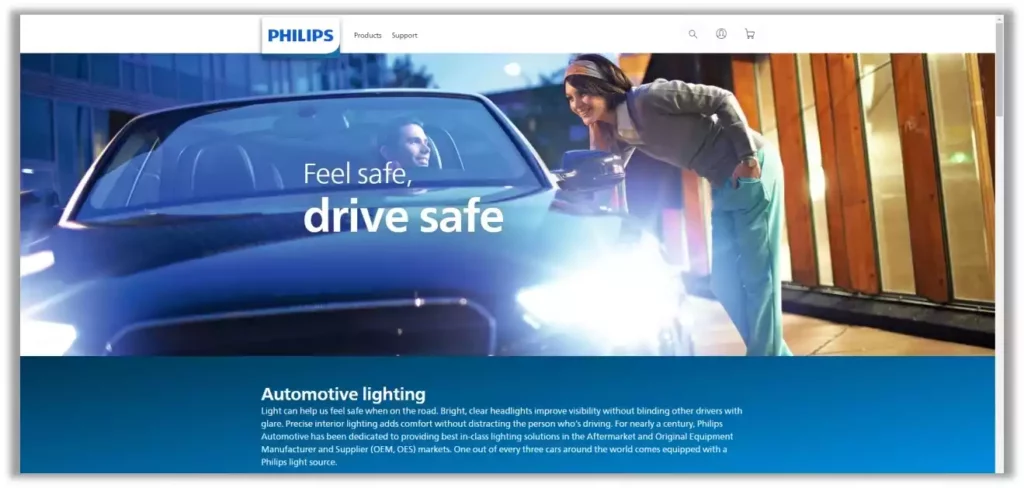 Source: https://www.philips.ca/c-m-au/car-lights
Founded: 1914
Business Type: Manufacturer
Main Products: LED car light bulbs; Motorcycle Lights; HID lamps; LED interior and exterior lighting; LED work lights; Car accessories
For nearly a century, Philips Automotive has been dedicated to providing best-in-class auto lighting solutions in the aftermarket and original equipment manufacturer and supplier (OEM, OES) markets. With a long history of innovation and expertise in lighting technology, Philips has established a reputation as a trusted and reliable supplier of automotive lighting products.

They provide a wide range of car lighting solutions, including LED headlamps, LED exterior & interior lights, and LED fog lights, etc. These products are renowned for energy-efficient, long-lasting, and clear illumination, making them a popular choice for premium brands.

One of the key areas of focus for Philips Automotive Lighting is the development of technology.

With the technical support and professional team, the company's lighting solutions are designed to improve visibility and enhance the driving experience, helping to reduce the risk of accidents and improve the overall safety of roads and highways.

Philips is looking for partners in automotive lighting that shape the future together. Philips provide cutting-edge research, development and manufacturing to power innovation, and create step-change solutions accessible to their partners. With the Philips brand on your side, you have access to the end-to-end technical and business support and accelerate your business growth.

#2. OSRAM Automotive Lighting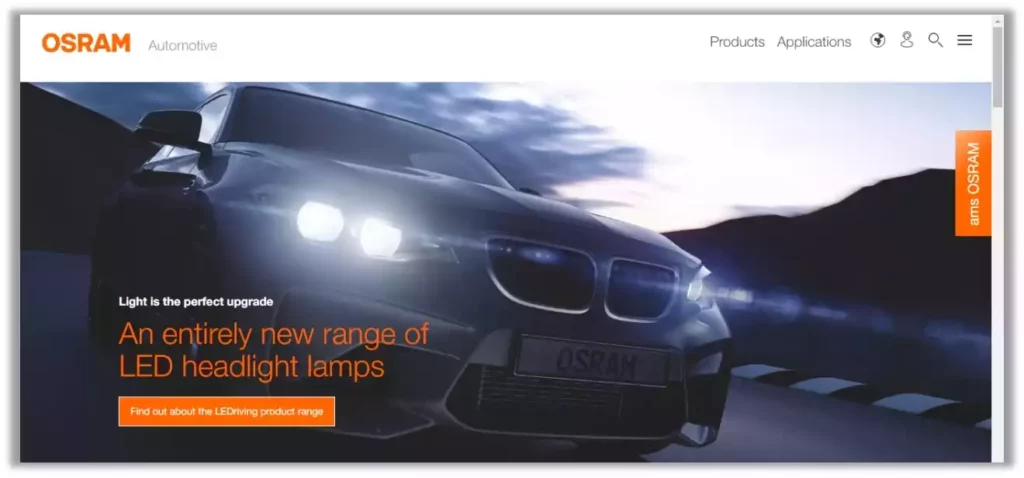 Source: https://www.osram.com/am/
Founded: 1919
Business Type: Manufacturer
Main Products: LED headlight bulbs; Halogen lamps; Signal lamps; LED working lights; Motorcycle lights.
Osram is a significant market supplier of automotive lighting. The company, which was founded in 1919, is a leading maker of LED car headlamps, LED signal lamps, and LED work lights. It focused on the development of technologies to set standards on a fixture level.

With the most sophisticated LED technology and engineering team in the world. Their products feature as stable power, long-lasting, stylish looks with amazing warranty time (5 years). Customers with large orders can take advantage of deeply discounted wholesale pricing, and all customers receive fast shipping. Not only that, Osram provides its deals with technical support and training to help them succeed in the marketplace.

Osram has been in automotive LED lighting for over 110 years. With a history of pioneering technology and a future of game-changing innovations, Osram has built strong brand awareness around the world. Becoming a distributor of Osram's automotive LED bulb, you would benefit from the positive reputation and trust that comes with it.

#1. NAOEVO Lighting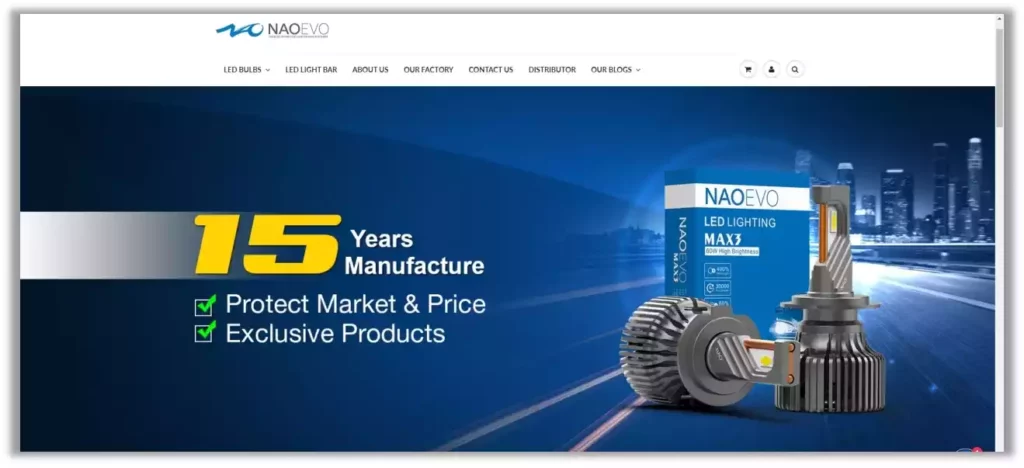 Source: https://naoevo.com/
Founded: 2006
Business Type: Manufacturer & Supplier
Main Products: LED headlight bulbs; Motorcycle LED bulbs; LED works lights; LED exterior & interior lights
Another prominent LED headlight bulb brand in the industry is NAOEVO. Compared with the century-old brands like Philips and Osram, NAOEVO has only 17 years of experience in auto LED light manufacturing. However, it has rapidly evolved into the world's top LED headlight bulb brand.

Founded in 2006, NAOEVO is a leading manufacturer&wholesaler of auto LED lighting solutions in China, dedicated to offering wholesale high-quality LED headlight bulbs, motorcycle LED bulbs, LED work lights and LED interior lights. As a well-known manufacturer, NAOEVO also provides a variety of customized services to define your brand identity.

With 10,000 square meter factory, 4 production lines, 200 employees and a series of advanced automation equipment, NAOEVO is capable of supplying more than 2 million kits of LED headlight bulbs per year, which will greatly satisfy your large orders requirement while offering a competitive wholesale price. NAOEVO has a strong independent R&D team to provide patented design in chip alignment, beam pattern, and heat dissipation, making customers ahead of their peers.

With its world-class innovations and quality-oriented in LED headlight bulbs. NAOEVO has expanded its market especially in America, Europe, Southeast Asia, and Africa. They work with over 40 distributors around the globe and insist on "One Area, One Distributor" to protect clients' market and interests.

NAOEVO has worked with more than 40 distributors around the globe, mainly in the USA, Europe, Southeast Asia and South America. Becoming a distributor of NAOEVO, you will benefit from their "One Area, One Distributor" principle, which means they will protect your market and maximize your interests.

Final Words
There is a high demand for auto LED light bulbs, no doubt. Choosing a reputable brand for LED headlight bulbs in the market will give your car with an unexpected effect in brightness, and light beam pattern, thus increasing your visibility on the road and enhancing your safety.

Now it is up to you to figure out which manufacturer provide the quality LED headlights that aligns with your business. I hope this article helps you get acquainted with some of the available options for sourcing automotive lighting manufacturers to meet your needs.

If you want to learn more information about the best LED headlight bulb manufacturer/supplier, check our other post:
▶ Top 3 Automotive LED Headlight Manufacturers in the World
▶ Top 6 LED headlight bulb manufacturers in India
▶ Top 7 popular brands of LED headlights in India
▶ Find The Best H4 LED Light For Cars in India in 2022
▶ How to Find Chinese LED Headlight Bulb Manufacturer in South America
▶ Top 6 Best LED Headlight Brands in South America 2022
Read more

: Top 5 Quality Brands For LED Headlights in 2023