Wholesalers, manufacturers, and retailers in the automotive lighting industry must find hot-selling automotive LED bulbs at wholesale prices to stay competitive.
In India, a rapidly growing hub for automotive products, the demand for high-quality LED bulbs is on the rise. To help you navigate this dynamic landscape, we have curated a list of the top five most hot-selling automotive LED bulbs at wholesale prices in India.

With the automotive industry booming in India, it's essential to stay ahead of the competition by offering the latest and most popular LED lighting solutions. Our carefully curated list includes the hottest-selling LED bulbs renowned for their exceptional quality, performance, and reliability. Whether you're B2B wholesalers, manufacturers or B2C customers, these LED bulbs are sure to impress you.

Now, let's unveil the top 5 best-selling automobile LED bulbs that available in wholesale prices in India. Don't miss out on this opportunity to stay ahead in the market and provide your customers with the best LED lighting options for their cars.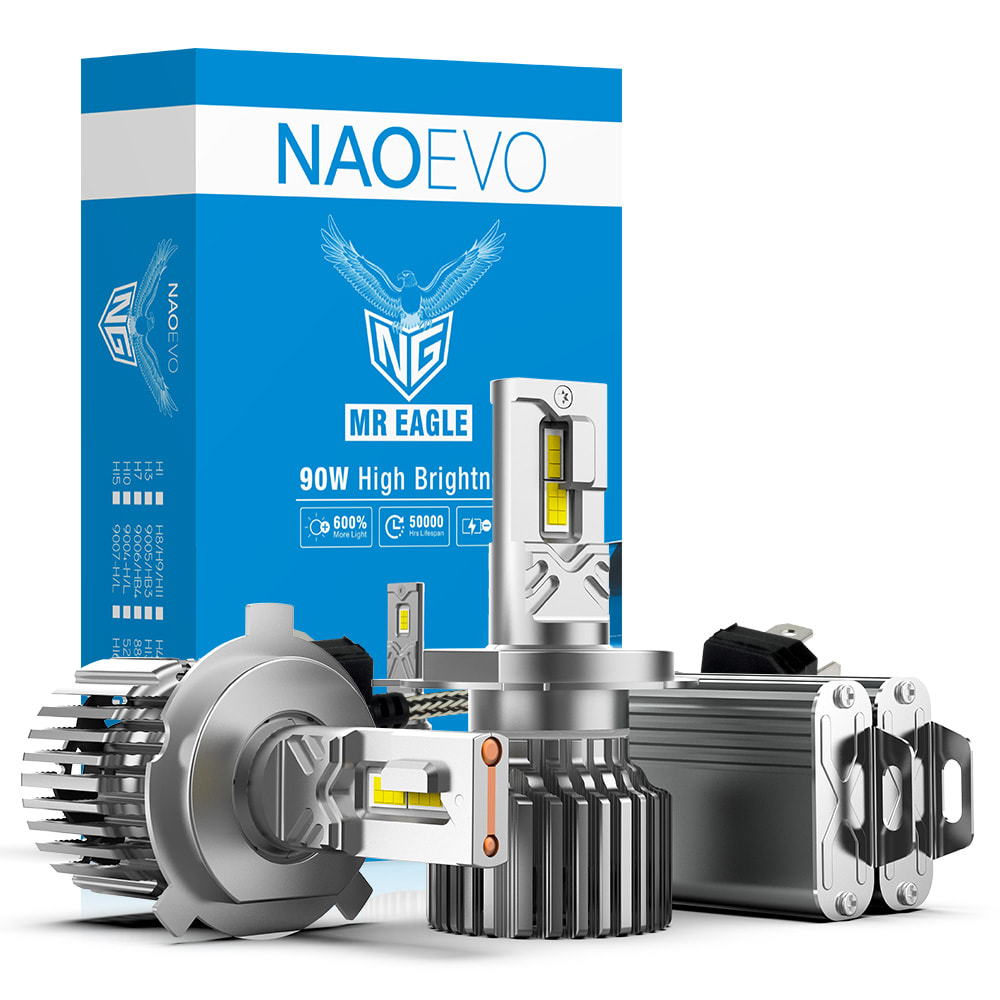 The NG LED headlight bulbs are manufactured by NAOEVO, a trusted name in India's automotive lighting industry for 17 years. Known for their high technology and innovative design, NG LED bulbs have achieved legendary status among Indian consumers, placing the brand among the best in the market.

With high-intensity flip chips, these bulbs deliver an impressive power of 180W and an extraordinary brightness of 21600LM, which is five times brighter than traditional halogen bulbs. The patented chip arrangement ensures a perfect light beam pattern, providing a clear cutoff line on low beam and a focused light on high beam. Experience wider and further visibility at night without causing glare to other drivers with NG LED headlight bulbs.

Featuring advanced tri-cooling technology for efficient heat transfer. With dual copper heat pipes capable of transferring 30W of heat each time, along with a high-speed fan and 6063 large heat sink fins, these bulbs operate at a safe temperature, ensuring optimal performance. Experience high-performing headlights with NG LED bulbs, designed to keep you safe on the road.

The standout feature of the NG LED lamp lies in its captivating eagle-inspired design. The lamp body is crafted to resemble the wings of an eagle, symbolizing the immense power associated with this magnificent creature. Just like the eagle, the lamp emits a powerful light that can instantaneously illuminate even the darkest roads, providing a trustworthy companion on your journey. If you are a wholesaler seeking to sell high-brightness and distinctively designed LED headlight for cars in India, NG LED lights are undeniably your top choice.

Customer Review "I am amazed by the NG LED headlight bulb's perfect beam pattern. It illuminates the road brilliantly without causing any glare to oncoming drivers. Truly impressed with its performance!"

Customer Review "I'm absolutely thrilled with the NG LED headlight bulb! The eagle design adds a stunning aesthetic to my headlights while delivering impressive brightness at night. Their high-tech and innovative design are simply amazing!"
Unique Selling Points
Stable and high power of 180W 21600LM
Upgraded bigger copper heat pipe
Unique and modern eagle design
Excellent light beam pattern with no dark spot
Available in best wholesale prices
Specification
| | |
| --- | --- |
| Brand | NAOEVO |
| Wattage | 90W/Bulb |
| Lumen | 10800LM/Bulb |
| Voltage | DC9-16V |
| Color temperature | 6500K White |
| Warranty | 2 Years |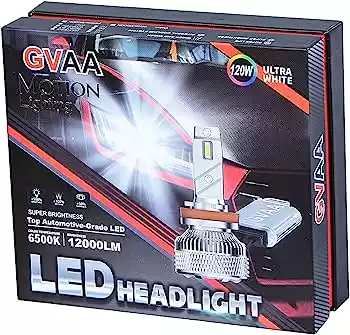 The GVAA LED Headlight Bulbs are the perfect choice for automotive enthusiasts seeking superior brightness and performance. These headlight bulbs deliver an impressive 120W of power and a remarkable 12000LM output per pair, ensuring you experience exceptional visibility on the road. With a crisp 6500K white light, these bulbs offer a clear and distortion-free lighting experience, providing focused illumination that covers a wider angle.

One of the standout features of GVAA LED Headlight Bulbs is their easy installation process, thanks to their compact design. Whether you're a professional or a DIY enthusiast, you'll appreciate the hassle-free setup. Furthermore, these bulbs are constructed using solid and heavy-duty materials, making them incredibly durable and capable of withstanding even the harshest weather conditions in India.

To ensure optimal performance and longevity, GVAA LED Headlight Bulbs are equipped with an inbuilt cooling fan system. This innovative feature prevents overheating, effectively extending the lifespan of the product. You can enjoy brighter, more efficient lighting for an extended period without worrying about premature bulb failure.

Upgrade your vehicle's lighting with GVAA LED Headlight Bulbs and experience the perfect balance of brightness, durability, and reliability. Stay safe on the road while enjoying exceptional visibility in all driving conditions.

Customer Review: "They provide a better beam beam pattern that is super focused and illuminates the path ahead. They are more efficient and offer more brightness."

Customer Review: "I'm impressed by the GVAA LED headlight bulbs! Their solid and heavy-duty materials make them incredibly strong and durable, able to withstand even the harshest weather conditions."
Unique Selling Points
3 times brighter than halogen bulb
Even beam pattern, no glare to other drivers
40% cooler than others, high quality aluminum body
360 degree adjustable beam
15 minutes quick installation
Specification
| | |
| --- | --- |
| Brand | GVAA |
| Wattage | 65W/Bulb |
| Lumen | 6500LM/Bulb |
| Voltage | 12V |
| Color temperature | 6500K |
| Warranty | 1 Year |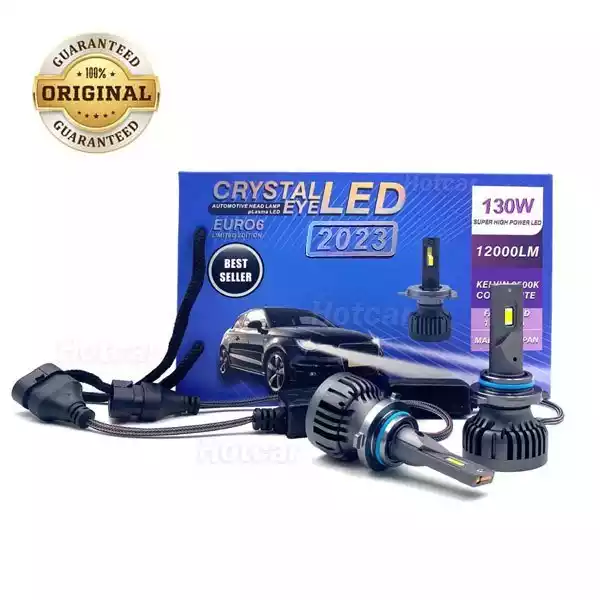 The Crystal Eye 2023 version LED bulb for car is the ultimate upgrade from their 2022 counterparts, especially in terms of brightness. These new LED headlight bulbs boast an impressive high output of 130W 13000LM per set, surpassing the previous version's 120W 12000LM. Despite the significant improvement, the prices remain affordable, ensuring excellent value for money.

One of the key features of the Crystal Eye LED headlight bulbs is their innovative heat dissipation method. Utilizing a single copper heat-pipe and a thin copper substrate, the bulbs effectively transfer heat from the chip. Combined with a high-speed fan, this intelligent design ensures the LED bulbs operate within a safe temperature range, extending their lifespan.

With adaptability in mind, Crystal Eye LED headlight bulbs come with a rotatable holder, allowing easy adjustment of the beam pattern to suit different types of car headlight housing. Furthermore, their compact design facilitates effortless installation, making them a top choice for wholesalers and manufacturers looking to sell LED headlight bulbs in India.

Customer Review: "The Crystal Eye LED headlight bulbs transformed my Maruti Suzuki with their incredible brightness. They provide exceptional visibility, making night driving safer and more enjoyable."

Customer Review: "Thanks to CrystalEye LED headlight bulbs, the lighting range on my car has dramatically improved. allowing me to see obstacles from a distance, giving me confidence while driving at night."
Unique Selling Points
Imported COB LED for upgraded brightness
High-quality driver chip
6500K cool white light for better visibility
13,000RPM high-speed fan for faster cooling
Waterproof and shockproof
Specification
| | |
| --- | --- |
| Brand | Crystal Eye |
| Wattage | 65W/Bulb |
| Lumen | 6500LM/Bulb |
| Voltage | DC9-32V |
| Color temperature | 6500K |
| Warranty | 1 Year |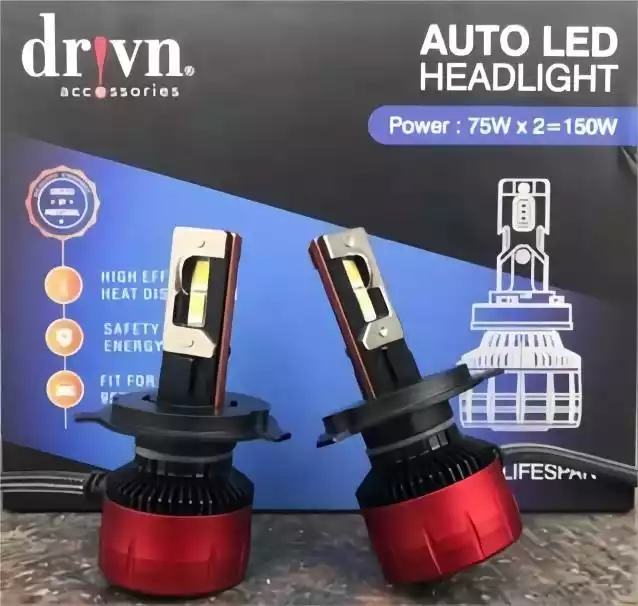 The hot-selling Drivn LED headlight bulbs are the preferred choice for auto enthusiasts in India. With a remarkable brightness of 150W 12000LM, these bulbs outshine the competition. What sets them apart is their exceptional cooling technology. The exposed copper heat pipes on both sides are designed to achieve faster heat transfer, then with the help of high-speed silent fan, aluminum heat sink and fins, they runs much cooler than others.

The unique red heat sink design adds a touch of style to these bulbs. Equipped with a Canbus driver, they ensure stable brightness and seamless compatibility with most car models, without triggering any errors. Not only do they deliver high power, but they also boast low energy consumption, making them a popular choice for LED headlight bulbs in India.

Drivn LED headlight bulbs provide the perfect combination of performance, durability, and aesthetics. Trustworthy even in harsh weather conditions, they illuminate the road ahead with unparalleled clarity. Upgrade your driving experience with Drivn, the brand that delivers on its promise of superior quality and reliable lighting solutions.
Unique Selling Points
High-efficiency heat dissipation
Safety and energy saving
Fit for over 95% car models
IP65 waterproof
Cree Chiset, ultra bright
Specification
| | |
| --- | --- |
| Brand | Drivn |
| Wattage | 75W/Bulb |
| Lumen | 6000LM/Bulb |
| Voltage | DC9-16V |
| Color temperature | 6500K |
| Warranty | 2 Years |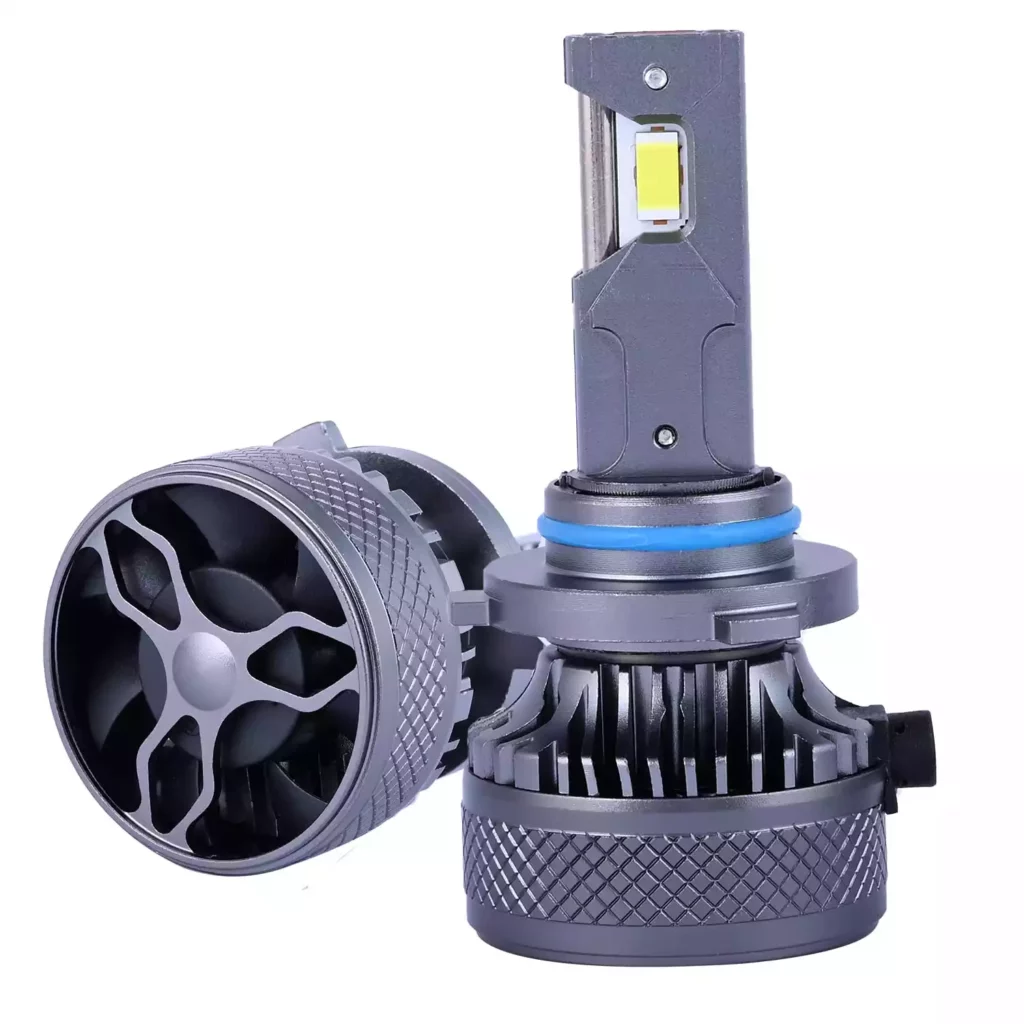 High compatibility with most of popular cars in India, such as Maruti Suzuki, Hyundai, Honda, Alto, and Tata, the LED headlight bulb from ALLEXTREME will make sure you can drive on your car worry less even in the night or adverse weather. Known to provide a high output of 19800LM per set, these bulbs ensure that the road and path in front of you are brilliantly illuminated, providing utmost safety during your drives.

Featuring ultra-thin LED chips, these bulbs deliver a focused light beam, effectively eliminating the problem of uneven focus. Say goodbye to glare and blinding light that can disturb oncoming traffic. The ALLEXTREME LED bulb ensures a clear and well-defined beam pattern, keeping you and others safe on the road.

Designed for high durability, this headlight boasts a temperature control driver, preventing degradation due to overheating. No matter how long your journey, you can trust the ALLEXTREME LED bulb to maintain its exceptional performance.

Moreover, its incredible cooling ability guarantees uninterrupted functionality even in challenging conditions. You can rely on these headlight bulbs to perform flawlessly, regardless of the circumstances.

Upgrade your driving experience with ALLEXTREME K18 LED Headlight Bulbs and enjoy the unrivaled combination of maximum brightness, precise focus, and reliable performance. Stay confident and secure on every drive with these cutting-edge LED bulbs.

Customer Review "Way better than the ones that are 3x costlier in the market. Have been running without any electrical problems and the light strength is good."

Customer Review "ALLEXTREME LED is the best purchase for me. Very bright and Value for money. I have tried many other brands but this is the best purchase and very good bulb quality"
Unique Selling Points
Energy efficient, more illumination with low power consumption
19800LM high brightness to improve vision on the road
Hassle-free installation
360 degree heat radiating
Specification
| | |
| --- | --- |
| Brand | ALLEXTREME |
| Wattage | 65W/Bulb |
| Lumen | 9900LM/Bulb |
| Voltage | 12V |
| Color temperature | 6000K White |
| Warranty | 2 Years |
How To Source Best Automobile LED Headlight That Cater to Indian Market?
When sourcing automobile LED headlight bulbs that cater to the needs of Indian customers, it's important to consider the following steps:

1. Research Indian Market: Gain a deep understanding of the Indian automotive market, including popular vehicle models, lighting regulations, and customer preferences. This will help you identify the specific requirements and expectations of Indian customers.

2. Choose Reputable Suppliers: Look for reliable suppliers with a proven track record of providing high-quality automotive LED headlight bulbs. Consider suppliers who have experience serving the Indian market and have positive customer feedback.

3. Focus on Brightness and Beam Pattern: Indian road conditions often require headlights with excellent brightness and a well-defined beam pattern. Ensure the LED headlight bulbs you source offer sufficient luminosity and provide a focused beam without causing glare to oncoming drivers. You can buy some samples to test the brightness and light beam pattern of the LED headlamp and other performances

4. Evaluate Durability and Longevity: Indian roads can be challenging, so durability is crucial. Seek LED headlight bulbs that are built to withstand tough conditions, including temperature variations, dust, and vibrations. Longer lifespan bulbs will also reduce the need for frequent replacements.

5. Provide Localized Support: Ensure that the supplier offers reliable customer support, including localized services such as easy availability of spare parts, quick response to queries, and warranty coverage.
Final Word
In conclusion, based on the top 5 best-selling LED headlight bulb, the best-overall auto LED bulb for car would be NAOEVO NG LED car light bulbs. With its exceptional brightness, precise beam pattern and efficient cooling, it stands out as one of the most popular choice in India. Whether you prioritize safety, durability, or ease of installation, NAOEVO has it all.