In recent times, LED headlights have gained significant popularity across India. Many drivers admire the bright, white light that LED bulbs produce. LEDs are also more energy efficient than traditional halogen bulbs, which means they can help to reduce your car's overall fuel consumption.

But sometimes, when people put new LED headlight bulbs in their cars, they might face a Canbus Error issue. This happens because the LED bulb's power doesn't match the car's specifications, causing compatibility problems.

That's why 55W LED headlight bulbs are becoming a hit in India. They use the same energy as regular halogen bulbs but give off 3-4 times brighter light and using less power.

We've put together a list of the top 7 best 55W LED car lights in India. This can help you figure out if they're the right choice for you.
Best 55W LED Car Lights Overall
Rating:⭐⭐⭐⭐⭐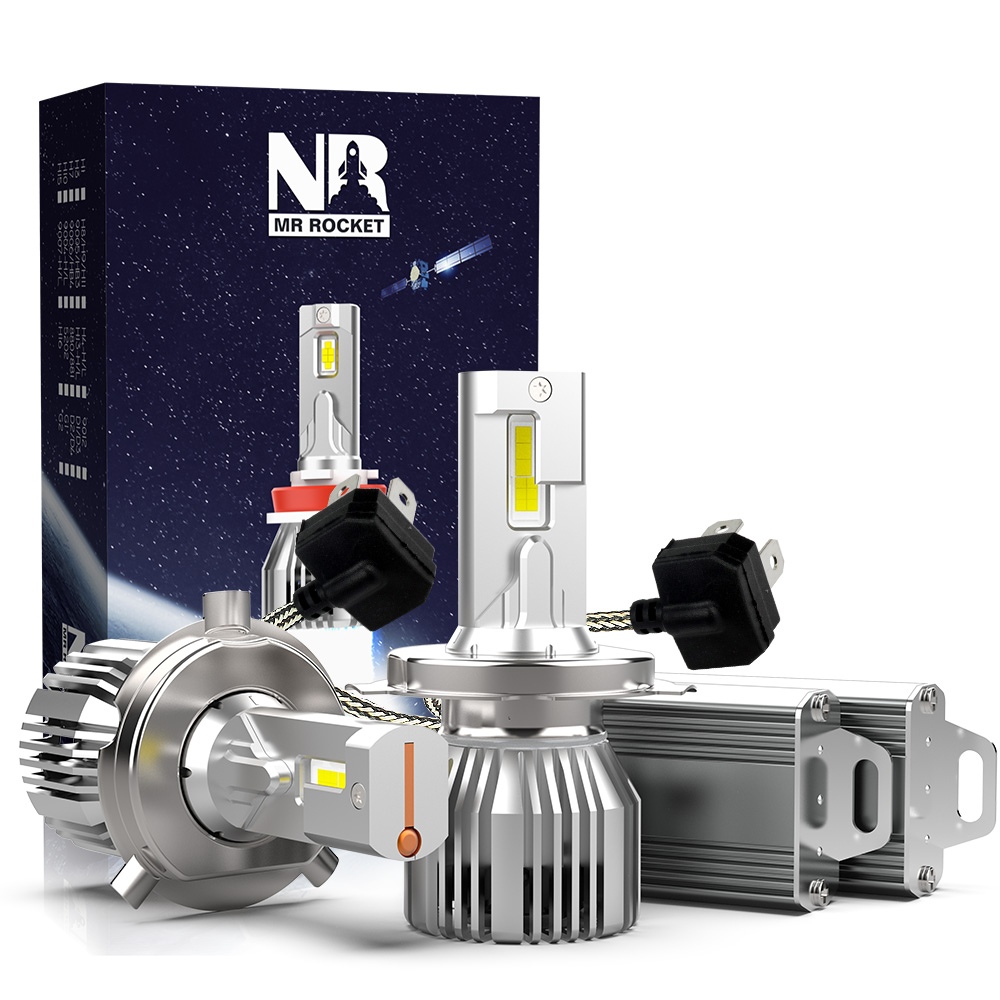 If you are looking for quality 55W LED headlight bulbs in India that can greatly match your vehicle's computer system with outstanding design. Then you should look no further than NAOEVO NR series – Mr. Rocket LED car bulbs!!!

The NR LED bulbs are considered as one of the most hot-selling auto lights in India. By adopting 6pcs 55MIL high-efficient flip chip, these bulbs deliver a power of 55W 6600LM per bulb in total, and 6500K cool white.

Unlike other normal 55W LED bulb, NR LED headlight bulbs are equipped with dual copper heat pipe to achieve better cooling, the aluminum body and high-speed fan help to conduct the heat to outward. They can operate for a long lifespan of 50000 hrs.

The mini design is also an eye-catching selling points, NR LED bulbs are 1:1 design as OEM halogen, so they have a standard light beam while provide super easy installation for most headlight.

The external Canbus driver can greatly simulate the working current as your stock halogen, making ZERO ERROR like flickering, dashboard warning and radio interference.

The stylish ROCKET design also makes these bulbs stand out from the crowd, so why wait? Contact supplier today to get the best price.
Specification
Power: 55W
Lumen: 6600LM
Color Temperature: 6500K
LED Chip : FLIP CHIP
Heat Dissipation: Copper Heat Pipe + Fan + Heat Sink
Warranty: 1 Year
Best 55W LED Bulb For Night
Rating: ⭐⭐⭐⭐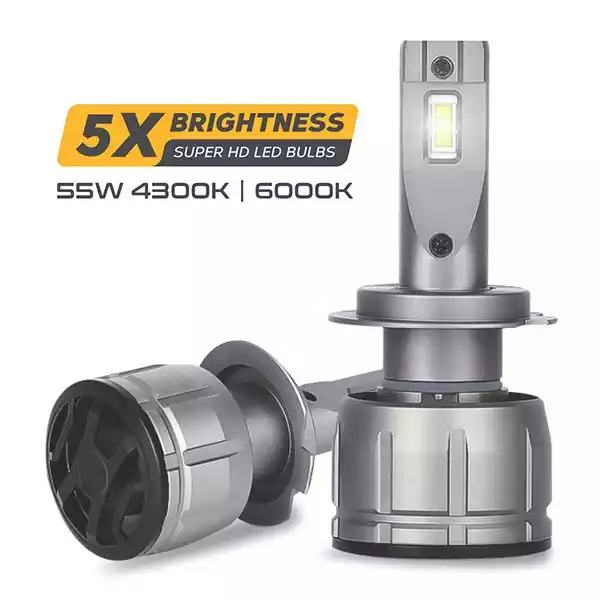 Looking for better visibility while driving at night? DHC F55 series LED bulbs are another perfect solution! With 55W and 7000LM per bulb, these bulbs provide a much clearer vision than original halogen bulbs.

The wider beam pattern also ensures that you won't blind or glare oncoming traffic. These bulbs are safe and reliable, so you can drive with confidence knowing that you have the best visibility possible. 

You may be surprised that these bulbs are available in 4300K and 6000K option. If you want quality 55W LED bulbs with softer and more comfortable color temperature, DHC F55 LED headlight is a good choice.

What's more, these F55 LED headlight bulbs are equipped with premium heat-resistant 6063 aluminum and cooling fan, ensuring that the bulb will with stand the heat generated by the chip.

Additionally, the external driver means that you can simply plug and play these bulbs without having to worry about the CANBUS ERROR problem.
They are available in a wide range of mode such as H1, H4, H7, H11, 9005, 9006, customers can choose the right one.
Specification
Power: 55W
Lumen: 7000LM
Color Temperature: 6000K or 4300K
LED Chip : Automobile grade High power LED chip
Heat Dissipation: Aviation Aluminium 6063 + Fan
Warranty: 1 Year
Best 55W LED Bulb For Budget
Rating: ⭐⭐⭐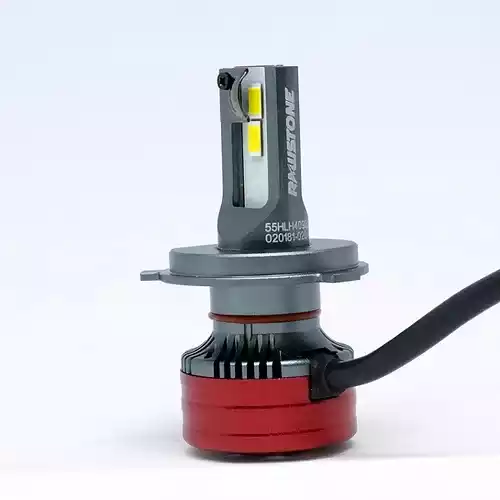 This powerful and efficient RAWSTONE LED headlight kit is perfect for upgrading your existing headlights in India. With 55W power, these bulbs are 3 times brighter than standard halogen bulbs, making them perfect for illuminating the road ahead while running an optimal current that suitable for car lighting system.

The focused beam pattern design provides a wider and farther lighting range, while the aviation aluminum body ensures long-lasting durability. Plus, with over 5,000 hours of lifespan, you can be confident that these headlights will provide reliable performance for many miles to come. 

This bulb is CAN bus ready for 98% of vehicles on the road. They come with OEM connector and can replace any motorcycle or car headlight bulb. In this case, RAWSTONE LED Bulb can be installed without any electrical changes.

Likely, they are available for 5500-6000K color temperature for different needs of customers. All in all if you want a bright, reliable, and long-lasting 55W LED headlight, then get these.
Specification
Power: 55W
Lumen: N/A
Color Temperature: 5500 – 6000K
LED Chip : High quality automotive grade LEDs
Heat Dissipation: Copper Piping + Aviation Aluminium 6063 + Fan
Warranty: 18 Months
Best 55W LED Bulb For Long-Lasting
Rating: ⭐⭐⭐⭐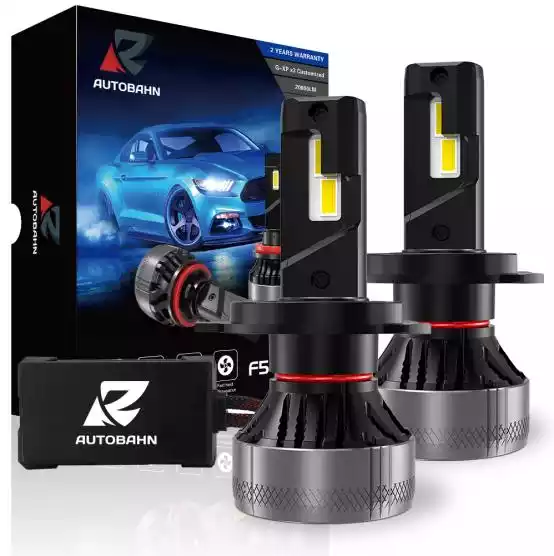 If you are searching for ultra-bright 55W LED headlight bulbs in India, AUTOBAHN F5 G-XP3 LED Headlight should be in your list.

By using premium G-XP3 LED Chip, these bulbs deliver a high power of 55W 10,000LM per bulb, which is 5 times brighter than halogen. Don't worry about the glare light, these bulbs are equipped with latest optics technology to offer a redefine brightness and precise beam pattern.

AUTOBAHN LED bulbs are well-known for their durability. That's because they're built with liquid heat pipe and dual ball fan with 6063 aviation aluminum, which can quickly reduce heat and ensure a long lifespan of over 30,000 hrs.

The built-in EMC system decoder is designed for anti-interference, anti-flicker, and the Canbus driver makes them compatible with most vehicle's computer system.
Specification
Power: 55W
Lumen: 10,000LM
Color Temperature: 6500K
LED Chip : G-XP3 LED Chips
Heat Dissipation: Heat-pipe + Aviation Aluminium 6063 + Fan
Warranty: 2 YEARS
Best 55W LED Bulb For Easy Install
Rating: ⭐⭐⭐⭐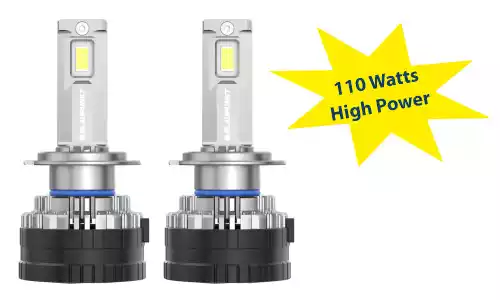 Make the road your own with Blaupunkt's commitment to innovation and excellence.

The Blaupunkt 55W LED Headlight Bulbs are ideal for trucks or cars in India because they're made with 6000K eye catching cool white light that will enhance the aesthetics look of your headlight.

With 55W and 5500LM per bulb, these Blaupunkt V19 LED bulbs are 3 times brighter than standard halogen bulbs, making them perfect for illuminating the road ahead. 

Setting a standard for brilliance and performance, Blaupunkt offers cutting-edge technology that guarantees unparalleled beam precision, which won't blind oncoming traffic.

Looking for a long-lasting 55W LED bulb for cars? These bulbs feature IP68 water resistant, and they dissipate the heat by using high-speed fan and quality 6063 aluminum.

Plus, their upgraded CANBUS system means they are compatible with 98% of vehicle without requiring modifications to the existing electrical systems. This simplifies the retrofitting process and allows for a hassle-free upgrade to LED technology.
Specification
Power: 55W
Lumen: 5500LM
Color Temperature: 6000K
Heat Dissipation: Aviation Aluminium 6063 + Fan
Warranty: 2 YEARS
BEST RECOMMEND 55W LED BULB FOR CAR IN INDIA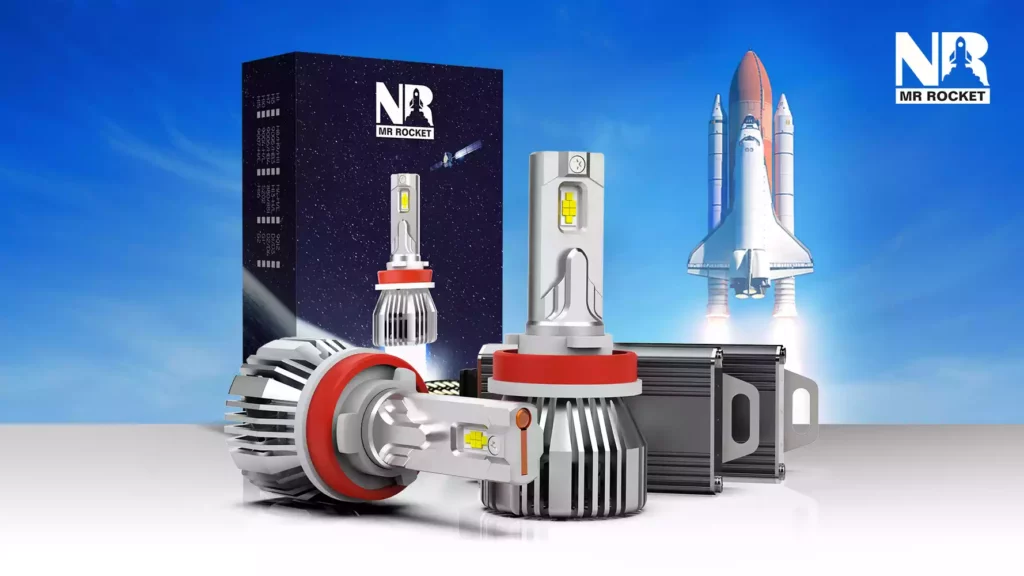 The above are regarded as the best 55 watts LED car light bulbs in India, renowned for their exceptional luminosity and extended durability. Meanwhile, they operate 55W, the same current as halogen bulbs, there is typically no need for significant rewiring.

If you are still don't know which to choose, then we highly recommend you to choose the NAOEVO NR LED lamp, because it performs well in all aspects, and most importantly, the price is also within the acceptable range.

Here is the benefits you can get from these bulbs:
STANDARD LIGHT BEAM PATTERN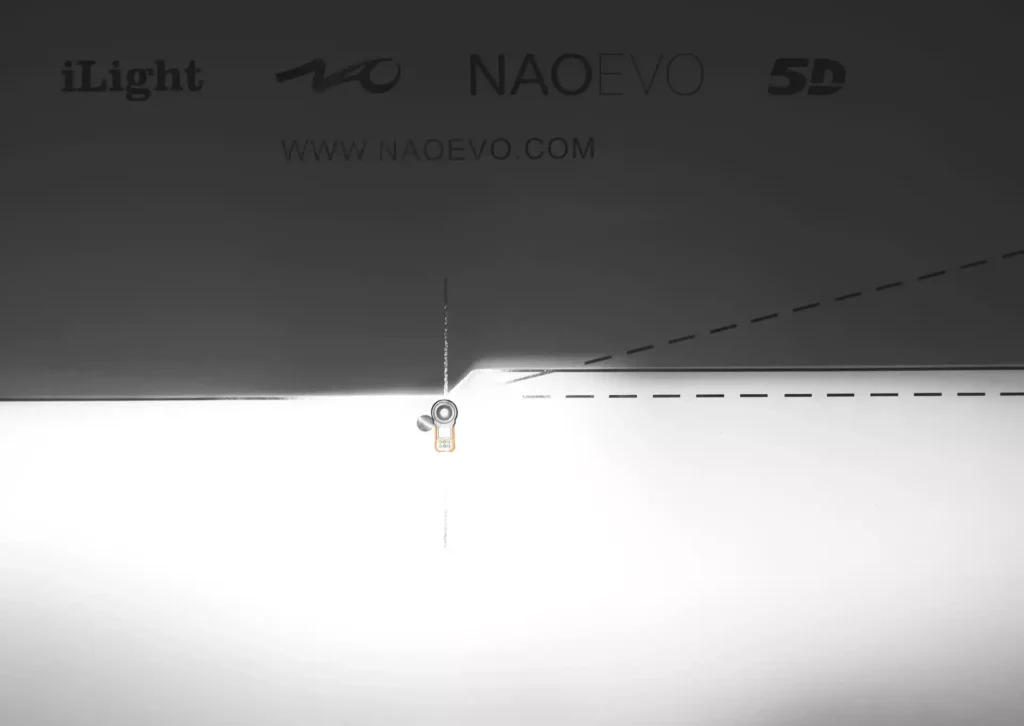 From the above two pictures, you can see that the low beam of NR LED bulbs showcase a clear cutoff line, this design enables a safe driving experience so oncoming drivers won't be blinded by the sharp light.

For the high beam, there is a focus spotlight in the center with full and uniform brightness, so driver can see wider and further.
UPGRADED BRIGHTNESS


Here is the brightness comparison between halogen and NR LED headlight bulb. NR LED headlight bulbs can reach a distance of up to about 985ft (300 meter) compared to halogens which can hardly cover about 325ft (100 meter).

NR series 55W LED bulb covers a wider range, illuminating the sides of the road better while getting rid of those dark spots effectively.
EASY INSTALLATION

NR LED bulbs are 1:1 design as halogen, which means that they come with super easy installation as stock bulb. Just plug-n-play, the mini design also leaves enough space for heat dissipation.

The 55 watts has the same current / power consumption as the halogens without draining the battery of your vehicle.
PREMIUM QUALITY GUARANTEE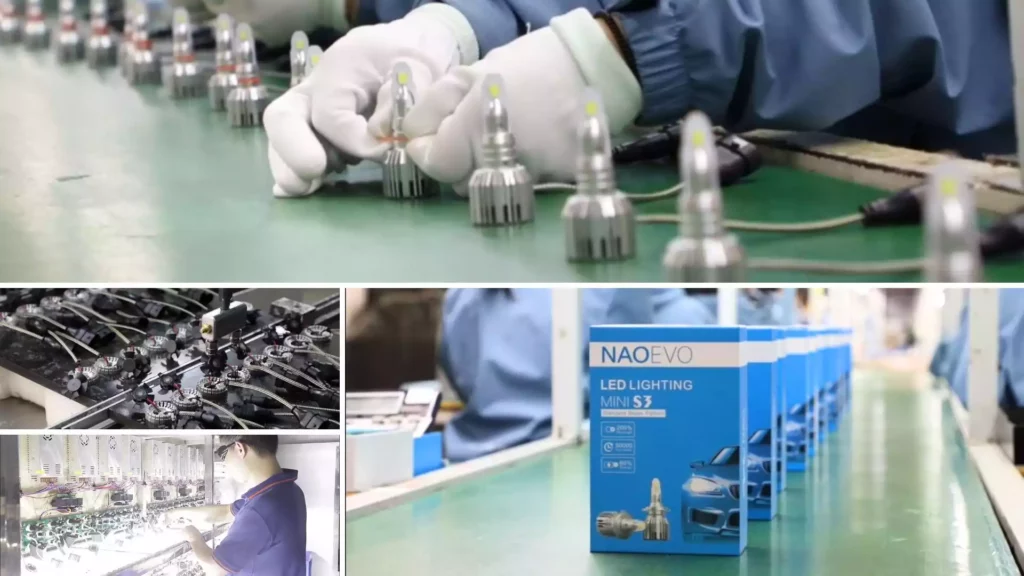 NR LED headlight bulbs are manufactured by NAOEVO, one of the biggest automotive lighting manufacturers in the world. All of their products are hot welcome in India thanks to its state-of-art quality and lowest wholesale price.

This owing to their strong team comprising 20 engineers, 200 skillful workers, and 10 quality control inspectors. They are able to ensure that every product shipped to the customer is of the highest quality.

Moreover, NAOEVO also offers wholesale auto LED bulbs at factory-direct prices. This isn't just about good deals; it's about maximizing profits for their valued customers.
CUSTOMER REVIEW

CONCLUSION
Showcasing the finest in LED technology, these list of 5 55-watt LED bulbs stand as India's premier choice for elevating your car's illumination.
Combining brilliance and energy efficiency, they promise a secure and stylish driving experience.
Transform your vehicle's lighting with these exceptional selections, perfectly uniting performance and aesthetics.