Having a set of LED headlights is a bright idea! H7 LED bulbs for car are popular in the Indian automotive LED lighting industry due to their very bright and precise light beam pattern compared to halogen units, allowing drivers to see farther and clearer.

LED headlight bulbs are favored by many customers for the benefits that build for them. A big advantage of LED car light bulbs is their energy efficiency. LED headlight bulbs consume a little power to produce maximum brightness, drawing a third of the power compared to halogen headlights.

With the increasing maturity of LED headlamp technology. It is common to find that some vehicles such as Maruti, Hyundai, Honda, and Toyota are equipped with stock LED headlights. You can also find a great variety of H7 LED headlight kits on the online market place.

If you are in the pursuit of quality H7 LED car bulbs in India, then you are in a right place!!

In this blog, we have explored some of most popular H7 LED headlight bulbs at best price that you can buy in India. It will help you in choosing the right LED bulb for your vehicle.  
List of 5 Best H7 LED Headlight Bulb In India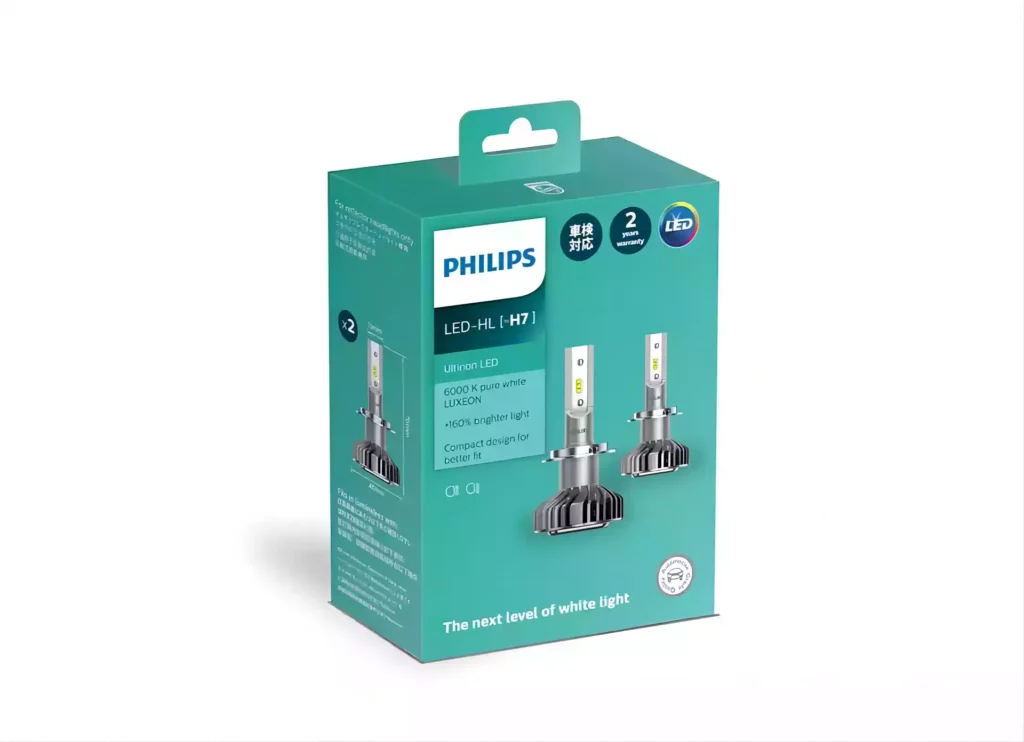 The technologically advanced Philips lighting is renowned in the automotive industry and has been for over 100 years. One of their products, Philips Ultinon H7 LED headlight bulbs are popular in the Indian auto lighting market!

The Philips Ultinon Pro5000 stands out with its exceptional brightness, delivering up to 160% more illumination compared to stock halogen headlights. Additionally, the 6000K cool white light adds an aesthetic appeal to your vehicle. Unlike other high-performance LED headlight bulbs that may have a shorter lifespan, these bulbs offer an extended usage of up to 30,000 hours, ensuring long-lasting performance.

Some inferior LED brands are riddled with problems such as short lifespan, flickering, and horrible beam patterns. By implying only automotive grade quality materials in the manufacturing process. The Philips Ultinon H7 LED headlights to boast a strong, wide, and sharp light beam pattern. Moreover, these bulbs carry with integrated driver to avoid flickering. Philips' patented SafeBeam technology also ensures a perfect light beam pattern without dazzling other drivers.

The Philips Ultinon Pro5000 is also designed as a simple plug-n-play installation and it is suitable for 12V and 24V vehicles. You can always buy Pro5000 H7 LED bulbs in confidence, they will let your car experience the next level of brightness! Check out the test of Philips Ultinon Pro5000.
Specifications:
Power: 28W, 2200LM
Bulb Model: H7
Color: 6000K cool white
Voltage: 12V/24V
Warranty: 2 years
| | |
| --- | --- |
| Pros | Cons |
| Standard beam pattern as halogen | Error is possible with some cars |
| Increased brightness | |
| Reliable LED technology from Philips | |
| All-in-one design | |
Osram is a century-old brand renowned for its advanced LED bulb technology, brings its excellence to India. The Osram LEDriving H7 LED bulbs offer the miraculous combination of stylish white light with a color temperature of 6000K while also greatly increasing the brightness on the road. Driving with Osram LEDriving H7 headlights, users will enjoy a vivid brightness and these bulbs will allow other drivers to be alerted to your presence.

Osram has utilized the latest technology and the most sophisticated LED components to ensure an outstanding lighting performance: perfectly positioned and uniformly diffused. It means that they won't blind other drivers and offer superior brightness.

What makes Osram LEDriving H7 bulbs from many of its competitors is the long warranty, with 5-year warranty guarantee. It is one of the most attractive selling points of Osram LED headlights.

The LEDriving HL H7 LED bulbs offer a long lifespan of up to 8 years with an extremely generous five-year guarantee. Providing a long warranty means that the manufacturer is confident about its products. So you know you're getting a terrific LED bulb that you can depend on. You can also look at the Osram LEDriving reviews.
Specifications:
Power: 18W, 1215LM
Part Number: H7
Color: 6000K cool white
Voltage: 13.5V
Warranty: 5 years
| | |
| --- | --- |
| Pros | Cons |
| No glaring thanks to optimal light distribution | A little bit complex in installation |
| 5-year OSRAM guarantee | |
| Premium quality and durability | |
| Suitable for 12V and 24V vehicles | |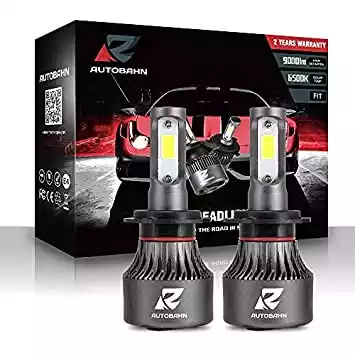 After considerable research, we chose this quality S2 LED headlight kit from Autobahn, one of the Indian leading brands in auto LED headlights. These Autobahn H7 LED headlight bulbs are a good balance of performance and longevity. They deliver as much as 9,000 lumens which are 200 percent brighter than stock factory headlights. These bulbs come with a cool white 6500K temperature and are equipped with a BridgeLux COB chip for 360 degree beam angle.

Autobahn S2 LED headlights to use an aluminum body design with a 12000 RPM double ball fan to achieve 20 times fast in the heat dissipation than other general products. In this case, they can operate for over 50,000 hours.

Autobahn Technologies has made its bulbs are all-in-one design and compatible with most vehicles. They are also IP67 waterproof with a two-year warranty and lifetime support. These bulbs are available in the most common H7 styles. Installation is easy thanks to their integrated design. The company caters to the high-end market, so if the price is not your consideration, these H7 LED bulbs should be at the top of your list.
Specifications:
Power: 72W, 9,000LM
Part Number: H7
Color: 6500K cool white
Voltage: 12V
Warranty: 2 years
| | |
| --- | --- |
| Pros | Cons |
| No need for extra wiring, plug-n-play | The brightness is much bright compare to others |
| Long lifespan with 2 years of warranty | |
| Premium build quality | |
| 6500K daylight white | |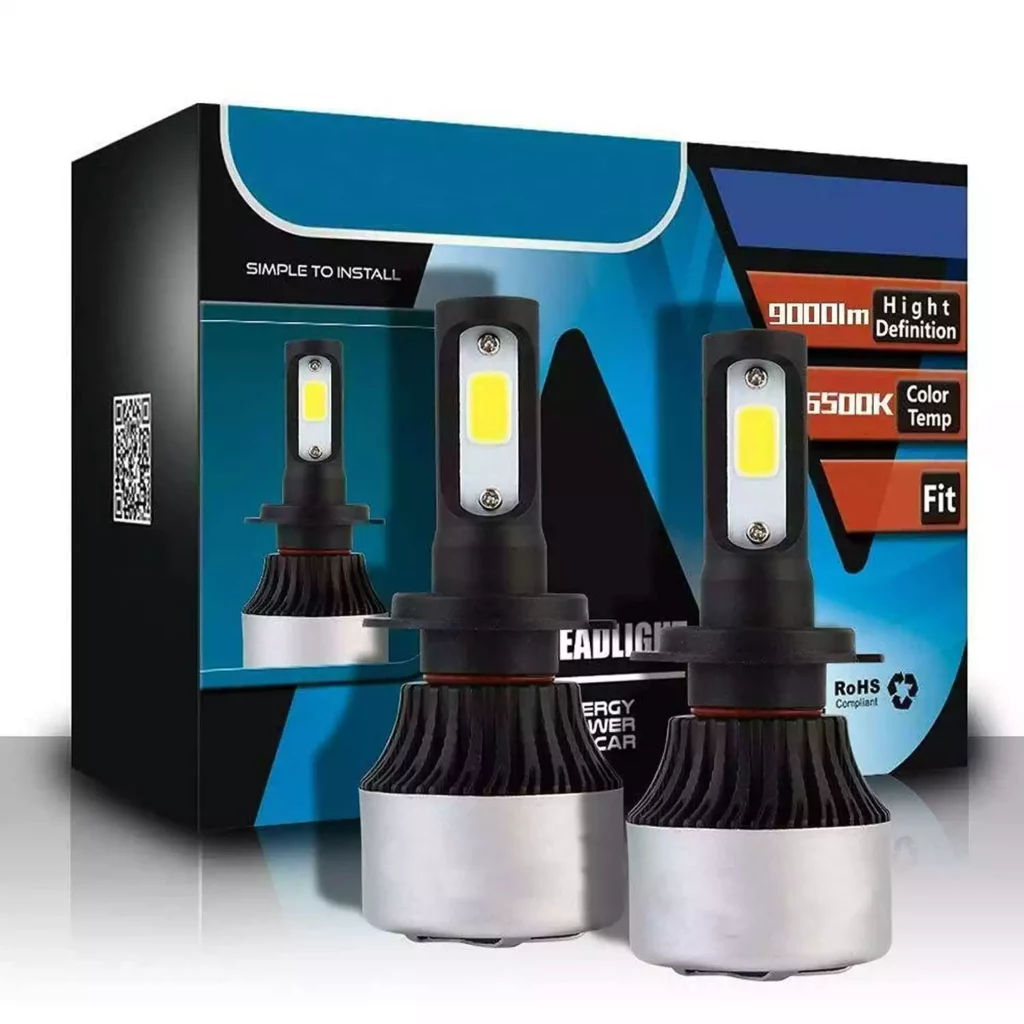 If you are on a budget but don't want to sacrifice quality, then the Otoroys H7 LED headlight bulbs are a great choice for you! Aside from LED bulbs' compatibility, they are also featured as high quality.

These LED headlights are designed in such a way that it offers a great vision at night. With high power of 9000LM, 72W and 6500K cool white light for imported CSP LED chips, Otoroys H7 LED bulbs to provide maximum light efficiency while avoiding any glare. When compared to other standard brands on the market, these LED bulbs can produce 30% more light, which is impressive!  

Moreover, these Otoroys H7 LED headlight kits are shockproof, waterproof, and durable. They are outfitted with powerful LED drivers that are vibration-resistant and overheat-protection. The entire structure of LED bulbs is made of aluminum material which can prevent corrosion and achieve better heat dissipation so that they prolong the lifespan by up to 10,000 hours.
Specifications:
Power: 72W, 9000LM
Part Number: H7
Color: 6500K cool white
Voltage: 12V
Warranty: 1 year
| | |
| --- | --- |
| Pros | Cons |
| Best budget price | The light beam pattern need to be improved |
| IP68 waterproof and dust proof | Could set off the flashing warning light |
| The aluminum body reduces heat and keeps the circuit cool | |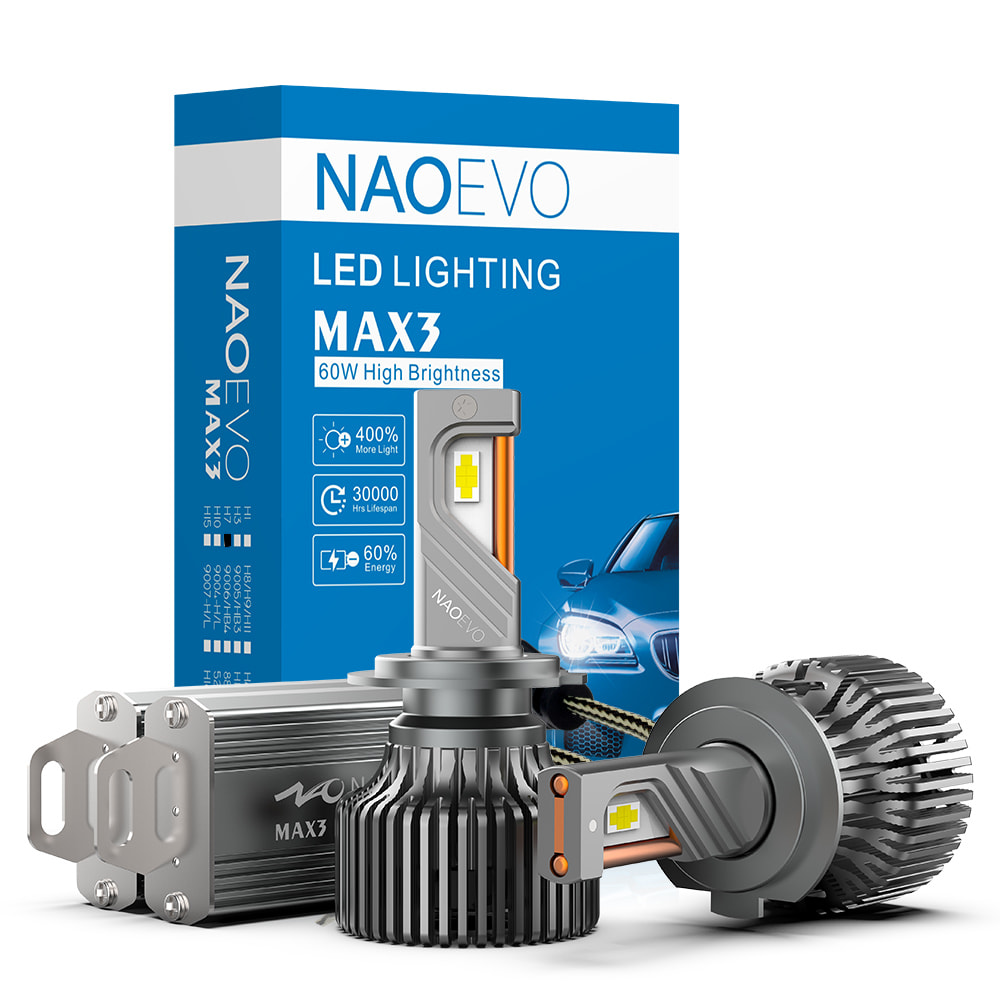 Though based in China, NAOEVO has established itself as a reliable and trusted brand in the India market for 17 years. Specializing in manufacturing high-quality automotive LED headlamps, NAOEVO is dedicated to meeting the specific needs and preferences of Indian drivers with their reliable and top-of-the-line products.

Among their products, the NAOEVO MAX3 H7 LED car light bulbs have gained immense popularity in India as the top-selling products, thanks to their exceptional brightness and flawless light beam pattern. These bulbs have become the preferred choice for Indian customers seeking superior lighting performance for their vehicles.

This is without a doubt one of the best options to be considered if you don't want to take the risks of scattered light. Max3 H7 LED headlights are one of the few options on the Indian market that come with 6 pcs large flip-chips to provide excellent and accurate beam patterns that work best in any reflector or projector headlight housing.

Max3 LED headlights carry a more efficient cooling technology than other headlight brands. These LED bulbs come with double copper heat pipes and a high-speed fan, which improve the heat dissipation by 2-3 times. Moreover, these headlight bulbs' entire structure is made of 6063 aluminum, ensuring optimal heat dissipation without any issue.  

These headlight bulbs are also distinguished by high brightness. By delivering an output of 120W, 13,000LM. Bright but not blind, Max3 LED bulbs to produce 6500K cool white light which is as bright as daytime to illuminate the dark road.
Clike Here to see more information about these bulbs.
Specifications:
Power: 120W, 13,000LM
Part Number: H7
Color: 6500K cool white
Voltage: 13.5V
Warranty: 2 years
| | |
| --- | --- |
| Pros | Cons |
| Among the brightest available | A little bit heat sink |
| Excellent Light beam pattern | |
| 50,000 hours long lifespan | |
| Canbus ready | |
The Most Recommended H7 LED Bulb In India:NAOEVO Max3 LED Headlight Bulb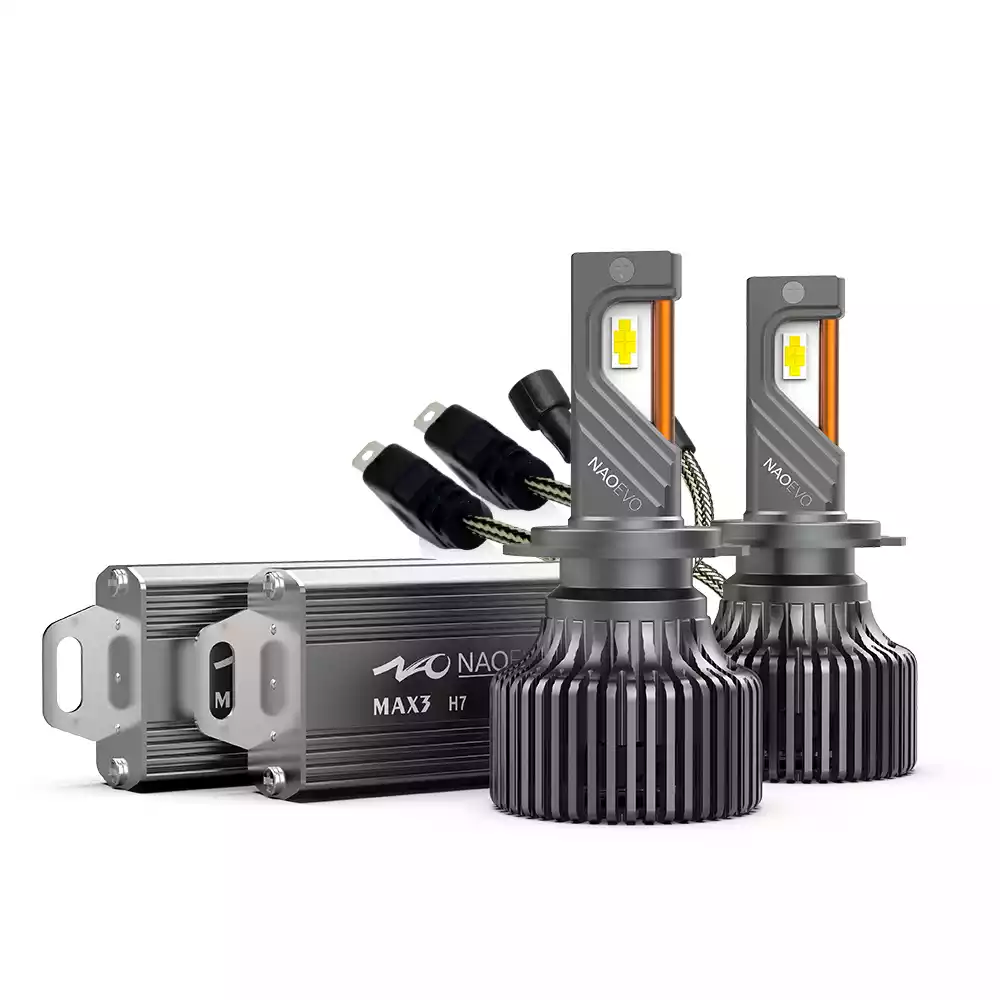 Among these top 5 best-sellers H7 LED car bulbs in India, NAOEVO Max3 LED headlight bulbs can be rated as the best overall for Indian vehicles. They illuminate the road perfectly, providing an optimal beam pattern. With a 2-year lifetime warranty for free replacements. Moreover, they are designed for an easy installation experience. For high performance and longevity, the Max3 H7 LED bulbs are the optimal choice for you! Let's see how good the Max3 H4 LED lights are.
Test of Light Beam Pattern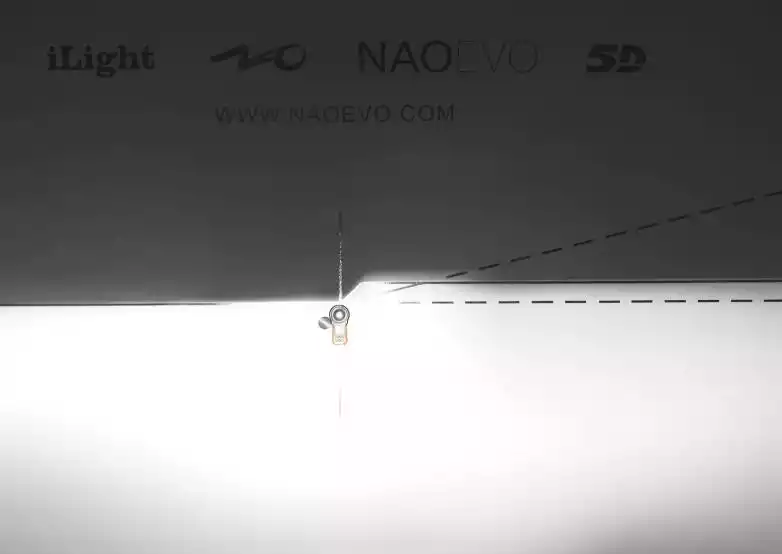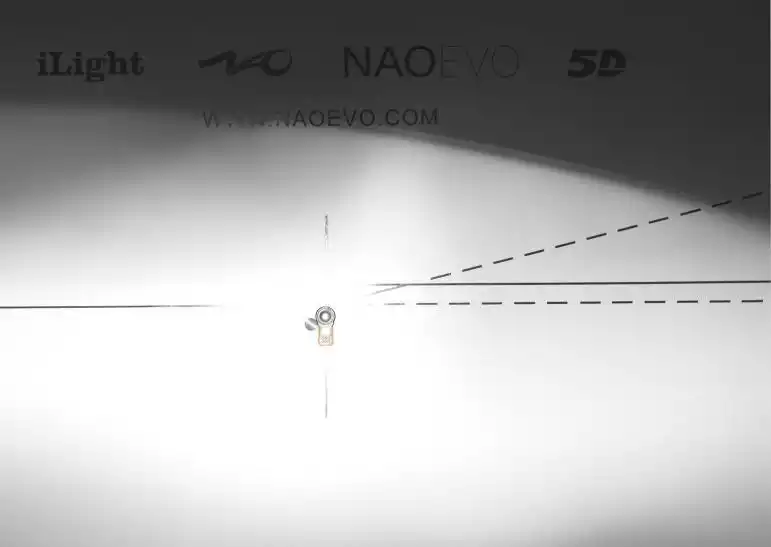 A safe light beam pattern is crucial for high-power H7 LED bulbs for car. The Max3 LED headlight bulbs feature an outstanding light beam pattern designed with a distinct cutoff line, ensuring a glare-free experience for other drivers on the road. The high beam provides a focused and wide beam, illuminating the road ahead with exceptional clarity and visibility.
Test of Lighting Effect On Road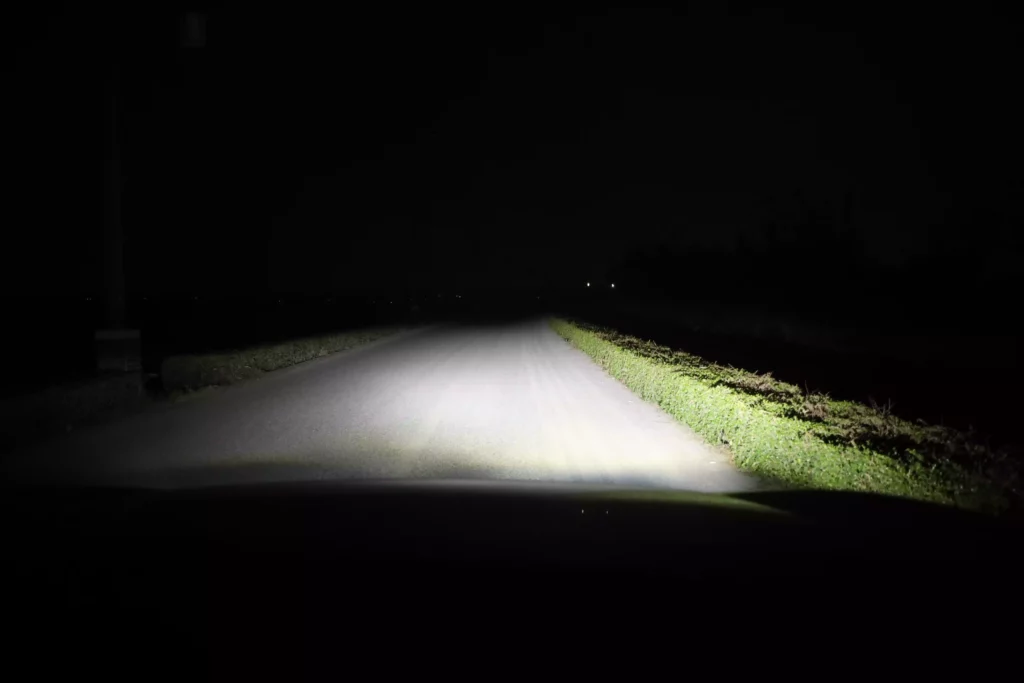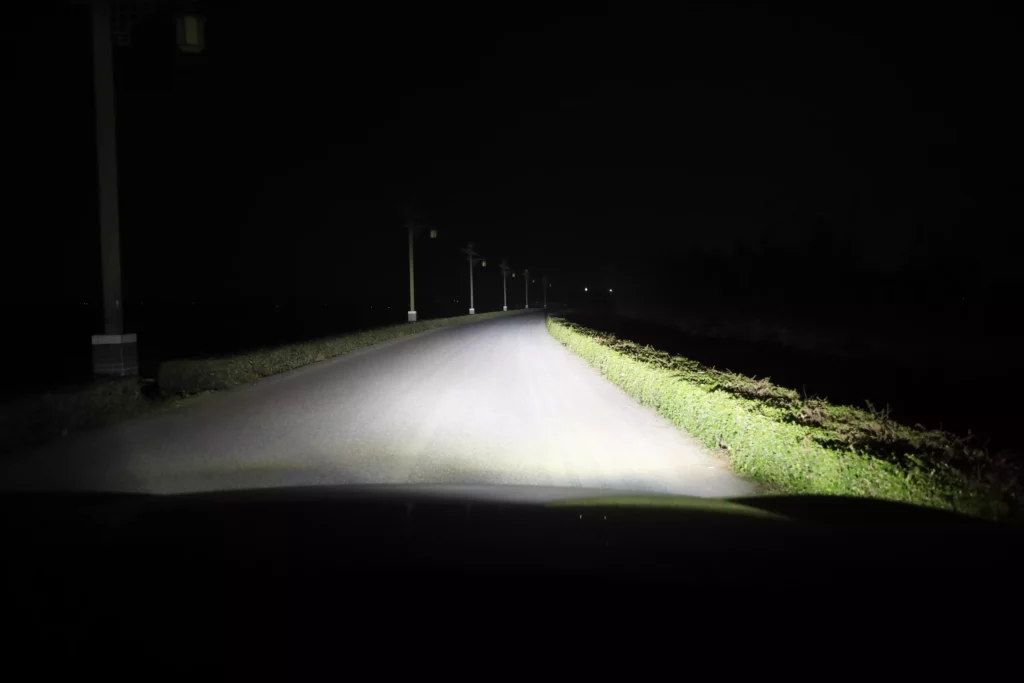 Experience exceptional lighting effects with Max3 LED headlight bulbs. For the low beam, the Max3 H7 LED bulbs deliver a well-defined cutoff line and a wide beam, providing enhanced visibility without causing glare to other drivers. On the high beam, the focused light beam illuminates the road, offering improved visibility at longer distances. Contact NAOEVO to get the best price of Max3 H7 LED bulbs.
Noted: When Do You Need H7 Bulbs?
H7 bulbs are usually halogen bulbs. Xenon HID bulbs are a completely different category with different bulb types. If your stock halogen bulb is H7, then LED bulbs can also use the H7 fitting.

You need to figure out which type of headlight bulb your vehicle needs by checking the owner's manual.

Alternately, you can look up the make and model of your vehicle using our simple bulb finder. There, you'll find the exact fitting you need for every bulb in your car or truck, including headlights. Once you've determined that H7 bulbs are what you need, then you can start searching for the best & brightest H7 bulbs.