In Gujarat, India, the landscape of auto LED bulb wholesale dealers is undergoing a notable transformation, marked by steady growth.

These dealers provide top-quality LED headlight bulbs at exceptionally competitive wholesale prices, along with an extensive and diverse range of options to cater to different preferences.

Setting them apart from manufacturers, the majority of these wholesalers source their products from China, simplifying the supply chain and offering a more accessible route for local Indian consumers.

For those on the lookout for trusted LED car light bulb wholesalers in Gujarat, India, this blog serves as a comprehensive guide. We've compiled a list of dependable wholesale dealers, ensuring that you can make well-informed decisions when it comes to your car's lighting needs.
NAOEVO is a notable wholesale dealer in LED car light manufacturing, improvement, distribution for 17 years. They laid out the benchmark in automotive lighting ventures like LED headlight bulbs, motorcycle LED bulb, LED turn signal light, LED light bars, etc.

The brand "NAOEVO" conveys the meaning of "pursuit of high quality" and "continuous evolution." They own a 10,000 square meter factory, each production line is equipped with the most advanced machine to ensure highest quality standard.

They also have a strong team with 20 expert engineers and creative designers. Each month, they generate products that are highly sought after in the Indian market.

For instance, products like ND LED lights, NG LED lights, and S4 3-color LED lights have become popular in the Indian market due to their distinctive features of high brightness, superior quality, exceptional durability, and innovative design.

NAOEVO has a complete dealer network around the global thanks to its exclusive supports for its distributors. They insist "one country, one distributor" so as to maximize the profit for their customers.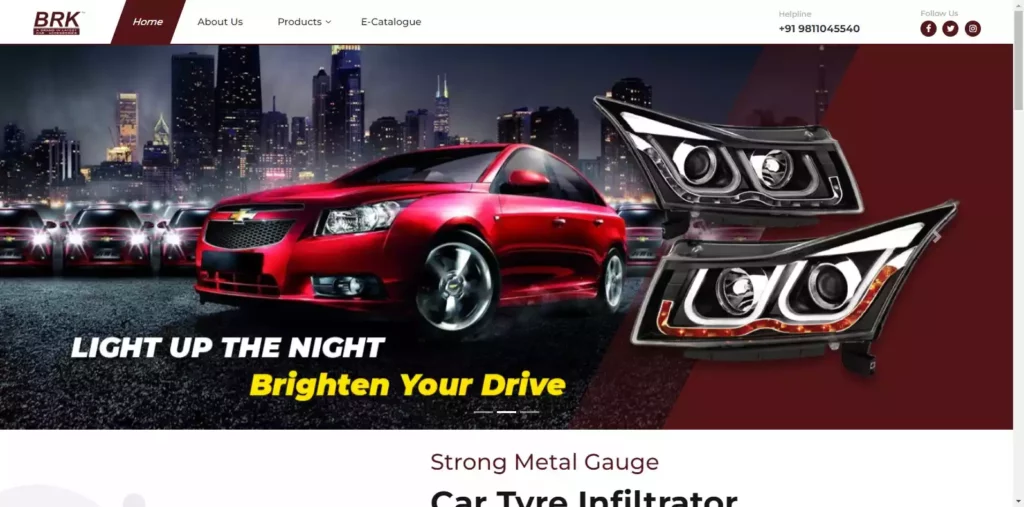 BRK is one of the leading car accessories brand for 18 years in India. They offer wide selection of high quality and unique car accessories including LED headlight bulbs. The products offered under the brand are a result of exclusive India focused consumer research.

Their car LED lights products feature high power and are available in an option of 110W and 120W, and the excellent beam pattern you will see when installed them in your car headlight housing.

BRK has etched its mark as a dependable brand, known for seamless plug-and-play solutions that ensure easy installation. Each item in our product lineup is designed and tested to surpass OEM quality benchmarks.

With around 37 distributors situated across India, BRK ensures swift product availability and provides more convenient access to technical support. They will be honored you're considering BRK for your vehicle needs, promising unparalleled driving pleasure.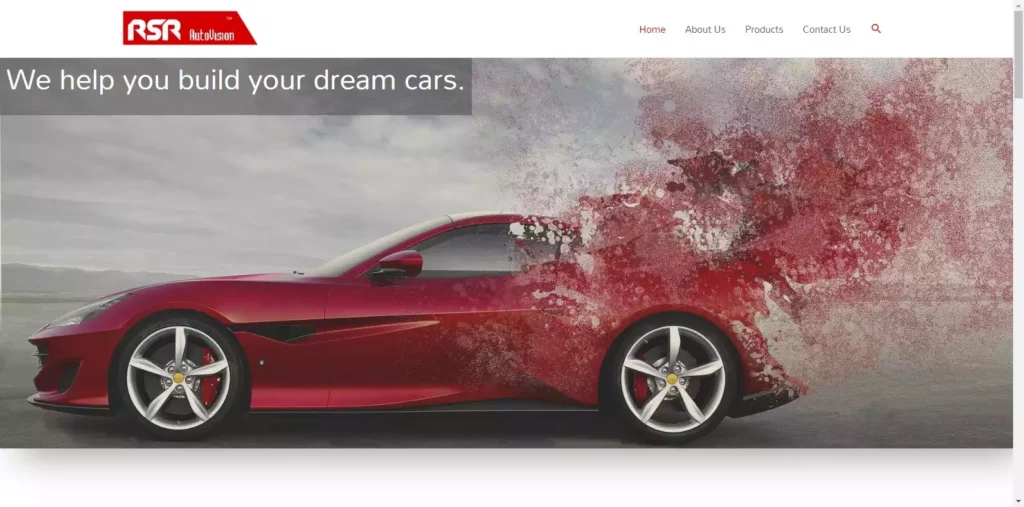 RSR AUTOVISION is a well-known India's wholesale dealer of automobile accessories such as HID headlamps, LED headlamps, parking systems and car body kits and more.

Although founded in 2011, the history of the company dates back to 1977. They insist the vision "work hard to ensure that customers get the best quality products."

 All their products undergo thorough research and testing at their retail store Sainath Auto Ultimate before they can be made available for purchase by dealers.

RSR thus ensures that dealers receive products that are the best in quality and innovation.

Over the past decade, has scaled to impressive levels, testimony to which is the number of happy clients and dealers RSR has served. Rishi's objective of always delivering quality products with emphasis on precision, safety and aesthetics has been the driving force behind RSR's success.

Now, as a local brand originated in India, RSR AUTOVISION has become a global brand with around 400 dealers and 3000+ customers around the worlds.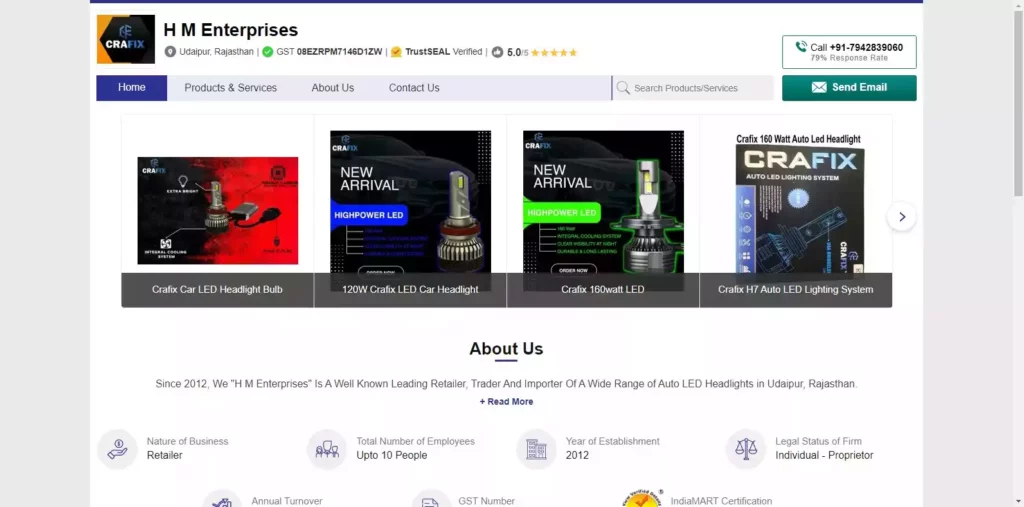 Since 2012, H M Enterprises has been a prominent and reliable wholesale dealer in India, specializing in auto LED headlights.

Operating from Gujarat, they have garnered recognition for their extensive collection, encompassing LED headlight bulb conversion kits with wattage ranging from 160W to 120W.

As a well-established retailer, trader, and importer, H M Enterprises has carved a niche in the automotive domain. Their commitment to offering high-quality lighting solutions has positioned them as a significant contributor to enhancing vehicle illumination in Gujarat, India.

With a focus on excellence, H M Enterprises continues to illuminate the road ahead for discerning customers.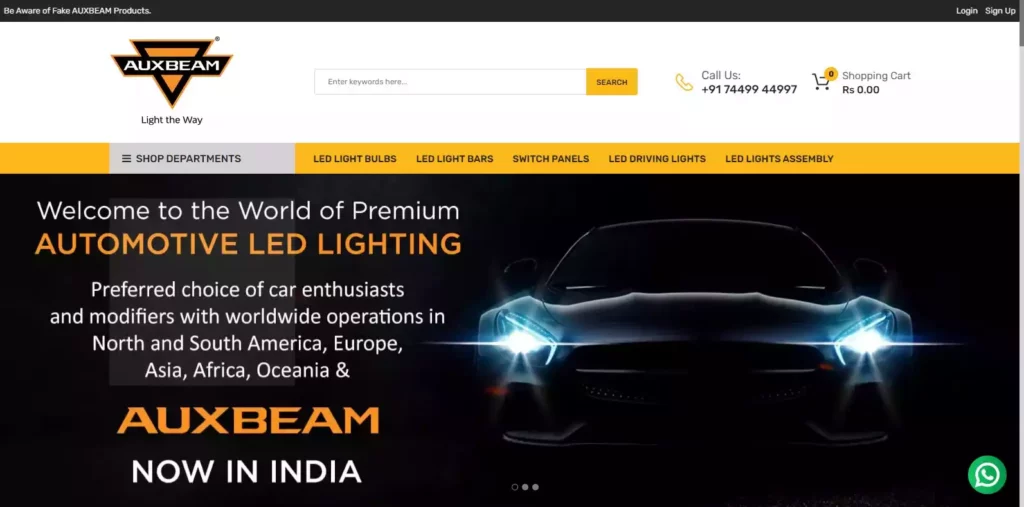 Founded in 2008 AUXBEAM INDIA has been a game-changer in automotive lighting industry and has been the most preferred choice for enthusiastic.

Renowned for their brilliance and durability, their bulbs redefine visibility on the road. As a leading choice for LED car light wholesaler dealers in India, Auxbeam combines advanced technology with precision engineering.

With a range of options catering to various vehicles, from cars to trucks, Auxbeam ensures a seamless fit and superior performance.

Brighten your driving experience with these innovative LED headlight bulbs, backed by a brand trusted by automotive enthusiasts worldwide.
 
Elevate your journey with Auxbeam's cutting-edge illumination solutions, setting new standards for safety and style on the roads of India.

How to Choose Quality LED Car Bulb Wholesale Dealers in India?
1. Reputation and Reviews:
Look for wholesale dealers with a strong reputation in the industry. Read reviews and testimonials from other buyers to gauge their reliability and product quality.
2. Product Quality and Testing:
Inquire about their quality control procedures and product testing. Reliable dealers should have stringent measures in place to ensure the products they offer meet high standards.
3. Range of Products:
Choose dealers with a diverse range of products that match your business needs. Having access to various products from a single source can streamline your sourcing process.
4. Customer Service:
Evaluate their customer service responsiveness and willingness to address your queries. A dealer who provides excellent support can enhance your overall experience.
5. Transparency and Terms:
Select dealers who are transparent about their pricing, payment terms, and shipping policies. Clear communication ensures a smooth partnership.

Is It Good To Choose Led Car Light Wholesalers From China?
Most automotive LED lights in India are imported from China. India's customers prefer sourcing bulk LED car light bulb from China due to several factors:
1. Competitive Price:
Most Chinese manufacturers have their own factory located in China. So they can provide LED headlight bulbs at a lower price due to their efficient manufacturing processes and economies of scale.
2.Diverse Product Range:
China offers a wide variety of LED headlight bulb models, ranging from different wattage, cooling technologies, appearances, and performances. The wide selection cater to different vehicle types and consumer preferences, allowing Indian retailers to offer a diverse range of options.
3. Technological Advancements:
China has made substantial advancements in LED technology, producing bulbs with improved brightness, energy efficiency, and durability.
4. Market Trends:
Chinese manufacturers quickly adapt to emerging market trends and technological advancements, providing Indian retailers access to the latest innovations.
5. Supply Chain Efficiency:
China has a well-established supply chain network, ensuring timely delivery and availability of LED headlight bulbs in the Indian market.

The Best LED Car Light Wholesaler You Can Trust
While the mentioned LED car light wholesalers have their unique advantages, if you;re seeking a dependable long-terms partner, we will highly recommend NAOEVO, one of the largest automotive lighting manufacturers and suppliers with over 17 years experience, here are the benefits you can get:
1. HIGH-QUALITY PRODUCTS:

The product quality of NAOEVO is beyond doubt, excelling in aspects such as brightness, beam pattern, heat dissipation, craftsmanship, and design. They excel in all these aspects to the utmost.

2. INNOVATION:

NAOEVO has professional engineer team and innovative design team, each month they will launch the most cutting-edge LED bulbs that cater to Indian market.
Every light boasts a distinct and innovative design that carries meaning, setting them apart in terms of both technology and appearance among a diverse array of products.

3. OEM SERVICE:

NAOEVO offers customized services, including personalized logos, light colors, appearances, and packaging. Moreover, they have the lowest minimum order quantity (MOQ) requirement, ensuring customers can easily tailor their products to their preferences.

4. DISTRIBUTOR SUPPORTS: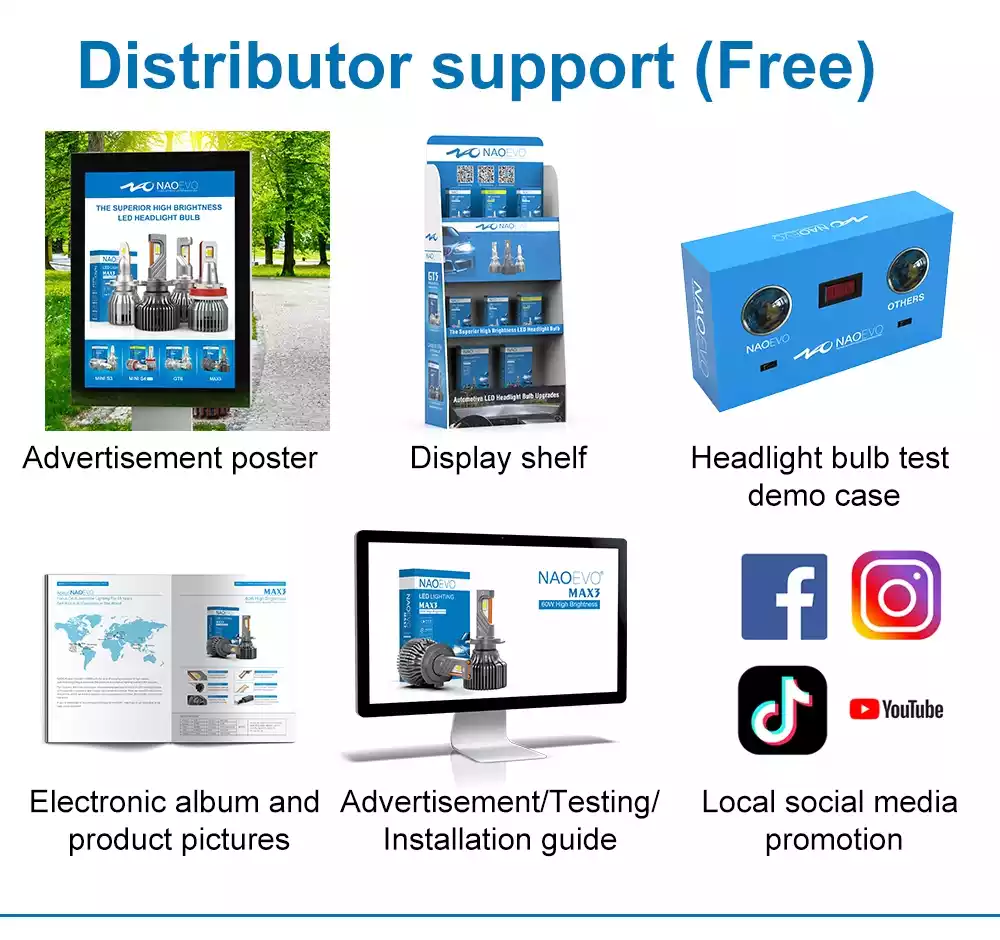 NAOEVO offers a series supports for its dealers such as:

Free banners, catalogs, and other promotional material
Special wholesale price and discounts
Lowest MOQ
Free Shipping on orders
Dedicated lifetime customer support

Conclusion
In conclusion, the vibrant landscape of LED car bulb wholesale dealers in Gujarat, India, offers a diverse range of options for businesses and enthusiasts alike.
From trusted players like NAOEVO, known for their commitment to quality and innovation, to the advantages of sourcing from China's manufacturers, the choices are abundant.

As the automotive lighting market evolves with advancements and trends, finding the right wholesale partner becomes crucial.
Whether it's quality, cost-effectiveness, or innovation, these dealers bring forth a spectrum of possibilities that illuminate the road ahead for the Indian automotive industry.