In India, if you're considering upgrading your car's LED headlights, it's important to have a good grasp of their operating voltage. As a general rule, passanger car's headlights typically operate at 12V.

While the Indian market offers a variety of 12V LED lights, their quality can vary significantly. This variation often results in compatibility issues with your car's lighting system.

If you're on the lookout for reliable 12V LED bulb for car online, you've come to the right place. In this article, we'll introduce you to the best-selling and most reliable 12V LED car headlights available in India.

Our aim is to provide you with valuable insights that will assist you in making an informed choice after reading this article.

What Is The Difference Between 12V And 24V LED Car Bulbs?
12V LED headlight bulbs are designed to operate on the conventional 12-volt electrical systems found in the majority of passenger cars, motorcycles, and smaller vehicles.

On the other hand, 24V LED headlight bulbs are specially engineered to meet the requirements of larger vehicles, such as trucks, buses, and select commercial vehicles.

When making a purchase, it's essential to select the appropriate voltage style, and it's worth noting that many LED lights on the market today are compatible with a broad range of voltage options.
List of Best 12 Volt LED Car Bulb in India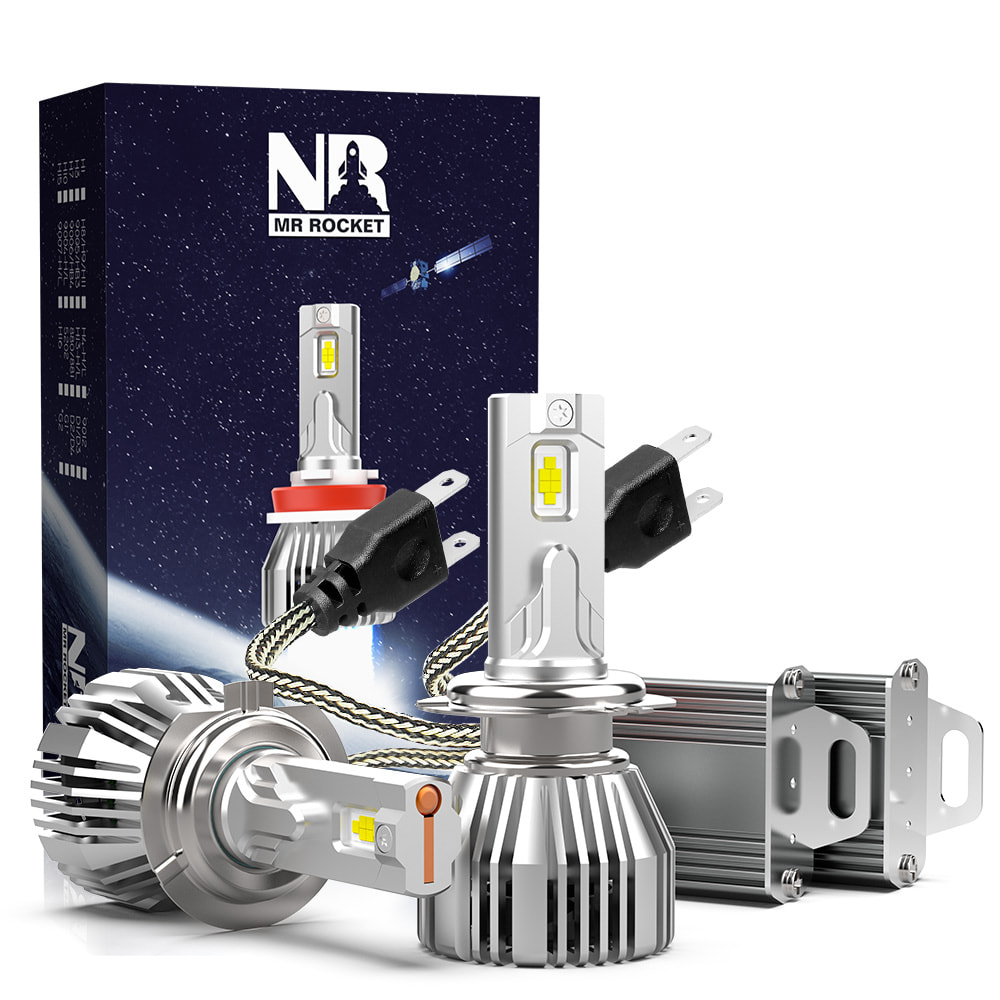 Looking for 12-Volt LED car bulbs that offer exceptional nighttime brightness? Look no further than the NAOEVO NR bulbs. Featuring a high quality 6 PCS 55MIL large flip chips, these bulbs are engineered to provide an impressive 55W 6600LM for per bulb. The Rock design is a striking upgrade that gives your headlight a sleek and modern look.

The LUX ratings are equally notable, reaching 1300 LUX on low beam and 1600 LUX on high beam, far surpassing the halogen's maximum of 841 Lux. This high luminous flux shows their exceptional light efficiency, effectively harnessing every unit of energy and converting it into brilliant illumination.

The broader and more concentrated light beam provides drivers with extended visibility, reaching distances of up to 1200 feet. The well-defined cutoff line also ensures that oncoming drivers are not dazzled.

NAOEVO integrates cutting-edge cooling technology into their design. The larger copper tube efficiently transfers 20W of heat at a time, while the robust aluminum build and built-in fan enhance heat dissipation, achieving 2-3 times faster cooling.

What's even more astonishing is that the NR LED bulbs come with a 55W rating, closely mirroring the operating wattage of OEM halogen bulbs. They can function within a broad input voltage range, spanning from DC9-16V, making them suitable for most vehicles in India such as Maruti Suzuki Swift, Hyundai Creta, Tata, Honda City, and Kia Seltos.
SPECIFICATION
Power: 55W 6600LM/Bulb
Chip: 3570 55MIL*6 pcs
Color: 6500K Cool White
Cooling: Copper Heat Pipe + 6063 Aluminum + Fan
Lifespan: 30000HRS
Voltage: DC9-16V
Current: 4.07A
Warranty: 1 year
| | |
| --- | --- |
| PROS | CONS |
| 55W same wattage as OEM bulb | Short warranty guarantee |
| Pure 6500K, more modern look | |
| Excellent light beam, no dark spots | |
| Easy installation for most car mode | |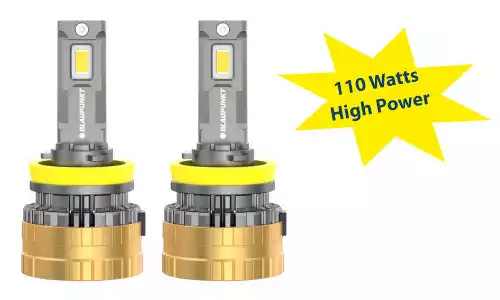 The Blaupunkt LED bulb provides a warm and soothing 4300K yellow light option, ideal for those seeking a more comfortable and relaxed lighting upgrade for their car.

Boasting a distinctive 5500LM and 55W power output, these bulbs shine 200% brighter than halogen counterparts. Their secure beam design not only extends farther down the road but also illuminates a broader area. This expanded field of view allows for early detection of obstacles and quicker response times, enhancing safety on the road.

Blaupunkt offers a diverse range of bulb models, including H4, H8/H9/H11, H7, 9005, and 9006, all featuring a consistent OEM holder and compact design. This makes them easily compatible for straightforward installation in a wide variety of vehicles in India.

Blaupunkt's 4300K LED headlights excel in durability. Crafted entirely from 6063 aluminum, these headlights are highly resistant to corrosion and rust. Their IP68 rating offers protection against dust and water intrusion. Furthermore, the high-speed, silent fan enhances heat transfer efficiency, ensuring a prolonged lifespan.

Installation is effortless, as they operate on a DC-12V voltage and mirror the lighting position of stock halogen bulbs, ensuring seamless compatibility with your car's electrical system without posing a risk of battery drainage.

The Blaupunkt 4300K Pro LED car bulbs are backed by an extensive 2-year warranty, a testament to Blaupunkt's confidence in the exceptional quality and durability of their products.
SPECIFICATION
Power: 55W 5500LM/Bulb
Color: 4300K Yellow
Cooling: 6063 Aluminum + Fan
Lifespan: 30000HRS
Voltage: DC 12V
Warranty: 2 years
| | |
| --- | --- |
| PROS | CONS |
| 4300K upgraded yellow light | Expensive price in the list |
| Compact design for better fit | |
| Up to 200% more light | |
| 24 Months warranty | |
HELLA LED Retrofit Bulb For Car 12V And 24V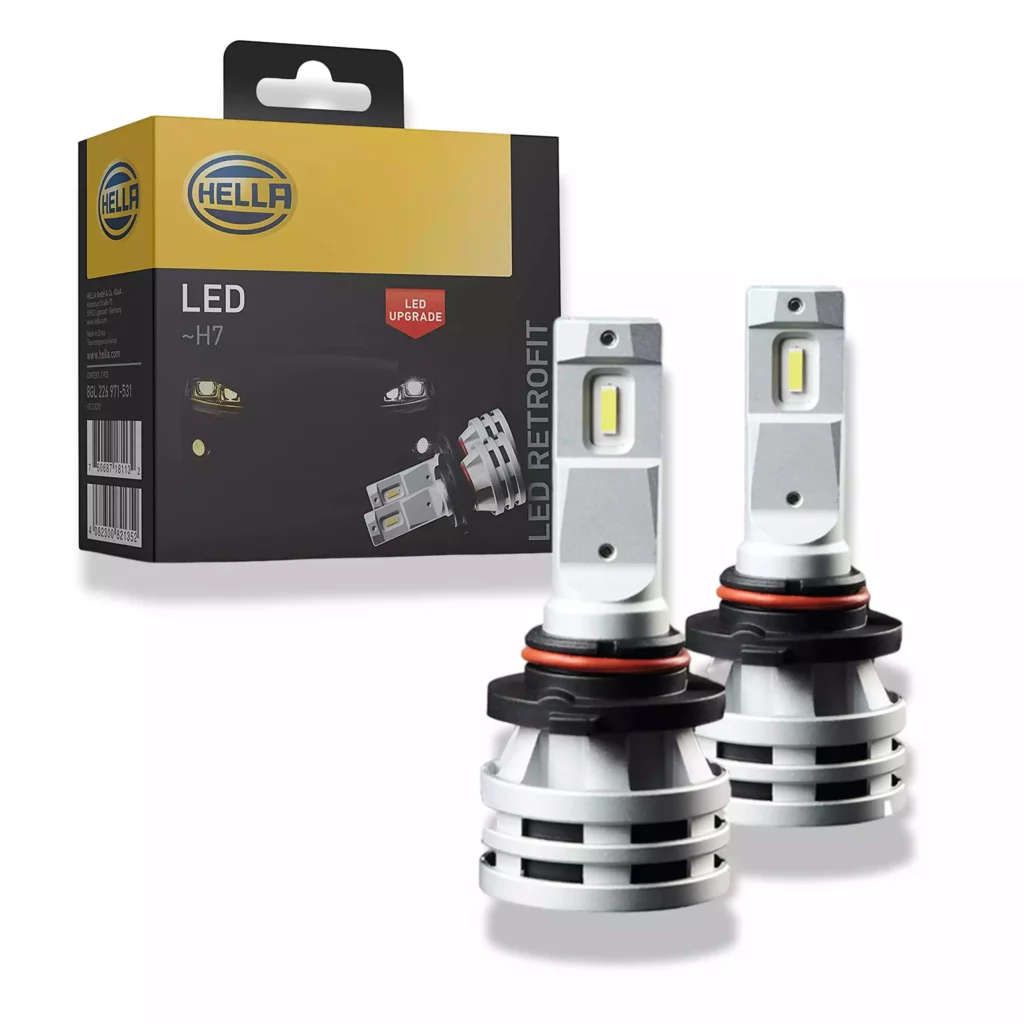 Elevated brightness, enhanced strength, and superior cooling. HELLA LED Retrofit brings a profound improvement to replace your 12-volt LED car bulbs without requiring new headlights. Through the innovative LED Retrofit technology, your existing halogen headlights can swiftly and effortlessly transform into genuine LED upgrades with a brilliant daylight effect.

Advanced Heat Dissipation: The Retrofit bulbs are engineered with an integrated motor fan and a high-quality aluminum heat sink featuring an anodized coating, creating a substantial radiating surface. As a result, heat is efficiently dissipated, minimizing the risk of overheating and ensuring optimal brightness throughout operation.

Crucially, HELLA Retrofit bulbs offer compatibility with both 12V and 24V applications, seamlessly integrating with your vehicle's computer system without any risk of damage.

Manufactured in accordance with HELLA's rigorous testing standards, these LED retrofits offer extended service life compared to traditional halogen bulbs, making them an appealing choice for all car owners.
SPECIFICATION
Power: 24W 1500LM/Bulb
Color: 6500K Yellow
Cooling: 6063 Aluminum + Fan
Lifespan: 1500 HRS
Voltage: DC 12V-24V
Warranty: 1 year
| | |
| --- | --- |
| PROS | CONS |
| Work for both 12V and 24V vehicles | Not as bright as its competitors |
| All-in-one design, easy installation | Some cars may have flicker problems |
| High quality design from a well-known brand | |
| Efficiency cooling for long lifespan | |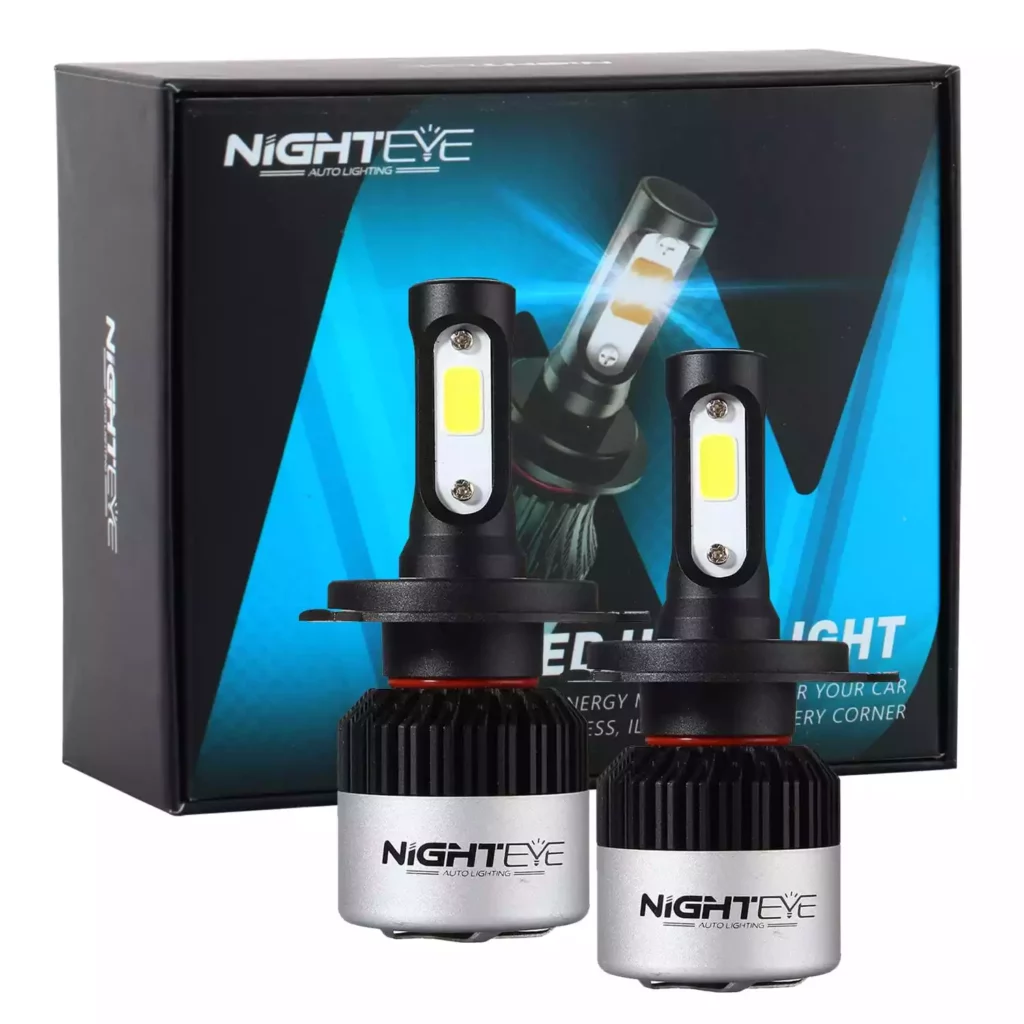 The NIGHTEYE LED headlight bulb is a powerful lighting solution designed to redefine your driving experience. These bulbs shine brightly at 6500K, delivering an impressive 9000LM per set (4500LM per bulb), a remarkable 60% brighter than conventional halogen and HID bulbs. With energy-saving efficiency, they consume just 72W per set (36W per bulb), saving 40% more energy.

Boasting a lifespan exceeding 30,000 hours, these bulbs feature a sophisticated cooling system with a double roller cooling fan and integrated aluminum design, ensuring optimal temperature control and heat dissipation. Installation is a breeze with their plug-and-play design, fitting most vehicles seamlessly.

Installation is a breeze with a plug-and-play design, making them compatible with most vehicles.
SPECIFICATION
Power: 36W 4500LM/Bulb
Color: 6500K Cool White
Cooling: 6063 Aluminum + Fan
Lifespan: 30000HRS
Voltage: AC/DC12-80V
Warranty: 1 year
| | |
| --- | --- |
| PROS | CONS |
| Easy installation | Not much focus light beam pattern |
| Budget price | Short lifespan compared to others |
| High efficient cooling | |
| 60% more brightness than standard | |
| IP68 waterproof | |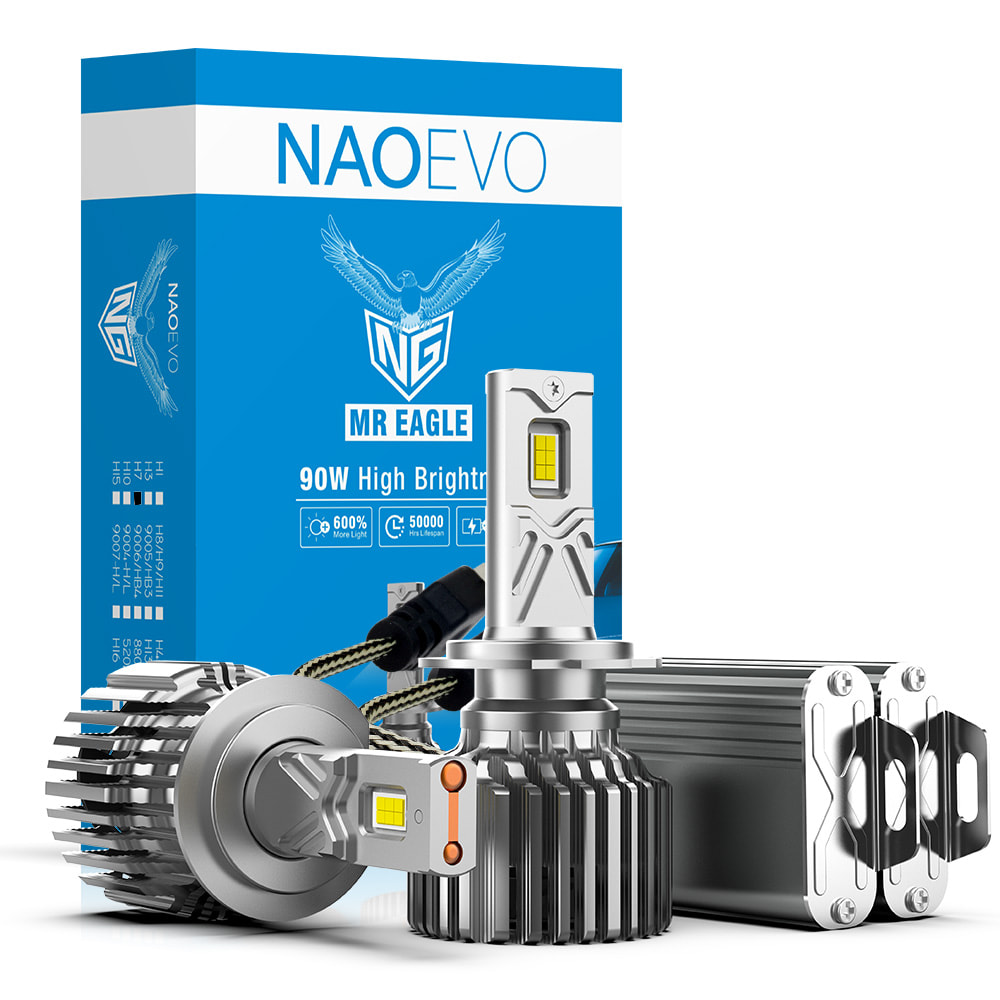 In the huge market of quality 12V LED car bulbs in India, one brand has consistently stood out for its quality and performance – the NAOEVO NG series LED car bulbs. These LED car bulbs have gained popularity in India due to its sylish eagle design and high-intensity of brightness.

NAOEVO's innovative flip chip technology empowers NG LED bulbs to produce an impressive output of 90W and 10800LM per bulb, illuminating the road ahead brilliantly. Their 6500K white light not only enhances visibility but also adds a touch of aesthetic appeal to your vehicle's lighting system, delivering both style and safety in one remarkable package.

Leveraging 17 years of headlight development technology, NAOEVO has engineered the NG LED headlights for exceptional brightness and safety. Whether these headlights are installed in a projector or reflector headlight housing, they deliver a precise and focused beam.

The combination of dual copper tubes and a high-speed fan effectively transfers 30W of heat with each cycle, resulting in an outstanding cooling rate that is 3X faster than standard LED bulbs.

Furthermore, the NG LED headlight bulb features an intelligent temperature controller to prevent overheating. The Canbus driver simulates halogen bulb's voltage and current, ensuring a seamless, error-free Canbus integration.
SPECIFICATION
Power: 90W 10800LM/Bulb
Chip: 4575 70MIL*6 pcs
Color: 6500K Cool White
Cooling: Dual Copper Tube + 6063 Aluminum + Fan
Lifespan: 30000HRS
Voltage: DC9-16V
Current: 6.66A
Warranty: 2 years
| | |
| --- | --- |
| PROS | CONS |
| Modern and unique eagle design | Premium price |
| Safe and quality light beam pattern | Generating excessive heat |
| Effective cooling to ensure 50,000 hrs lifespan | |
| 360 degree full illumination | |
| External Canbus driver, canbus error free | |
FAQS
1. What are 12V LED headlight bulbs, and how do they work?
12V LED headlight bulbs are lighting devices designed to replace traditional halogen bulbs in a vehicle's headlights. They use light-emitting diodes (LEDs) to produce light. When an electrical current passes through the LEDs, they emit bright, white light, which is then focused and directed by the headlight housing to illuminate the road.

2. Are 12V LED headlight bulbs compatible with my vehicle?
Most 12V LED headlight bulbs are designed to be compatible with a wide range of vehicles, such as Passenger Cars, SUVs, Motorcycles. However, it's essential to check the specific bulb type and compatibility for your vehicle model before purchasing.

3. Do I need any special tools or skills to install 12V LED headlight bulbs?
In most cases, no special tools or skills are required for installation. Most LED headlight bulbs nowadays are come with a wide voltage to make sure they are compatible with most vehicles.

4. Will I experience any flickering or error codes when using 12V LED headlight bulbs?
Some vehicles may experience flickering or error codes when switching to LED bulbs. To address this, many LED bulb manufacturers offer anti-flicker or Canbus error-free solutions designed to eliminate such issues.

5. Can I Use 12V LED Headlight Bulb on 24V Vehicle?
No, an LED rated for 12V should exclusively be powered by a 12V power supply, not a 24V one. When supplied with double the voltage, an LED consumes twice the current and four times the power, potentially leading to its damage or destruction.

Conclusion
In conclusion, the Indian market offers a diverse range of 12 Volt LED bulbs for cars, catering to the diverse needs of drivers. From exceptional brightness to energy efficiency and longevity, these bulbs have transformed the way we illuminate our roads. When choosing the right LED bulb, it's crucial to consider your specific vehicle requirements and preferences, ensuring a safer and more efficient driving experience for all.